Easy Rangoli Designs are wanted by every Indian household. Mostly during the time of festivals, and parties we outright search for an easy and super quick hack to get a pretty bomb design. 
The reality stricks when you understand, that there is hardly a way for you to get a good design without messing up a few times. Easy Rangoli Designs are very simple, and you have a whole bunch of hacks for those. 
Starting with unique patterns, that form the base of the design. A Rangoli art is a combination of several such scribbles. Something which is pretty awesome, well regulated and accentuate at the same time. 
To make an easy rangoli design, the first thing that you might need is a good template, and some designs to choose from. Here, we have gathered some of the best and the most modern options for Easy Rangoli.
Top 10 Beautiful Yet Easy Rangoli Designs:
As an easy rangoli design, it might have easy hacks to complete the final result. That starts with some patterns, which initialize the final form of that beautiful work. 
More than just a design, this is an art which is only completed when you have the right pattern and the right colour hosting it. Even if you are not having enough colours with it, the design would still be a rangoli.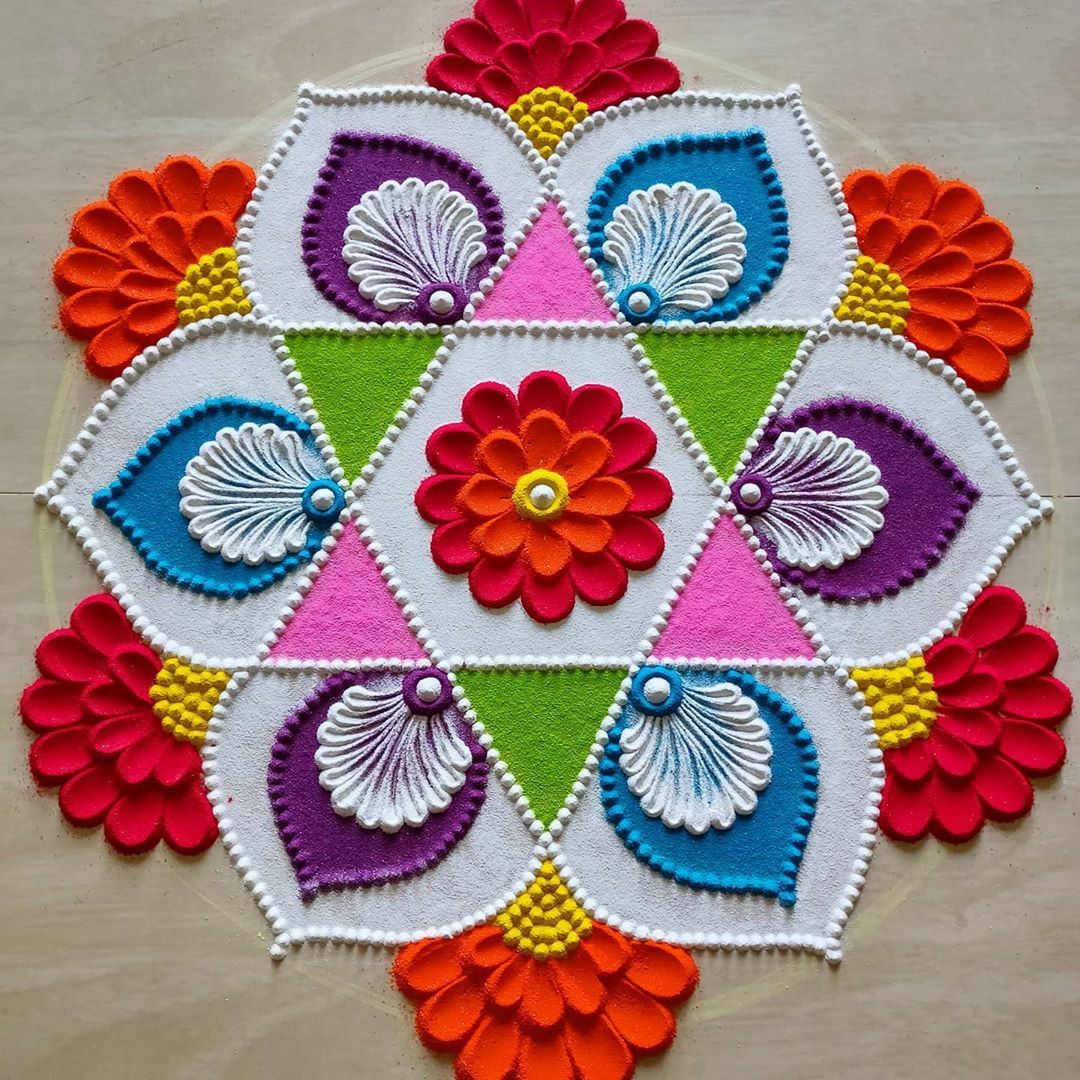 Rangoli arts are very hard. In fact, settling simple salt-like sand into shapes is much harder than it seems. Instead of this, you can always find stencils for rangoli but that is totally not as fun as doing it from scratch. 
Seating down with a bunch of designs, and arguing with your family members. That is the beauty of good old Rangolis. That is the reason, why myMandap has scribbled out some of the easiest rangoli designs for you. 
Must check: Easy Peacock Rangoli Designs
Multi-coloured Mandala Easy Rangoli Designs
Easy Rangoli Designs are colourful, exactly as colourful as this particular option. It is super beautiful and highly welcoming. What I found special about this design, is the bottom region.
The base shades of these Rangoli Designs are yellow, orange and other major pastel colours. Whereas the rest of the design is as simple as it can go.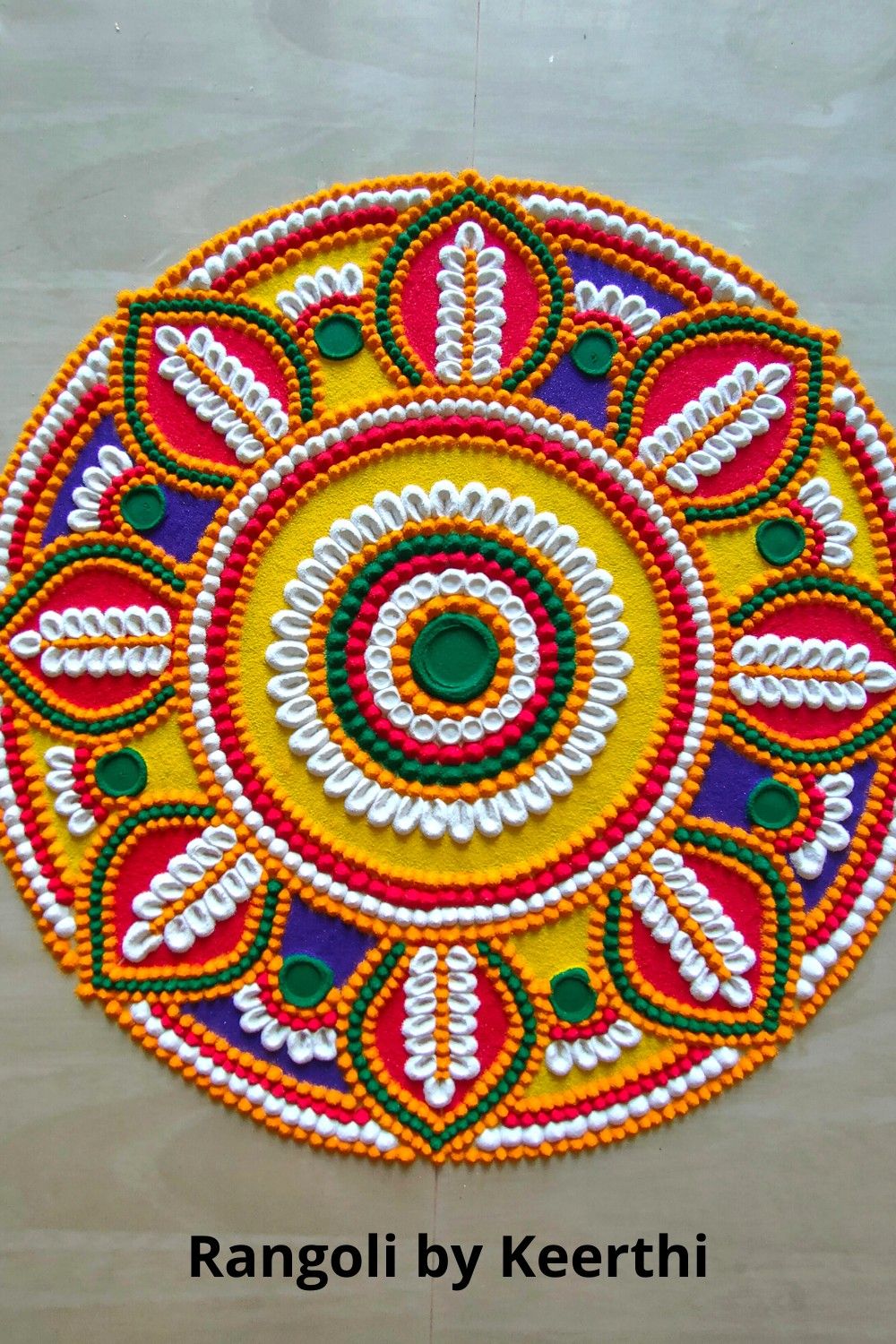 Essentially this is one of the prettiest Rangoli designs. It is significantly pretty and has shades which work really well for one another.
The Blue embrace mix is just adding up to this beautiful and elegant design. It embraces the simplicity of this Easy Rangoli Design.
Vrischika Sankranti Easy Rangoli
This is a special Rangoli design, which is made for the Vrischika Sankranti. The first day of the month is called Sankranti is Sanskrit, especially used by Hindus.
That day the amalgamation of Vrischika Sankranti gave this beautiful and ornamental design for the day. It is highly welcoming and has one of the best designs.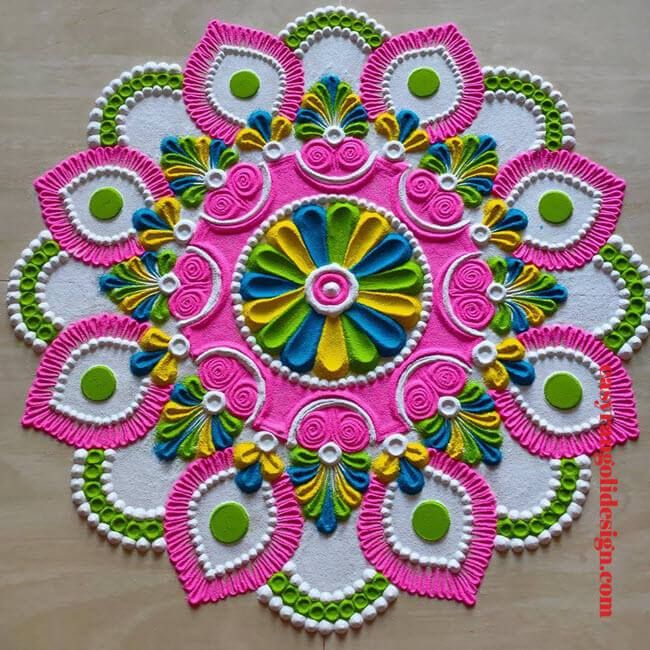 The middle of the rangoli design has been parted with beautiful and elegant yellow and blue colour combinations. While the sides have been decorated with pink.
In a way, this doesn't look quite easy, but trust me with a little time in hand and some throwaway bottles you can conquer this mountain.
View more: Simple Rangoli Designs for Home
Black Base Rainbow Easy Rangoli Designs
I've always been a black girl, it is worth saying that black is my favourite colour and it is one of the best shades for anything. If you want to make a thing look smaller, use black.
Black makes everything look smaller, thinner and better. I find black better than most other shades. It is elegant, subtle and highly appreciated.
These are Easy Rangoli Designs, mainly for the camouflaging effect. The background has given an open pallet to the rest of the shades.
Making other shades like yellow, orange, red and pink work even better than any other shade. It is beautiful, cute and highly creative for a rangoli design.
White and Baby Pink Easy Rangoli Designs
The counter opposite of th above-mentioned design. This is more like a feminine design, which is quite good for occasions like Karva Chauth and even Diwali.
It is colourful, welcoming and very beautiful. The base shade of this rangoli design is pink, while the sides and the base has been decorated with Pink.
This is a beautiful rangoli design, you just need to separate the main colours. Keep a nozzle bottle for Pink and a separate and larger one for white.
Usually, these two shades are used by most rangoli designs, and they would be easier for you to use for the special occasion. Such shades work best with each other.
White Peacock Feather Easy Rangoli Design
As I said earlier, the first thing you need to learn about simple Rangoli Design is that white is one of the best colours which helps in camouflaging.
White makes things look bigger, even though it is not so big or extended. Similarly, when you use white for Rangoli designs, it makes the space look bigger.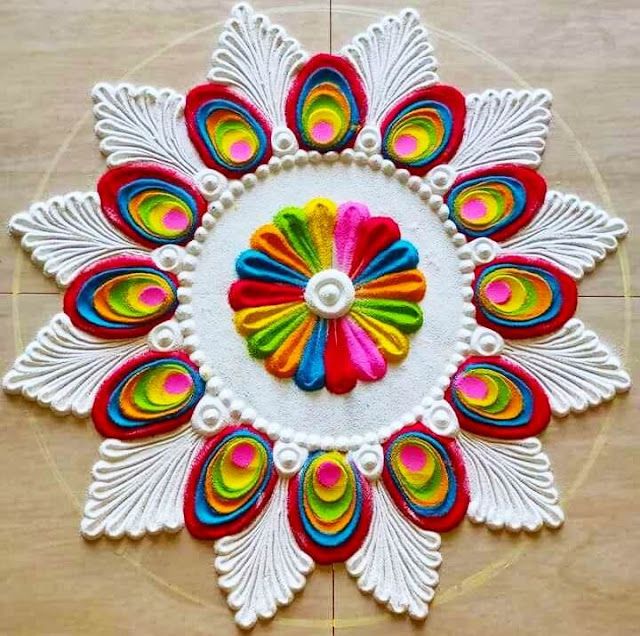 Making the space look bigger, would help you in two simple ways. Firstly you won't have to put much effort into making it bigger and extended.
Instead of that, you can actually use lesser things. This is like a win-win situation for you all, with fewer efforts yet the best and easy rangoli designs.
Visit: Rangoli Kolam Designs
Black Base Ombre Easy Rangoli Designs
These Easy Rangoli Designs stand out to me, more than anything else. This stood out to me, mainly for the black and dark background.
Well, these colours are not so common in India. Especially when we are doing celebratory  Rangoli Designs. It is considered bad luck to use black for the jam.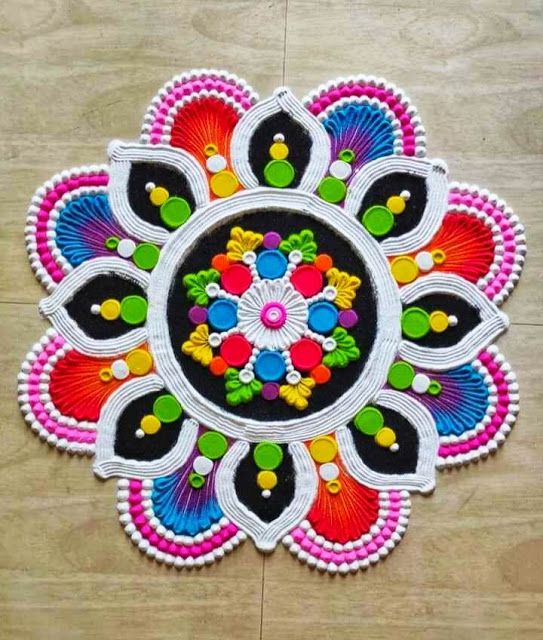 The background design is black, while the pastel-coloured ombre arts are just what you need for a perfect and subtle rangoli design.
It is basic and highly appreciated. While the background is black, and the border lining is white, the inner ombre colour combination is just like a rainbow.
Mint Green and Cobalt Blue Rangoli Designs
The best part about Easy Rangoli Design is, that you can totally add anything up your alley. For example, you can add multiple colours and patterns to the design.
There is no particular design and format, on which that design is based. Instead of that, an Easy Rangoli Design is all about personalisation and creativity.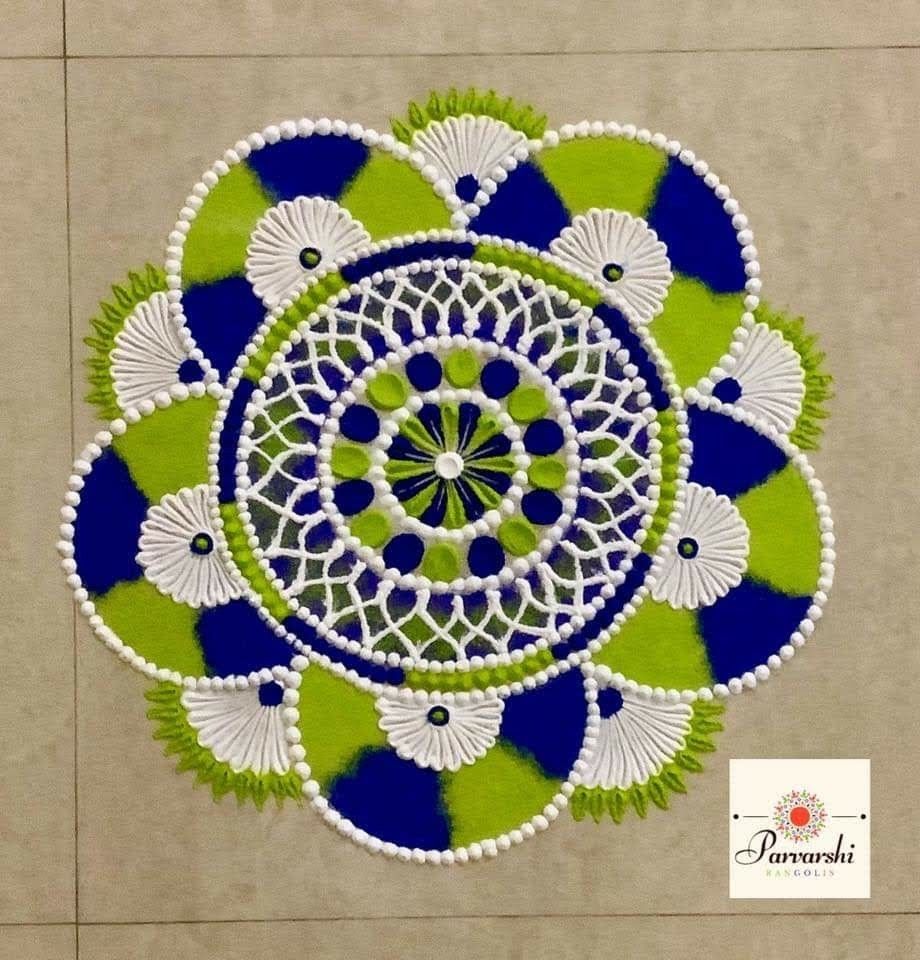 Actually, all Easy Rangoli Designs are about your personal creativity, such as this beautiful mint green and royal blue rangoli design. It is so basic, yet the colours have worked so well.
This is a picture-perfect design which is worth every penny spent on it. It is beautiful and significantly simple and the colours work well for any celebration.
Diwali Diya Easy Rangoli Designs
Diyas are an essential part of a celebration. Especially when you are organising a beautiful design for the auspicious occasion of Diwali.
To me, Diwali is the one and the only occasion where we make a big and bright rangoli in the middle of the house and around the courtyard too.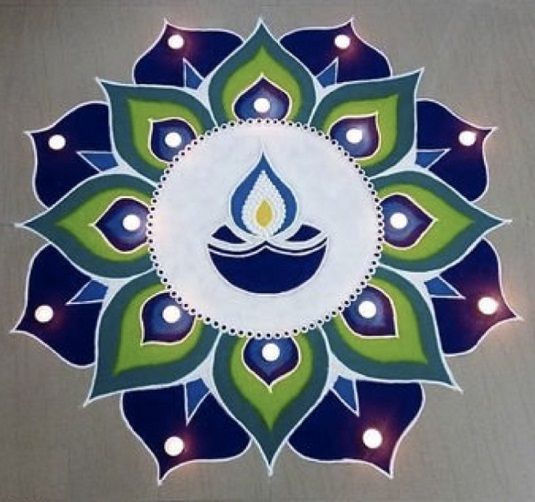 Here at myMandap, we have widely spoken about various Rangoli designs. You can also find extensive rangoli designs at WeddingWire, WEDMEGOOD and Shaadidukaan. Feel free to check their content on Rangoli Designs.
Diwali Rangoli is generally as easy as any other design. Even if, you are not sure about the design you can totally elevate the rangoli with some little diyas.
Emerald Green and White Easy Rangoli Designs
Not just for Wedding Sarees, and Lehengas. The colour emerald looks pretty good for home decorations, and also for subtle and pretty rangoli designs.
Here, the emerald green sand has been used for the purpose of decorating the floor in a really modern and unique pattern. While things are simple, the design is essentially beautiful and gorgeous.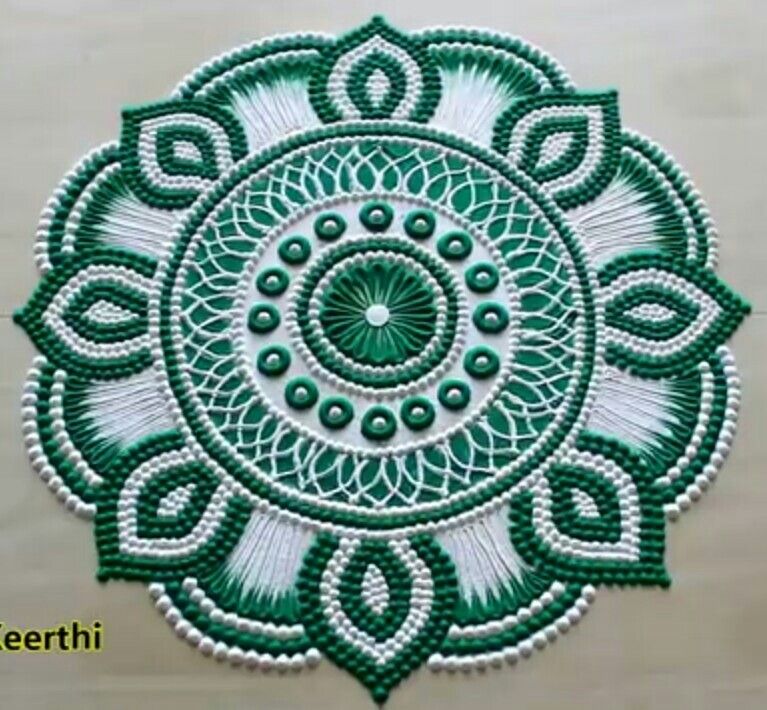 I found this design, quintessentially pretty and highly welcoming. For me, this is worth every chance. It is not just beautiful and gorgeous but has subtle indications too.
The middle portion is shaped like a mandala, and you can make it on your own terms. You can make it round, or even a square the choice is yours.
View also: Best Rangoli Designs 
Beginners Flower Easy Rangoli
Anything which is easy doesn't make the preparation process easy too. Beginners' rangoli designs are generally a bit less hard, in comparison to other easy Rangoli Designs.
Whereas the ones which are expected for the high-end room rangoli are always to be the point and elevated. It is well decorated, and super duper embroidered.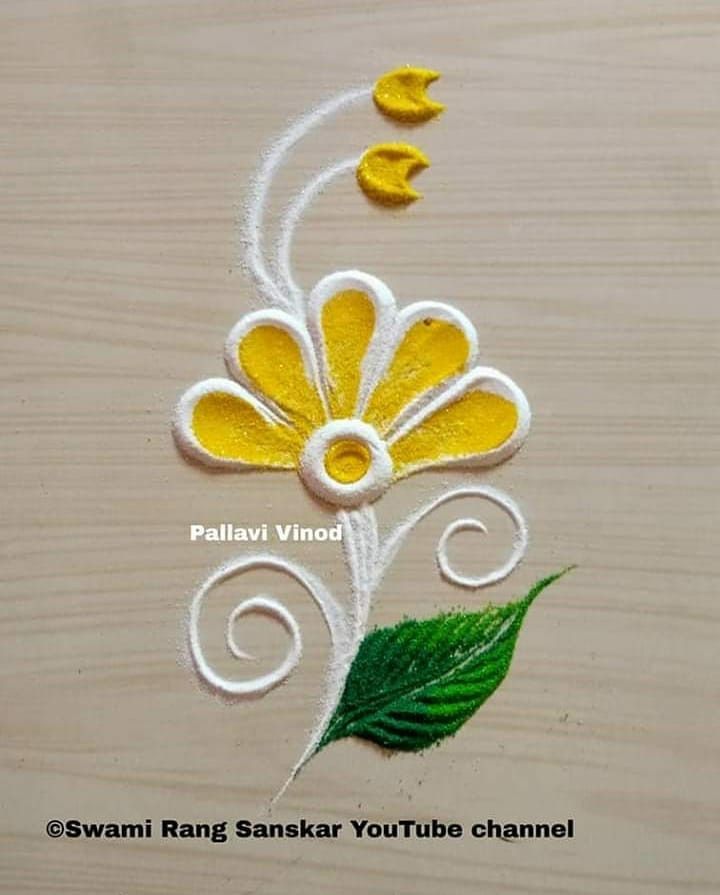 Most of the designs which I have seen or fathomed are either about flowers and leaves or simply just about the basic things of the day.
Nothing compares to the extended beauty of a good old leaf, and a simple flower. These are Easy Rangoli Designs but don't make it anyway less.
Festive occasions demand a beautiful rangoli design, it is like home decor for every Indian. We usually put a rangoli, near the courtyards, or even around the centre of the house. Rangoli making is considered good luck, for a household. 
Rangoli is an art form, which is incomplete without the right shapes and colours. Different colours are used for every other Indian Festival. The white powder is for Chukki Rangoli arts, while other bright colours are for separate patterns and shapes. 
Floral petals, lights, and different shapes play a major role in determining the beauty of this amazing and beautiful design. Lord Ganesha, Goddess Lakshmi and similar deities play a role in this exceptional art.  
You can actually place anything with these bright colours, and similar circle art. Flower petals with a simple rangoli design are a must, especially if you are asking for something easy. If you found it interesting, please let us know in the comment section. 
We are eager to know from your end. At myMandap, we have some of the best posts about weddings, decorations and lots more. If you found it interesting at all, please let us know in the comment section. 
These are really easy rangoli designs, which are super stylish and awesome. This is one of the best designs for rangoli, and you should totally let us know which is the right option for you.
[simple-author-box]