The Simple Rangoli Design is prettier than most other designs which we are used to seeing for a well-decorated home. It starts with separating colours and choosing the design. 
Finally making that design an absolute reality. Simple Rangoli Designs are easier in terms of practically making that happen. All you have to do is, set the right terms for the design. 
Eventually when the colours and the patterns, start collaborating. They take a simplistic shape, which is the beauty of a homely Rangoli design. Previously we have elaborated on the best ones. 
Including some special Rangoli designs, like Rangoli Kolam and many more. Here, we are about to discover some of the most innovative and simple rangoli designs for homes.
Top 10 Easy and Simple Rangoli Designs for Home:
Simplicity is the key to success. No matter, what field if you choose the key of simplicity, it is supposed to be successful. Especially when the key is used for creative arts like Rangoli Design. 
It starts with selecting a good design for the home, and it ends with choosing the right design and the right frame for the ceremony. I have seen separate rangoli designs for every other occasion.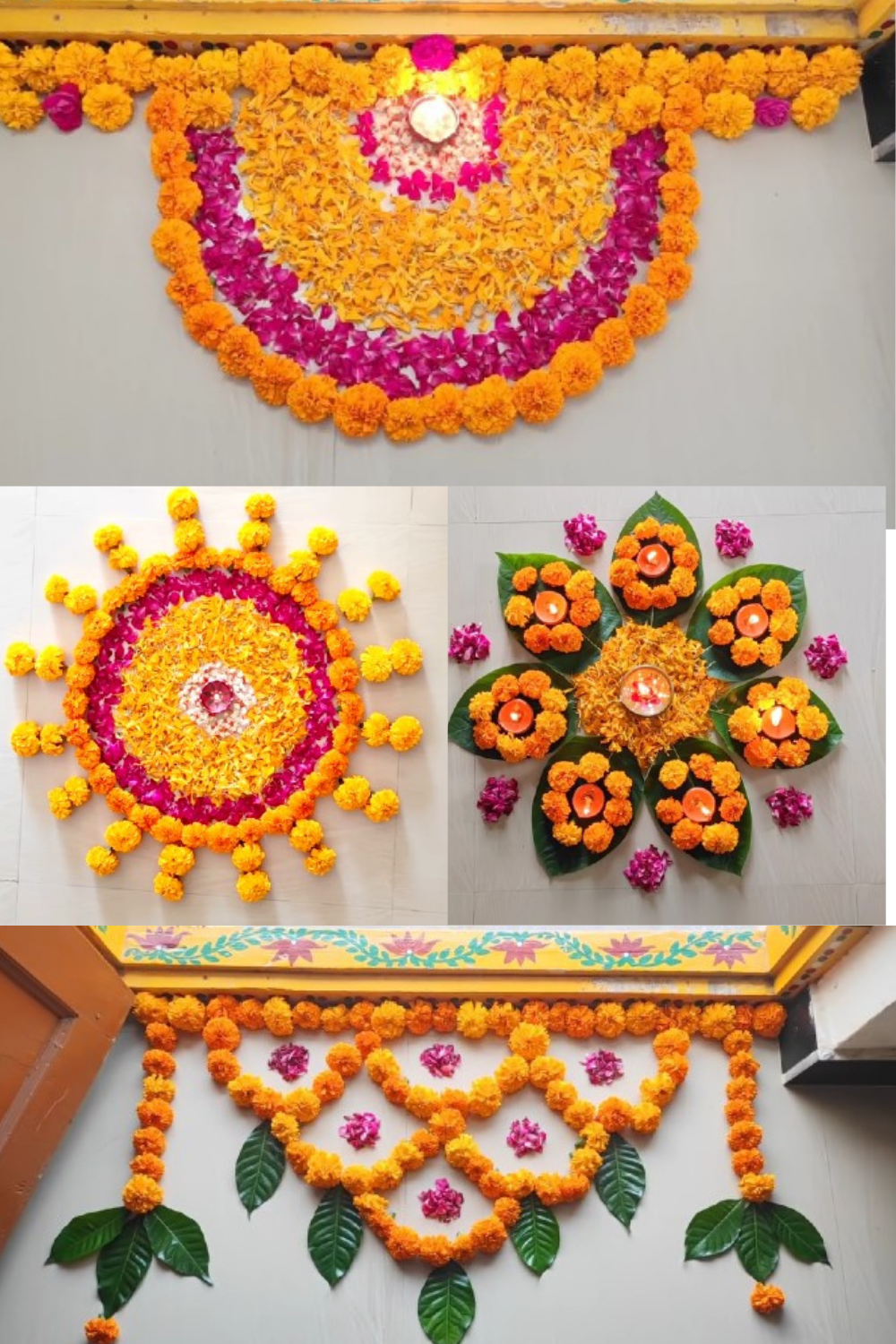 Like special designs for festivals, and weddings, wiggle completely different ones for some other occasions. This is the beauty of a simple rangoli design, it can be customised according to your priority. 
If you want an elaborate peacock, then you get one. If you want a simple dote shape rangoli, you get that too. It is an individual's choice, over which is the right design and how it needs to be drawn. 
Must check: Rangoli Kolam Designs
Happy Diwali Simple Rangoli Design
We call for a Simple Rangoli Design, especially for the ceremony of Diwali. I think this is a national thing for India, during the time of Diwali.
All Indian households do have a beautiful and colourful Rangoli Design. Every other house might have its unique interpretation of this exceptional practice.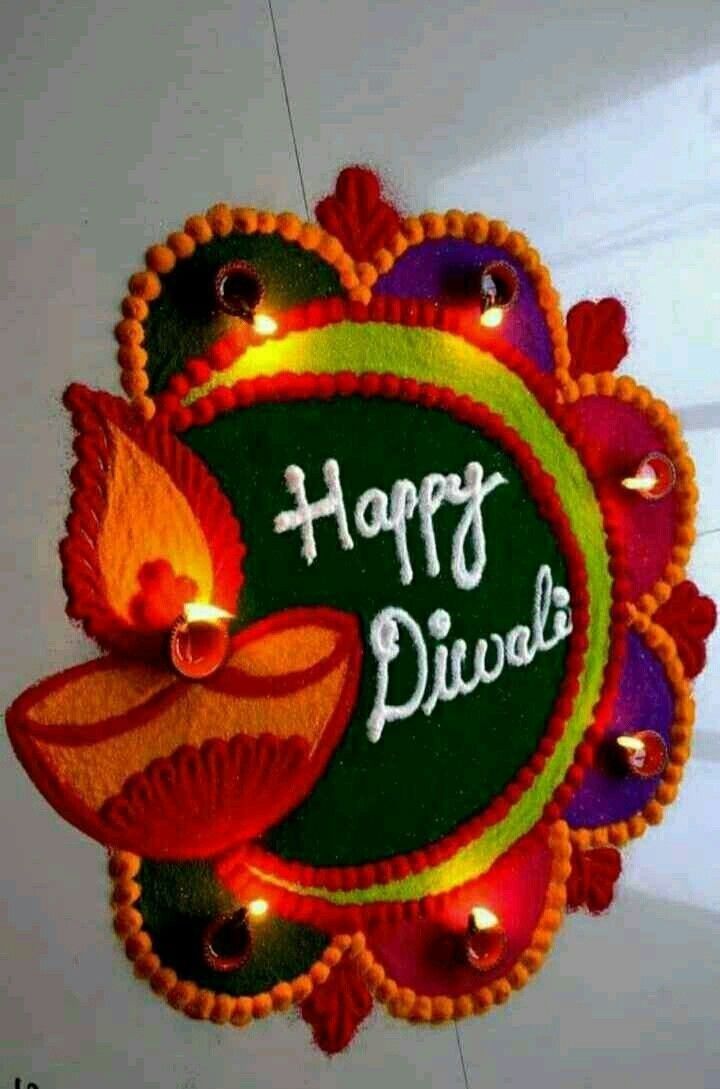 While North Indian houses do have a colourful and bright Rangoli, decorated with light sand 'Diyas'. The South Indian families, go with Rangoli Kolam designs.
This is one of such amazing Diwali-themed Simple Rangoli designs. It is pretty awesome, and you can customise it according to your own needs.
Purple and White Simple Rangoli Design
The pattern of this Rangoli design is slightly different from the usual ones. This is minimal and has a modern vibe clutching around the base.
While the base of this round Rangoli design has been coloured with Purple sand. The sides are accentuated with flower shapes and leaves too.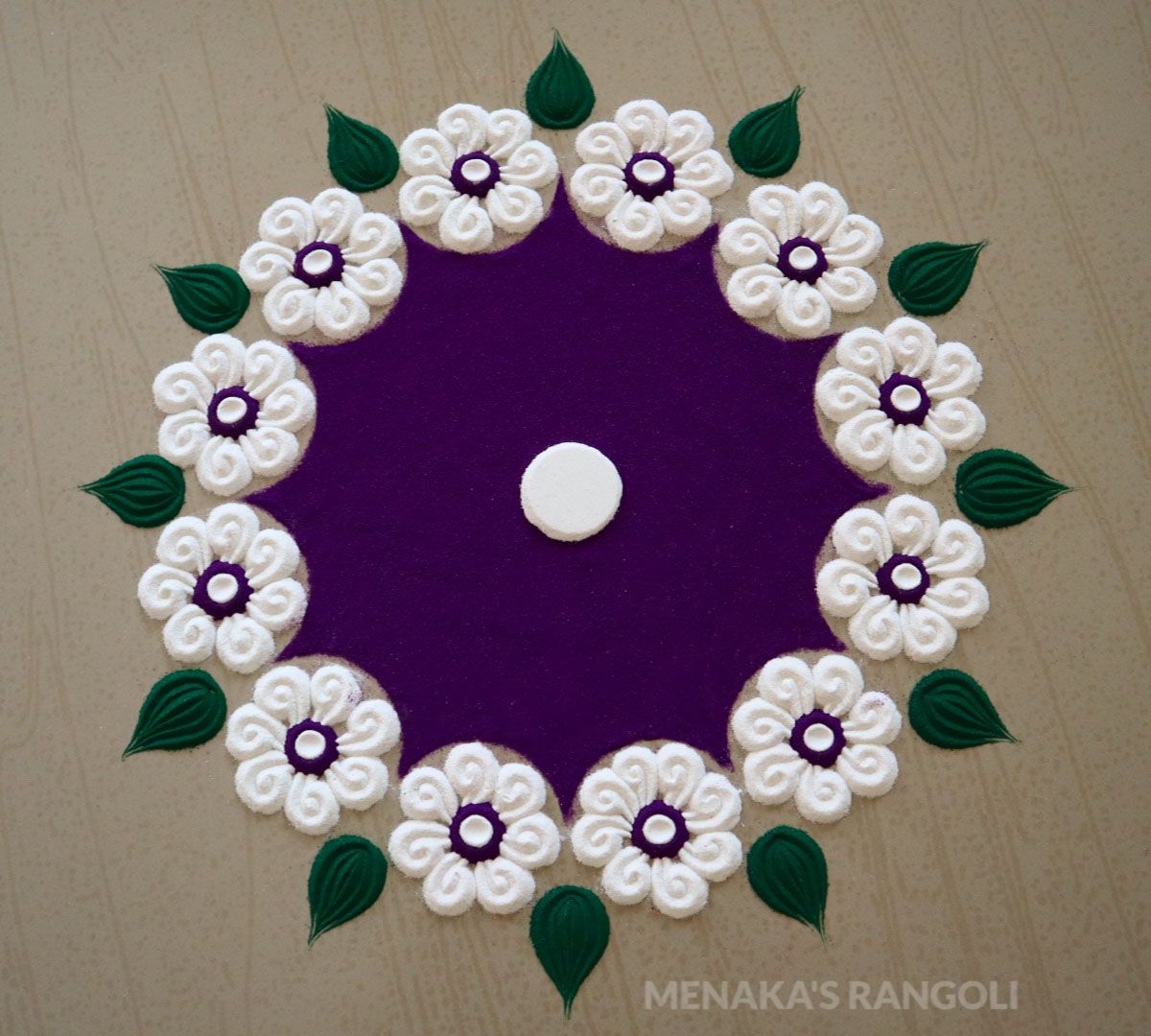 The centre of the Simple Rangoli Design is simply purple, while the rest of the design is plain old white. The side flowers are white, with simplistic swirls around them.
The leaves are adjacent to the simple round Rangoli design, and the rest of it is as simple as it can go. This is one of the best ones for a themed occasion.
Rainbow Simple Rangoli Design
If you're planning on doing a Rainbow month Simple Rangoli Design for yourself or your LGBTQ. This is a perfect combination of colours, which is celebrated. 
Even the pattern of this Rangoli has been elevated in the most simple and organic pattern. Different shades of a rainbow have been spread across the parameter, with different shades. 
For a Simple Rangoli Design, this is pretty wholesome, and it has every other shade which might be a part of your regular design. Shades like Blue, Violet, Pink, orange, and Green and ae of many shades. 
This is one of the best designs, which might even be perfect for welcoming a Rainbow baby into the house. It is super cute, ad super adorable for a good and pretty Rangoli design. 
See also: Best Rangoli Designs
Pink Peacock Simple Rangoli Design
Here, we are changing the theme and the pattern of every existing design. Instead of making an original and ethnic design, we are working on which shades are uncommon for that element. 
This is also known as contrasting art, where the original ethnic shade is removed from the recreating and you mix and match some other shades together. Instead of pink, it can be any other shade.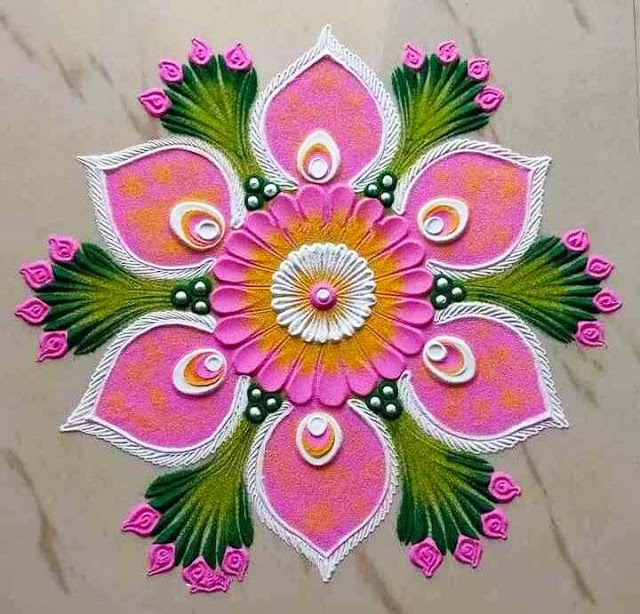 The artist might have had an affinity toward pink, which made her make this design in Pink. It is pastel, and the entire art is beautifully curated.
The middle portion of the Simple Rangoli Design has been made out of the pattern for a Mandala, while the sides have been elaborated with the help of some subtle and elegant Peacock leaves.  
Square Blocks Simple Rangoli Design
If you are not sure, which is the right design for your Simple Rangoli Design. Always settle for something safe, that you have tried and tested it previously. Geometric shapes are a few of such wonders. 
Shapes like squares and rectangles work very well with one another. Instead of just being a shape and a design, it is one of the most modern patterns for a Simple Rangoli Design.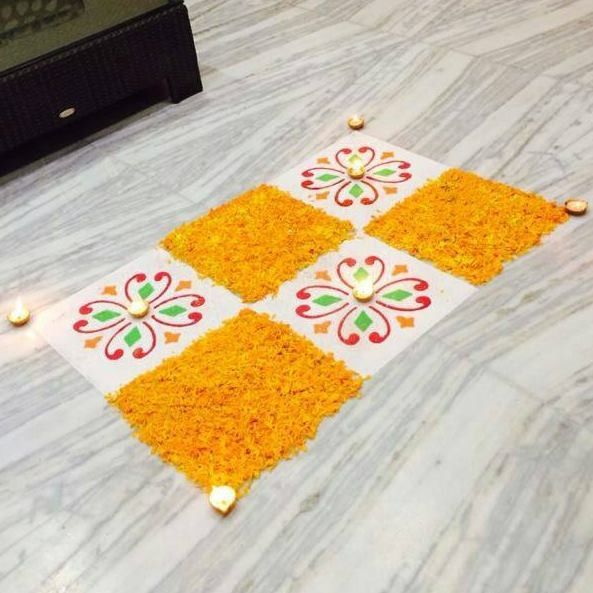 The square shapes are located one after the other, arranged in a way that it forms a rectangular shape. The size is moderately medium, and the inside of the design has been decorated with the prettiest pattern. 
If you aren't comfortable using rangoli sands, then always use materials which work well with one another. Things like flower petals and even colours might give you a head. 
Sita Navami Simple Rangoli Design
The symbol speaks for itself, this is the perfect yet Simple Rangoli Design for the occasion of Sita Navami. The holy ceremony of Hindusims, where the Goddess Sita is worshipped in all her glory. 
The ceremony showcases some beautiful segments, including special religious functions and festivals that are complete. At every Indian ceremony, there has to be a  Simple Rangoli Design.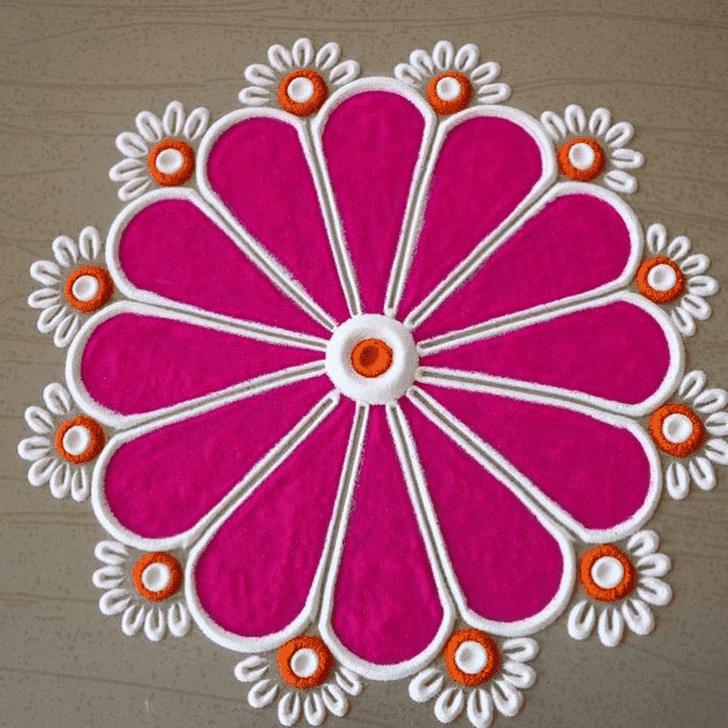 If not so elaborated, just a simple design might fetch a long way. It includes feminine colours, and they work well for the glorious image of Devi Sita, the Queen of Ayodhya. 
The colours are White and Dark Pink. Together they work well and the lines of Kalka are quite geometric. You won't have to reach back and forth to make every other segment different from the other. 
Read more: Krishna Mehendi Design
Easy and Simple Rangoli Design
Easy things are always more complicated when not done correctly. This is a procedure for making this fancy yet extremely Simple Rangoli Design. The colours work perfectly fine with one another. 
If you look carefully into this particular design, you would find the function of more than one or two colours. There are five shades of rangoli sand, in this thorough art.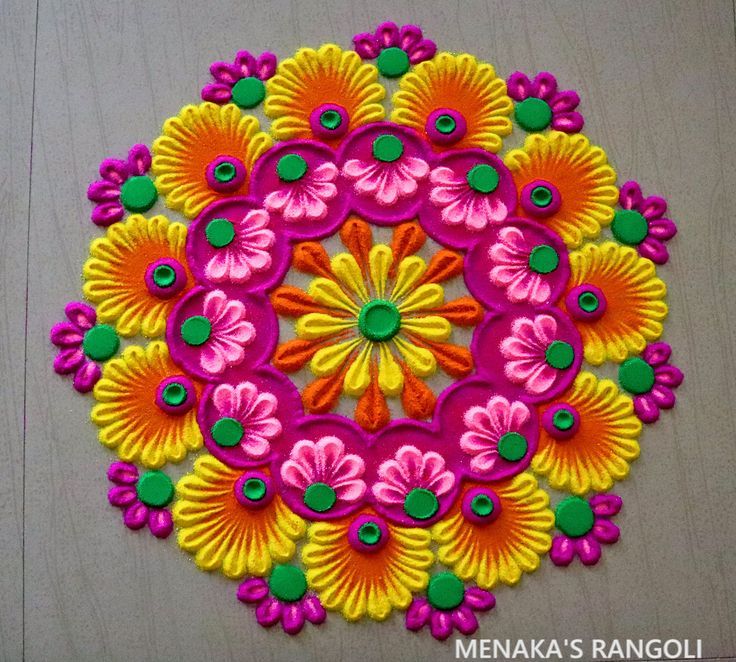 There is yellow, orange, green, light pink and dark pink. Such shades work well with one another, and it makes them extremely special and sturdy. Honestly, this is one hell of an art. 
Even if you aren't skilled enough to make it on your own, you can borrow help with some easy household tools. Things like spoons, bowls, comb and dispenser bottles might come in hand. 
Peacock Feathers Simple Rangoli Design
Contemplating a design is one of the many things, which make a proper Rangoli. If you want a peacock rangoli art, then the design would have elements of the bird's face and feathers. 
Exactly like this simplistic peacock rangoli design, has all the required elements that mark and break this beautiful art which is orchestrated around the teeny-tiny elements of the bird.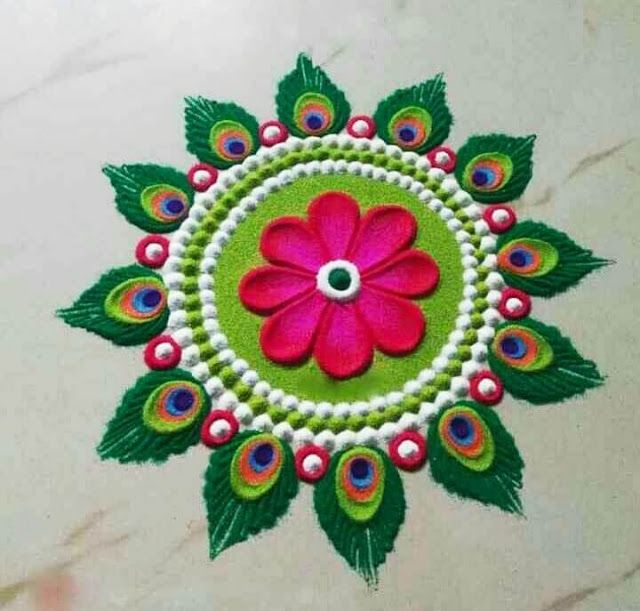 The colours are slightly different in terms of peacock weather. While the bird has its unique shade of blue, which is a combination of blue and purple and is known as the peacock Blue colloquially. 
Whereas this particular Simple Rangoli Design is dominated by the elements of green, and blue which together form a beautiful colour pattern of its own. Honestly, this is everything that you need. 
Blue and White Simple Rangoli Design
The shades, blue and white work completely different when paired together. I find white as one of the most unique shades which play a major role in every Simple Rangoli Design. 
If not blue, white is present in all kinds of homely rangoli arts. The colour black isn't permissible for holy rangoli arts or designs as such. Such instances welcome white as a linen shade.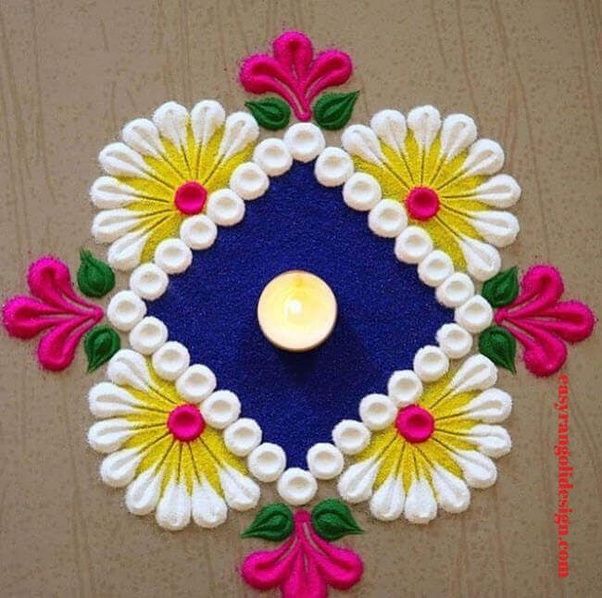 When you pair the colours blue and white together for a rangoli design. The union creates a really pretty and creative bond of surreality. Both are one of the six primary colours. 
And, white and blue together give the required vibe of a sea or any other water body. When paired together they have the potential to make any Rangoli Design, more natural and realistic. 
Orange Lotus Simple Rangoli Design
I know the colour of a Lotus flower is pink, or pink. And, it has nothing to do with the Political party or influence. This is just the combination of a shade, with a beautiful flower. 
Yes, an apolitical Orange Lotus flower, has been used for this beautiful and classy Simple Rangoli Design. Colour has no religion, community or society. It starts from the heart and ends back here.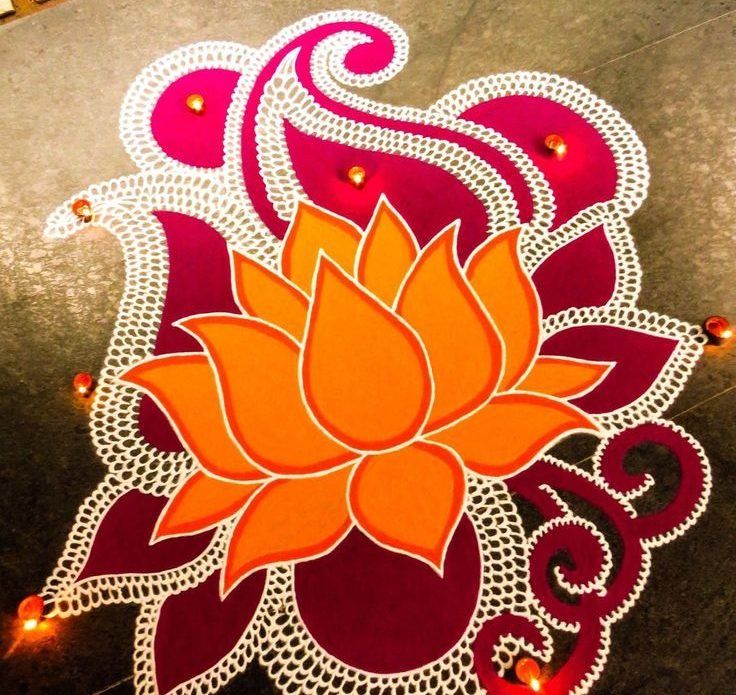 If you're searching for a firm design, which holds the depiction of a lotus flower then this is just the right option. It is super pretty and extremely well-decorated too. The best part is the teeny-tiny intricacies. 
While the flower has been painted orange, with rangoli sand. The rest of the Simple Rangoli Design has been organised with the prettiest Magenta Pink and White. 
I have seen many designs which aren't as simple as they seem to be. Well, that is the beauty of Rangoli designs. It is never what you see, it is always what is represented in that art. 
Here, we have some of the best things which make the design even more realistic and original. It starts with simple colours and ends with you making special shades. 
A design can be as simple as a coin, and even as beautiful and hefty as scenery. You don't have to do much with this beautiful and classy design. Honestly, this is one of the best parts. 
A simple rangoli design like this hardly goes out of fashion, and you only have to change the colour pattern and the sequence to make a completely different design and art. 
So these were some of the most unique and Simple Rangoli designs. At myMandap, you get to choose from a wide variety of designs, and patterns. These designs are exceptionally pretty and well-organised. 
If you found the right option, then please let us know in the comment section. We are eager to hear from your end. Which is the Rangoli Art, that found a way to your heart?