Rangoli Kolam art drifts towards the White Rangoli Designs. It is a household name in the Southern States of India, and Kolam Rangoli Designs are traditionally the oldest ones made for home decor. 
A Rangoli Kolam design was initially made from flour prepared by grinding solid rice. The rice flour is white, which makes a few of the best Rangoli Kolam Designs. 
Kolam Arts are made using chalk powder, or even by crushing white stone. The consistency of this powder makes some of the best Kolam Rangoli Designs, which are quite popular in South Indian Pujas. 
The Rangoli design is made out of White coloured Rangoli Sands or the mentioned ingredients. It is essentially one of the most creative designs for a good old rangoli kolam, especially when you don't have many colours to play with. 
Top 15 Rangoli Kolam Designs in White and Red:
A traditional Rangoli Kolam Design orients a few elements which form the base and the top of the design. Starting with dotes which finally curate the Rangoli art to the most essential elements. 
To me, this is an important part of any Rangoli Design. You can't just randomly choose your design and call it a day. You need to have certain elements which form the entire floor art.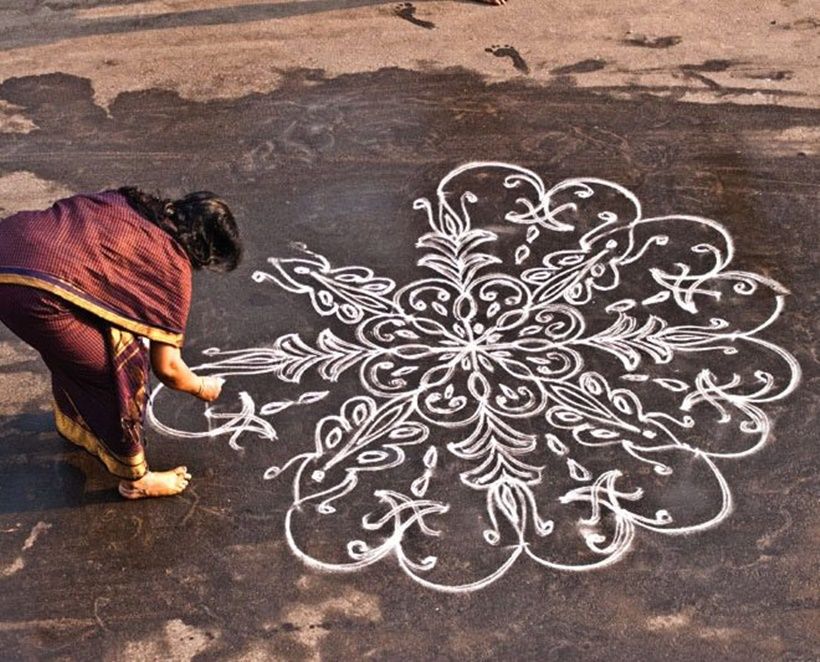 In South India, almost every other occasion such as Marriages, Rice Ceremony, Pujas and every other local festival which is celebrated has to have a Rangoli Kolam design. 
It is like having water along with your daily meal. It is an integral part of a South Indian Household. Especially with that white-coloured Rangoli Kolam, you get to witness the traditional culture of Southern India. 
Diwali 'Diya' Rangoli Kolam
Rangoli Kolam Designs with Diyas and lamps is a Diwali thing. And, Diwali being a Pan India thing, these Rangoli Designs are quite famous across the country. 
This particular Chukki Art has the same good white-coloured attributes. Except, this has even better things to add to it. It is a Rangoli Design, which is directed towards the motivation of prosperity and wealth.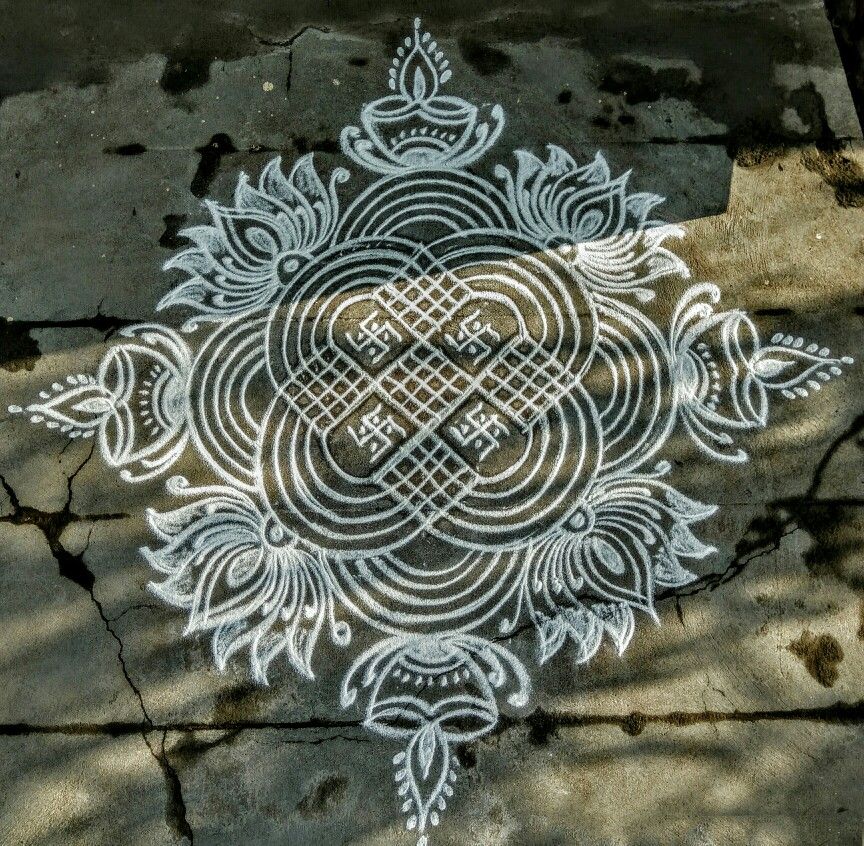 Diwali being the festival of Lights, has to have lights and Dias added to it. And, a little motif of Goddess Lakshmi wouldn't be harmed. She is the Goddess of Wealth and prosperity, and she is worshipped across India for that very reason.
These are some of the required fields, which make a beautiful ceremonial Rangoli Kolam for the occasion of the Holy Diwali. It is not only well decorated but also has a feeling of positivity added to it. 
Must Check: Best Rangoli Designs
Indian Mandala Chukki Rangoli Kolam
For mandala, you will get a couple of other related articles which show cases of the beauty of a Mandala. Not just for Rangoli designs, but also for Mehendi Designs which is an important thing for newlyweds. 
The Mandala print is quite famous for most Indian Intricate designs. It is pretty awesome in every little way. It has good old designs, with a lot more details around the side that you can incorporate into your Rangoli Design.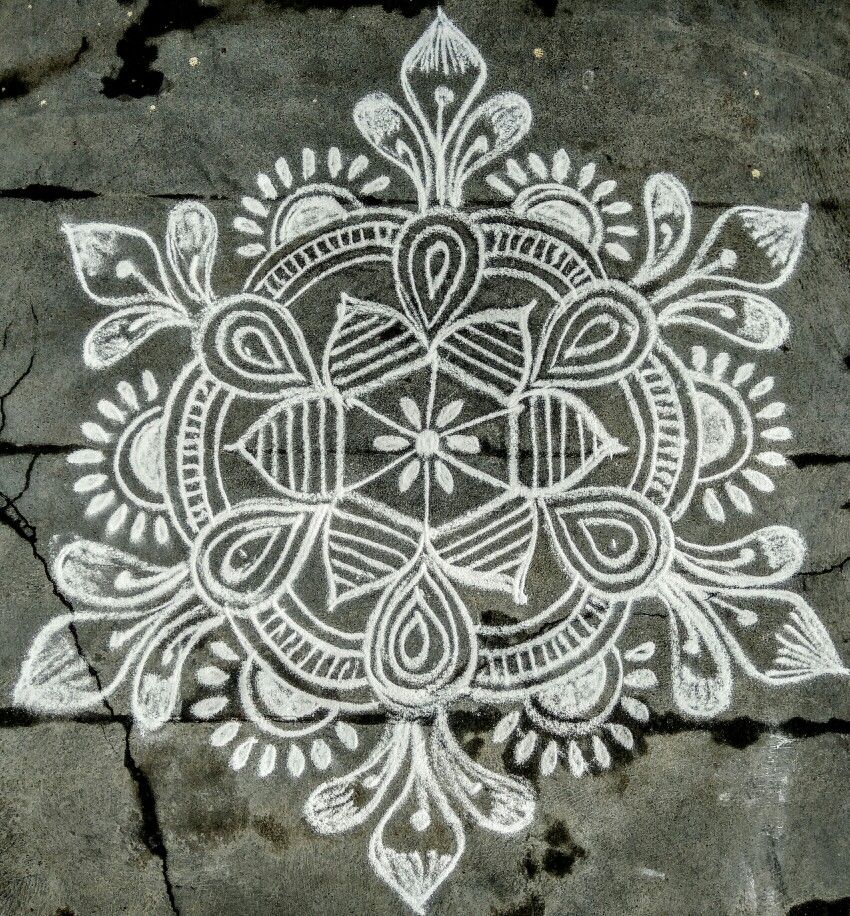 Your Early Morning Puja would be completed with this beautiful pattern of Rangoli Kolam Design. To me, this is one of the best designs which can be a part of our regular household Chukki Design. 
Books, cover pages and many other places have Mandala on top of them. That is the popularity level of this amazing art. It has exceptional patterns, which makes it full and completed by the end of it. 
Check out: Simple Rangoli Design
Traditional South-Indian Rangoli Kolam
The traditional ones are always better than the official designs. It has a moderate pattern which makes it even more popular and distinguished. Such a simplistic design is what we all want. 
Traditional patterns, do have a sense of spirituality to them. It involves symbols and patterns which are considered holy among all Hindu households. Designs like Rangoli Kolam have a separate fanbase. 
Most Kolam Rangoli designs are with a boundary of Chalk. People who do that daily, for Household Puja Archana, or their own Home Temple, just do the chalk outline. 
Without any special occasion, filling all the edges of the row is completely useless. Exactly for that reason, traditional or Homely Chikki arts are just outlined images. 
Red and White Rangoli Kolam
The red colour of this Rangoli Kolam Design has a realistic pattern. Instead of just using white for the base of the Rangoli, the artists have used red too.
It is a well-known fact, that the colour white looks good with every other shade in the world. Especially when it has been paired with the colour red.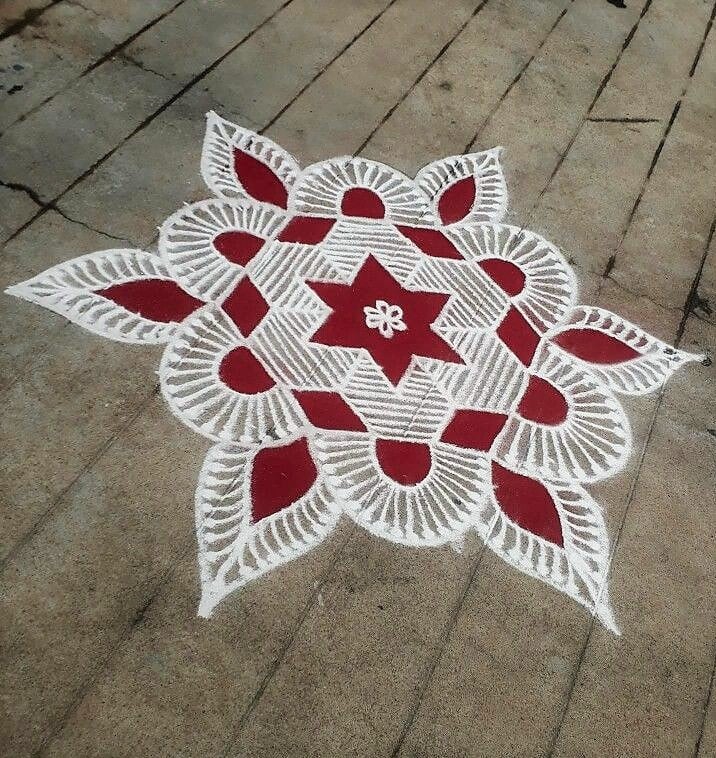 Together they form some of the best Rangoli Kolam Arts. Although that is not the traditional norm of West Bengal to add red colours to the base, we do.
It is one of the best things, which work in such a beautiful pattern. It has shades and colours which makes it even more realistic and traditionally sturdy.
View also: Krishna Mehendi Design
Pink and Green Rajasthani Rangoli Kolam
Colours are a gift, and they can change the theme for anything and everything in this world. This is one of the best things which works like magic for a good Rangoli Kolam.
All sorts of Rangoli Kolam arts have to be in the shade of White, but adding a few other colours only add further to the look of it.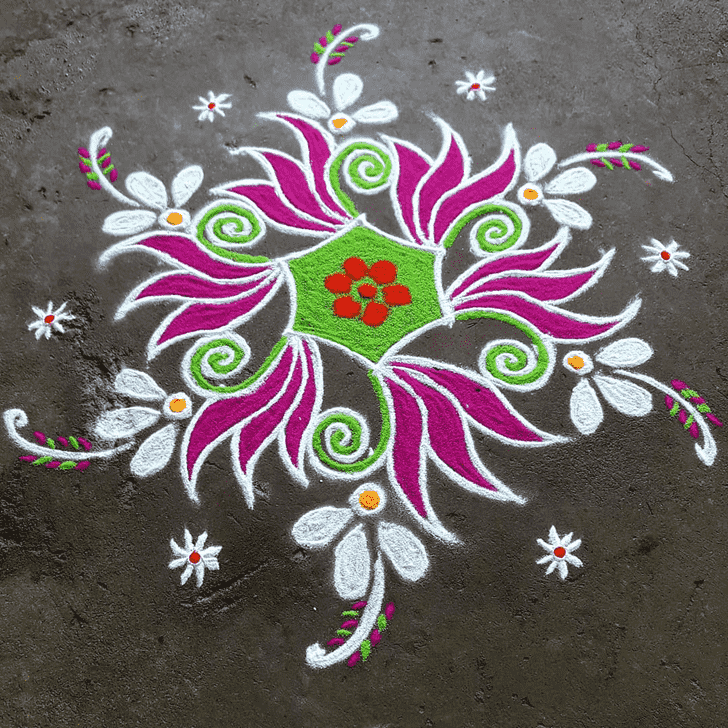 A Rangoli Kolam design with colours like these works well for nuptial events. Yes, doing just a simple white rangoli design might sound too boring for the wedding day.
For such occasions, it is best when the Rangoli Kolam Art has been elevated with beautiful colours and designs of the same category.
Check out: Rangoli Designs with Dots
Rangoli Kolam with Lines and Leaves
This is a very nature-oriented design for a good old rangoli. The entire base of the Rangoli has pretty few lines and representations of Leaves. 
In West Bengal, these lines and curvey intricacies are called 'Koka' and you would see such amazing patterns on the forehead of the bride.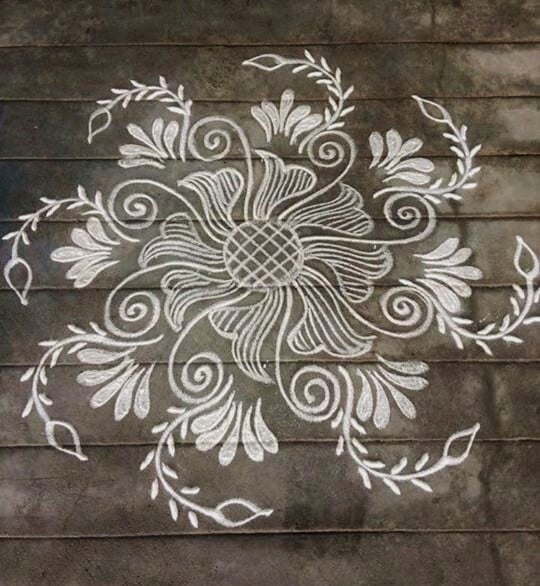 That is a legit norm in Bengal, all Brides wear such a beautiful pattern on their forehead along with pretty little Bindi Design and other mature and colourful intricacies.
This is one of the many things which makes a Kolam Rangoli even more realistic and authentic. You can add any pattern of your choice, and that would count as a Rangoli.
Must check: Mehendi Design for Raksha Bandhan
Floral Chukki Rangoli Kolam
Flower patterns are my favourite. No matter what we are indulging in. Outfits, Mehendi options, jewellery and even Rangoli Design. Floral patterns are the safest option for all designs. 
They are really simple in terms of the pattern or the design. And, only takes a few things to make it better and more put together. This is one of the best options for a Rangoli Design.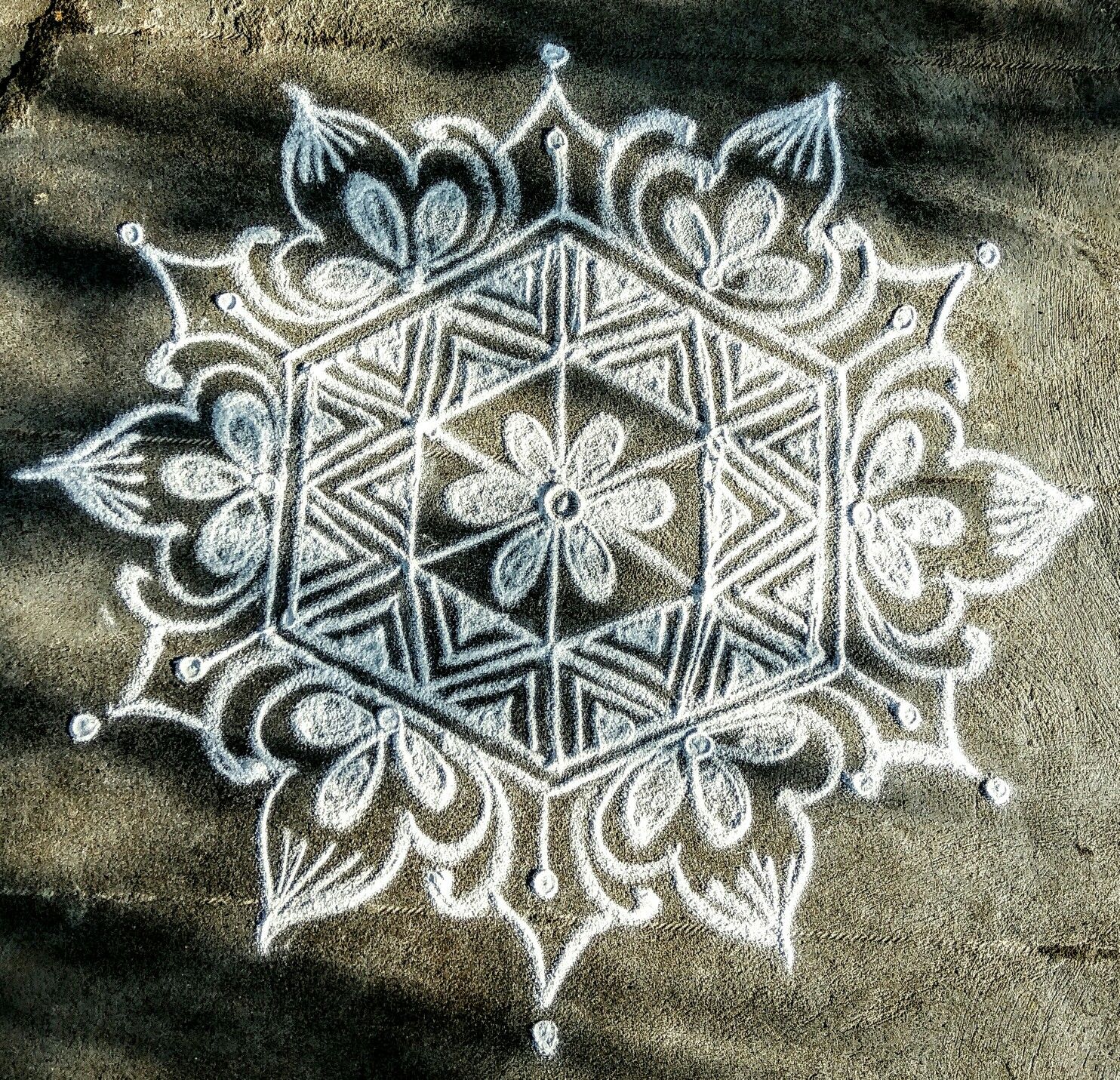 A floral Chukki is very different from the ones we are used to seeing for the big day. It makes the design stunning and has a pattern which is as sleek as any other chance. 
I find the Floral pattern similar to most other patterns which are a part of a Mandal or a good old Rangoli Design. In a Kolam Rangoli Art, you get to choose from a wide range of designs. 
Rangoli Kolam Style with Peacock
Peacock Rangoli Designs are a few of the most popular patterns, which involve a living organism in the art form. It has a recurring image of the bird in the most glorious manner. 
In a Rangoli Kolam, it is slightly different, here the face of the bird or the body is drawn white the same old White powder. Although colours can be added to the design, to make it more beautiful. 
But that loses the authentic tough of royalty and prestige. Instead of that, this involves a slightly different aura than just the Peacock Rangoli Design. To sustain the beauty, settle with the middle ground. 
Like choosing the pattern of Chukki Rangoli, and the shape of the peacock. That sounds great, and it is slightly different from the ones we are used to seeing at every other traditional home. 
See related: Free Hand Simple Rangoli Designs
Swastika in the Centre Rangoli Kolam
To everyone else, this is just an everyday design. While the Swastika plays an extremely important role in the well-being of a home. We know that Swastika Rangoli is a compulsion for Diwali. 
Do you know, why it is so important? Well, it is about the design which plays a part in this amazing world of Rangoli Designs. The Swastika is drawn in the middle, or around the side.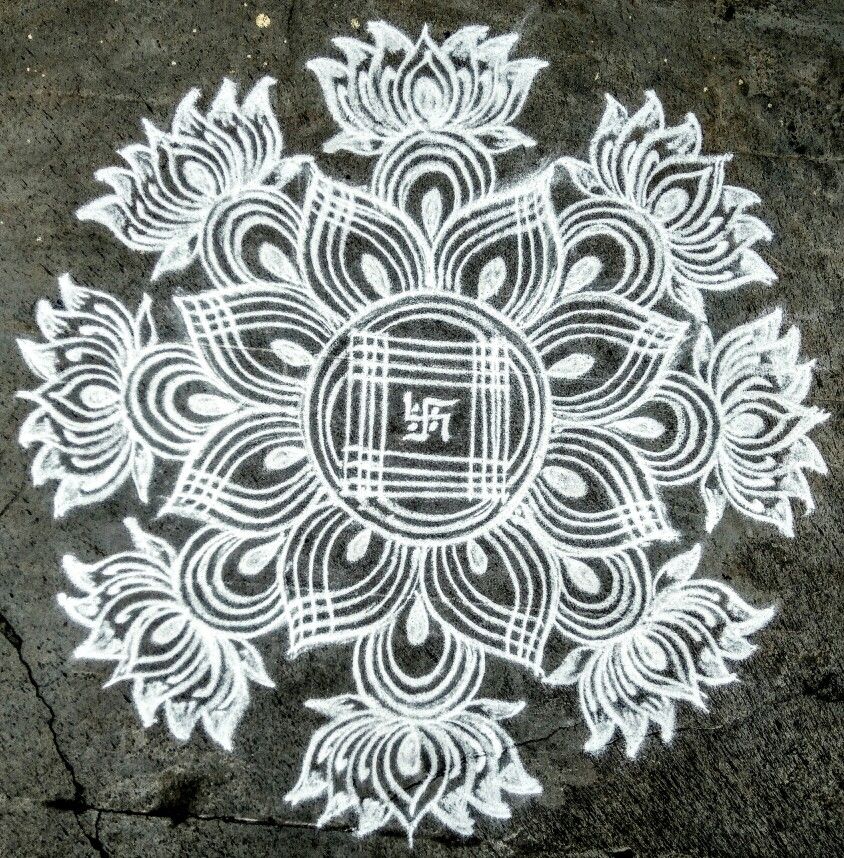 Every detail which is added inside a typical South Indian Rangoli has an inner meaning to it. While some details emphasize the story of how, and when things are at the right place. 
Even simple things represent the good old prosperity, which is the sole intention behind drawing such an exceptional design. A Rangoli Kolam is an Art, which is irreplaceable. 
read more: Independence Day Rangoli Designs
Geometric Star Rangoli Kolam
Geometrical shapes are quite common for a Rangoli Kolam Design. In fact, this is one of the most prominent patterns used for a Rangoli art in Andhra Pradesh. You will find related posts about this pattern, on another blog of myMandap. 
We have mentioned these amazing star-shaped Rangoli Designs, in that blog. For now, you just need to know about the exceptional star-like shape of this particular Chukki rangoli design.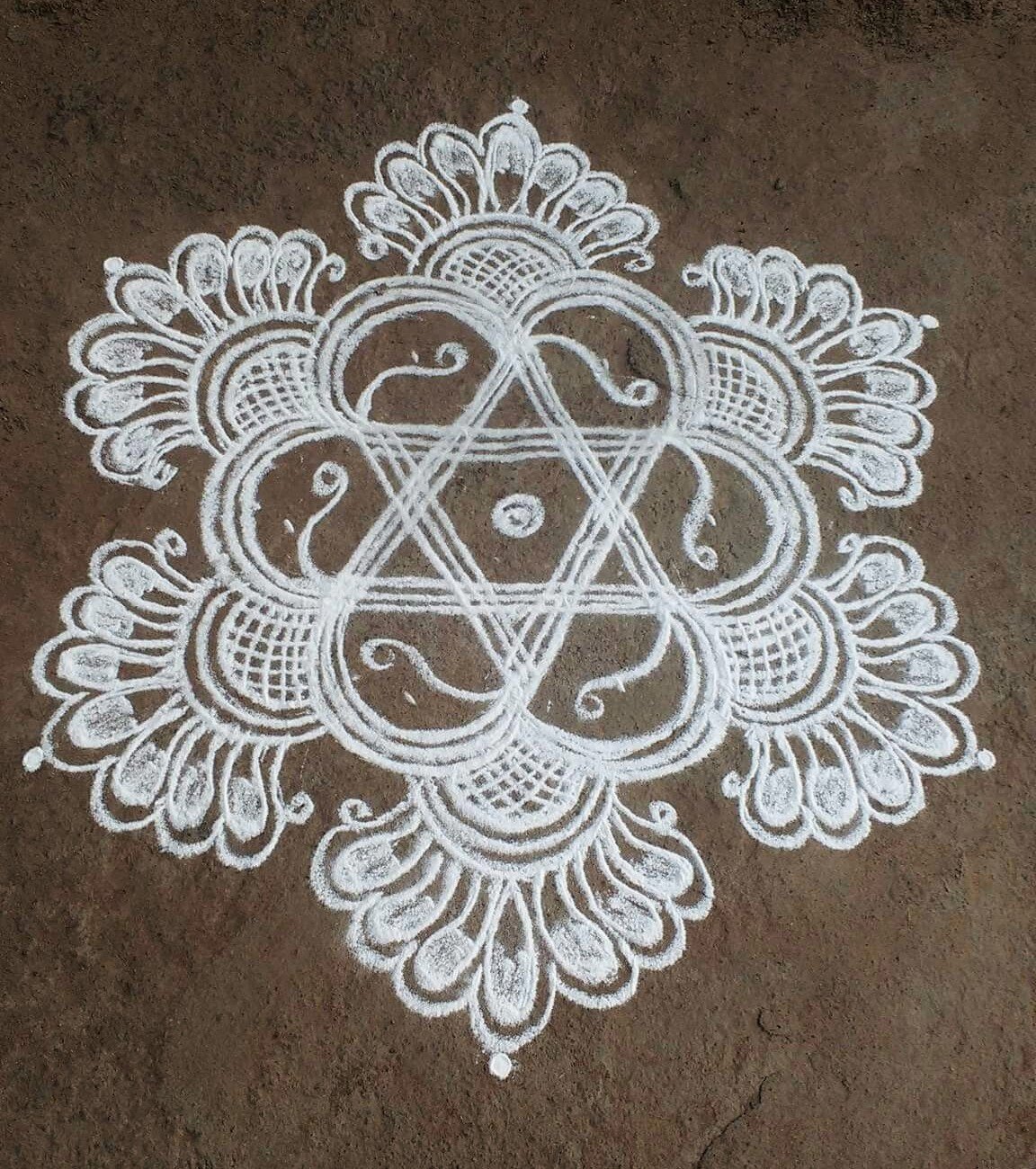 Geometric Shapes are some of the coolest things which work well for a Dot Shape Rangoli Design. There are various patterns for this Rangoli Art. There are pretty good six dots and four dots patterns too. 
South Indian Kolam Art, has many patterns. Among which are six dots, right dots, and the twelve dots ones are th most popular ones. Women curate dotes, and connect them to form such pretty Kolam Rangoli Designs. 
Multi-Coloured Chukki Rangoli Kolam
Colours work differently when you are planning on an indoor decoration theme. It starts with outstanding shapes, patterns, and designs with some exceptional colours added to it.
This particular Chukki Rangoli Design is slightly more feminine and woman-like. I found this one quite apprehended and well designed. This would look well for your usual floral designs too.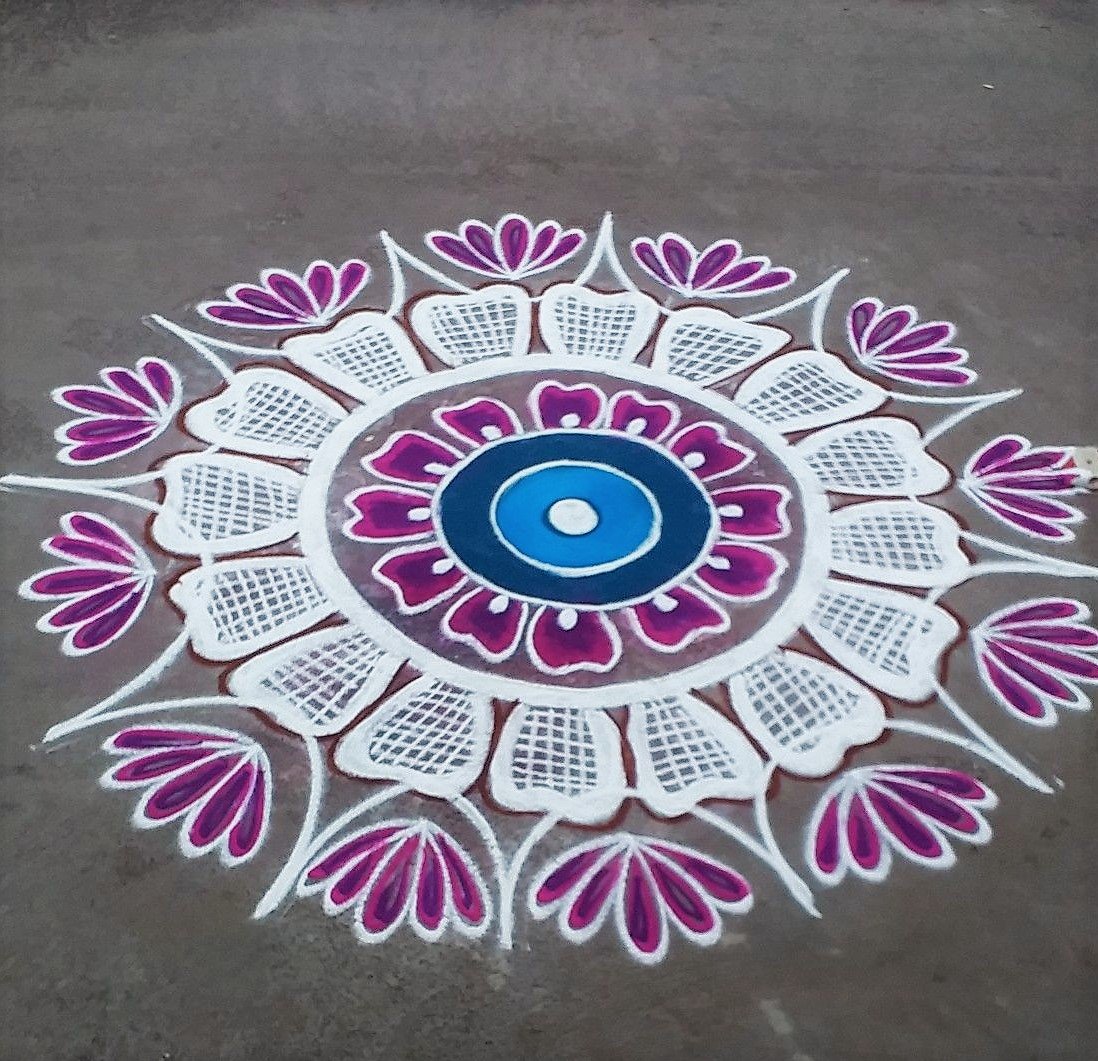 Adding some colourful flower petals, and making it a floral Rangoli Design might work well. Besides having beauty, this is everything else needed for a good old homely floor design. 
If you want to make a 'Thal Rangoli' which means the Rangoli on a plate, then this is a very good option. It is well decorated, emphasised and has everything else needed for a good old design. 
Must Look: Small Rangoli Designs
Manglik Chukki Rangoli Kolam
Chukki is a patent Kolam Rangoli Design during regular Pujas or festivals. The Chukki design is easier in terms of the pattern, and the design which is used for making this so well detailed.
Festival days are more glorious and put together with these prosperous symbols of Good luck and fortune. The Mangalik intricacies, often involve a few details like Swastika, The Holy Basil leave, or the Ritualistic Hindu Pot also known as Kalash.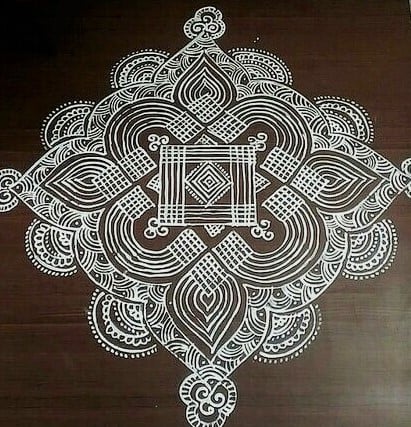 These attributes make a design even more put together and realistic. The rangoli element or the white powder has to be used wisely in these images. Trust me, the outcome would be very satisfying. 
Since you have an idea of how to handle Chukki Rangoli'sdesign, you won't face much difficulty in understanding the epistemology of this super fine  Maglik Shaped Rangoli Kolam Art. 
Bengali Alpana Rangoli Kolam
Alapana is a traditional Rangoli Art of West Bengal. Although Kolam or Chukki Rangoli isn't that famous in the eastern part of India, their traditional Rangoli is quite famous in other parts of India. 
Alpana is not a Rangoli design which is pilled over, instead of that, it is more like a white-painted one. For Chukki Rangoli o Kolam you need a thick Rice paste, which is made using rice flour.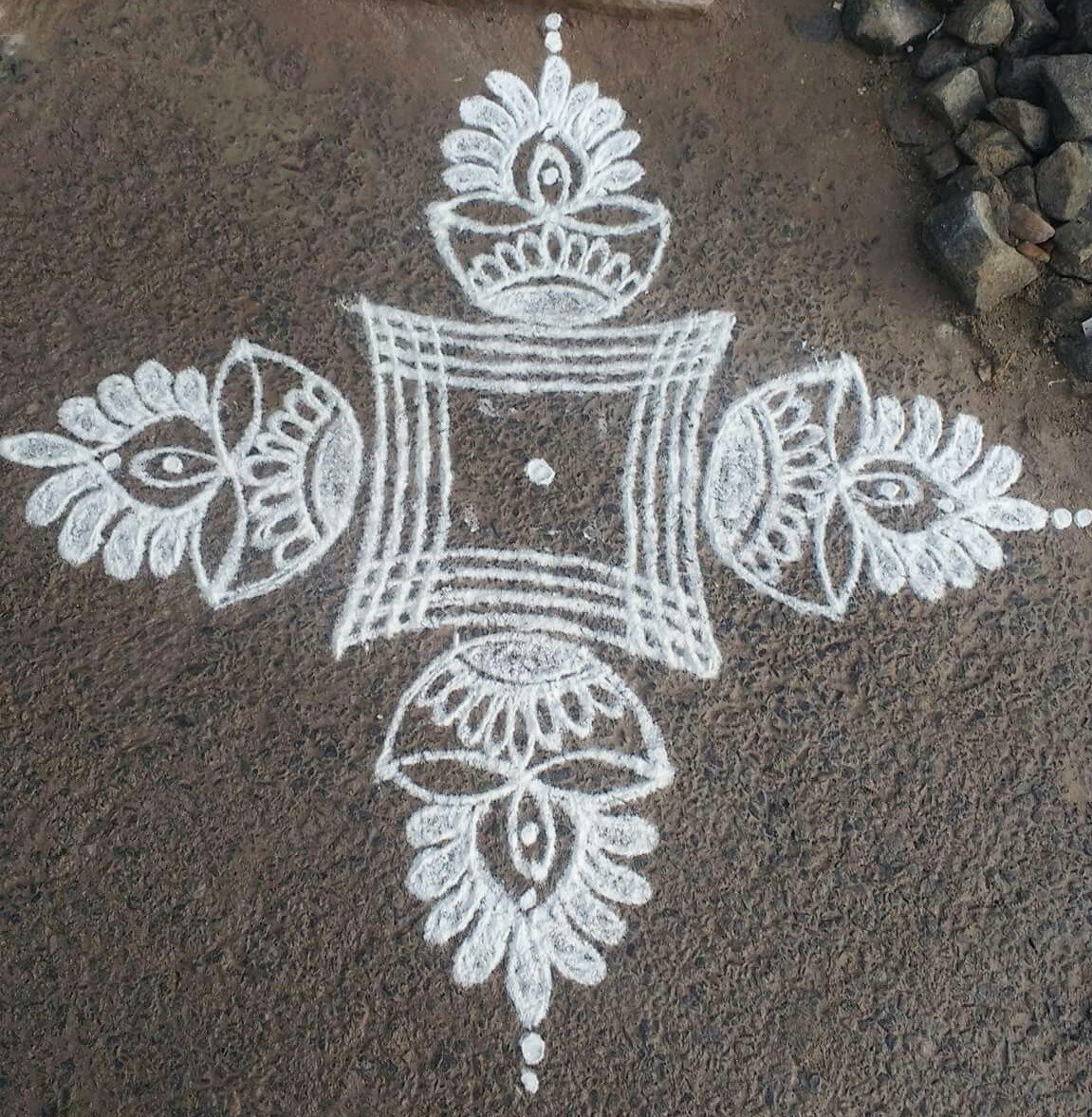 The Bengali Alpana designs are made with liquid paint, which is made out of 'Khori Mati'. A white clay powder, which is made out of  Dry Paddy Straw and some drops of water to make a thick consistency. 
What I find so special about this is, that you can manage ad control the art with your bare fingers. Traditionally in West Bengal, people didn't use didn't brush to make this art, they just used a cotton ball or a teeny-tiny piece of cloth.
Six Dot Mandala Rangoli Kolam
The theme of this special Rangoli Kolam design is none other than dots. They have been widely used to make this special Mandala-themed Rangoli Design. This isn't just a Mandala, but a proper Chukki art. 
Such a beautiful Rangoli Design deserves to be on the top of the list of the best ones. It has intricate designs, which form the tip of such exceptional household art. To me, this is one of the best options for a one-person Rangoli.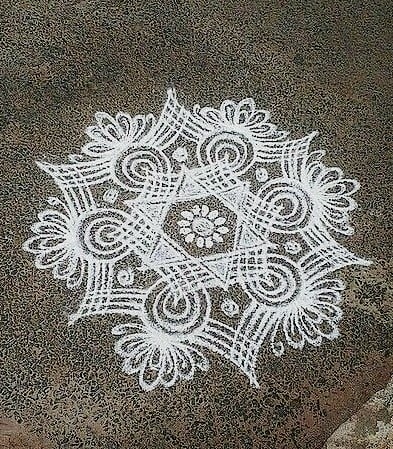 It is a very simple design with some little details which surround the entire design in a very bizarre pattern. The entire rangoli design has been decorated with pretty awesome shapes and little details. 
But you would be shocked to know that, this Kolam Rangoli Art has been made using just dots. Yes, the entire design has been made with some of the prettiest shapes and lines. A segment has been made by connecting the lines in the right way possible. 
Rajasthani Rangoli Kolam
The best part about this Kolam Rangoli Design is the colours which have been used to make the pattern so accurate. The Rajasthani Rangoli Design has different colours and various signs of prosperity and good luck. 
A Rangoli Kolam Design in this pattern is an accumulation of the traditional White themed Chukki Art from Tamil Nadu, with the colourful Rangoli Art from Rajasthan.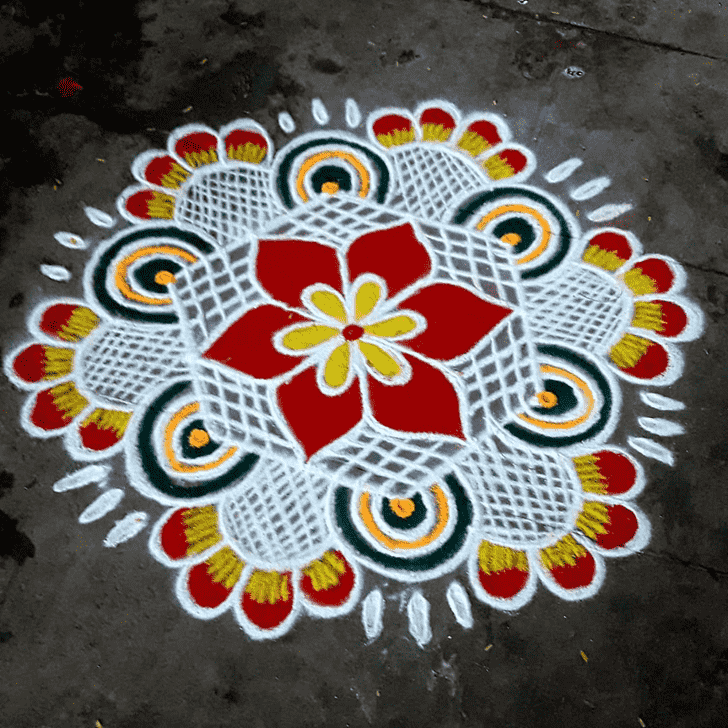 This is a mix of all the goodness that one needs for a completed, and fulling Rangoli Design. Happiness, joy, and celebration are some of the themes which come to my mind on seeing this art. 
Traditionally such beautiful art needs auspicious occasions to play its part. To me, this is a perfect Rangoli Design for the Diwali Celebration, or some other special occasion which follows that day. 
An Indian Household has a story of its own.  Every home around the world shares its recipe for a Pie or a special chicken dish. Similarly, a Rangoli Kolam is one of the many indigenous traditions. 
A Rangoli design represents the deep-seated culture of an Indian home. The tradition of being hospitable, and the feeling of being at your own home. It starts with the sweet old things, like a pretty little Rangoli Kolam Design. 
Visit any random house in Chennai, on the Day of Diwali. Bet me, you didn't see the Matriarchs of the house, making a long and exceptionally pretty Chukki Rangoli Kolam Design? 
The answer to that would be, yes you saw the mother and the daughter making a Kolam Rangoli Design together. While the daughter is getting all sorts of scoldings from her mother, for not doing it right. 
Her mother imparts the art of Kolam Rangoli, the culture of our India. Well, at myMandap we appreciate every little thing about an Indian Wedding or special events which are around the traditions of the nation. 
We have wonderful posts about wedding rituals, decorations, and lots more. Traditionally an Indian Wedding is all about the rituals, and the ceremonies. Here, we have all that you need for the best Wedding Ceremony.