The Golden Bridal Lehenga Choli is an exceptional Bridal Lehenga assortment. The impactful Golden Lehenga is not just a style but the most elegant attire which is the best Wedding Dress.  
Remember, a Golden Bridal Lehenga is a wise choice for Bridal wear, as it is a good option over your Traditional Saree, as well as goes for classy Party Wear. 
Weddings are expensive, why waste money on something which is not even that trendy? Here, we have gathered some of the best and trendiest New Arrival Golden Embroidery Indian Wedding Lehengas. 
Trust me, you are about to get blown away by their fabulous Gold Stone Work. Wearing the following options for your Golden Bridal Lehenga would be your win.
10 Best Golden Bridal Lehenga for the Wedding Day:
I know Alia Bhatt was a trendsetter, for wearing an Ivory Lehenga, but her Mother-in-Law, Neetu Kapoor wore a gorgeous Golden Bridal Lehenga for the fabulous Ralia Wedding Ceremony. 
In fact, the entire combination turned out really well for the family. Obviously, the Haldi outfit had to be a classic Manish Malhotra, with the quintessential No-Makeup Makeup Look, and the fabulous Bride herself. 
Although the classic Golden Bridal lehenga look by Tara Sutaria is a Bridal Look. Even the Indo-Western Reception look by Anushka Sharma was in the Golden Bridal Lehenga family. 
Here, we are about to distinguish some of the best Golden Bridal Lehenga which has made their way for the fabulous Golden colour, and also for the Printed Saree Vibe that it kills. 
View more: Ravishing Bridal Lehengas
Zardozi Golden Bridal Lehenga
What is so special about a Good old outfit with the right decoration and the right embroidery? Well, it is the material with which it had been made.
This particular style of Golden Bridal Lehenga is a perfect example of a good and fashionable at the same time it is utterly ethnic and you can totally wear it as your Bridal attire.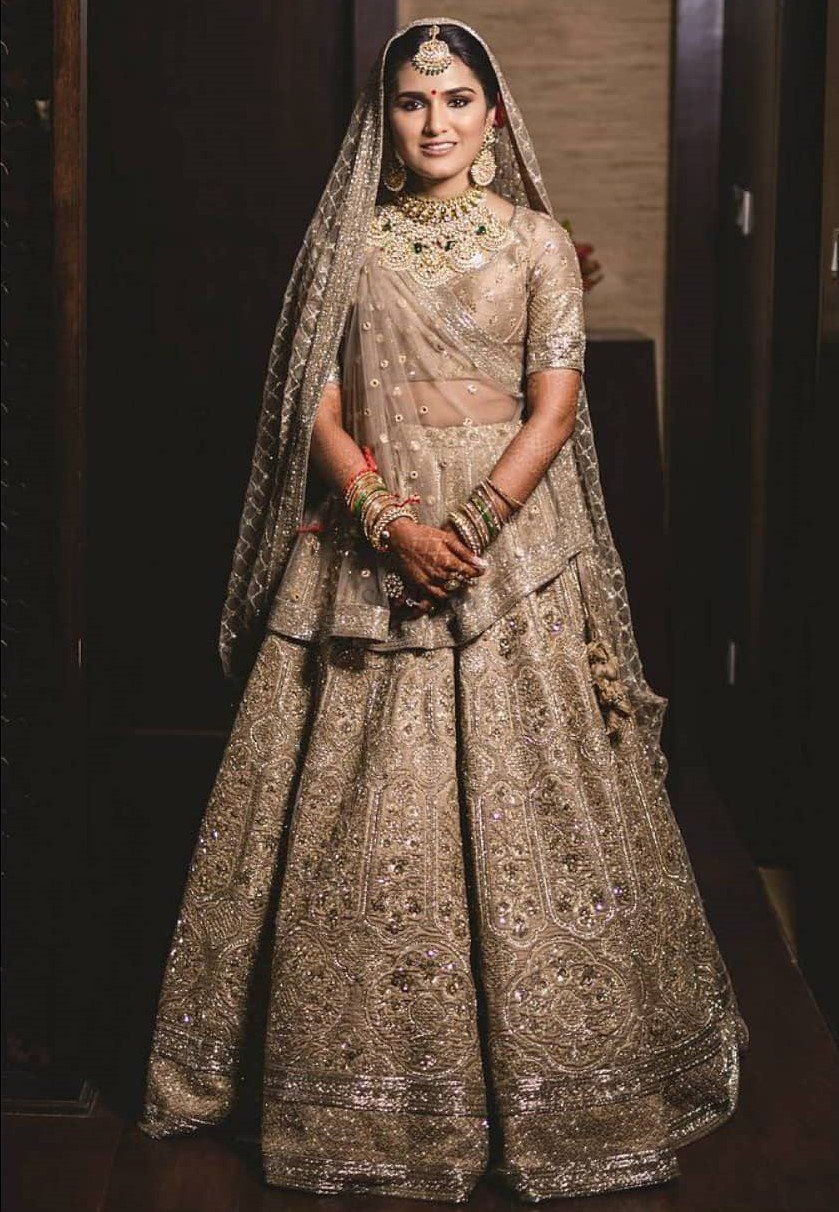 Why am I such a big fan of fashionable outfits? Well, that is solely because it is about the way you are wearing it and not just the style made by the designer.
This bride wanted to keep her outfit ethnic and extremely basic. This is why they went with Zardozi Basics which is style if you ask me personally.
View more: Pink Banarasi Lehenga
Simplistic Beige Golden Bridal Lehenga
Her outfit is a part of the Minimalistic collection, which is the base colour of this particular Golden Bridal Lehenga is none out than a basic Beige shade.
If you ask me personally I think, this turned out really well for the bride. First of all, ornaments are classic Polki Jewelleries which is actually a great option.
The lower portion of this Lehenga Skirt is embroidered with the best sequins, and even stitch works and it has made the entire Lehenga look better.
It is sturdy, classy and extremely gorgeous if you ask this is one of those classics that hardly go old. And you can totally nail it for your Wedding Ceremony.
Sequin Work Golden Bridal Lehenga
A sequined outfit belongs to the slightly new version of designs this is one of those styles which have been innovated in recent times. Trust me, you can never be wrong with it.
What I find so special about this combination, is the base design which fills the end and makes it wearable. The little sequins are surreal and picturesque.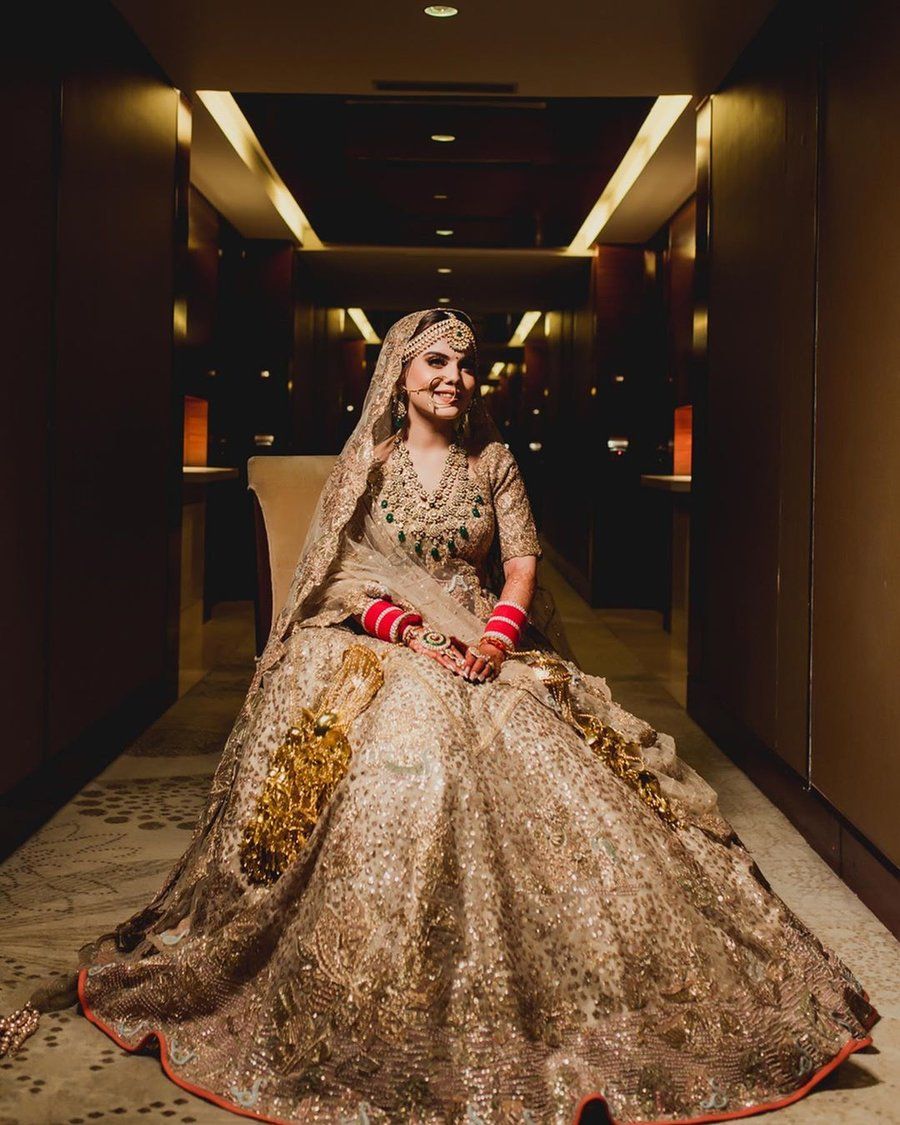 I personally find a sequined Golden Bridal Lehenga better than many other choices for the wedding ceremony. Honestly, it is a choice, and you can totally nail it.
The teeny-tiny red border around the end is a subtle combination which looks really glamorous along with the red and white chuda worn by the bride.
Check more: Modern Hairstyle for Lehenga
Gota Patti Golden Bridal Lehenga
Trust me Gota Patti is classic stitch work from North India, and it has been my favourite fabric for a long time. It is gorgeous and well blended.
All you need is a good bridal Dupatta with Gota Patti and that can literally elevate your basic look into a completely different outfit for the wedding ceremony.
A Gota Patti Skirt is a classic example of a good and gorgeous fabric which makes everything better for the bride. Starting with the simplest style to the prettiest technique.
This is one of those Indian styles that hardly ever go out of fashion, and it has been my favourite for ages now. You should wear a Jadau Necklace with this masterpiece.
Sharara Style Golden Bridal Lehenga
Some Lehengas are styled like a Sharara Suit too, it is just about how one styles it for the day. It is comfortable, colourful and really glossy.
I think this is just the combination which we all deserve. It is pretty and has the best ornamentation too. It has layers, which makes a Lehenga better.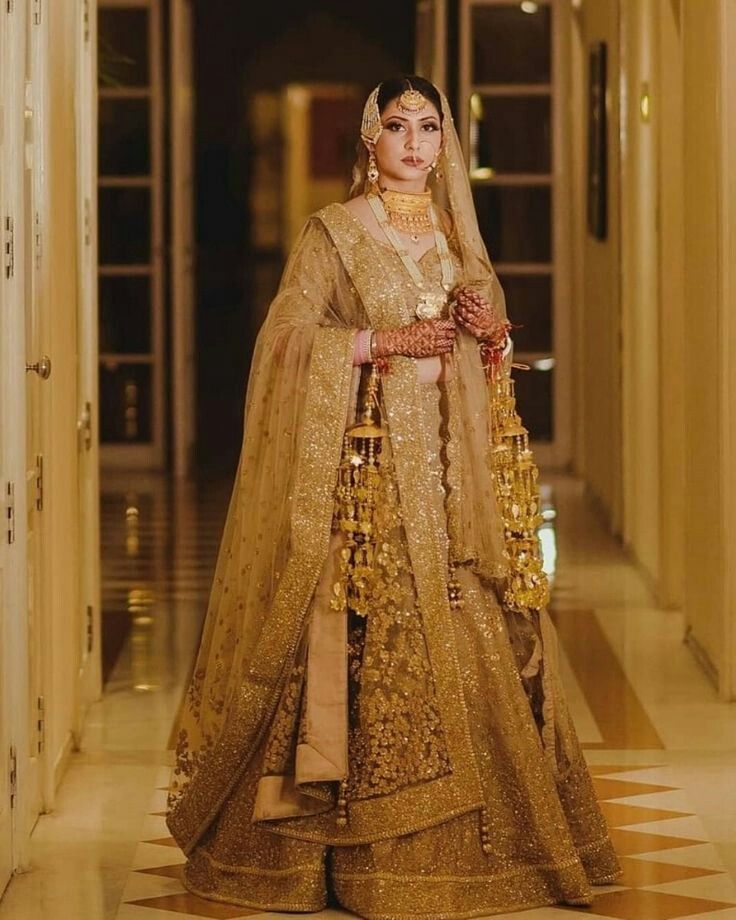 I would say, this is one of those ideal attires that we all want for your big day. It is decorated with the best ornaments, and that has literally added the best sparkles.
Sparkles and embroideries are part of your attire, but actually complete the full look is the appearance and the glance. This is one of such amazing examples of Golden Bridal Lehenga.
Pastel Golden Bridal Lehenga
Yes, Golden Bridal Lehenga also works with pastel combinations, exactly like this particular one worked so well with the floral Lehenga Style.
If nothing this is a subtle reminder of a fabulously hot lehenga worn by Anushka Sharma for her wedding ceremony. Yes, the one made by Sabyasachi Mukherjee.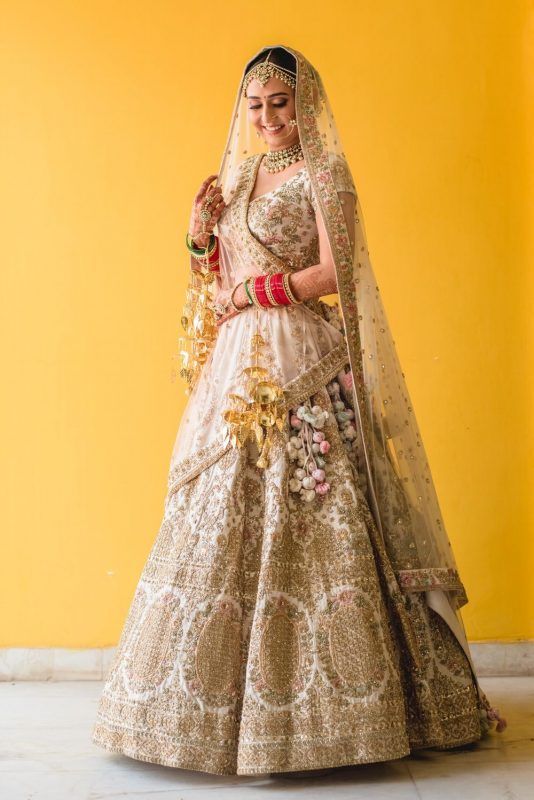 Her entire Bridal Makeover was a label which turned out so well for the newlywed. Besides that, this particular outfit has fabulous colours too.
The lower portion of the Lehenga is Golden, and the anterior portion is slightly more tilted towards the Ivory White Colour. Honestly, this is a combination which would never look bad on anyone.
Mermaid Gown Golden Bridal Lehenga
It is you who is going to wear the Golden Bridal Lehenga, then it can absolutely be anything of your choice. A good fairy skirt, a big yes or a dress like this.
This is a Mermaid style gown, which is actually not a Gow but a beautiful Golden Bridal Lehenga. What is so different about this one?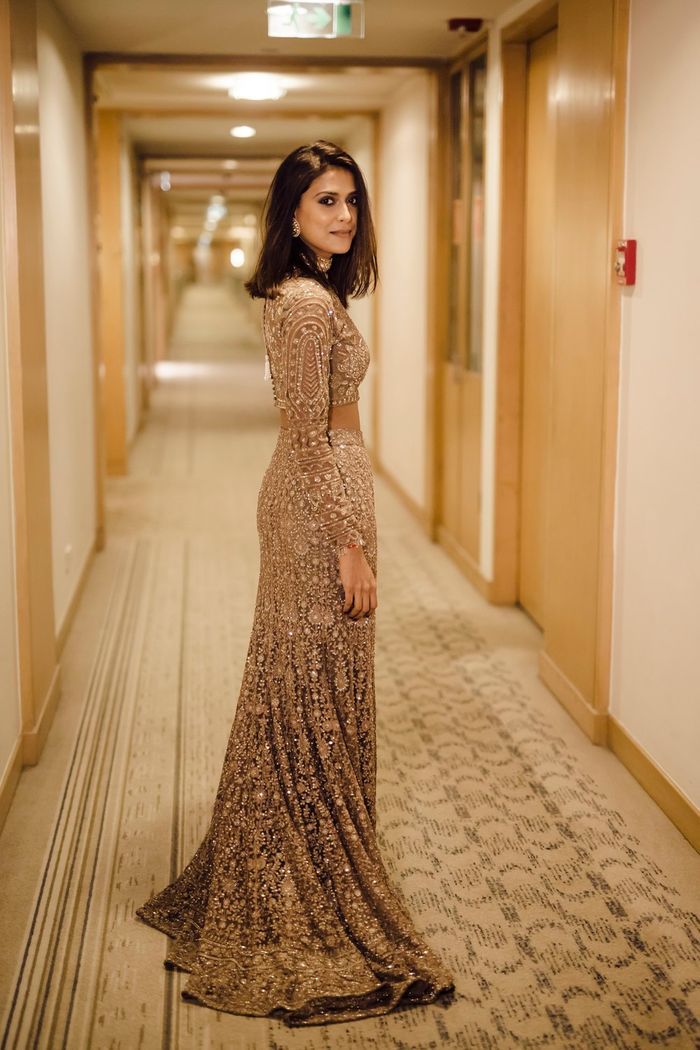 It is none other than the bottom of the gown, which is frilled and extremely pretty too. If you want a mermaid flared dress, then the design of this Golden Bridal Lehenga is exceptional.
The embroidery of this particular outfit is out of the world, and you can totally style it with an offbeat choker necklace, and trust me that is going to be better than anything.
Must Check: Maggam Work Blouse Designs 
Colourful Embroidery Bridal Lehenga
Colours are my favourite, they create an ambience of utter nostalgia for the rest of the outfit. The most important portion of this Golden Lehenga is the flower embroideries.
These are not just embroideries, but getting hold of the right shade is extremely important. If you have the right shade of golden, then the dress automatically elevates.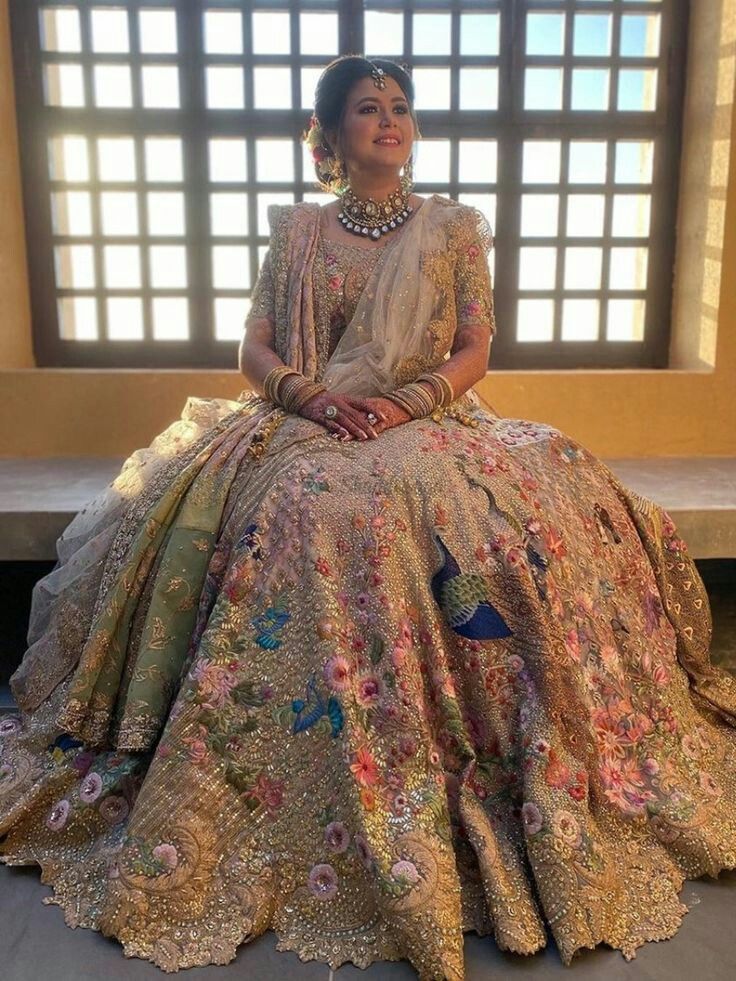 The wide skirt is flawless, and the golden embroidery on top of that is like the cherry on the cake. Trust me, this is an extremely pretty Golden Work Lehenga.
In fact, you can literally accessories it on your own, without even taking any exterior help from a single person out there. That is the flex of a Bridal Wear like that.
Golden Bridal Lehenga with Red Dupatta
A classic combination for a newlywed, and it never gets too old. The one we are talking about is a basic Golden Lehenga with the Gota Patti work at the corner.
Trust me, this is a win-win Bridal Lehenga with the exceptional Zardozi work and the beautiful Phulkari Dupatta which has the most beautiful georgette
The border region of this particular Lehenga is subtle and beautiful. In a way, this is an exceptionally good choice for someone who likes to wear traditional combos.
If you want your Bridal Lehenga yet traditional then this is just the combination you need. A perfect Golden Bridal Lehenga with Red Dupatta.
View: Bridal Dupatta Drape
Net Golden Bridal Lehenga
I have a special heart for designs and features which go well with one another. Exactly like this particular option for a good and beautiful Golden Bridal Lehenga.
This is a smart combination of Golden along with the subtlety of Pink added to it. Honestly, I can call this one a Net delight, as the Bridal Dupatta is made out of the net.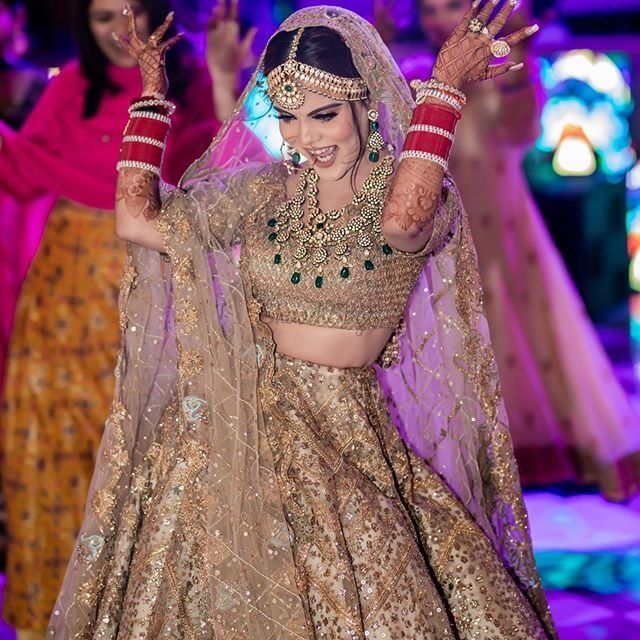 It is basic and elegant at the same time. Trust me, we all at some point want our outfits to be similar to this one. Fashionable elegant and extremely smart.
The basic embroidery pattern of the outfit is what took my eyes towards it. It is basic, and that is literally giving life to the beautiful Golden embroidery work.
You'll need Jewellery along with your Golden Bridal lehnga, and there is no replacement for that. An Indian Bride needs to wear the right amount of colours, along with their Traditional Benarasi Saree, or the simplest Chiffon Sarees. 
All Indian Woman have their favourites when it comes to the right designer and their classic Wedding wear. Even if it is Bebo, the super-hot Kareena Kapoor Khan nailing her Mother-in-Laws's antique Golden Bridal lehenga. 
Her fans were totally loving the sequins, and the print on her Lehenga Choli. The colour of the Folden Bridal lehenga is a choice if you want it to beige or simply ochre. 
That's how special it is for an Indian bride to choose the perfect Wedding Lehenga for themselves on the occasion of the Wedding ceremony.
If you are happy with the fashion choices, and styles given by us then do not forget to let us know in the comment section. We are eager to know, which of the mentioned Golden Bridal Lehenga Styles was your favourite. 
At myMandap, we have everything that you really need to know about the Wedding Ceremony starting with Bridal Fashion, Food, Decorations, and lots more.