The Krishna Mehendi Design Ideas for the Baby Shower Party is absolutely the best. It makes your Mother glow even more prevalent, and the outcome is stunning. 
No wonder the baby shower is for the mother and her loving child. She celebrates the birth of her unborn child, who is about to be welcomed right in her arms. And, that calls for something extra. 
You get to spend the bay shower with your loving friends, family, sisters, and everyone who was a part of your Motherhood journey. This is something that calls for something extra, and you get to have the best. 
Starting with the most beautiful Krishna Mehendi Design, welcome your loving child. All mothers want a hyperactive child like little Kanha, a boy or girl. It hardly matters. 
Top 10 Devotional and Divine Krishna Mehendi Design
Honestly, you'll find eons of amazing Bridal Mehndi Designs that are great for the big day. Only a few, patronize the necessity of a good, and memorable. 
The following Kanha Mehndi Designs are actually about the Little Kanha in every child. Their mother celebrated that in the way of a beautiful Baby Shower Mehndi Design.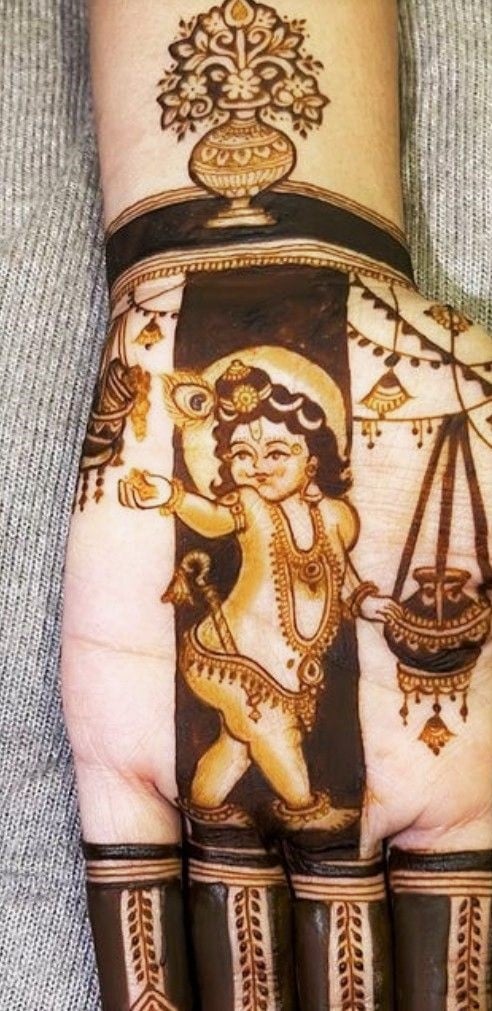 Here, we have some of the coolest Krishna Mehendi Design ideas which are highly flexible and customisable too. Honestly, we want this for our special day. 
There are many options for prominent Mehndi Designs. How does a Krishna Mehendi Design come about? Well, it is none other than the pattern which makes it so promising. 
Visit: Easy Black and Red Mehendi designs
Godly Portrait Krishna Mehendi Design
Godly Images are always surreal for a classic Krishna Mehendi Design, this is one of those little things that make a huge difference for the Baby Shower Mehendi Design.
The following image shows the face of the Loving Lord Krishna. His face is the centre of attraction in this particular Krishna Mehendi Design. Honestly a safe and wise choice.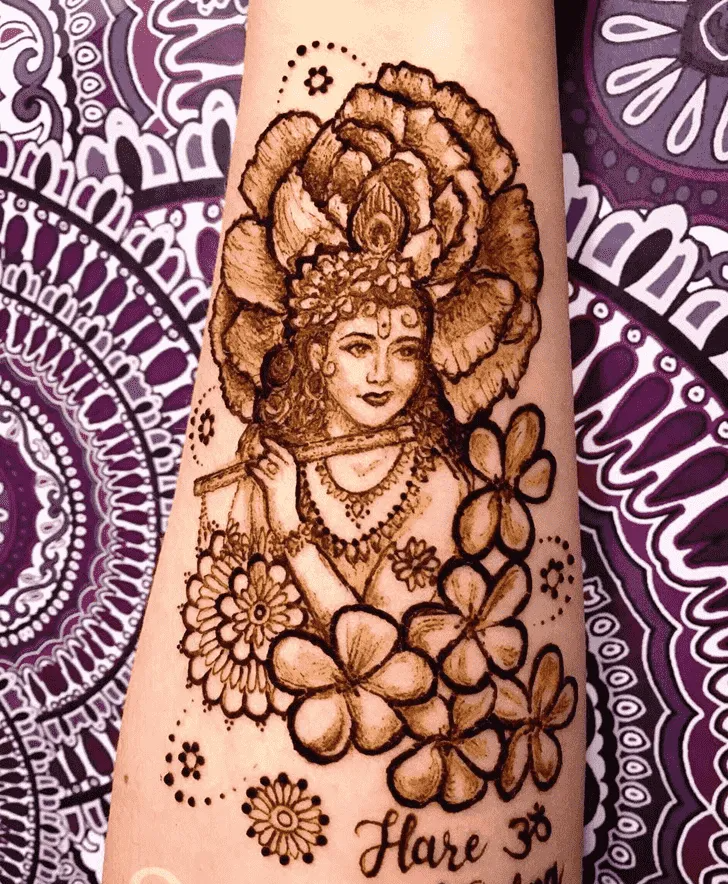 All you need to do is, ask your mehndi Artist to put a beautiful design for the wedding ceremony. Here, the pattern of the Mehendi is the portrait of Lord Krishna.
Such an auspicious Mehendi Design is good for new mothers as well. All you need to do is take proper tips, from your Mehendi Artist on how to make it darker.
Hare Shree Krishna Mehendi Design
If you want your Krishna Mehendi Design to be picturised according to the terms of nature, and that needs to be filled with nature's love, then this is for you.
The Mehndi Artist has nicely gathered the best of flowers, and other little things in this particular option for a beautiful and elegant Krishna Mehendi Design.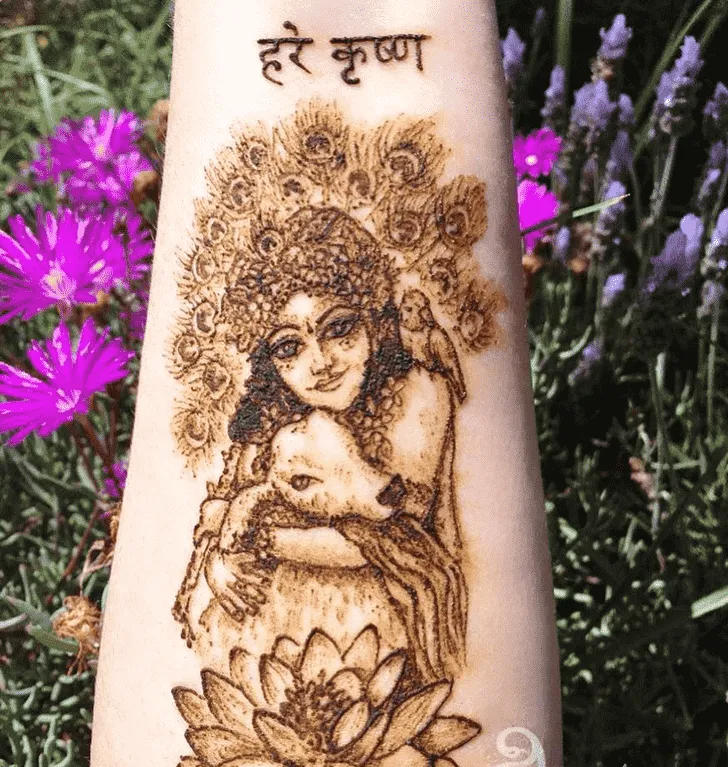 Over the Mehendi Design of Krishna, the Mehendi Artist has draw3n beautiful little peacock feathers. If you ask me, I think this is a delight on its own and the results are quintessential.
The little portrait of the calf is out of the world, and those elements of flowers and other little things are making this one even more beautiful. That quote, 'Hare Krishna' is significant.
Read more: Lotus Mehendi Designs
Baby Kanha Krishna Mehendi Design
I think this screams of a Baby Shower Mehndi Design, and that little Baby Krishna is adorable. If I could, I would have taken him o my lap. He is engrossed in his favourite pot of 'Butter'.
Sitting over a beautiful Lotus leaf, and behind him is a hallow of divinity. Which is further accentuated with the prettiest 'OM' symbol, an essential part of Santana Dharma.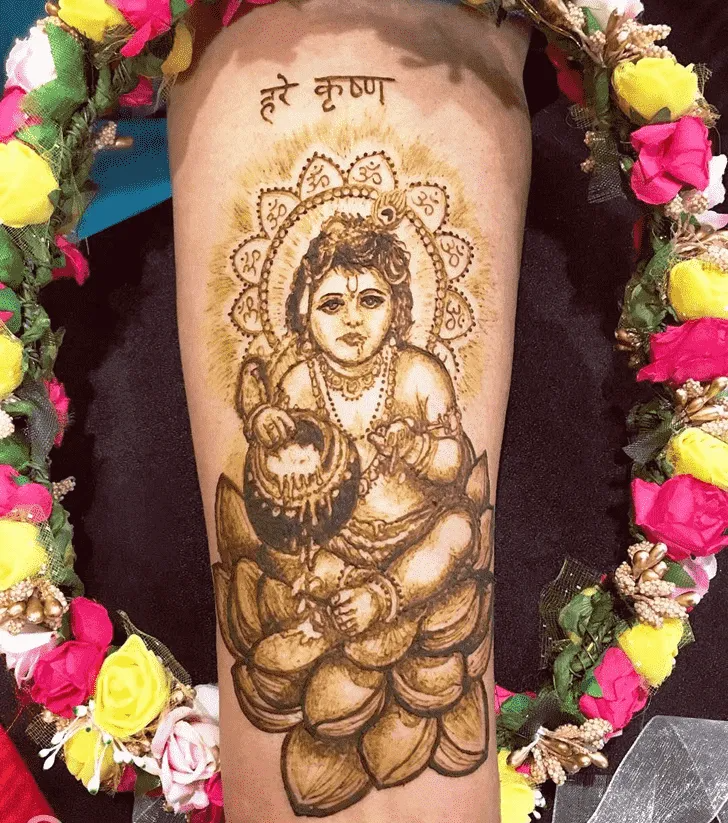 The little fluffy arms and let so Shree Krishna, is something that all mother wants for their little one. He is so sweet and so adorable that the pot of 'Makhan' is not even a source of Punishment.
Every child craves to have their favourite something, and their mother prevents them from getting it. That is something very playful, and love for the Mother.
Must view: Best Rangoli Designs
Vishnu Portrait Krishna Mehendi Design
I'm been a devotee of Shree Vishnu and all his avatars. And, Shree Krishna is my favourite among all of them. He is the eighth Avatar of Shree Vishnu and the 'Palandhari'.
Before he came, Matsya the Fish, Kurmo the Tortoise, Baraha the Pig, Narasingha the Half Human and Half Lion, Bahman the Dwarf, Parashuram the Kshatriya, Rama the King, and then there was Lord Krishna.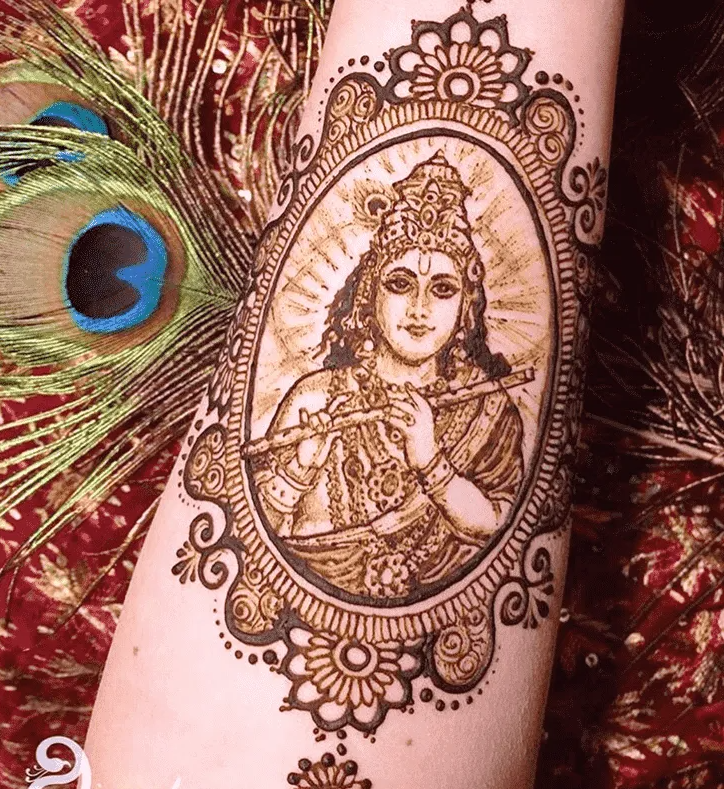 After Krishna, it is utterly debated who is the ninth and the tenth Avatar of Shree Vishnu. While some folks consider, 'Balaram' as the ninth avatar, some others believe he is the avatar of Shesh Naga.
Some even consider 'Budha' to be the ninth Avatar of Vishnu. But the Tenth Avatar is yet to come, in the face of Kalki at the end of kali yuga. That is the beautiful epistemology of this Shree Vishnu Mehendi.
Check out:  Mehendi Design for Engagement Parties
Name of 'Kanha' Krishna Mehendi Design
I think we are all familiar with special styles which make a special head for the Baby shower Mehendi design. This can be the Krishna Mehendi Design for the father as well.
Yes, some fathers also participate in the beautiful ceremony of the baby shower, and that is certainly completed when they do everything along with their wives.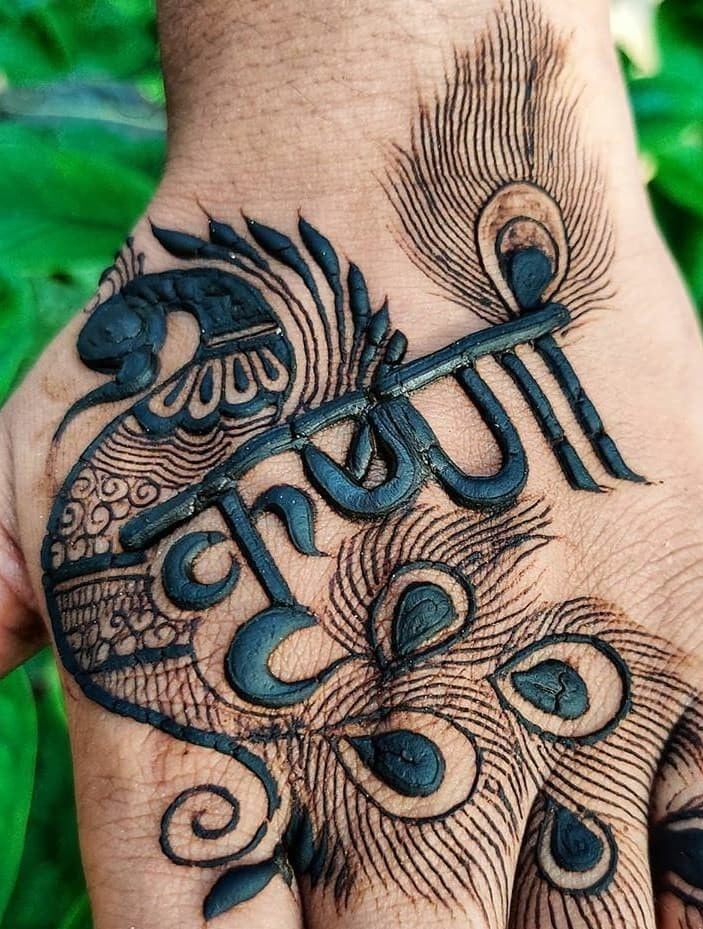 This is one of those classic designs which have won a million hearts, it is highly customisable and flexible too. You can really do a lot with this particular option.
Although it only has the sweet little name of Shree Krishna, that doesn't make it any time less than all other options for Krishna Mehendi Design. It is pretty, and appropriate too.
Must check: Rangoli Kolam Design
Joined Hands Krishna Mehendi Design
Well, this is not just a Baby Shower Mehndi Design, but also a beautiful and elegant option for a classic Wedding Ceremony Mehendi worn by the bride and her family.
Obviously because of Radha, who is the divine consort of Krishna. He loved her, respected her and kept her throughout his lifetime. This is just that, in th form of a beautiful Krishna Mehendi Design.
The idea behind this Mehndi Design is the subtle art of joining hands. The Mehndi Artist has picturised Radha on one hand, and Krishna on the other. What happened here, is out of the box.
When you join both hands together, that forms a beautiful portrait of the lovers. Something which everyone loves, and cherishes. This is one of the best Krishna Mehendi Designs.
See related: Mehendi Design for Raksha Bandhan
Khato Shyam Krishna Mehendi Design
Not just any commonly worn imagery of Shree Krishna, this is the original ethnic representation of Khato Shyam who is worshipped as Shree Krishna in Gujrat and Rajasthan.
Well, he is not known as Shree Krishna according to the Deva Puranas. But he is the head of Barbaric, the son of Ghatodkach, who was the son of Bheem, the second among the Pandavas.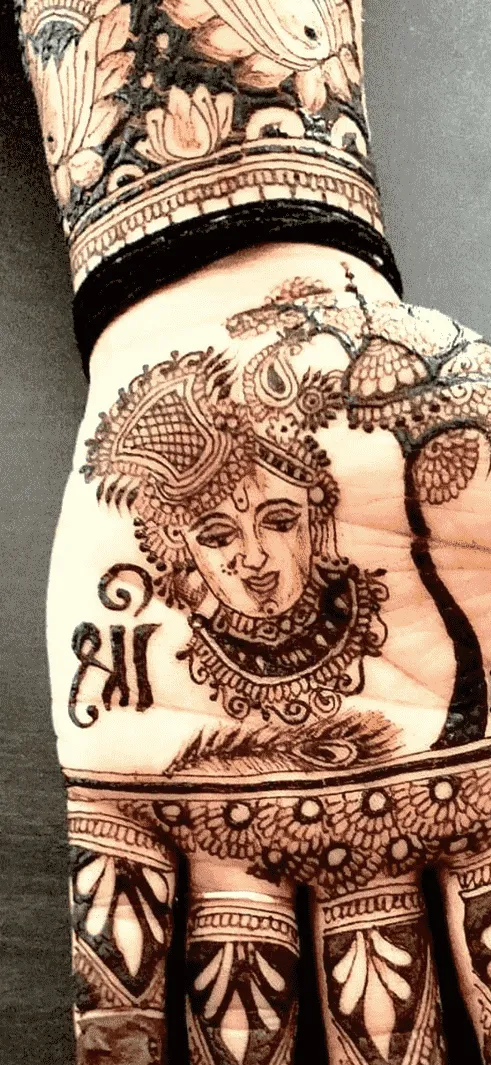 Barbarik was blessed with three arrows, that can never lose their target. And he promised his mother, that he would only fight against the losing sight. Lord Krishna, knew if he fought the battle, he can kill everyone within a fraction of a second.
So, he demanded barbaric for his head. Krishna received his head and blessed him as his Avatar and he is worshipped there as one. That is the beautiful story of this Krishna Mehendi Design.
Mandala Style Krishna Mehendi Design
This is a slightly more detailed option for a good old, Shree Krishna Mehendi Art. Infact, this is not complete as well. As you can see from the image, the Mehndi Artist was yet to complete his wonders.
Pictured by the best Divine Mehendi Artist Yash Joshi who is a fabulous Artist. He has pictured Krishna in his Kind and loving nature, something that everyone loves.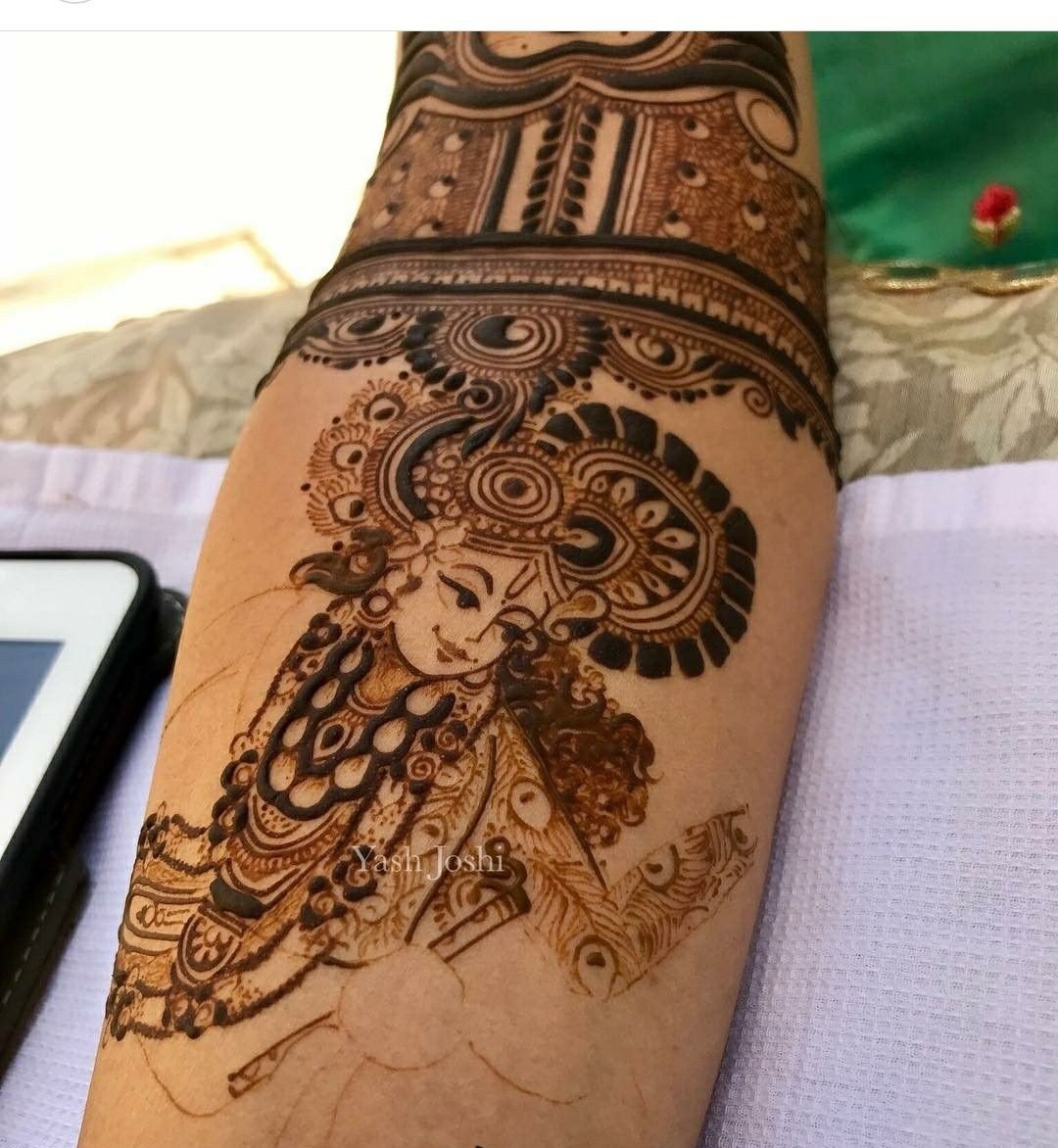 Instead of choosing any other option, the Mehndi Artist has given his best with the eyes or the headdress worn by Shree Krishna. This is a choice to be made.
I'm already a fan of this particular design with the elaborate mandala which has been drawn on the anterior portion of the arm and a nice and flat place for the Mehndi Lovers.
Also check: Dubai Mehendi Design for Feet
Elaborate Krishna Mehendi Design
I have a special heart for anything elaborate and detailed. Exactly like this particular option for a cool and self-explanatory Krishna Mehendi Design. This is a subtle option for the Mother.
The Mother who likes traditional terracotta and historical arts would love to have this particular Krishna Mehendi Design for their Baby SHower Mehendi Design.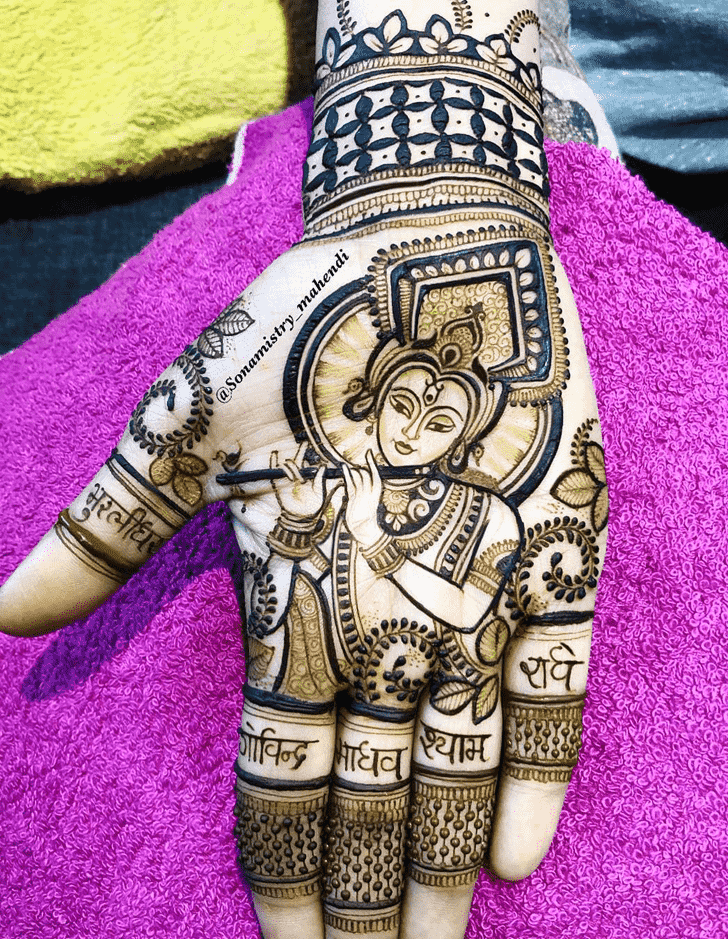 On each finger of the mother, the Mehendi Artist has inscribed the beautiful name of Lord Krishna. Starting with Murlidhar, Govind, Madhav, Shaym, and his beloved Radhe.
This is a classic option for a good and picturesque Krishna Mehendi Design. This has been drawn by Sona Mistry and she is an exceptional Bridal Mehendi Artist, who excels in devotional Mehndis.
Must Check: Mandala Mehendi Design
Baby Krishna Mehendi Design
The baby portrait reminds me of the little version of Shree Krishna. Yes, the little version of any child would resemble the good old stories of Lord Krishna.
The teeny-tiny stories which narrate the wonders of a child's life are portrayed in this particular Krishna Mehndi Design. If you want yours to be animated, then this is a good option.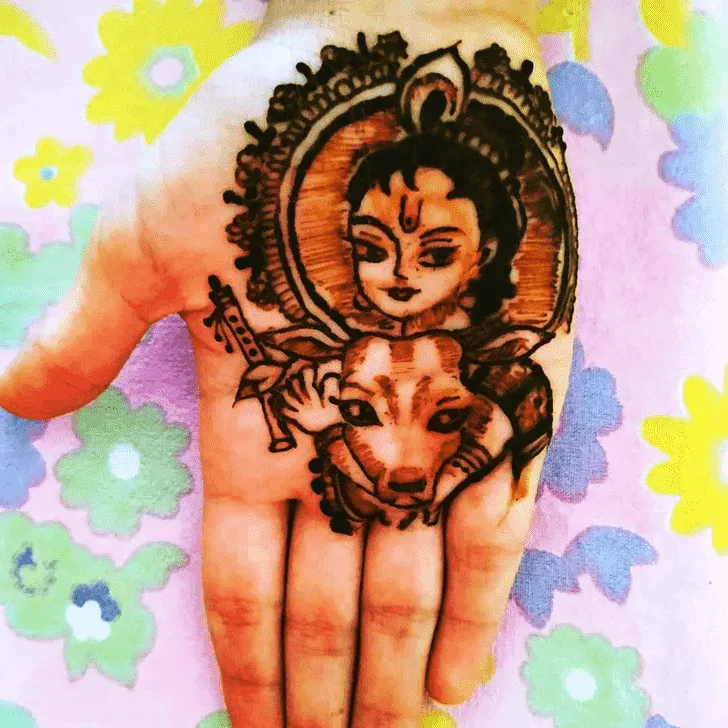 Instead of other unnecessary articles, this particular design has the sweetest representation of Lord Krishna enjoying themself with his cattle. And. yes, he is holding his flute.
Krishna Mehendi Design without the Flute is as incomplete as a Child without his mother. So, I think this is a good choice for any other out there, who wants it traditional.
There are many little things that ultimately make the best Krishna Mehendi Design. First of all, it is the Krishna Motif which is made out of the best pattern, and portrait formats. 
If you are not sure which should be part of your child's Mehndi Design, always choose a format that is flexible and grunting at the same time. The above-mentioned ones are the best. 
These designs are not only beautiful and prominent but they are extremely elegant too. You can wear it for your big day and your Child's baby shower. 
Some mothers even choose a design that isn't as rocking or self-explanatory. They simply choose a Krishna Mehendi Design to rock your way. 
So the above-mentioned ones were some of the best Krishna Mehendi Designs for the Mother's Baby Shower. If you like any of these mentioned ones, then let us know in the comments. 
We are eager to know if you found the right Mehendi for your child's first big event. At myMandap you get select some of the best decorative, and designs for the wedding ceremony as well as your other special events.