Lalitha Jewellery is a very popular name in South India. They make some of the best ornaments in Platinum, Silver and Gold too. Fabulous designs and exclusive payment offers for their customers. 
Their official website has some of the best designs for your Bridal shopping. Exclusive purchase with instalment security and other specified terms too. In addition to that, they have abundant designs available with cash and offline stores too. 
Lalitha Jewellers have the best designs for various communities, including Marwari, Bengali, Gujarati, Tamilian, Malayali, Kannar and many other states. Discounted making charges, Carat variations and many other exclusive ventures. 
Currently, Lalitha Jewellery is chaired by Kiran Kumar. He has diligently created exclusive offers for buyers in Tamil Nadu, Andhra Pradesh and many other states. Buy your special Bridal Set from Lalitha Jewellery for the Big day. 
Top 10 Beautiful Lalitha Jewellery Sets for Brides:
An elegant ornament for the Bridal attire. That is a legit want for all woman out there, who wants to adorn themselves with bangles and other special pieces of jewellery. Lalitha Jewellery is one of the top brands in Tamil Nadu. 
They sell their products and items both online as well as offline. Gold and Silver, both are sold at a per gram rate. Which is displayed and altered regularly on their official Website. A customer would know the day's rate before he or she is planning on purchasing from Lalithaa Jewellers.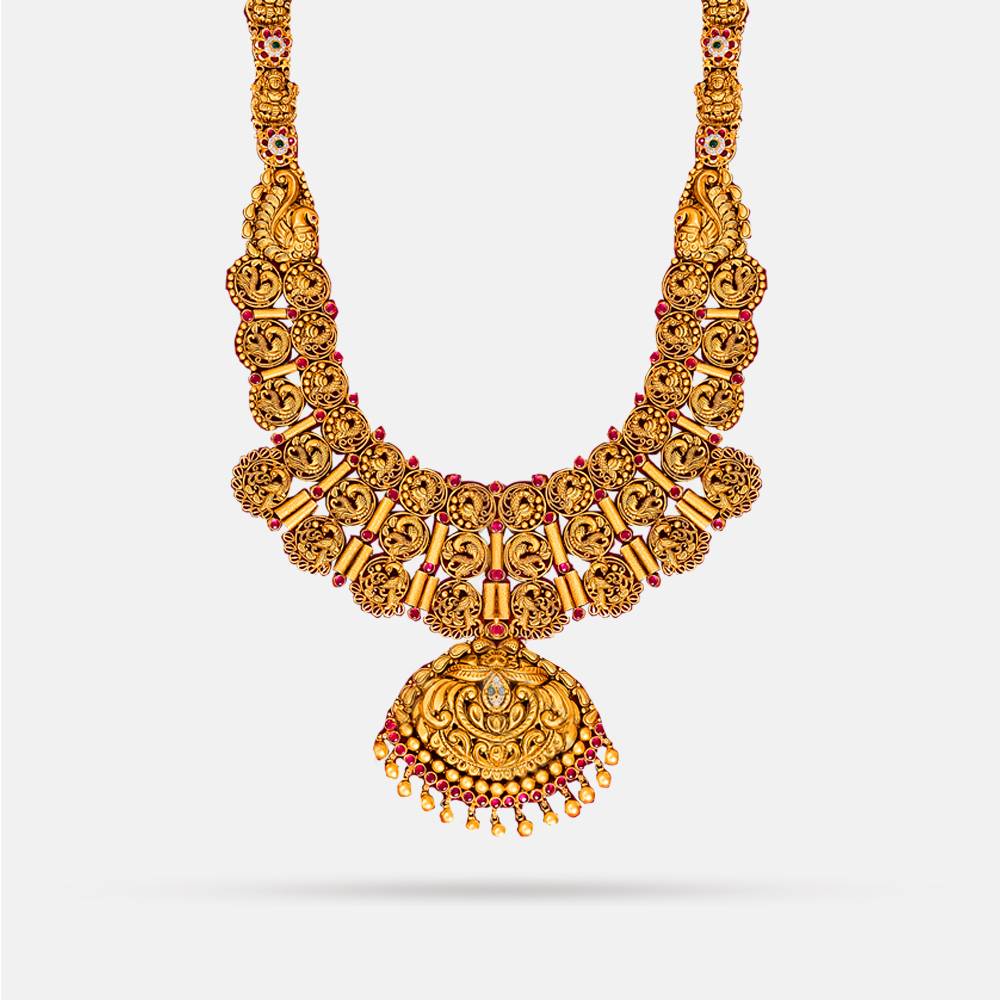 A jeweller who has experts for each section, including craftsmen for gold and diamond separately. All their terms and conditions are mentioned on the official Lalitha Jewellery website. 
In a way, you'll find super pretty designs for Gold Jewellery and other exclusive ornaments on top of their website. The beauty of a bride lies around her attire, jewellery and lastly her confidence. Lalitha Jewellers would give you utter confidence with the best jewellery for your big day. 
Diamond Necklace Lalitha Jewellery
Diamonds are a women's best friend and a necklace has been engraved with the prettiest diamonds in this world. This is a beautiful diamond necklace from none other than Lalithaa Jewellers.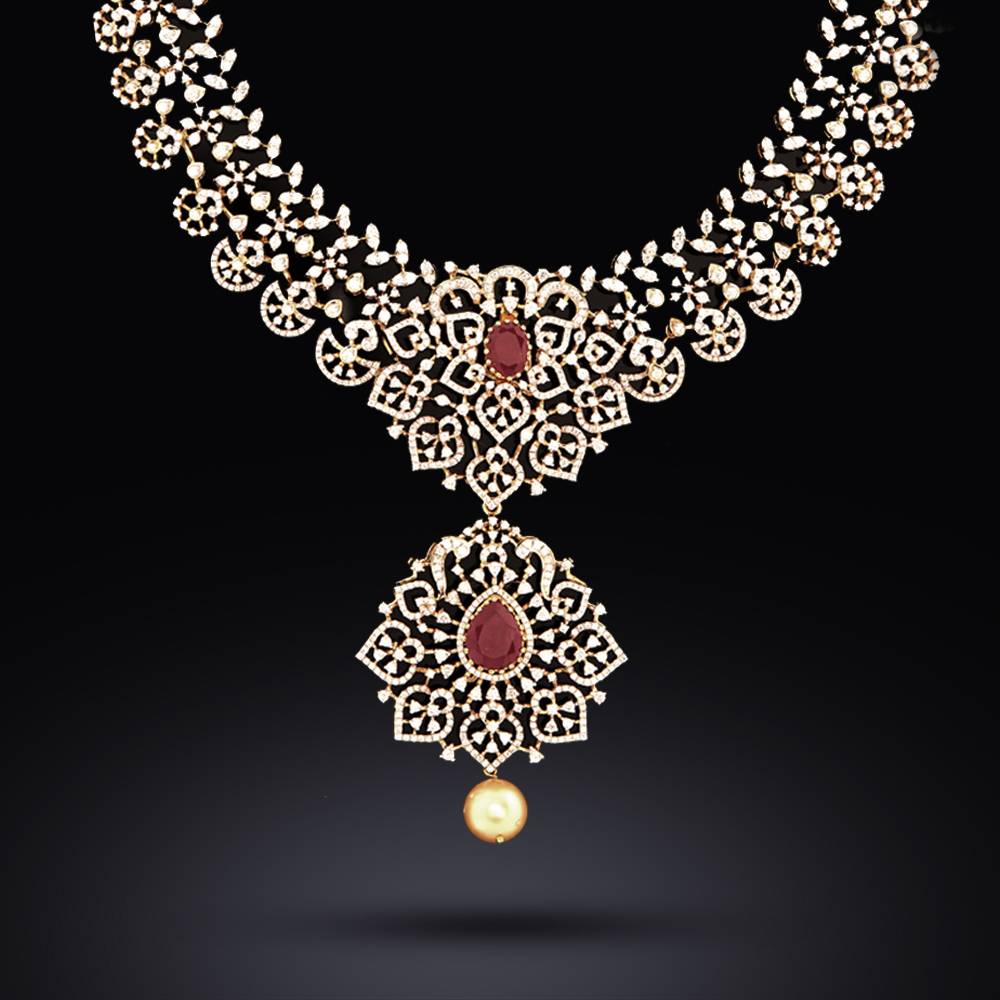 They have a few of the best collections for ornaments which have the best finishing and colours too. This is a beautiful necklace which is decorated with the prettiest stones and precious stones.
Peacock Meenakari Lalitha Jewellery 
Peacock ornaments are very beautiful, which is extremely special on their own. This is a significant part of an ornament, it has been decorated with the best enamelling work.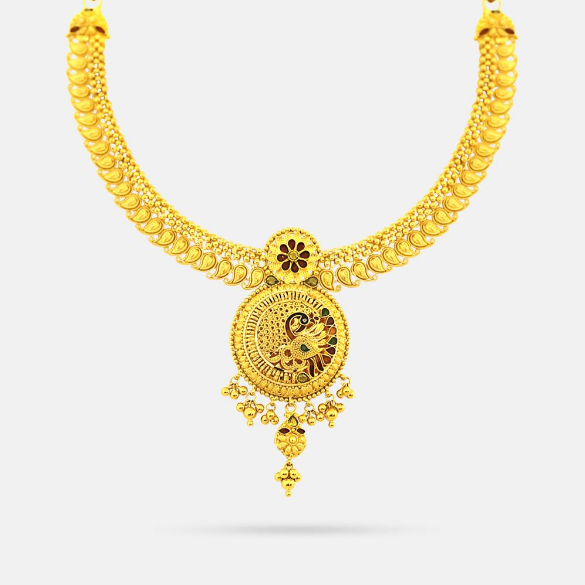 Enamelling work or Meenakari work is the finest art piece which has been decorated with the prettiest shades and colours. A necklace or ornament with enamelled work is quite popular in Rajasthan.
Read more, Beautiful and Trendy Kerala Bridal Jewellery
Emerald Necklace Lalitha Jewellery
A diamond necklace with stones that have the best ornamentations on top of it. This is a beautiful piece of necklace which has been decorated with some of the best styles of stones like Emerald.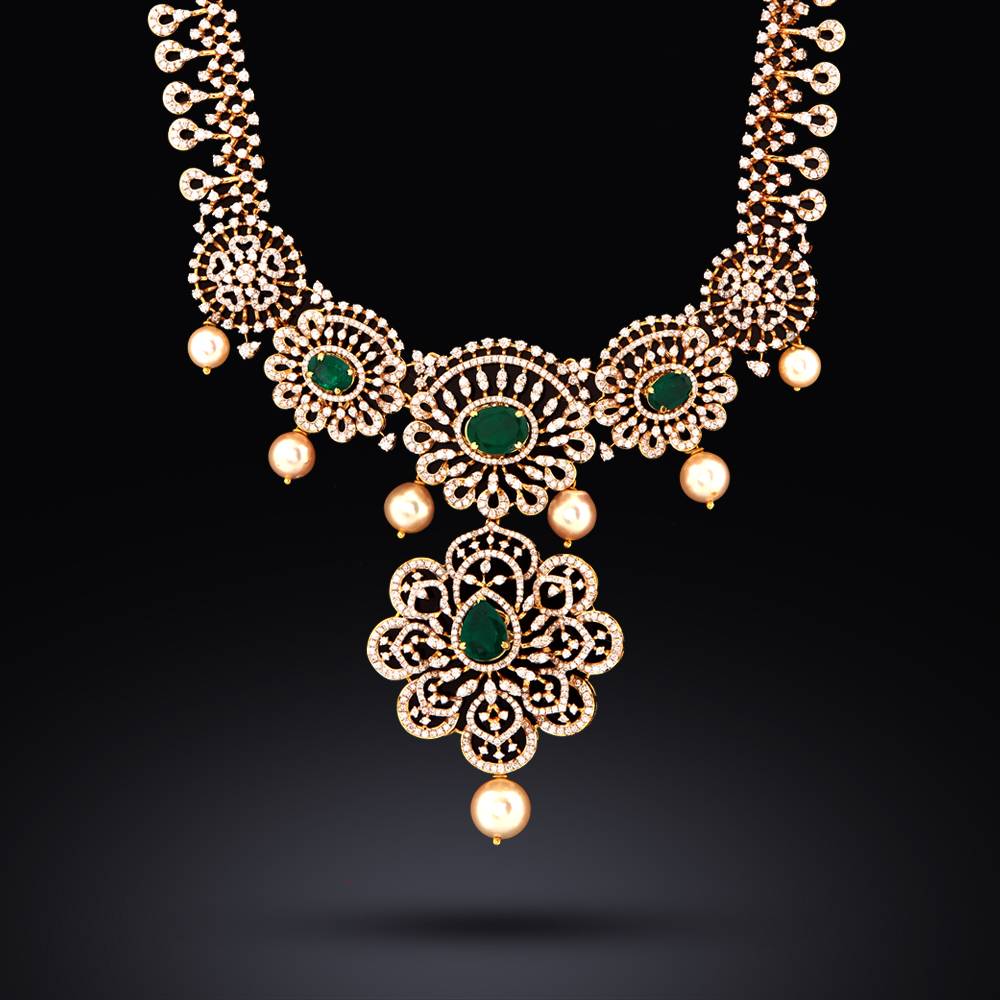 Those emerald stones have made the base of the necklace even better, positive and accentuated. This is one of the safes neckpieces, which comes with a diamond authentication certificate by Lalitha Jewellery.
Bridal Necklace Lalitha Jewellery
A bridal necklace has something very different from the usual ones worn by brides and their bridesmaids. This is a gorgeous Gold Necklace, which is special, gorgeous and organised.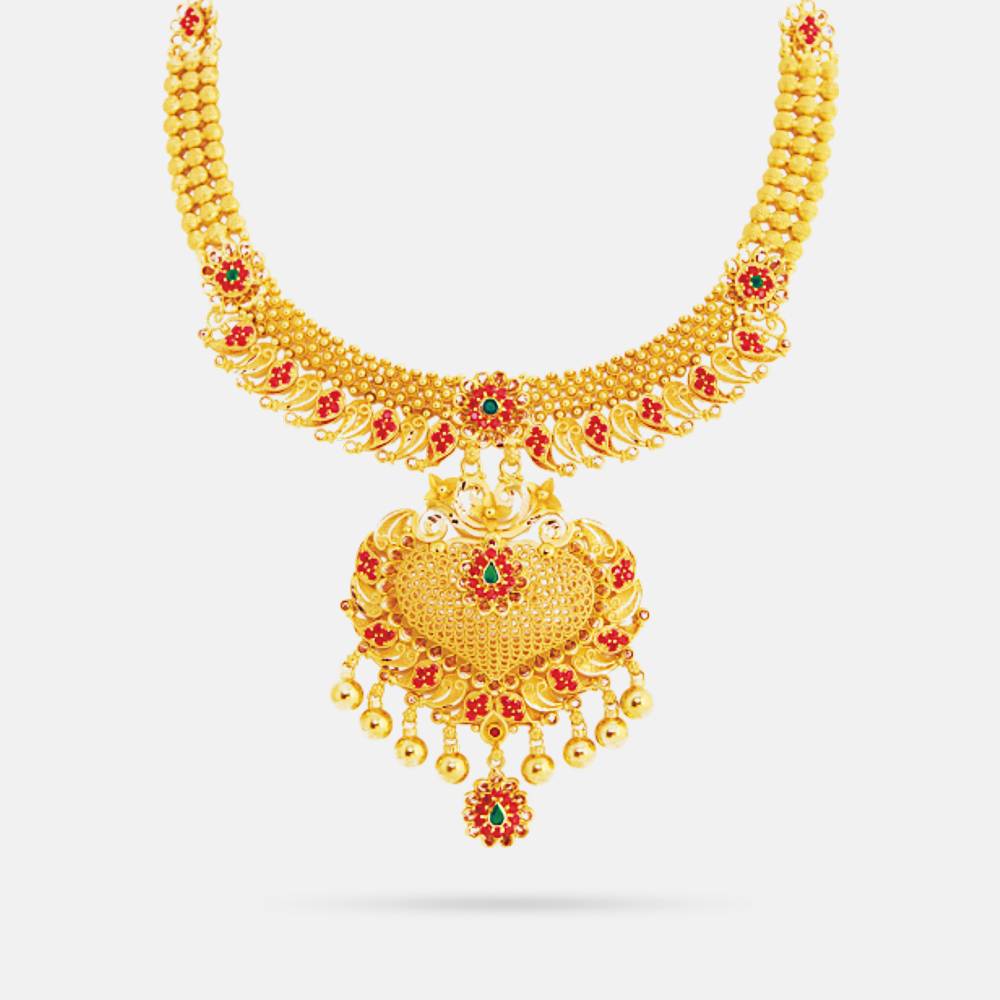 The gold work is precious with those teeny-tiny stones which have been engraved on th base of the necklace, just to make this a better choice and an option.
Gemstone Necklace Lalitha Jewellery
If you are slightly confused over which particular necklace style should be yours for the wedding ceremony, then settle for something like this. This is an extremely pretty necklace with real gemstones.
Instead of using just semi-precious stones for the engraving process, Lalitha Jewellery has manufactured this piece of art with these special and elegant ruby and emerald stones.
Diamond Engagement Ring Lalitha Jewellery
Diamond is one of the most expensive precious stones. The price and quality of a diamond stone depend on two major things. Firstly the selected cut for the stone, and secondly the amounting Carats.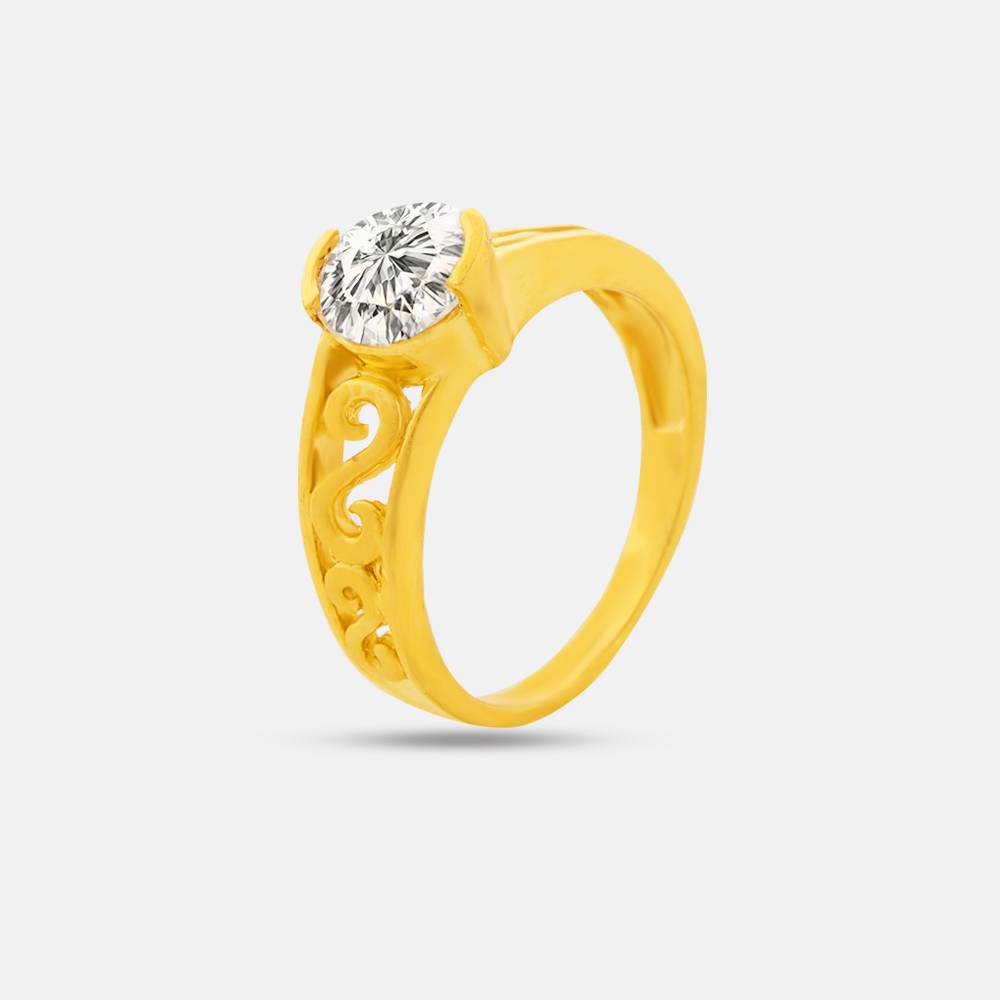 Solitaire is one of the most popular diamond cuts, which is used for engagement rings worldwide. It is one of the hardest stones to work with and has the thinnest sheer quality, which only works with precious metal.
Temple Lalitha Jewellery Necklace
Temple ornamentation is a classic style from South India and this is one of the most elegant arts which are organised and styled according to the required shape and size of the stone.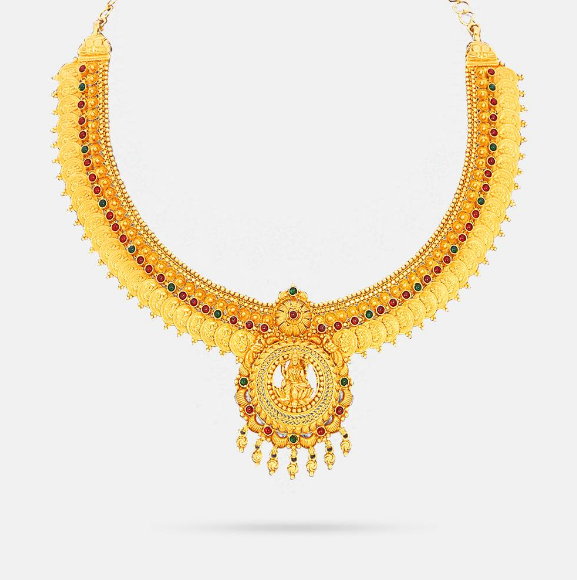 This is one of the prettiest styles of ornamentation, which represents Hindu Gods and Goddesses. Incusing temple objects like idols, flowers and many other things which occur during a Puja. 
Temple Jhumkas Lalitha Jewellery
This is a beautiful ornament without which a bridal look remains incomplete and blunt. This is an organised piece of art, where the bride is wearing the most expensive piece.

The earring is often the best part of the entire look which is a thing for two most important reasons. Firstly for the authentic style of manufacturing and the ornamentations which are added along the side of the jewellery.
Check more, Best Polki Jewellery Designs
Bridal Ruby Necklace Lalitha Jewellery
Lalitha Jewellery makes quality checks their number one priority. This means none of the ornaments has been made with artificial things and products that have a similar effect.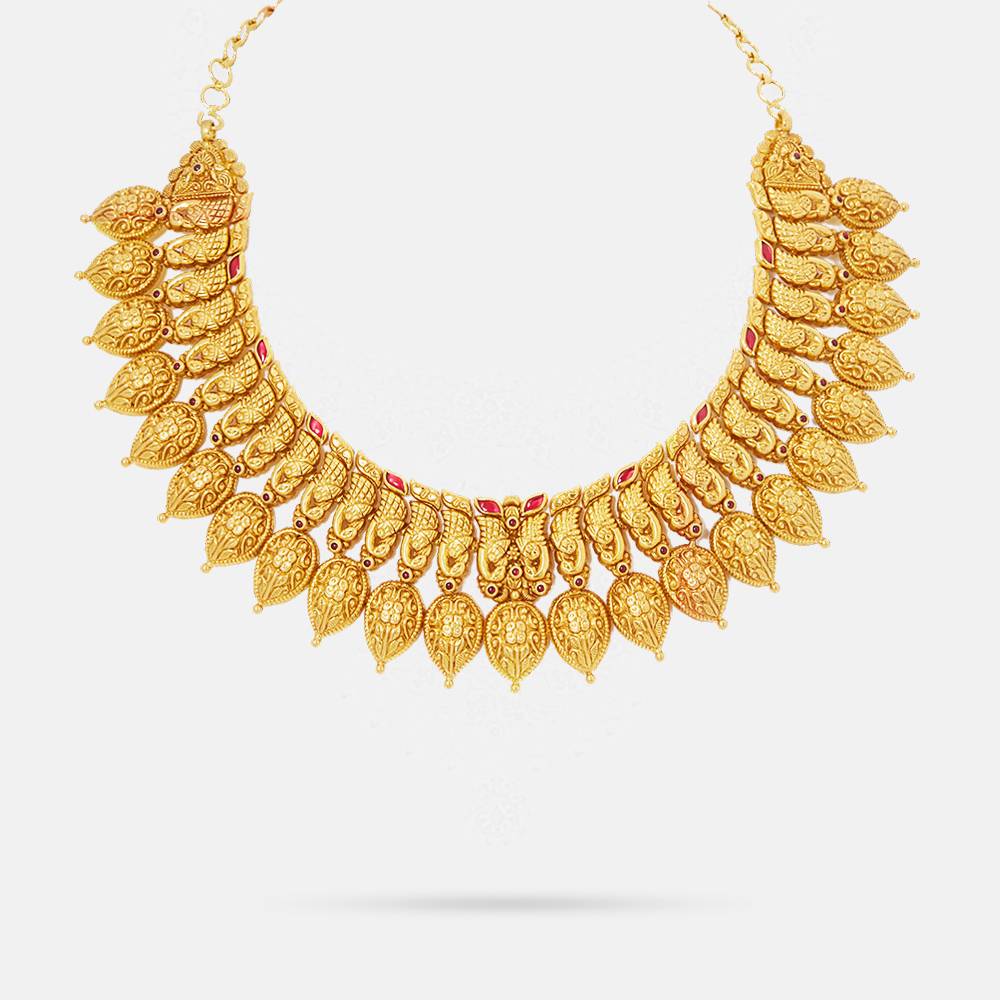 Those little ruby stones are the next best thing in an authentic Bridal Necklace. It is decorated with the best styles for ornaments and jewellers that have been decorated with some pretty little things.
Antique Necklace Lalitha Jewellery
This is one of the best styles of jewellery which has been decorated with pretty awesome stones, ornamentations and accessories. This is one of the most expensive necklaces and has been trendy for a while.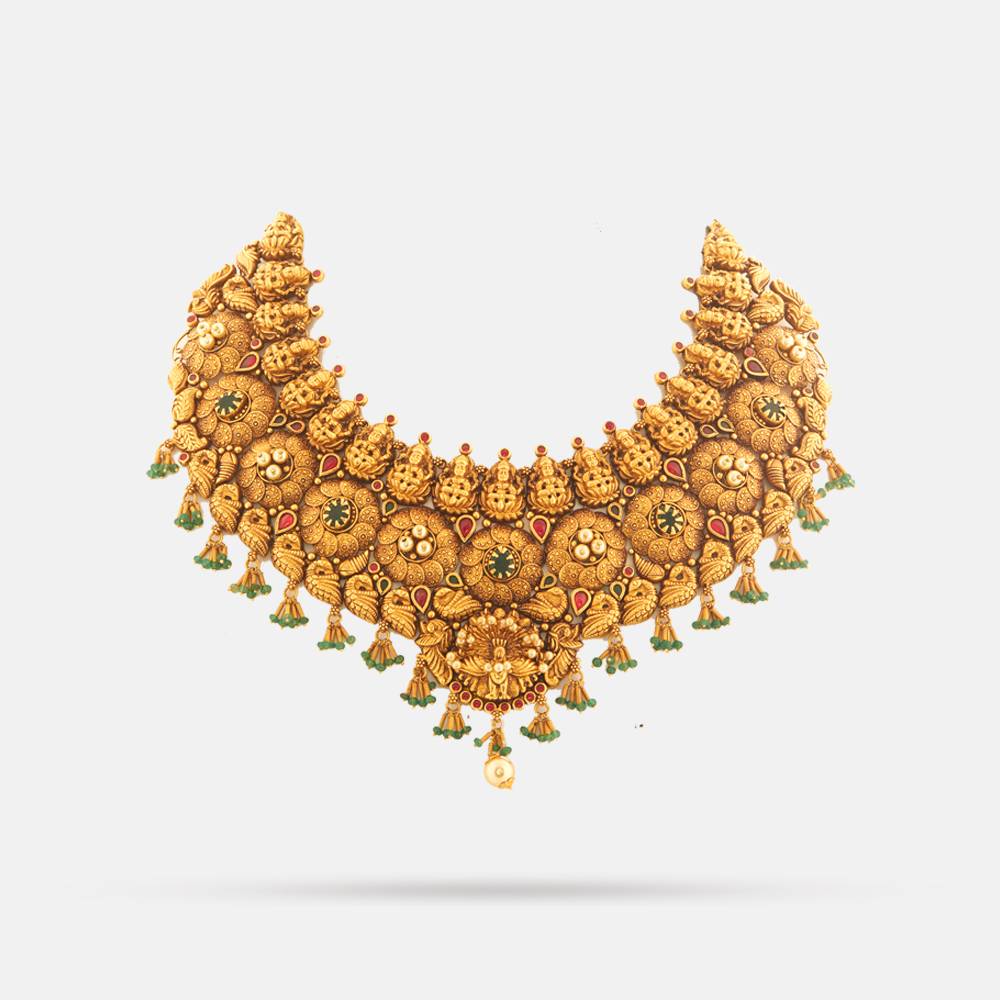 The beauty of this necklace lies solely around the beautiful and ethnic ornamentation of this necklace. It is elegant, stylish and unduly ravishing too. In a way, this is one of the best things to work with.
Oddiyaanam Kamarband Lalitha Jewellery
The stylish finishing of this necklace is everything. It is one of the best styles and it is one of the best options too. If you are having second thoughts about getting one for your wedding.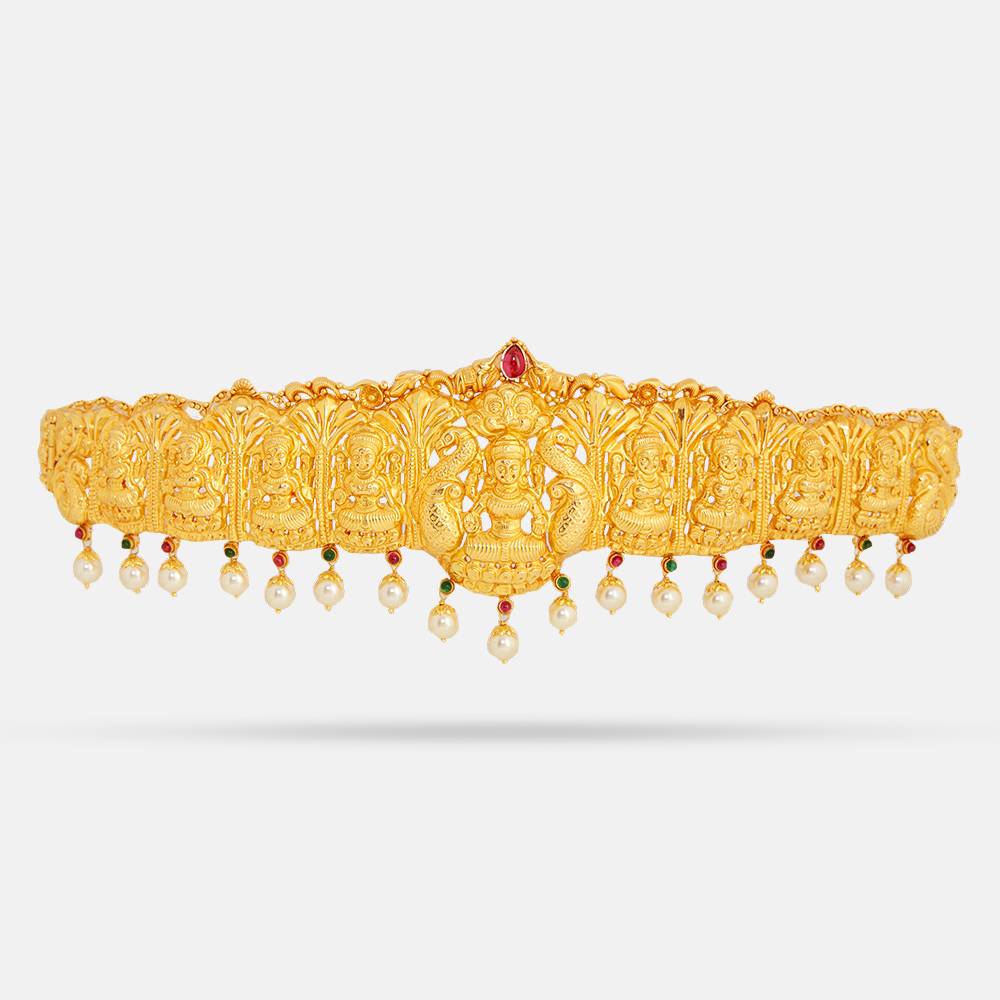 This particular Karmarband by Lalitha Jewellery is everything and extremely sturdy. This is elegant as a bridal option, this is sturdy, stylish and something which you can count on.
Ruby Encrusted Pendant Lalitha Jewellery
Ruby is one of the prettiest little stones which makes a piece of jewellery even better and more well-worked. It had been decorated with some little details and authentic art too.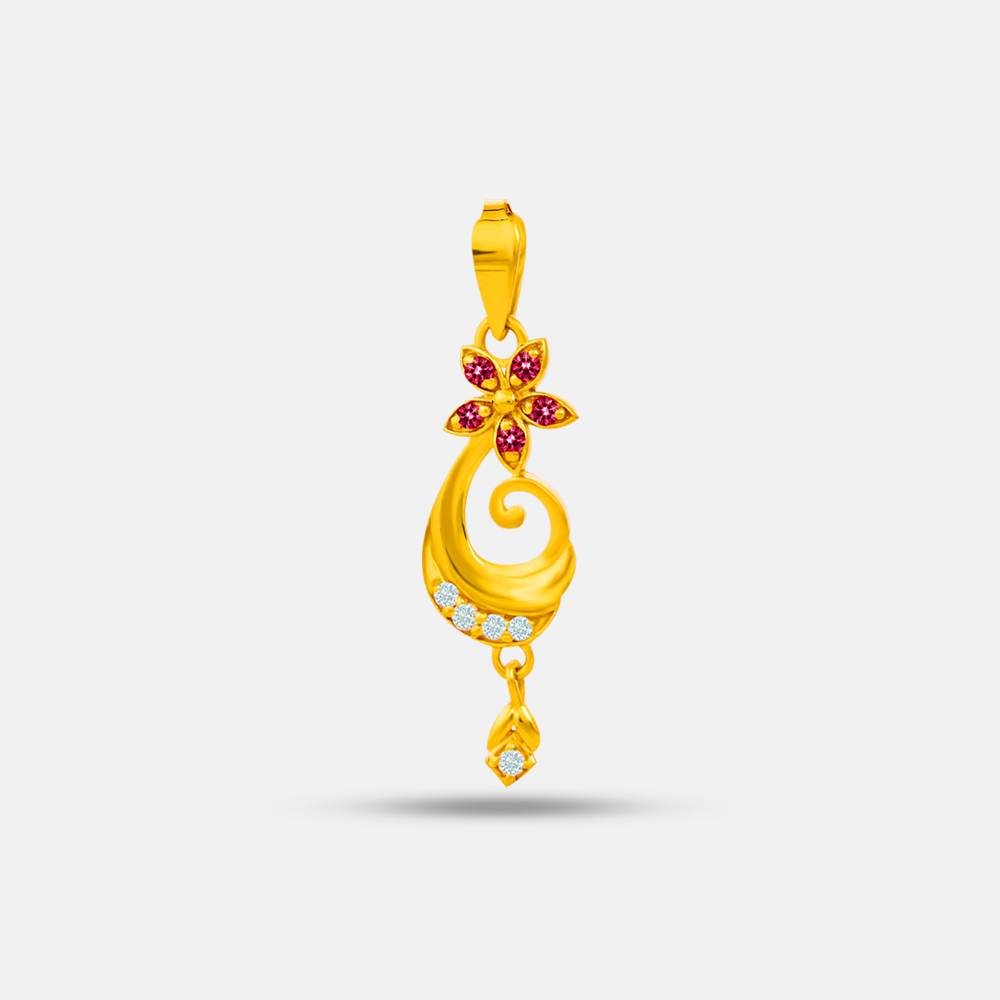 The length is really small and the shape is slightly like rain or teardrop. This is worth it for your everyday wearing and usage. One of the most elegant pieces of jewellery for the bride.
Golden Jhumkas Lalitha Jewellery
Jhumkas are the most stylish earrings, they have a unique shape which is far more attractive in comparison to the rest of the choices. This is an extremely elegant piece of jewellery.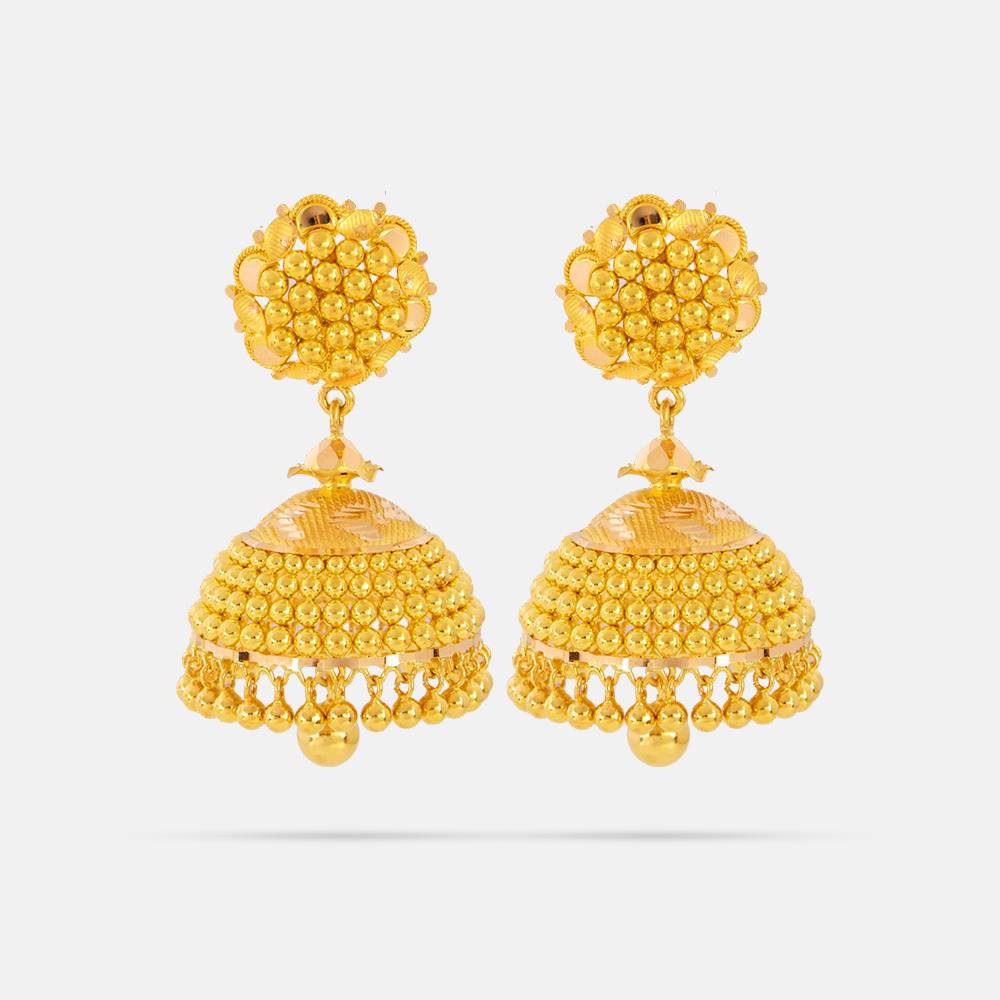 The length of the Jhumka is big enough for the bride, and the style is very pretty. This is a great choice for someone who is searching for an option for a wedding ceremony.
Heart Shaped Earrings Lalitha Jewellery
Have second thoughts about your jewellery? Well just get yourself a simple and smart pair of earrings from Lalitha Jewellery. This is one of their wonderful earrings.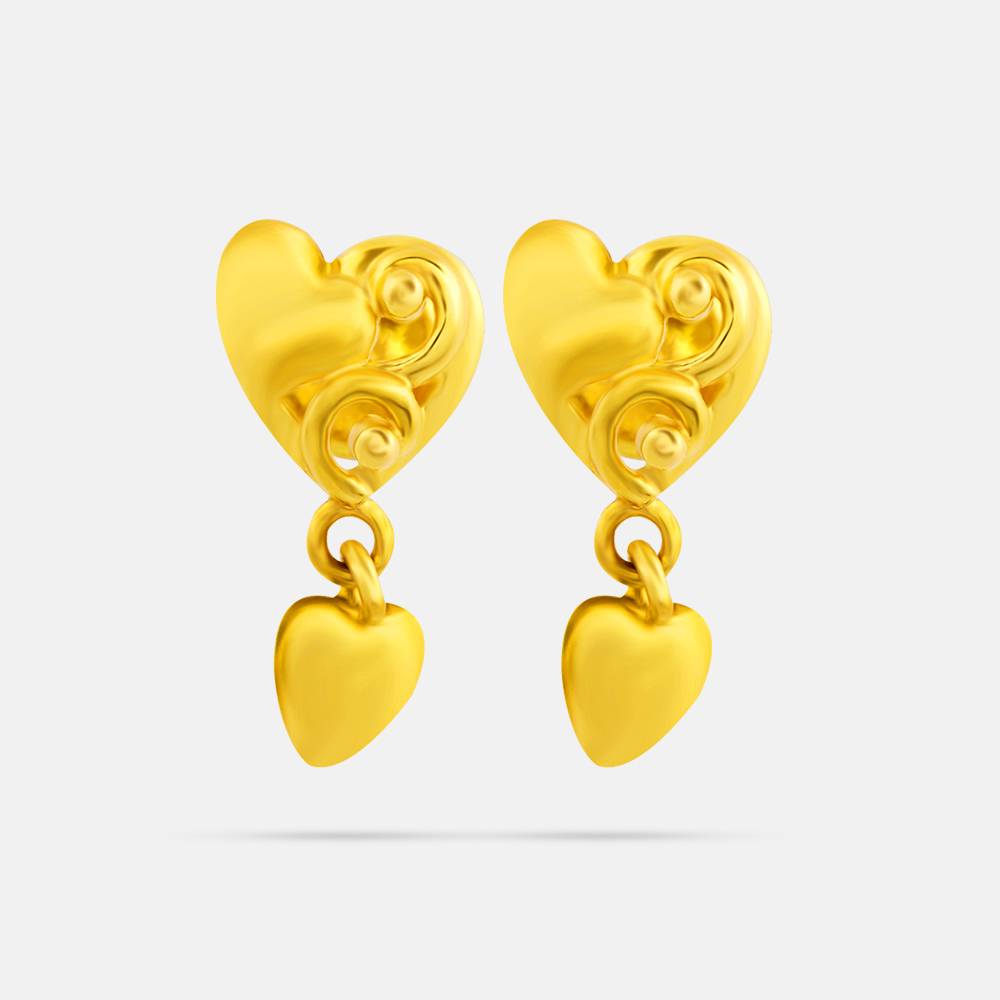 The size is very small and so is the design which makes this so much better and elegant for daily usage. This is one of the sturdiest fashion choices, which is not just graceful but cool too.
Long Necklace Lalitha Jewellery
Such long necklaces are a win-win piece of art, which is the most popular one from Lalitha jewellery. The length of this necklace is pretty long, and so are the simple things which make it so much better.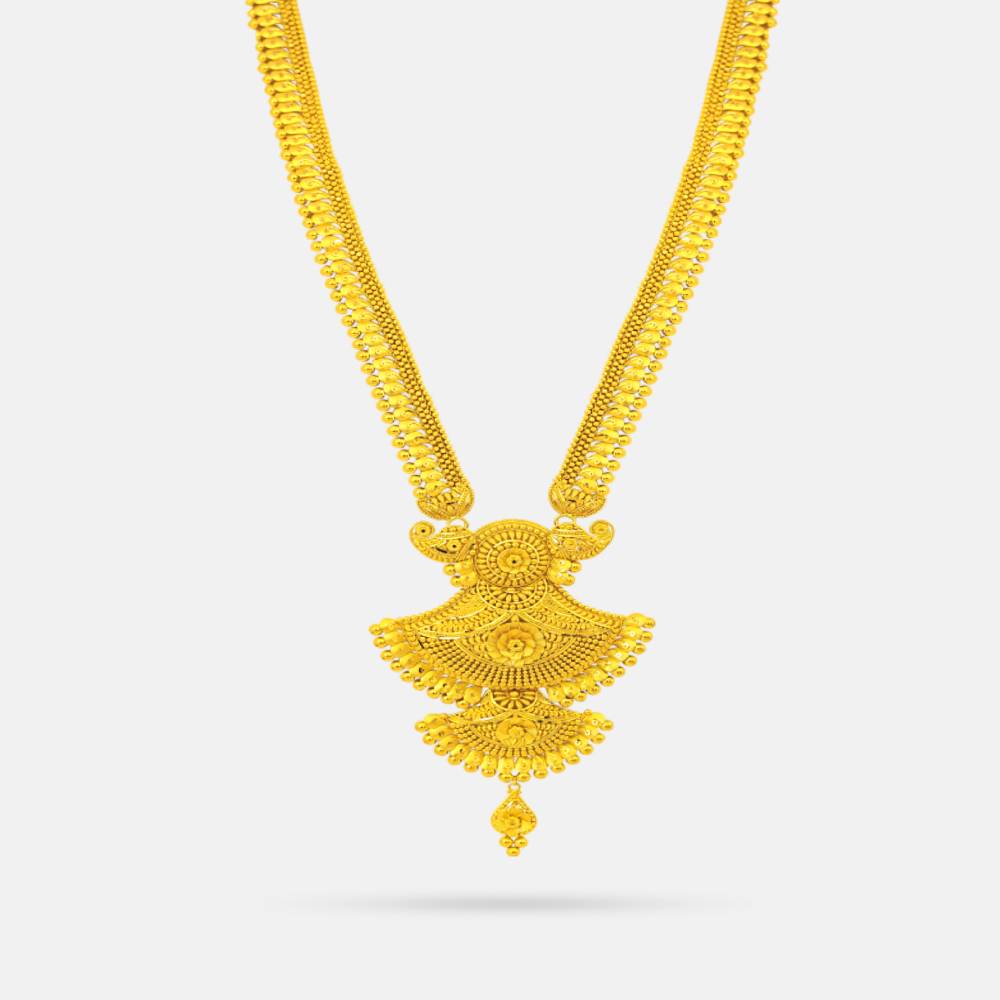 Little things which make a necklace better and smart engravings and styles. This is one of the best styles for a Bridal necklace which comes with a long length.
Minimal Earrings Lalitha Jewellery
Minimalism is the key to the best jewellery and ornament. This makes any outfit better for an option which has to be worn for your office or workplace. It is smart and elegant with those simple details.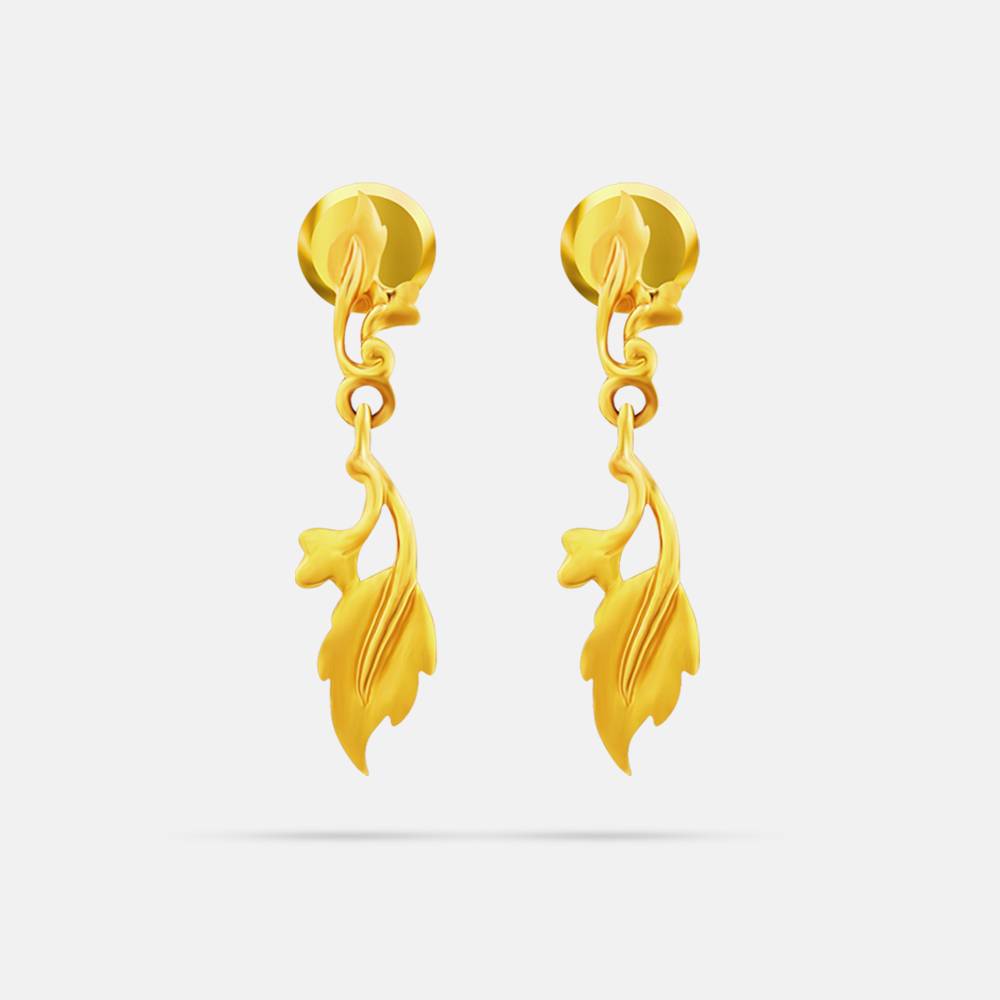 This is one of the simple and minimal earrings by Lalitha Jewellery. This belongs to their office wear or workwear collection, which is selectively fashionable with those little details.
Check here , Ring Designs for the Indian Bridal
Chain Style Necklace Lalitha Jewellery
You should always have second and third choices which work pretty well for a newlywed and someone who is choosing an ornament for their daily usage. This is an extremely gorgeous set for the bride.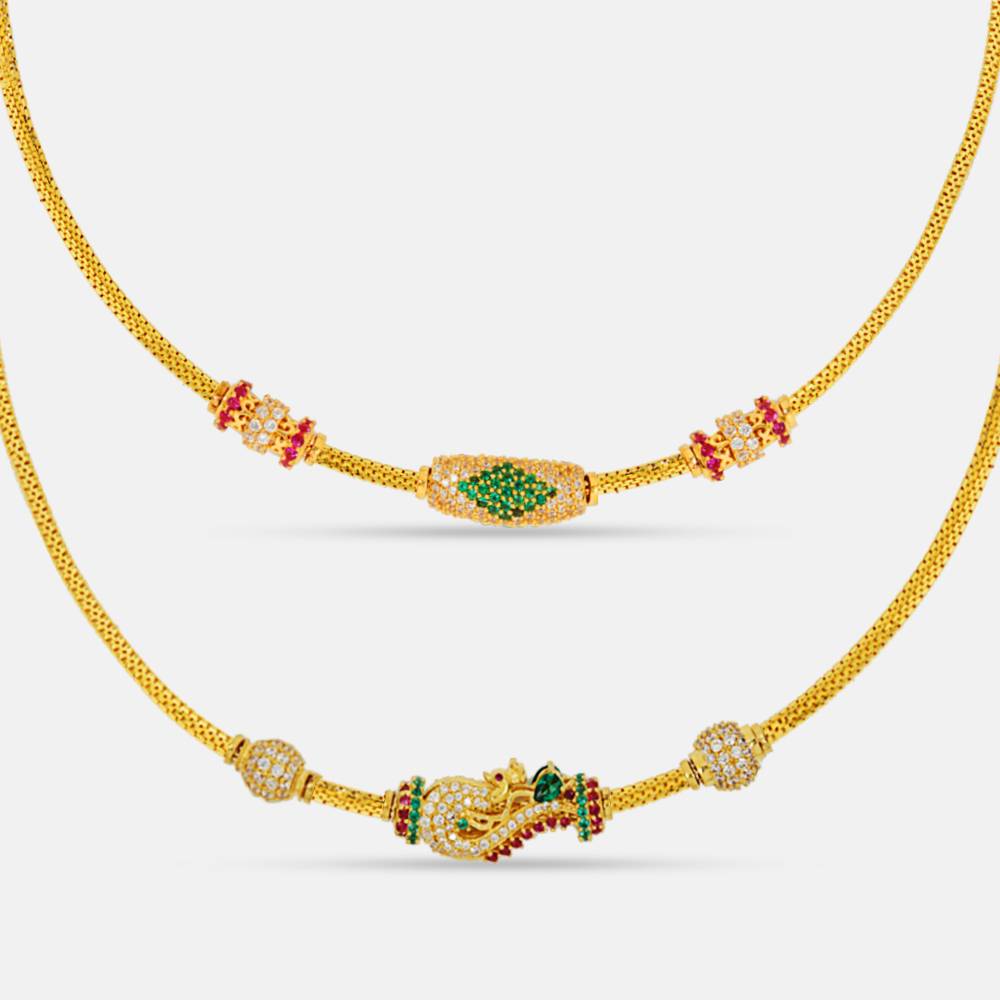 The beautiful decoration which has been added on top of this necklace is everything that one might need. It is super sturdy, smart and one of the best choices for the day too.
Flower Earrings Lalitha Jewellery
The flower is one of the best things which works like a wonder for decorating a piece of jewellery. This particular pair of earrings by Lalitha Jewellery is probably th best possible thing.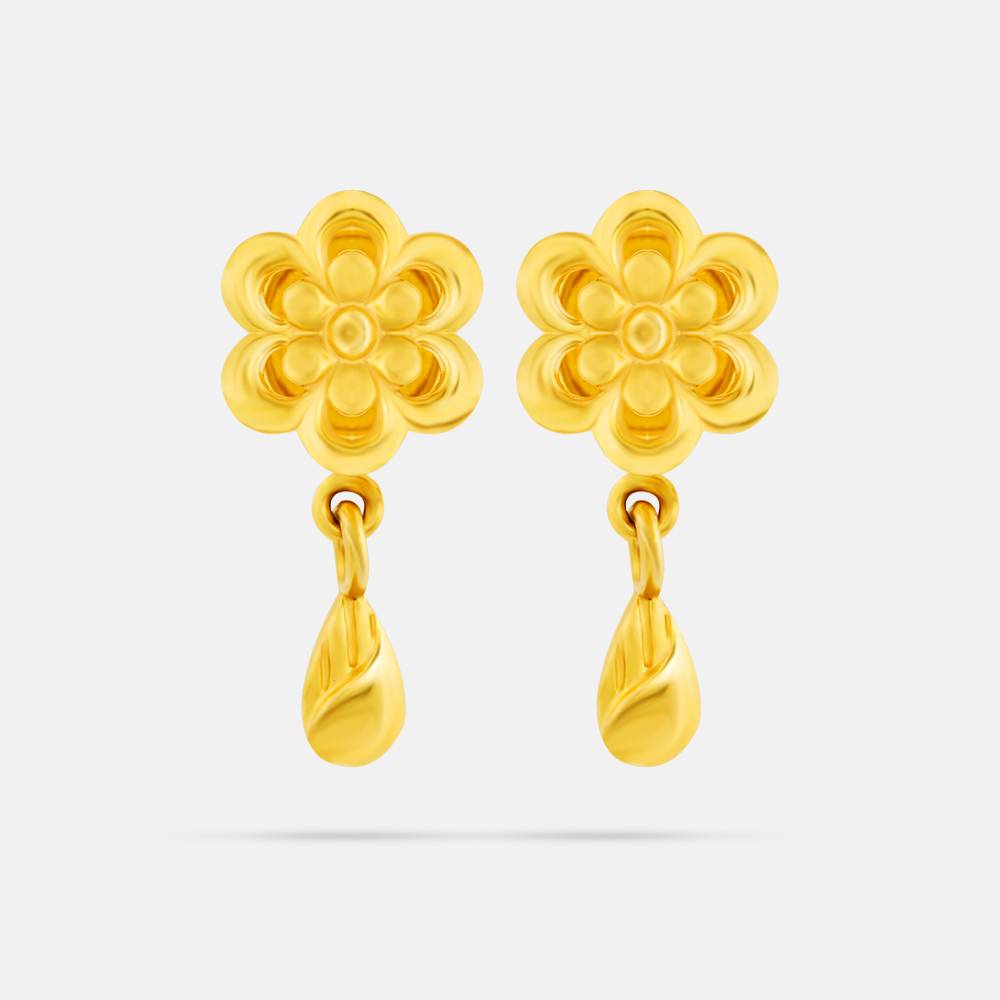 It is elegant, simple, smart and very stylish too. In a way, this is a complete package for a pretty awesome piece of jewellery. It is pretty good for your every fashion and style.
Heart Shaped Pendant Lalitha Jewellery
A heart-shaped neckpiece or pendant is a loving gift that a husband can give to his or her wife. It is precious, significant and extremely stylish too. This is one of the best ornaments that deserve to be gifted to your spouse.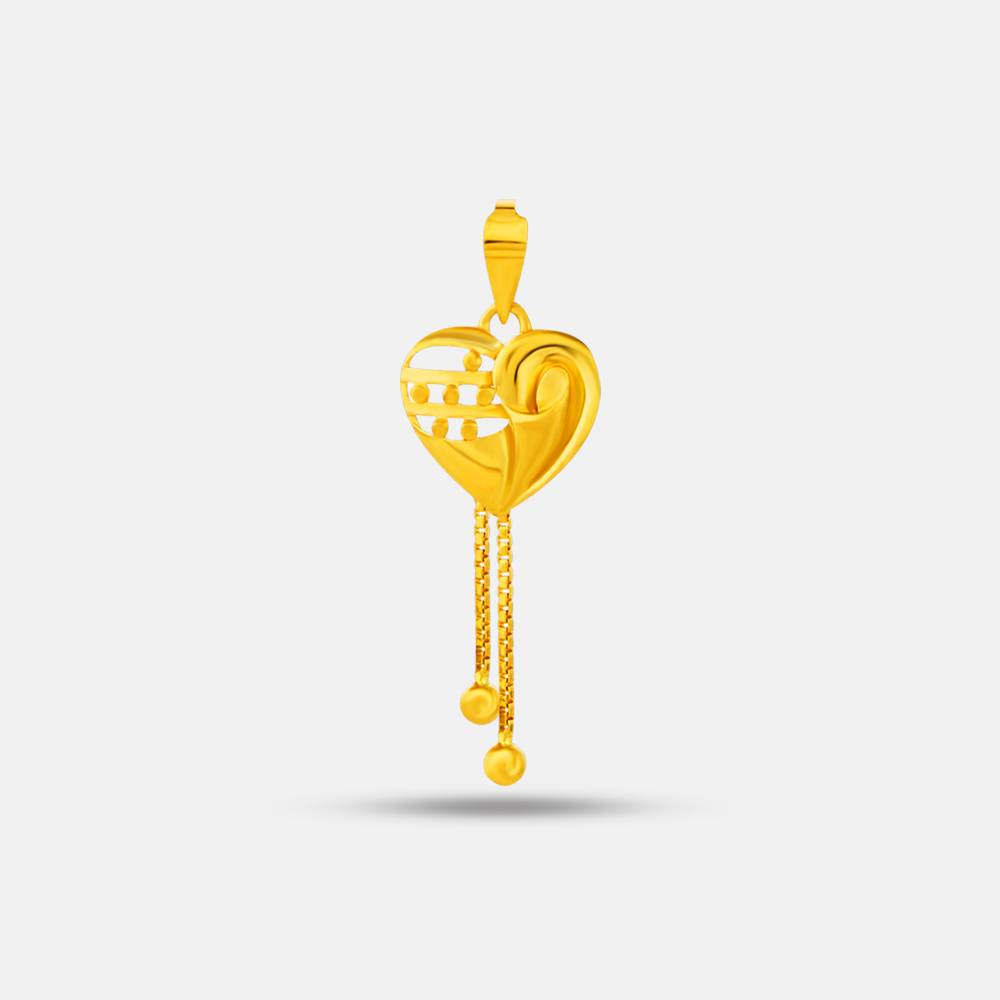 The length of this particular pendant is long enough with those simple and stylish ornamentations. This has a simple chainwork which is fashionable and extremely sturdy too.
Stones Encrusted Rings Lalitha Jewellery
A beautiful bridal ring with pretty simple stones on top of it. This is something which would impress a woman, which makes this an exclusive design for the big day.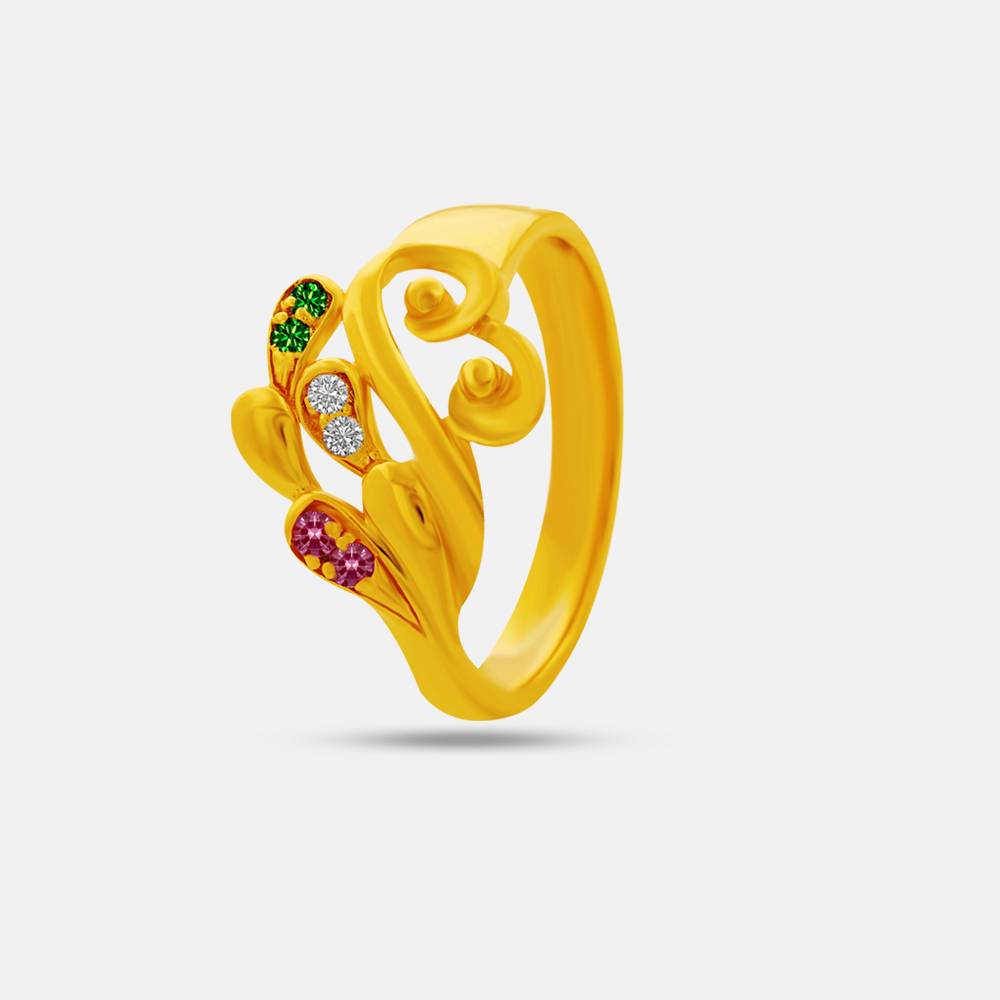 A sturdy format with stones which are colourful, decorated and exclusive too. Infact this is one of the best styles for the wedding ceremony which is more than popular with those exclusive diamonds.
Asymmetrical Bangle Set Lalitha Jewellery
Bangles with a mixed shape are a trend of their own. This is one of the best bangle sets with inscriptions and designs that are extremely popular and well decorated too.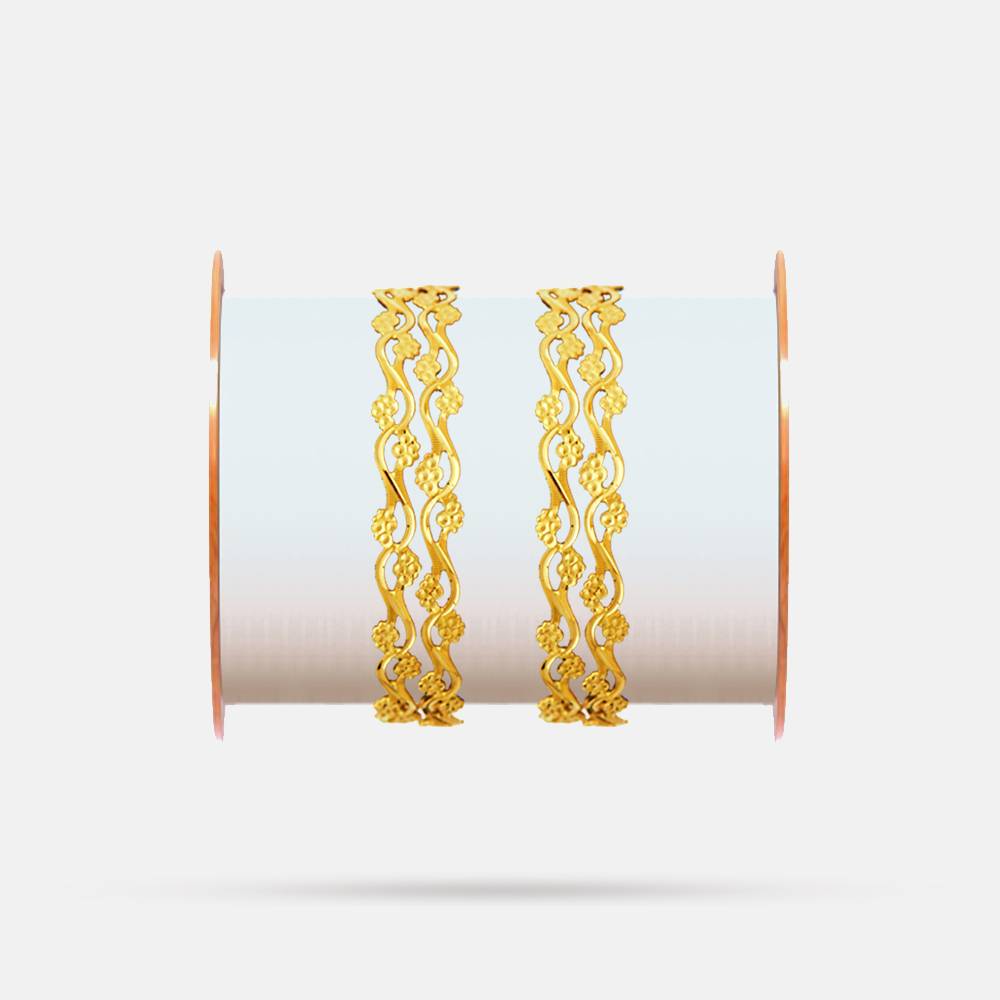 This particular set of bangles can be a set for your wedding ceremony. Infact this particular set is super flexible and comfortable too. All you need is some extra pair of bangles.
Sleek Bangle Lalitha Jewellery Set
A Bangle set is a woman's pride, wearing one for the wedding is something we all want and would like to build in. This is a style of the bangle which has been decorated with the best style and the most exclusive pattern for the big day.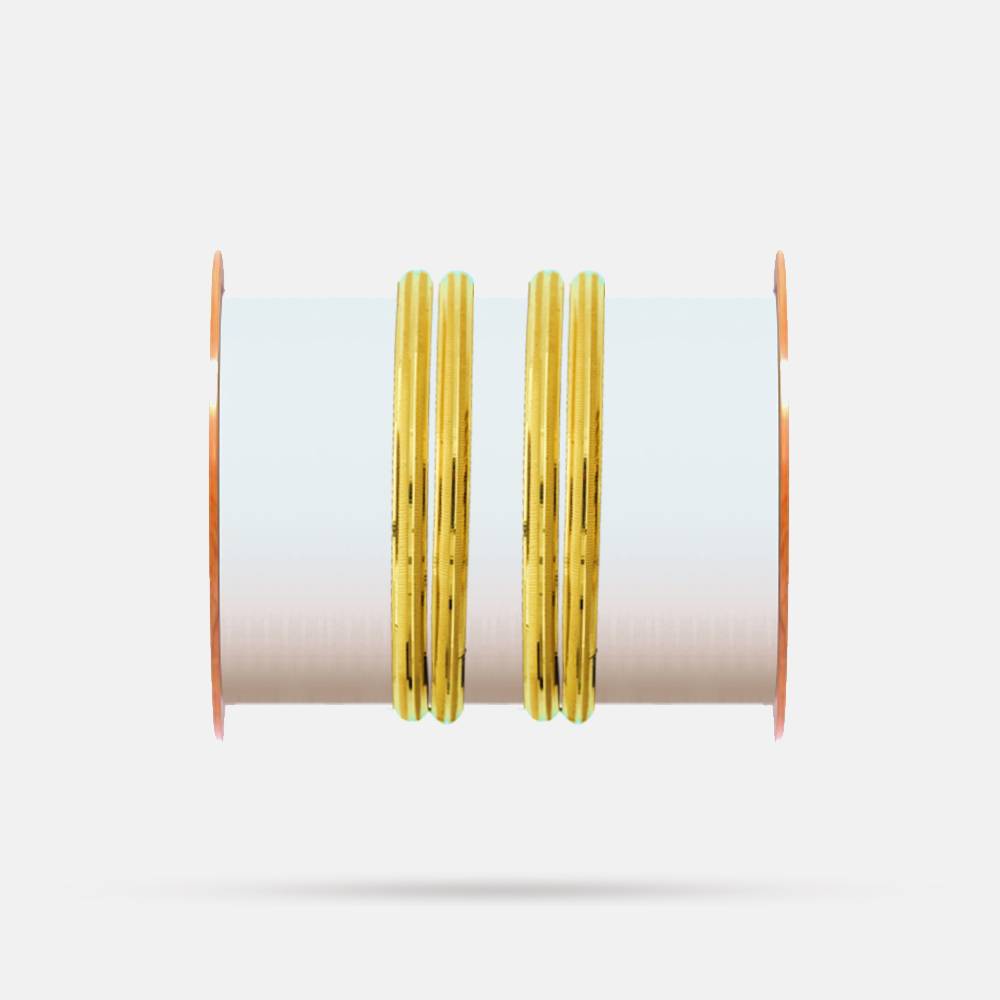 There shouldn't be any wastage, which is why you should always be on gold which you like. And Lalitha Jewellery is a brand which is worth it for your Bangle purchase.
Bridal Mangalsutra Lalitha Jewellery
The Mangalsutra is an eminent part of the Bride's attire. She is given this gift by her husband, who ties the Mangalsutra on the neck of the bride. It is exceptionally pretty as an accessory and worth it for the wedding day.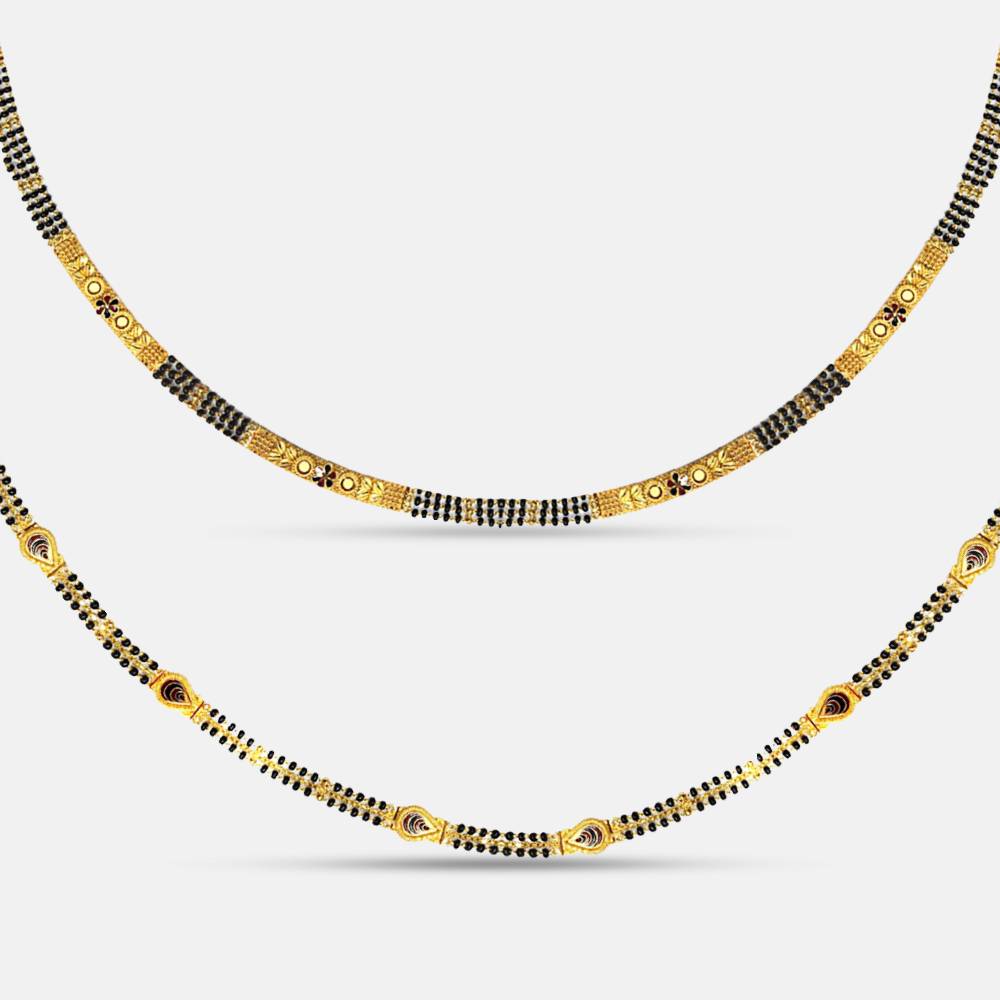 This is a beautiful jewellery piece which is tied to the neck of the bride. Infact this is one of the best accessories, which is a married woman's pride. The case is simple and the ornament is worth it for the Wedding day. 
Lalitha Jewellery's Bracelet
A bracelet is an ornament which is not worn for the wedding ceremony. This is more like an ornament that should be worn for special occasions, including everyday wear. Such a beautiful ornament is always in fashion and it never goes out of style.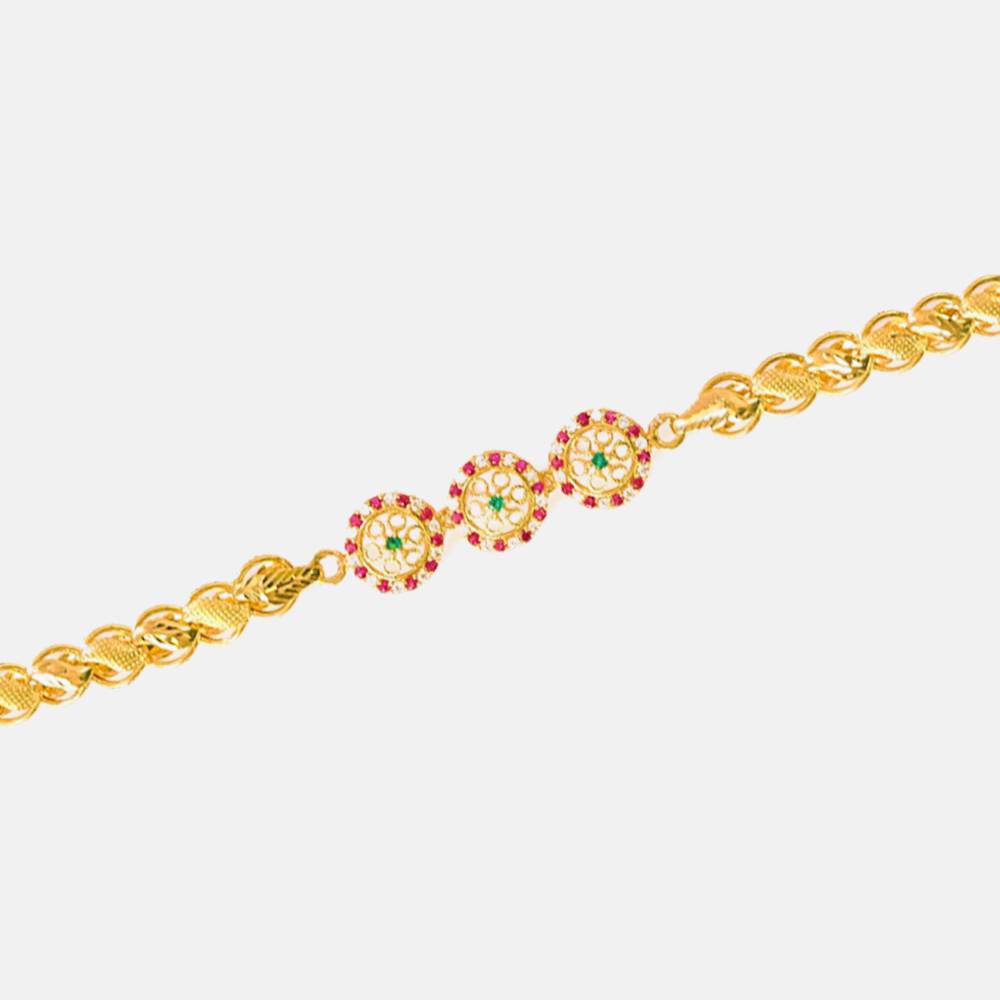 This is a piece of statement jewellery which is worth it for the wedding ceremony too. If you don't exactly have any idea over to wear, permanently settle for a simplistic Lalitha Jewellery bracelet. 
Butterfly Earrings Lalitha Jewellery
Butterfly earrings are pretty simple and organised too. Infact this is one of the safest places for a good and organised look. It is more than a simple piece of earrings from Lalitha Jewellers.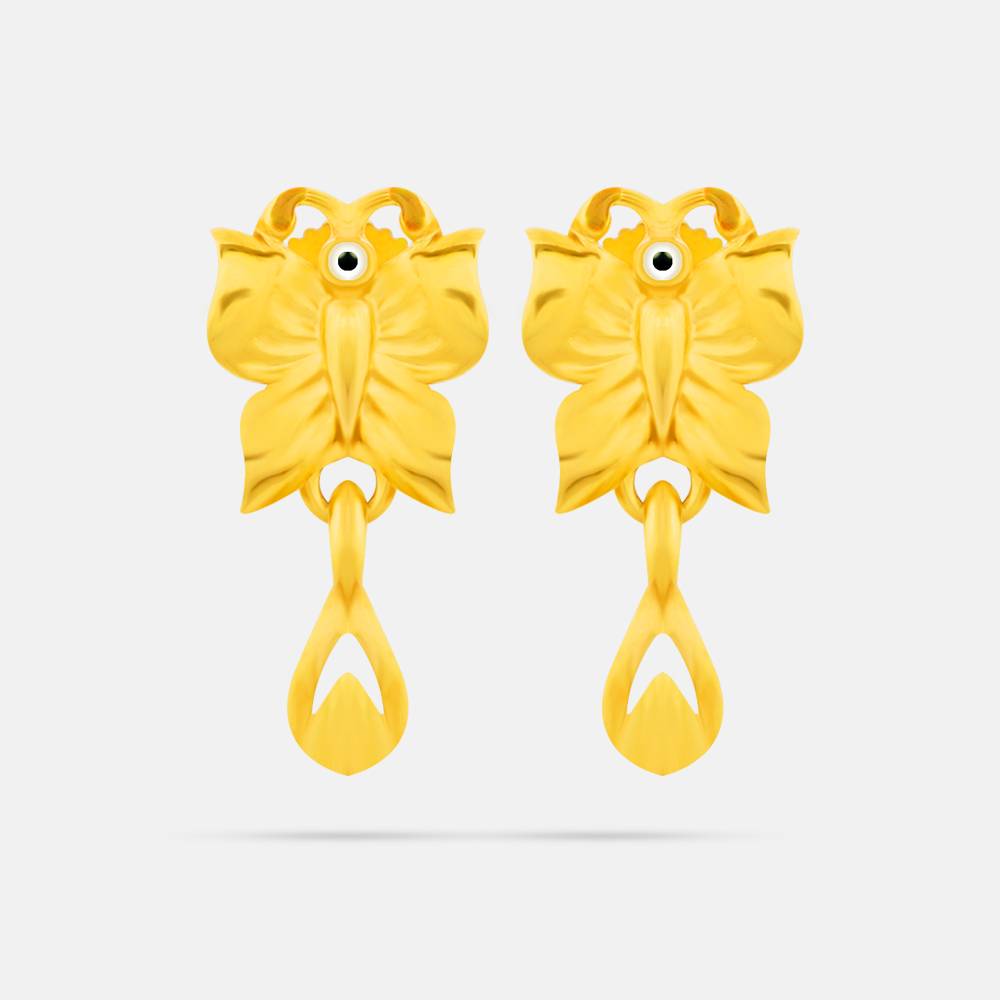 One of the most subtle pieces of ornaments, that would work as an excellent accessory for the wedding ceremony. This is a style which is super stylish with the various jewellery types and designs. It is super classy and extremely well decorated for everyday wear. 
Lalitha Jewellery makes some of the best and the most traditional Gold Jewellery. They are pretty good at making ornaments like this which makes a very beautiful bride. Lalitha Jewellers are one of the most popular places for a good old Ornament for the day. 
These are beautiful sets which are non only organised and smart but have the prettiest shades of Gold ornaments. If you are looking for some good ornaments for the wedding ceremony then this is exactly what you would need for the day. This is well organised, stylish and has an exceptional finishing. 
Besides being good options for the wedding, Lalitha Jewellers have a class of their own. It is a list of some of the most ornamented sets that have made their way into the list of my favourites. At Lalitha Jewellery you are bound to have styles for yourself. Something that fits with your style too. 
In a way an ornament is class and you can add any detail to the set with the personalization feature available at Lalitha Jewellery. The prices are reasonable and the quality of each item is more than what you want it to be. This is an exceptionally budget-friendly brand for Gold Jewellery and even for gold coins. 
At myMandap we have some of the best Bridal Fashion Choices, which are super trendy and look the best on their own. If you liked any mentioned style or design then please let us know in the comment section, we are eager to learn from your end. 
These are styles which are not only pleasant and stylish, but super duper well worked too. In a way the perfect you can plan your dream wedding with myMandap that too the way you want it to be.