The Sangeet Dress for Bride has to be different from the rest of the Bridal Trousseau. You need to curate the Sangeet Dress in terms of many other things. While the Bridal Outfit, just needs to be blended with your own choice. 
The Sangeet Dress for Bride is remarkable, and the occasion itself makes it glorious, distinguished and highly captivating. The Sangeet Ceremony is usually about celebrating, and getting to know one another. 
This is an event, where both families participate in a Cultural function. Which is filled with Dance performances, Songs, and lots more. And, it ends with a beautiful performance by the couple. 
So the dress which is worn by the couple has to be special too. This is exactly why we gave a gathered-up blog for some of the best and the most innovative Sangeet Dress for Bride. 
Top 10 Quintessential Sangeet Dress for Bride:
A good event needs to be about you and your partner. And a good outfit is always about you. You are shining high in your armour and the dress of your dreams. The Sangeet Dress is your armour for the night. 
It has to be perfect, and you need to wear the most well-fitted dress for that. A beautiful wedding attire, with the prettiest Sangeet outfit in hand. That is like a dream to all Brides.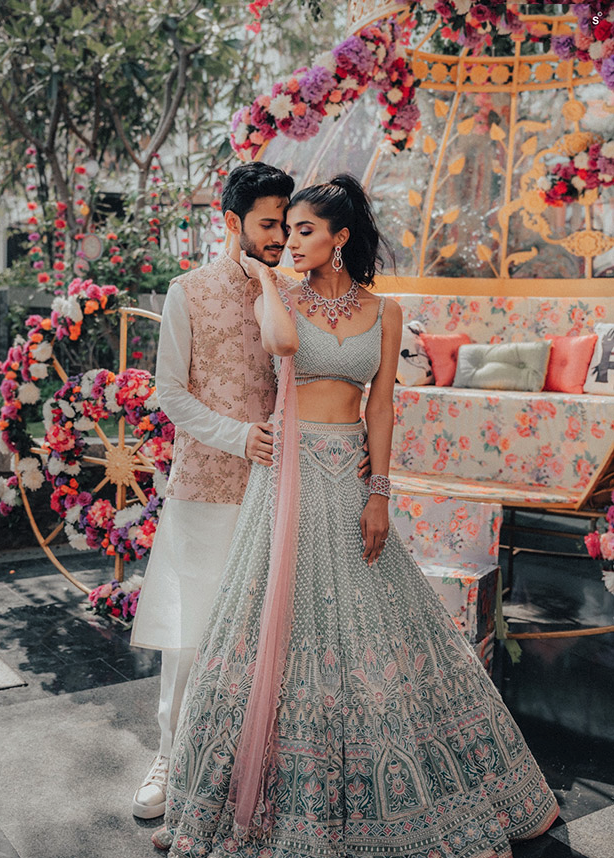 A Lehenga Skirt flows and rounds up like a piece of flower. When you are taking a round in the wedding ceremony, the Lehenga is also moving in the same way. That is like a dream for all women. 
The following Sangeet Dress for brides is a classic example, of what you can try on for the night. Options for both Conventional bridal outfits, as well as quirky and fun outfit combinations. 
Check out: Bengali Wedding Dress Ideas
Cape Sleeves Sangeet Dress for Bride
This is a sleeve length and style, which is not so common for the wedding ceremony. Instead of the wedding ceremony, you can wear this style for Sangeet Dress for the Bride.
This sleeve length and size are beautiful, and you can wear it for your Sangeet Night. The beautiful Pastel shade is everything one needs for the night.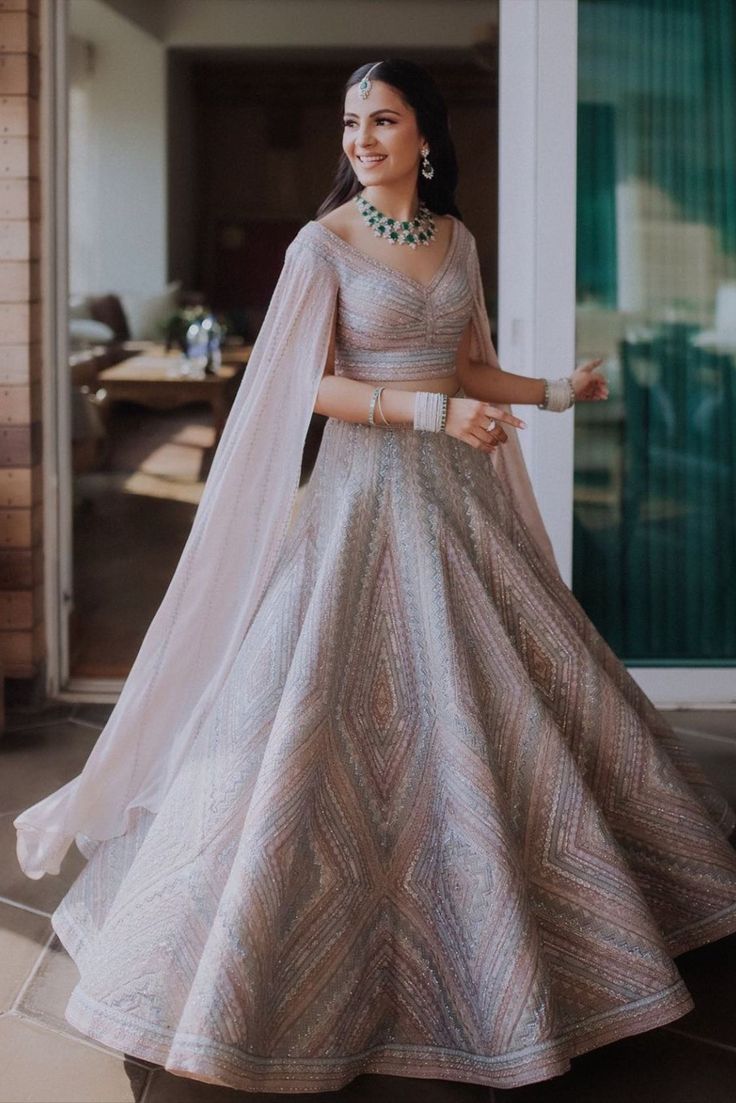 Some Sangeet Dresses are less decorated, and they are lighter in terms of the fabric or the base design. It is beautiful and precious, in every little way.
A good Sangeet Dress should have the best of both worlds. A good fabric, as well as some elaborate decoratives and embroidery for the Sangeet Dress for the bride.
Bright Lilac Sangeet Dress for Bride
Lilac is a beautiful shade, and it has the potential to turn any attire into a total delight. This particular frilled Lehenga is made in Lilac.
One of the trendiest shades which makes a wedding ceremony attire far more interesting, and gorgeous. The Lilac Lehenga is beautiful and one can totally wear it as their Sangeet Attire.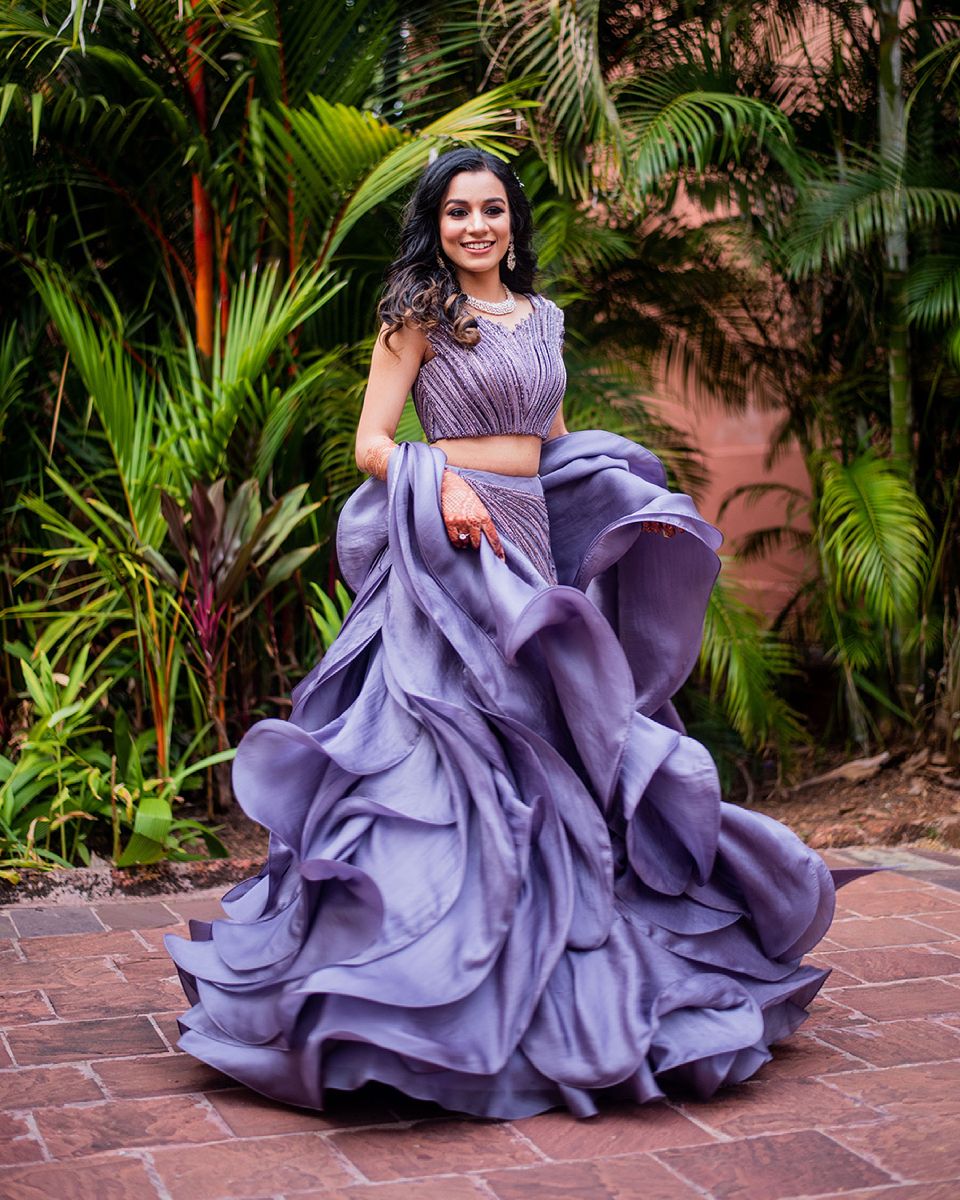 I found two things extremely precious about this look. Firstly the Lilac shade is beautiful, and it makes the Sangeet Dress for Bride put in place.
This is a classic Sangeet Night look, which would be perfect for your First Dance with your partner. It is really charming, lovely and worth it.
See more: Bengali Wedding Dress for Groom
Golden Sequin Gown Sangeet Dress for Bride
Colourful sequins make anything better and more attractive. This is one of the most common things required to highlight a good old look.
The golden sequin work is fine, and it makes your regular gown turn into a total delight. You should be wearing it for your  Sangeet Dress for Bride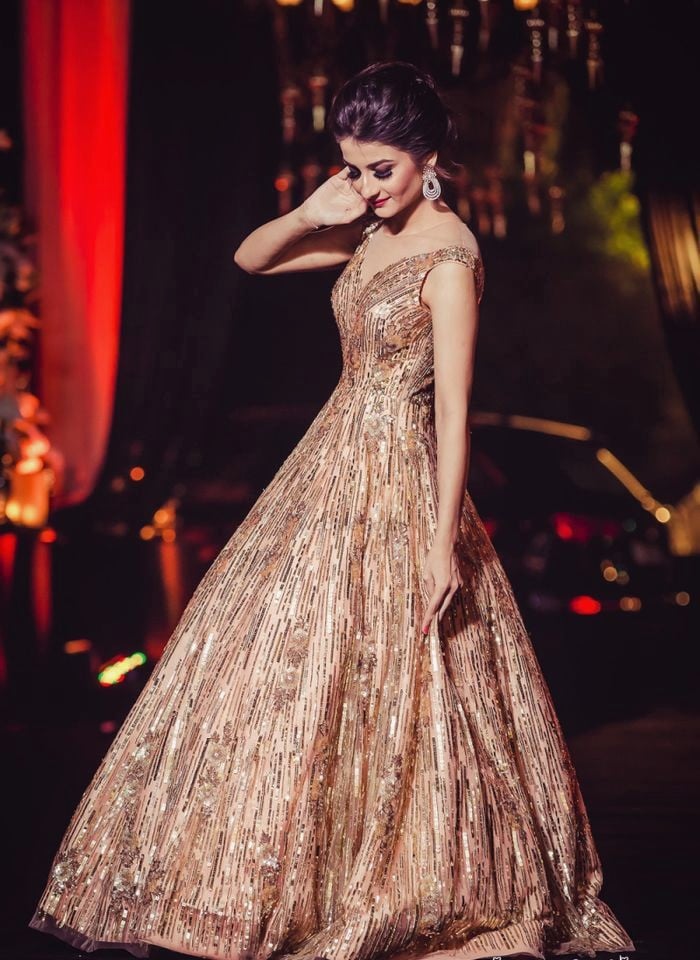 The sequins are scattered throughout the gown, which is a point to be noted. It is not only clustered around a single portion of the Gown.
The golden colour is really very pretty, and as a Gown, it has gathered far more appreciation. You should style it like an Indo-Western Attire.
See related: Phulkari Dupatta
Mauve Purple Mirrorwork Sangeet Dress for Bride
Mauve is a type of colour which looks good during the day as well as during the nighttime. It is pure, surreal and extremely beautiful.
In a way, the colour Mauve is an amalgamation of Pink and Purple. You may even term this shade Lavender or Lilac if you are not so good with remembering shades.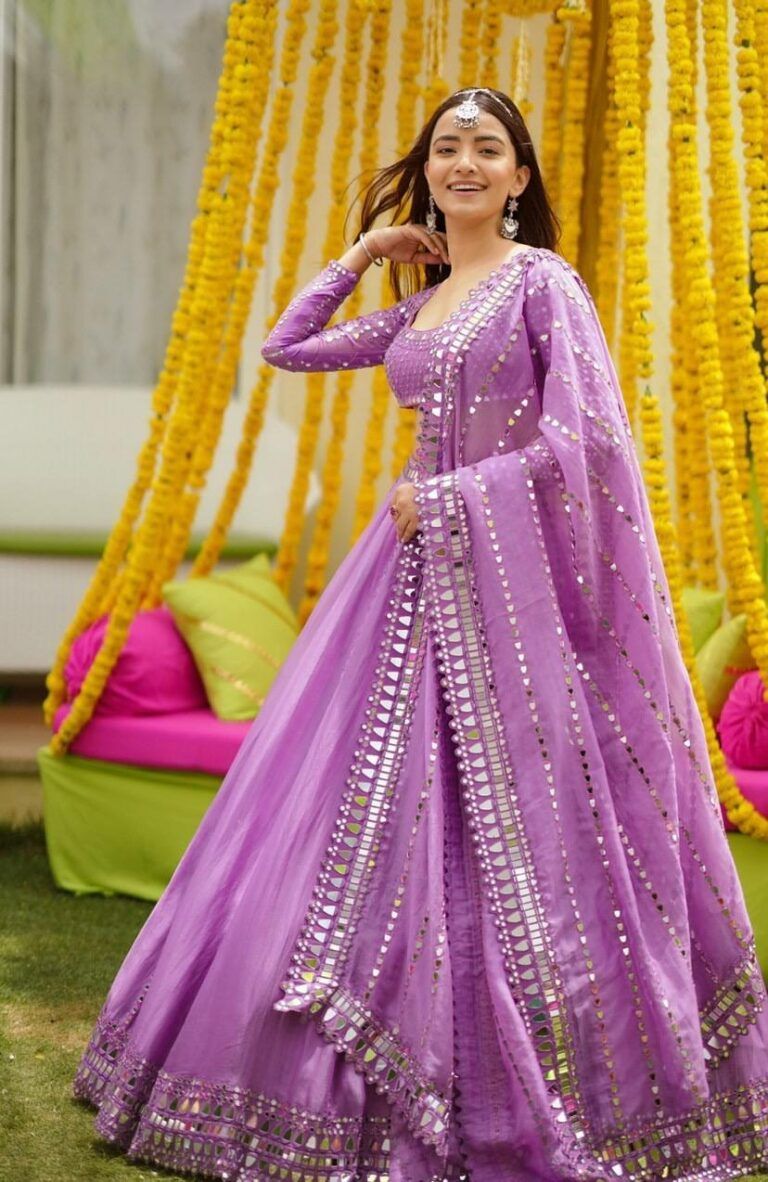 The entire bridal dupatta or the Bridal Skirt is covered with beautiful Mirrors. This is known for its glorious mirrorwork, and it is a beautiful combination.
More than a Bridal outfit, this is a worth-it combination, something we all like. This is the perfect Sangeet Dress for Bride or Lilac Lovers.
Must check: Nauvari Marathi Wedding Dress 
Ruffled Sangeet Dress for Bride in Plum
Peplum and ruffles work best with one another. And ruffles, work best with off-shoulder blouses, and dramatic skirts. This is one such dreamy outfit for Sangeet Dress for Bride.
Like most other Sangeet dresses for Brides, this one is slightly different. It has the prettiest embroidery and the most beautiful thread work.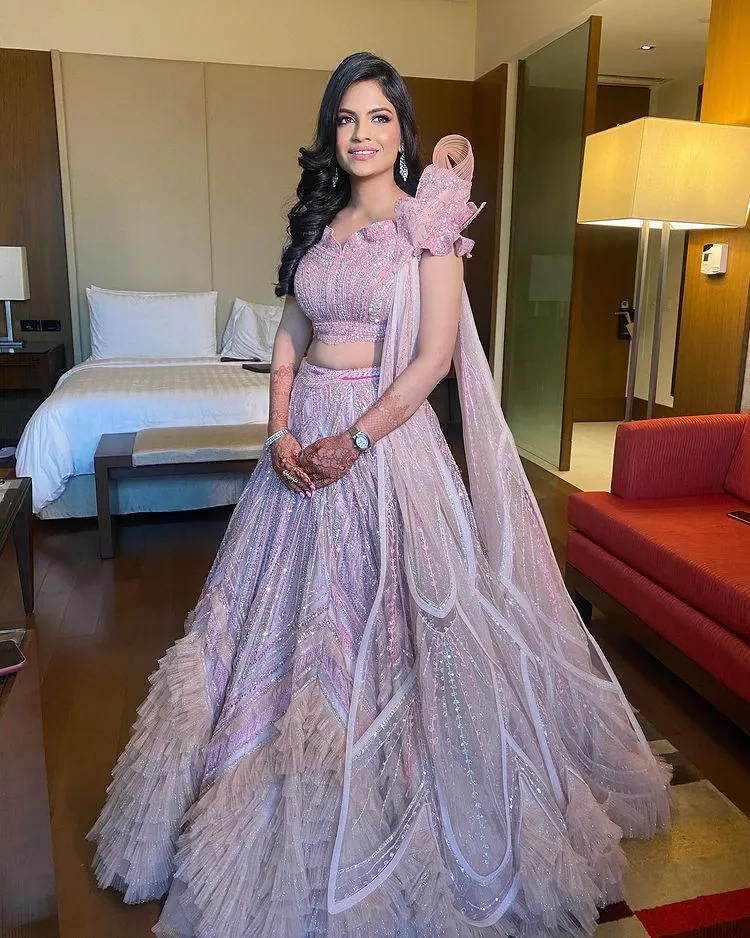 That little Bridal net dupatta is really pretty, and everything else in this picture is just what you need for a good Sangeet Dress for Bride.
The base colour is plum, one of the most beautiful shades for Sangeet Night. trust me, this is supposed to look best for the Dance performance with your partner.
Flamingo Pink Sangeet Dress for Bride
This colour is my favourite, and it has been my dearest for a while now. Those blue celestial embroideries have elevated the shade further.
The base shade of this Lehenga outfit is baby Pink. Not exactly the pink we call Baby Pink, but the mixture of White and Light Pink.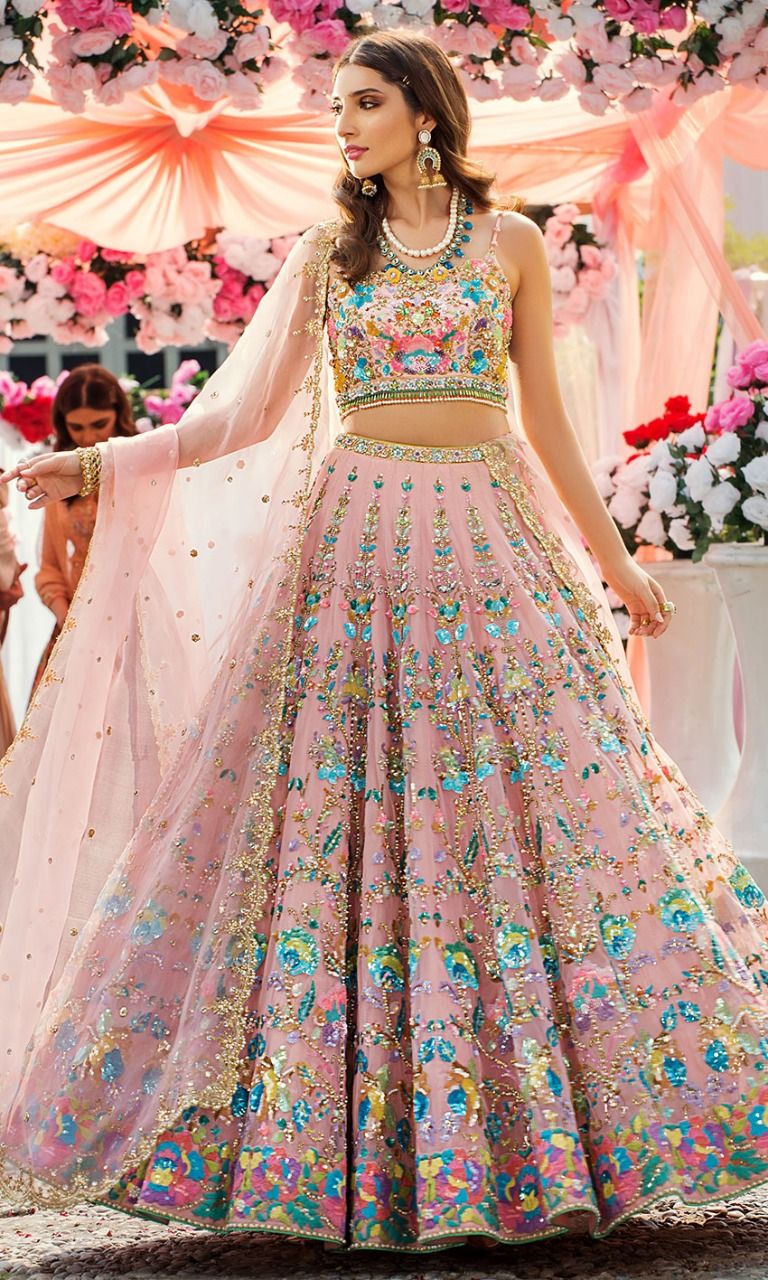 It is a pastel shade, and it is called Flamingo pink for two most important reasons. Firstly the beautiful fabric and secondly the world Bridal Dupatta.
Like the blouse, the Bridal Lehenga Skirt is also embroidered with the same Stich work. What worked best for this one, has to be the quintessential thread line work.
Coral Artic Gown Sangeet Dress for Bride
The coral colour is beautiful, and it makes your regular dresses even more attractive. This is one such amazing shade which makes the outfit, even more, put together.
This is not a lehenga Skirt, but a Gown. Gowns are quite common for Sangeet Dress for the bride. These are more comfortable than most other outfits.
Those beautiful frills are like the cherry on the cake. Works perfectly for the bride and you can totally wear it on for the Sangeet Night.
As a Sangeet Dress for Bride, it has beautiful fabric and the most well-worked embroidery. Two most essential things required for a good Bridal outfit.
Visit: Marwari Wedding Dress
Lehenga with Circup Cup Blouse Sangeet Dress for Bride
Creativity can make any outfit better and more put together. Just like this one, it is so beautiful and quirky. Not a usual lehenga that we are used to seeing.
This is a different, modern version of a Lehenga Skirt. WAn expensive Long skirt, with the most beautiful Contemporary Blouse.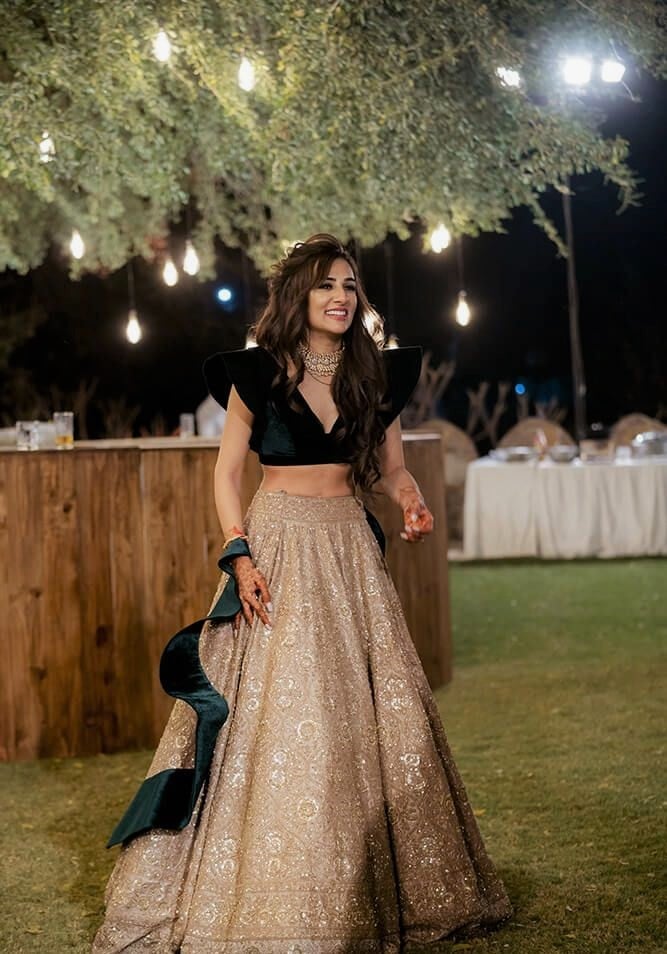 The Skirt is the main attraction of this outfit, with the most expensive fabric and the prettiest embroidery work. This is a Golden Lehenga Skirt and has silk Embroidery.
Among everything else, this is a beautiful design for a Lehenga and has been in trend recently. The black cap sleeve is pretty as well.
Magenta and Cerise Pink Sangeet Dress for Bride
There are many pinks, and the darker shades of pink are the best. Magenta Pink is a beautiful colour which is really the finest shade of Dark Pink.
This is a Sangeet Dress for the Bride, which is literally establishing the beauty of this subtle darker Pink. Which is called Cerise Pink, and it is a mixture of Magenta and Baby Pastel.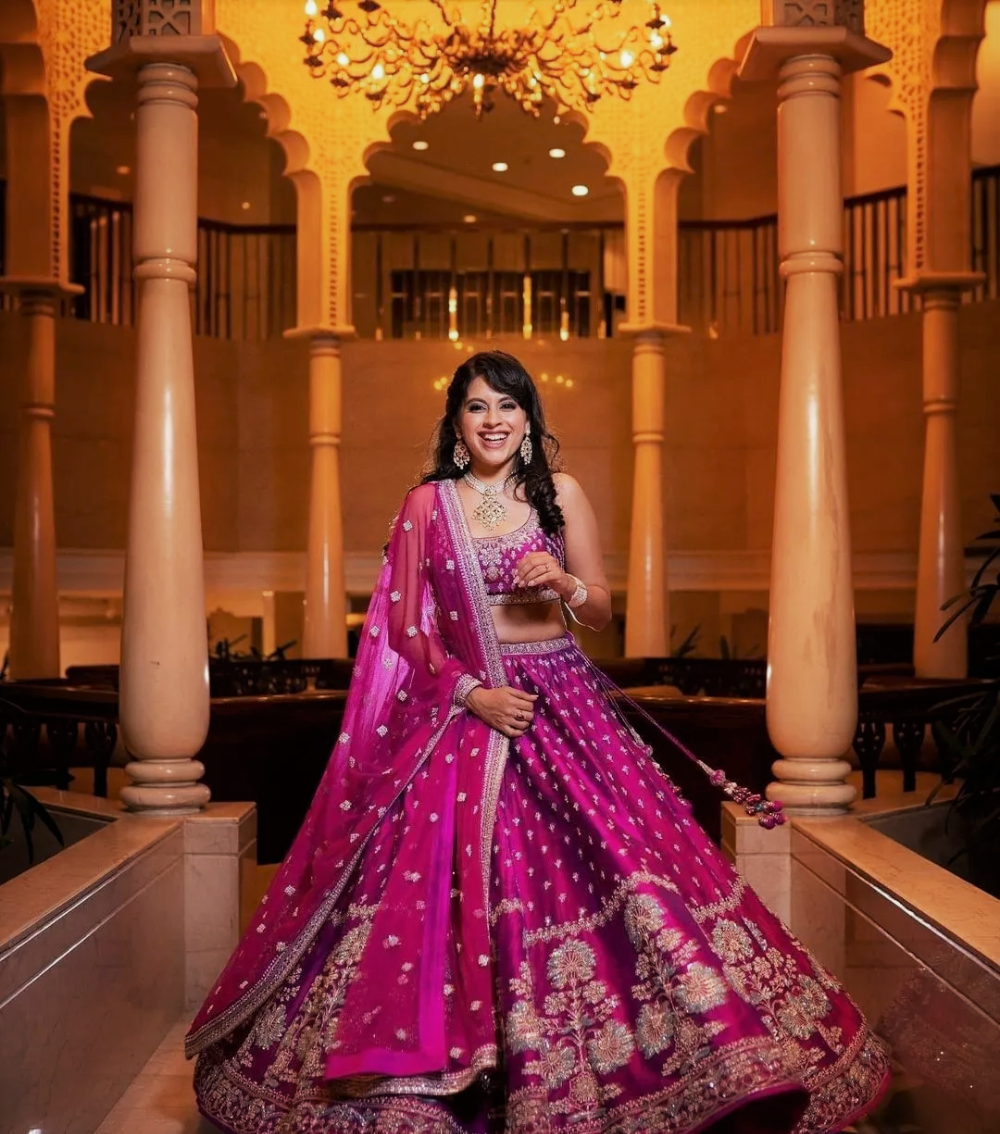 The bottom portion of this skirt is beautifully decorated with Zardozi Work, and the top portion of this Lehenga is elevated with the prettiest Bridal Dupatta.
In a way, this is a beautiful Bridal Lehenga and it can make any outfit from zero to a full-on hundred. This is an exquisite Pink Lovers Sangeet Attire.
Ivory White Sangeet Dress for Bride
The shade of ivory white is extremely creative and gorgeous. It is beautiful, and you can choose this for your ideal Sangeet Dress for Bride.
The most important part of this attire has to be the simplistic shoulder region. This is a Lehenga, and it has a blouse and a dupatta.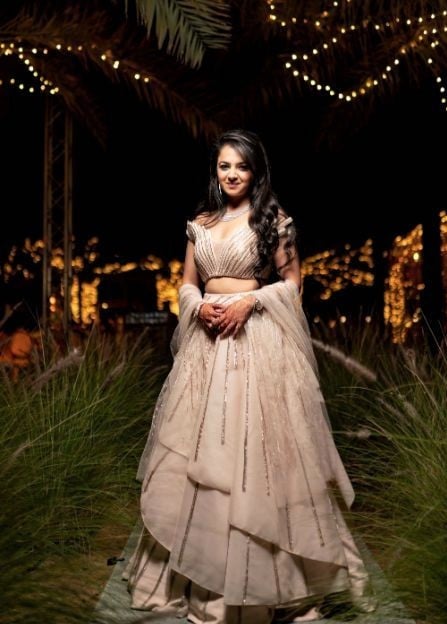 In comparison to the rest of the attires, it is slightly different. The skirt is layered, and each section has sequins on the bottom, and also a pin-tucked design.
It is a good choice for a regular Sangeet Dress. The frilled skirt would give you enough volume so that you get to have the fullest for your Sangeet Dance.
Well, these were some of the best examples of Sangeet Dress for Brides. There are endless combinations, which you can wear for the Wedding Ceremony. There are lehengas and amazing Fashions. 
Many even wear a Lehenga Skirt, with combinations to a Saree or a Sharara Suit. No wonder, this is one of the most elegant options for Bridal outfits. Classic Fashion choices, with a hint of colours. 
It is pretty awesome and extremely elegant at the same time. Firstly the Sangeet Dress is different and next to that, you get to choose what you are weaning in the most quirky manner. 
The Sangeet Dress for Bride is very different from the one we are used to wearing. It is not as highly decorated as the rest, and it is very simple and basic. The two most important flips for a coin. 
I think you found the right Sangeet Dress for Bride. The one which is meant to be your attire for the big day. Let us know in the comment section, as we are eager to hear from your end. 
At myMandap, we have fabulous dress options for the wedding ceremony. Classy Decorations, a Delicious Food menu and all that you need for a perfect event. Get everything right at myMandap.