Adi Dhakeswari Bastralaya is a leading name for Bridal Attires in Kolkata. The exclusive Saree collections are handpicked for brides and their wedding ceremonies. Here, are the top Sarees specifically worn for the wedding ceremony, from Adi Dhakeswari Bastralaya. 
Best Silk Adi Dhakeswari Bastralaya Sarees:
We all want the best of Saree designs, for our wedding ceremony, right? Some like to wear a beautiful lehenga on the wedding day, while some simply go for the safest option, which is a basic Indian Saree. Here, we've some of the best Silk designs from Adi Dhakeswari Bastralaya sarees online shopping collection, certainly,  you would find options in the offline version too. But, these designs are exclusively found online. 
View more: Bengali Saree Look
Benarasi Saree by Adi Dhakeswari Bastralaya
Benarasi is an audience favourite Saree, and it has been one of the most bought Saree at Adi Dhakeswari Bastralaya Kolkata. As Bengali brides, do not wait a second before they rush to the Showroom, to get hold of their bridal saree. The best part about this saree has to be the exorbitant embroidery on top of the Saree or even the colour of which one gets hold of their wedding attire. 
Design:
The basic design of this Saree is blue in colour. This is not really a very conventional colour for brides, especially on their wedding day but it happens to be one of the best collection Sarees for Wedding receptions or even post-wedding events. 
Visit: Anjali Jewellers
Manipuri Silk by Adi Dhakeswari Bastralaya
Manipuri Silk Sarees are already quite beautiful and gorgeous as per weddings are concerned. The colour in this particular design is often soft and subtle, you can actually wear this for your post-wedding rituals and ceremonies too. As the pattern of this Saree has been a personal favourite design for me. The soft floral embroideries, which are well embellished with silk threads, are a perfect combination too.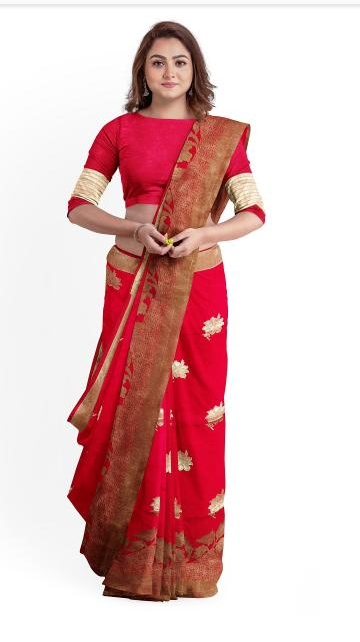 Design:
The red colour of this particular design is quite vibrant, and beautiful at the same time. The design happens to have such a beautiful string design, that is embellished around the applique of a flower. 
Also check: Adi Mohini Mohan Kanjilal Sarees 
Adi Dhakeswari Bastralaya Chanderi Silk
Chanderi is a really unconventional Saree for brides especially. But you can actually wear this design for some soft wedding events, like the pre-wedding rituals and even some other events that cal for a beautiful Saree, but also do not demand a highly beautiful attire. If you're looking for some professional, yet good designs then this is perfect. 
Design:
Apart from this, the design here is quite ravishing in terms of basic attire, which makes this appropriate for any post-wedding attire. Like, I would surely wear this as my back to office attire, right after the wedding ceremony. 
Check: Senco Gold wedding collection
Gicha Silk Saree by Adi Dhakeswari Bastralaya
This particular silk saree has been my favourite on the list for Bridal attires. The design has almost all the junctures. That attire needs to be part of your bridal hopping collection for sure. Believe me, this particular Saree and design are appropriate for casual bridal Sarees or even basic attires required for subtle wedding rituals.
Design:
This particular design is yellow in colour and which makes this a really suitable Saree for the Haldi ceremony specifically. You can choose from a wide range of wedding designs, but this one is the most comfortable for a Silk Saree.  
read also: Sriniketan 12 Latest Wedding Sarees Designs
Kathan Silk by Adi Dhakeswari Bastralaya
You can surely wear a Kathan Silk Saree, for the wedding ceremony but it would not be as appropriate as for wearing it at a reception or Cocktail party. The design is not very simplistic, but the pattern in which it flows through the rest of the attire. The design is modern, but it consists of the ethnic intricacies required for regular wedding attire.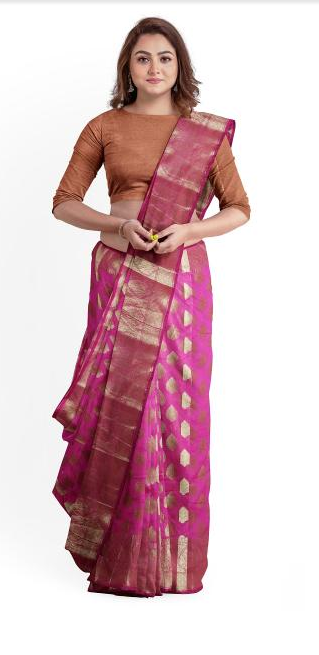 Design:
You wear this attire for almost any kind of ceremony or ritualistic function. Wedding ceremony attires like this, happen to have several intricate details. Like, the stitchings and intricate embroideries on top of it. 
Read also: Indian Silk House Agencies Bengali Bridal Sarees
Baluchari Silk by Adi Dhakeswari Bastralaya
This is a kind of wedding attire, that is easily flexible for wedding attire too. With the simplicity of the Saree and the elaborate details of a Silk Saree,  this is a really good choice for any nominal or exorbitant bridal saree. These kinds of Sarees are even flexible with wedding guests, and as marriage gifts as well.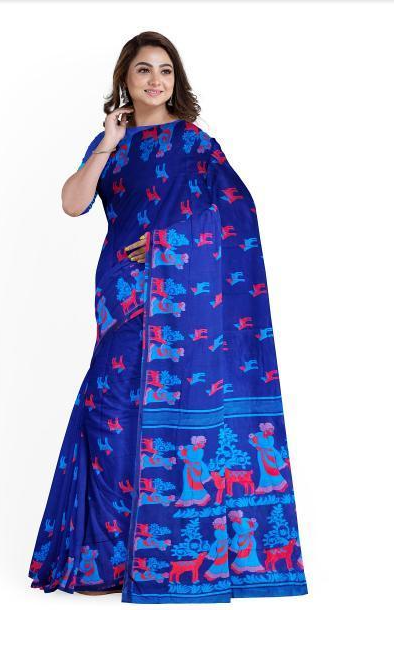 Design:
You're supposed to fall in love with these Saree designs. The Baluchari embroidery on the piece resembles that of a pretty Benrasi Silk Saree. So, you can actually wear it for the wedding reception, or any other post-wedding events as well. 
Best Cotton Tant Sarees from Adi Dhakeswari Bastralaya:
Tant is generally soft cotton Sarees, that are preferably worn in other wedding events like post-wedding ceremonies or even pre-wedding rituals like Haldi ceremony or even the typical Bengali 'Aiburobhat'. Apart from these, there are other designs too, from Adi Dhakeswari Bastralaya sarees Kolkata. 
Read: Flower Jewellery Ideas
Handloom Bomkai Adi Dhakeswari Bastralaya
The Bomkai Sarees from Adi Dhakeswari Bastralaya is gorgeous and extravagant like anyone would fall in love with the basic design. The simplicity of this cotton saree, which is rolled into a well made Handloom attire. The design is hand-loomed, from professional workers end who are professional in material weaving. 
Design:
The particular design is well stitched with special intricate stitchings around the base. The blue, and grey colour of the Saree makes this a less appropriate fit for bridal attires, and even as a good wedding gift. 
View more: Ajanta Shoes
Bhagalpuri Dhakai Adi Dhakeswari Bastralaya
The stylish wedding wardrobe, that you accumulated all this time needs to have at least one Bhalpuri Silk in it. The design is quite beautiful, and stylish at the same time. Bhalgalpuri Dhakais are appropriate for bridal attires, for a couple of reasons. Firstly, the material is quiet and basic. And, secondly, the cotton handloom design makes this an appropriate one for the wedding collection too.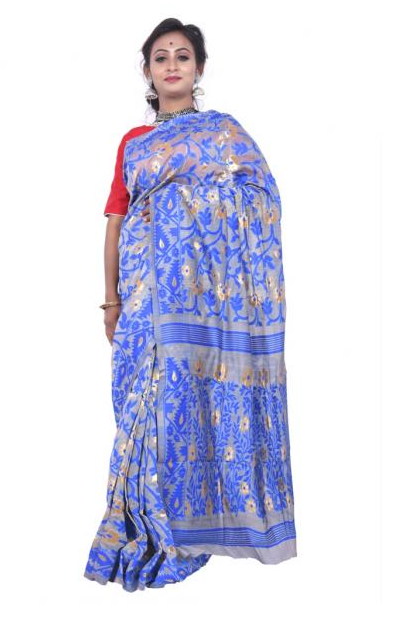 Design:
You can actually wear this for your pre-wedding rituals, like the Haldi ceremony or even other basic festivities that are needed for the day. These Sarees are my personal favourite, and Adi Dhakeswari Bastrayal has a lot of options for these. 
Check: Bengali Marriage Dates
Patola Dhakai Adi Dhakeswari Bastralaya
Patola Sarees, are always one of kind Sarees. Like you can wear this attire, for almost all kinds of functions. Irrespective of the attire type, or the design in which the Saree drolls down. Patola Dhakais are classic collections, especially for Bengali brides out there. The classic 'tantt' design of this are relevant and have been a choice for many.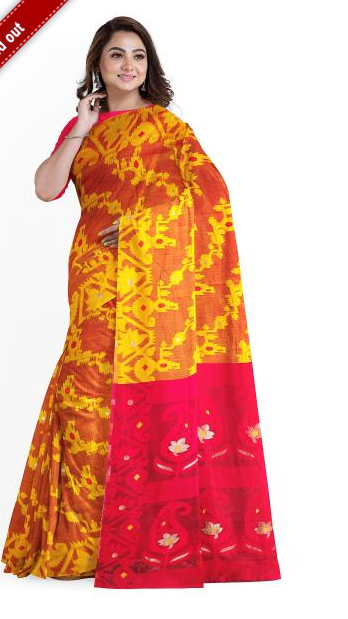 Design:
The Saree in here is yellow in colour, so you without a doubt wear this attire for your Haldi ceremony or even other rituals that are hosted in the daytime. Although this isn't a perfect Saree to be worn during the wedding ceremony, it can actually b worn as a 'Lajya Bastraya' during the Vermillion ritual. 
View more: Amazing Traditional Tant Sarees
Bengal's Dhakai Jamdani 
The Dhakai Jamdani required for the wedding ceremony, are over overly decorated and embroidered. The Sarees are well made specifically for the ceremony. The embroidery or the stitches on top of it, has been a choice for multiple guests out there. You can actually wear this for the ceremony, without worrying about the colour or the appropriateness of the Saree.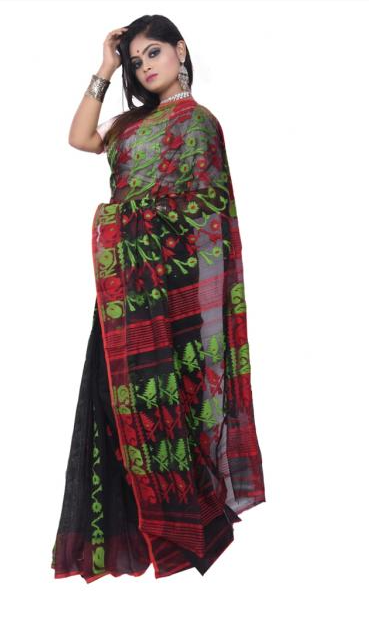 Design:
Adi Dhakeswari Bastralaya's Jamdani collection is always well embroidered and designed. Like, you can wear this as a post-wedding attire. Or even some subtle events, surrounded around the wedding. 
Check also: Best Caterers in Kolkata
These were some of the best selling Saree designs from Adi Dhakeswari Bastralaya. The collection comprises exclusive Saree designs, that have been a customer favourite for years now. To know more about wedding rituals, functions, and other assorted events, visit the myMandao blog.