A Bengali Saree Look is always traditional and cultural. You will actually see brides being their best in an ethnic Bengali Bridal look. A simplistic Bengali look can never get out of fashion. 
It is one of the most beautiful Indian Bridal looks. That can have its own subtle magnificence and virtue. Here, we have gathered some of the finest Bengali Saree looks, which are elegant and quintessential too. 
Top 10 Bridal Bengali Saree Looks:
Traditional Bengali Saree styles are always exclusive and quite fashionable too. These styles never go out of fashion, and as a matter of fact, it is precisely formulated in the best possible manner.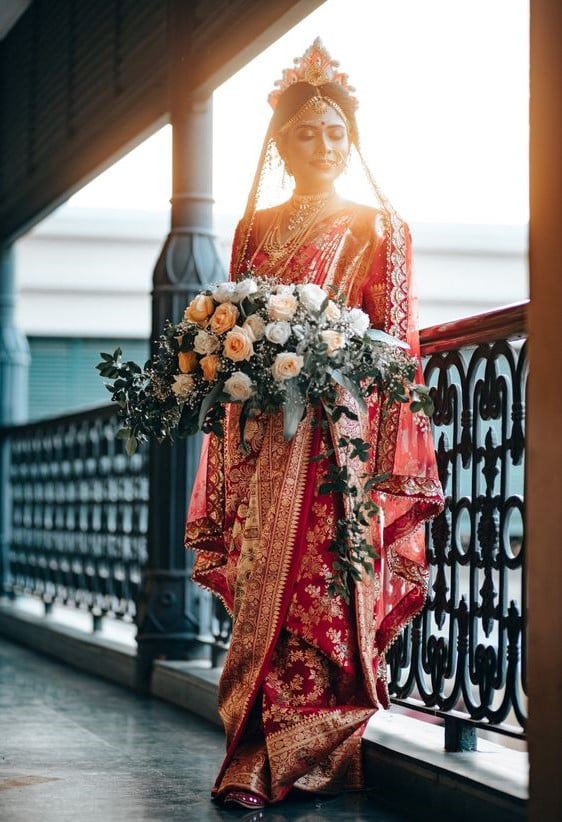 A simplistic Baluchari Saree, makes very Bengali women look their best. These manners are fashionable and as a bride, you can completely rely on thee styles without worrying about most of the things. 
Empress Drape Bengali Saree Look
The Bengali style of wearing a downfolded saree is mainly an eight-fold pattern. That unveils itself with every little fold. To be honest, this is one of the best and the most fashionable Korial Saree style. It is not only popular among Bengalis but also among other Indians. 
The way this Saree is worn is extremely beautiful and quite appropriate for a Traditional Saree. Bengali fashion like this can never disappoint you. Different styles have a unique manner of different types. 
Wearability
:
This is appropriate for a Bengali Wedding, that resembles the drape of a queen. In fact, this draping style is meant for a Silk Saree. Preferably Benarasi Saree and other traditional Bengali style sarees.
Check Out: Bengali Saree Styles
Old Kolkata Bengali Saree Look
Besides being a fabulous draping style, this is a perfect Saree for the wedding function. The bride not only feels her best with such a beautiful draping style, but her pictures are outstanding too. 
The subtleness of these pictures come out in the most obvious manner in these pictures. I personally believe, you should always choose the style according to the fabric and the Zari work performed on top of it.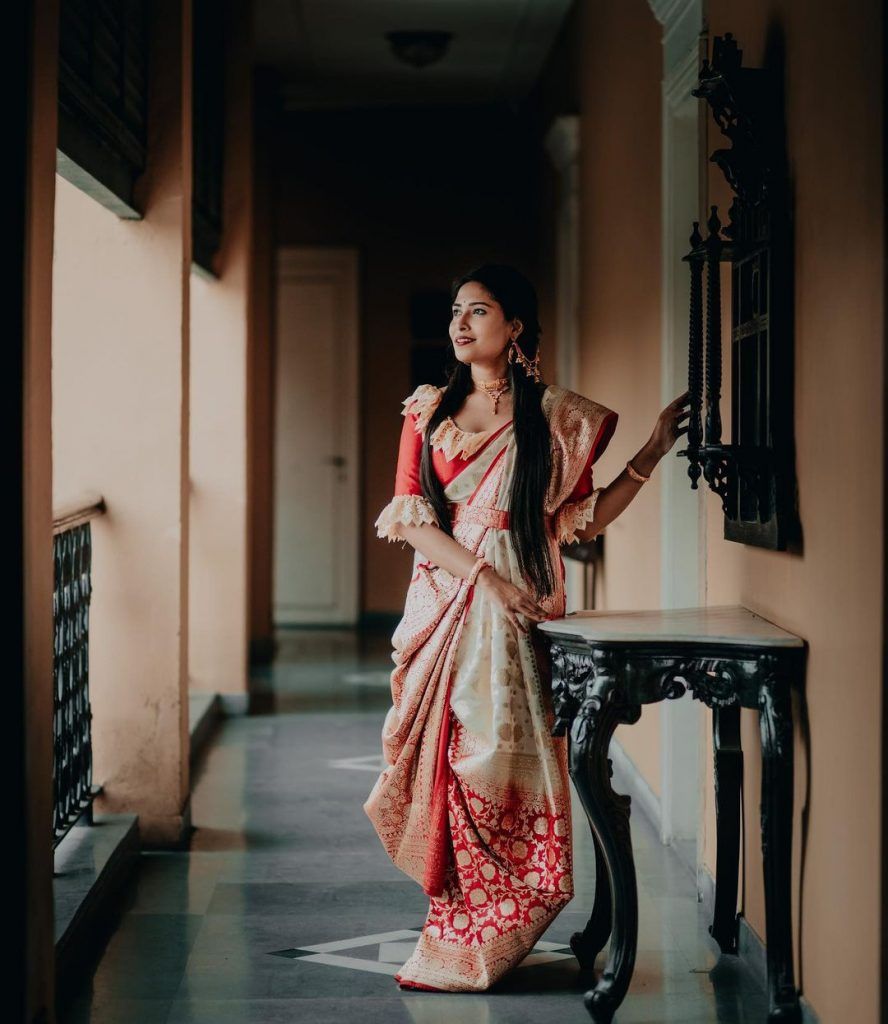 Wearability
:
The best part about this look shows the frilled blouse. This is one of the most traditional blouse designs, with the most ethnic white Saree. 
Visit also: Bengali Wedding Photography
Yellow Benarasi Bengali Saree Look
Wearing a Yellow coloured Saree can always make you look your best. As a matter of fact, this Saree is certainly the best of all. The simplicity of the yellow colour shine through the soft cotton fabric. 
The pallu or the pleats are much straighter and sleek. This Beautiful Saree can not only make you look thinner, but it is one of the most comfortable fabrics too.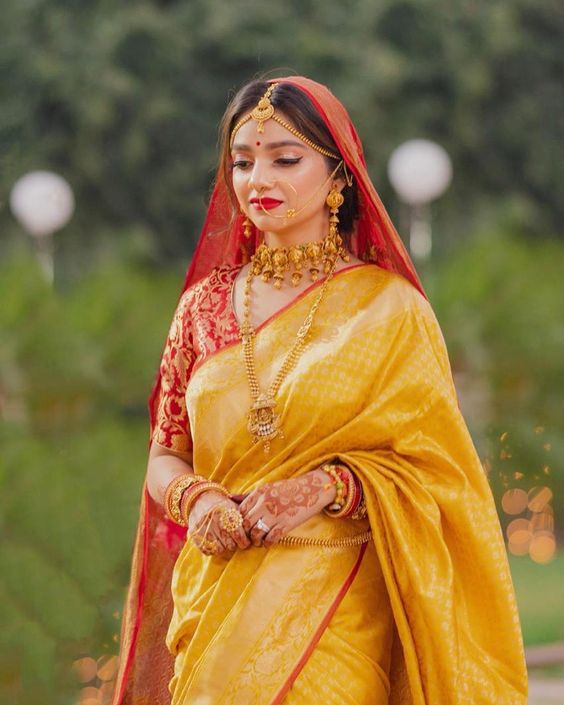 Wearability
:
This Yellow coloured Saree is appropriate for the Haldi Ceremony. The ceremony of Haldi is called 'Gae Holud' and this typical Bengali Saree is just reminding me of that.
Also Check: Adi Dhakeswari Bastralaya
Reception Party Bengali Saree Look
This is certainly that one Bengali Saree Look that everyone wants to have. This is pretty awesome, organised, placed and obviously has the most beautiful little details. 
The Red Saree is glossy and has the most beautiful wedding sheen to it. The most important part of organising a piece like this is, you can actually wear it for the wedding ceremony.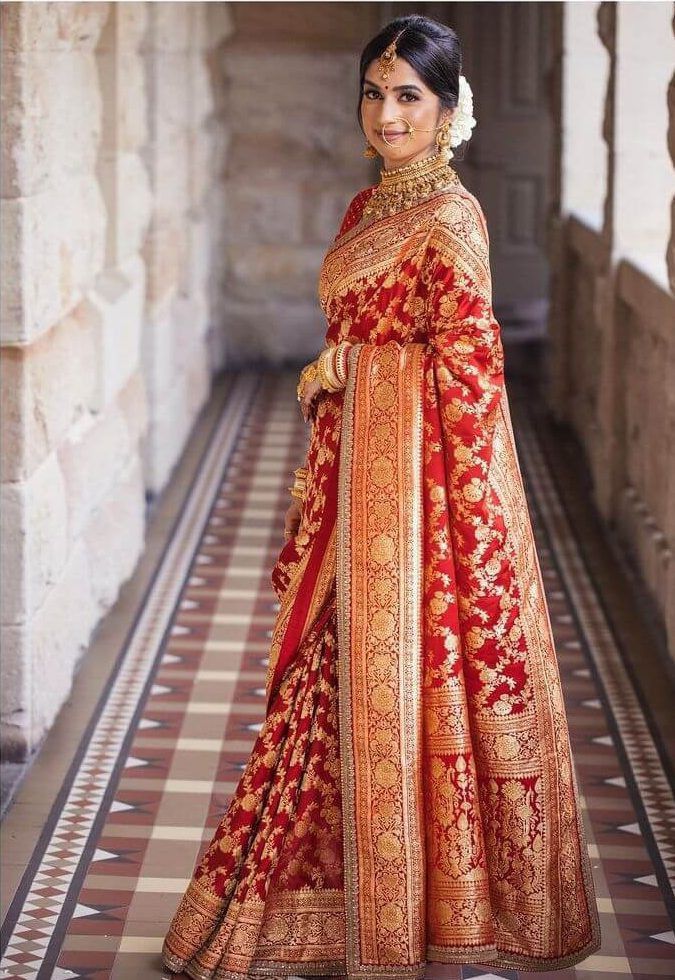 Wearability
:
The red colour is kind of adaptable, and flexible too. Like this is actually a really great choice for people, who are really very fond of dark colours. 
Gorgeous Teal Bengali Saree Look
Teal is a Kind of colour that goes well with multiple layers of a Bengali Saree look. As a simplistic outfit, this is one of the best dresses, that can be worn and flaunted without a doubt, trust me you wouldn't be disappointed with how it tuned out at the last.
The exorbitant colour combination and the blouse design which is born along with it. Together they make the best out of this simplistic Grooms's dress and attire.
Wearability
:
I believe such an outfit deserves to be part of your post-wedding, back to office look. Like, your post-wedding glamour glow, which is just perfect.
Must read: Adi Mohini Mohan Kanjilal
Red Handloom Bengali Saree Look
Red Sarees are absolutely the best possible thing. A Bengali Bridal Look focuses on the theme of being original and real as per the culture and the traditions of the family.
A red handloom saree is one of those sarees, which are primarily worn for the purpose of some light and teeny-tiny events, that are almost not as important as the wedding ceremony.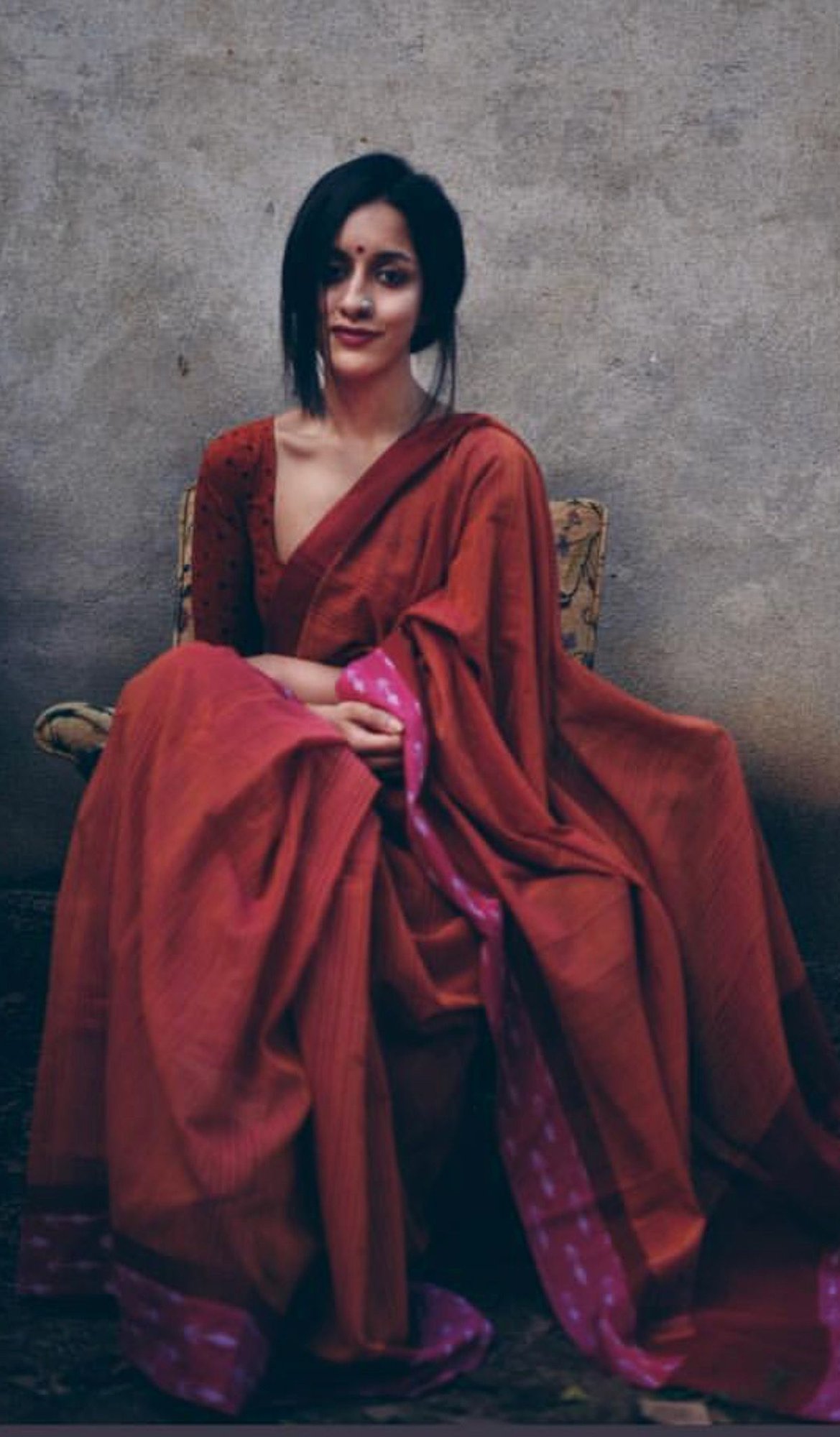 Wearability
:
The purpose of wearing such a beautiful saree is to highlight all the parts of that look. Firstly deriving the most put out of a regular post-wedding look, or even as a charm for the Saraswati Puja.
View more: Modern Bengali Wedding Sarees
White and Black Begumpuri Bengali Saree Look
Why wear a Saree which is not quite condescending according to the norms of a wedding ceremony? When in fact, you can wear the best for the wedding day?
Well, some Bengali Saree Looks are curated for the sake of other associated events. Some events that are just way to fabulous for any wedding ceremony, or even a post wedding look.
Wearability
:
Why do you think the Begumpuri look is not your bae? When on the other hand, it is one of the best looks that can go for their wedding ceremony. It is simple, subtle and really very pretty. 
Also see: Traditional Tant Sarees
Chique in Cotton Handloom Bengali Saree Look
If you ask me about the certainty of this look, let's just say it is one of the most beautiful fashion statements. The softness of a Handloom Saree makes every bride feel extremely comfortable. 
A look like this, wouldn't be a disappointment to anyone. This is one of the easiest looks, that can be curated for the big day. It is really easy, and the results are fantastic.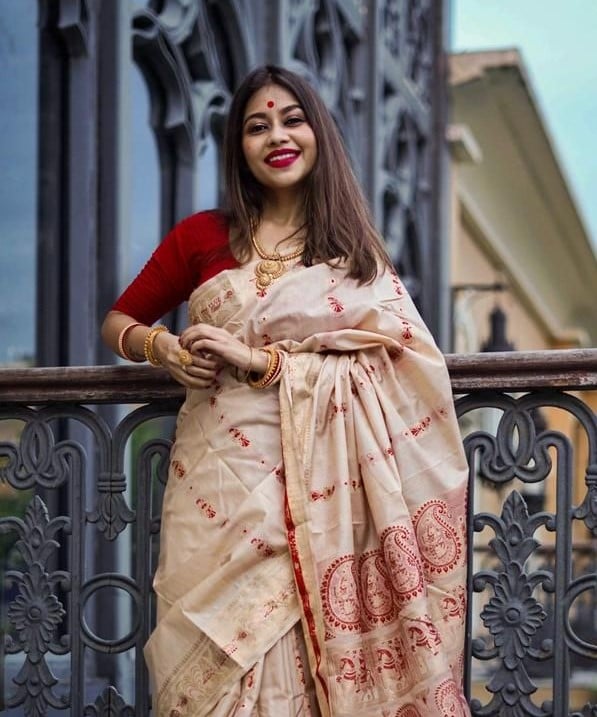 Wearability
:
These kinds of Bengali Saree Looks are appropriate for some lightheaded post-wedding events, or even for some other occasions. Like the pre-wedding photoshoot or even the Bong Bachelorette. 
Must view: Sriniketan
Red and White Garad Bengali Saree Look
Garad Silk is one of the most conventional Sarees worn by Bengali women. The beautiful white and red combination is typically called a Bengali Saree look. Trust me, this is perfect for every occasion. 
The simplicity of the colour white is magnificent and the outcome is tunning too. A Saree like this would hardly cause a disappointment to anyone. These Sarees are quite common for 'Sindoor Khela' during Durga Puja. 

Wearability
:
As for wedding attire, this is one of the finest collections that can be worn for the purpose of 'Aiburobhat' or even a typical 'Nanni-Muk' which is a common practice in India. 
visit: Nalli Silk Sarees
Yellow Bengali Saree Look
These are not the most amazing Sarees worn by brides for their wedding ceremony. rather this is one of the side Sarees, that are typically worn for other little events. 
This can even be your drape, for the post-wedding functions. That is quite common in a Bengali family.  The stitching on this fabric is a Kantha Saree embroidery. Which are you ask me, is just perfect for the other little occasions.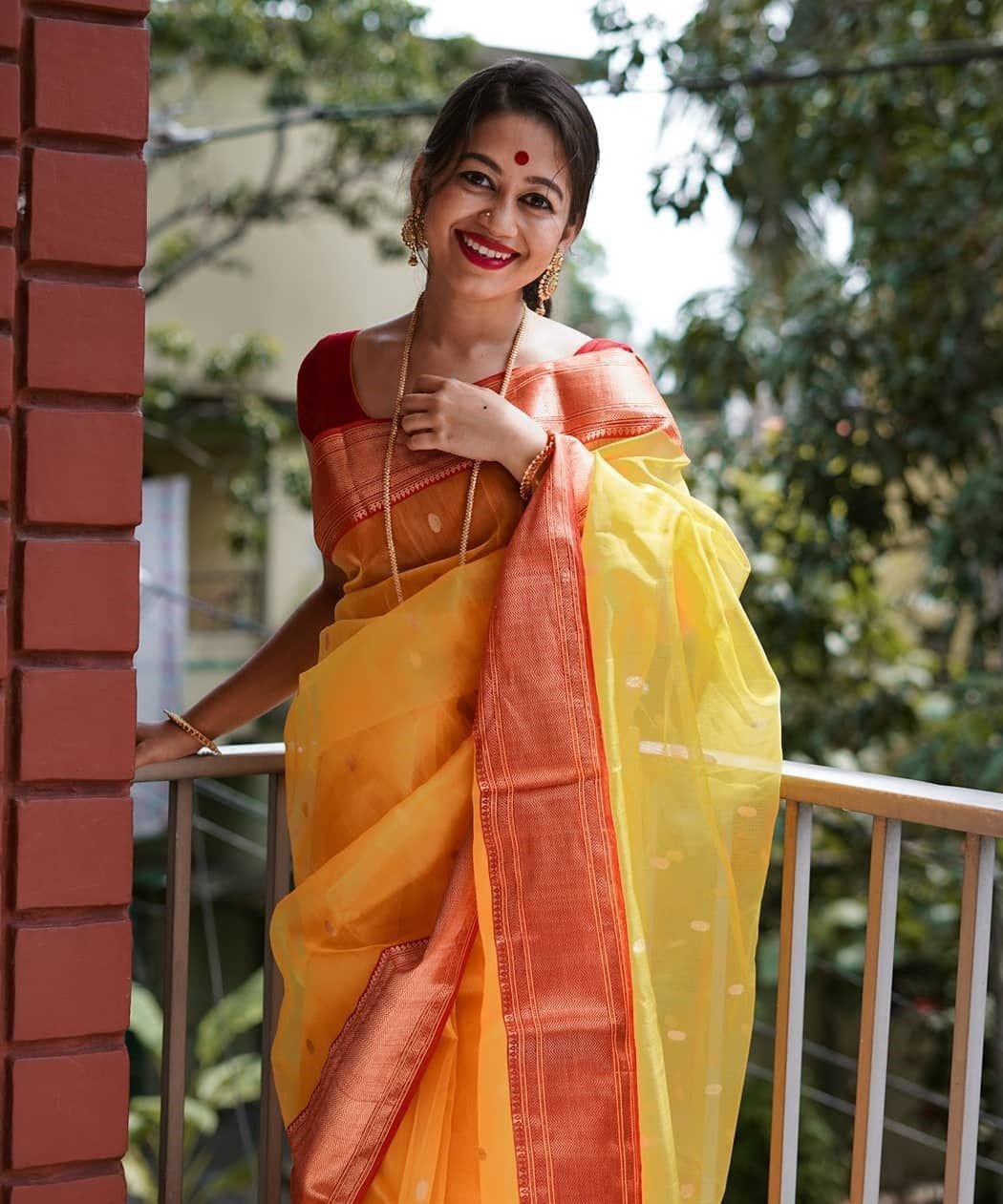 Wearability
:
The ethnicity of a unique Saree, which has the compatibility to be worn for the purpose of other little days. The clumsy Rosie, of this Saree, is making it, even more, spectacular. 
read more: Indian Silk House Agencies
Guess what? All these Bengali Saree looks are from real Bong brides. Who at once choose to drape this in their own unique manner. The beauty of these lies with the ethnic culture, and tradition.
Your Bengali Saree can be anything, a simplistic Tant Saree, Gorad Silk, or even the fanciest Baluchari Saree. Remember one thing, a traditional Bridal look is the best of all. 
Well, these were some of the most unique styles and tips. To know more about, wedding fashion, decoration or food, simply visit myMandap.