'Taat' or Tant saree in English is a speciality of Bengal. Be it Banarasi Tant saree or Dhakai jamdani Tant saree, Bengali brides are incomplete without it. Being open to new ideas and thoughts but also holding onto the same customs and traditions is what makes India's eastern region so special.
Since we are talking about Tant and Bengali brides, let us show you 6 amazing Tant designs that will make you and your girl gang look picture perfect!
view more: Bengali Saree
Tant Dhakai Jamdani Saree:
If you are looking for a cotton threaded Tant saree to wear on your 'Ashirbad' then this will be your best choice! The tassels and the Zari weaved on this cotton Dhakai jamdani saree has a traditionality that will make you feel comfortable with a more natural look.
Even when you are fussing about your in-laws and worrying if you look good enough, this alone will do the job for you to look flawless on your wedding rituals. The compliments that you will be getting from your in-laws are definitely going to make your day, so rest assured of that. Add this gracefully designed to your wardrobe and be your elegant self!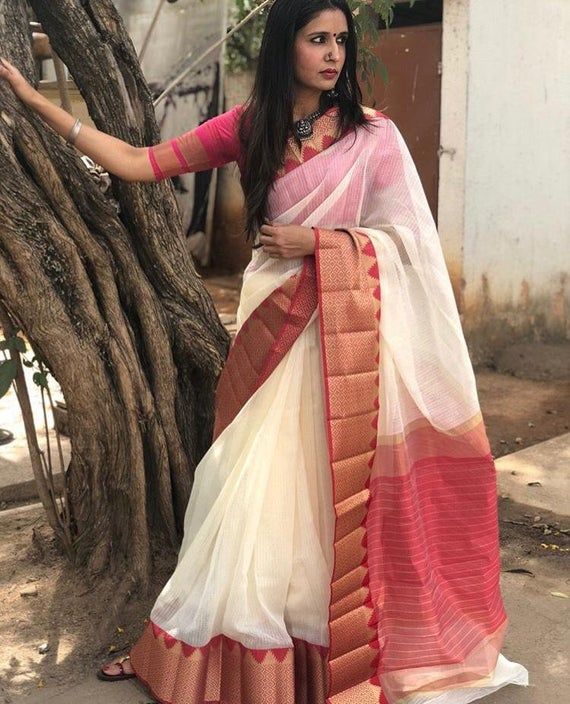 You can get this handloom on amazon with a price range of about Rs 700 – Rs 1000. There are always some sales going on where you shall get more discounts and at more affordable rates.
Pair it with some alluring gold bangles and necklaces and you are good to go. You can also replace it with a lemon green blouse for contrast instead of a golden one. All the blessings that will be showered upon you by your inlaws on your 'Ashirbad' are definitely going to make you feel precious. So go right ahead and buy this handloom Dhakai jamdani saree from amazon at some very affordable prices and discounts.
Also see: Sriniketan: 12 Latest Wedding Sarees
Santipur Tant Jamdani Saree:
Looking for a white and red originally handmade cotton-threaded Santipur Tant jamdani saree? Well, you have come to the right place. We know, being a Bengali bride, you have to have a white Tant jamdani saree that will give you a proper bong-look for your wedding photographs.
Appearances are all that matters. This handmade Santipur Tant jamdani saree will be really suitable for you Bengali brides for the day of your 'Odhibash'. Obviously, we know all the tatta that you will be getting on that day will be enough to make your face lit up with impish glee. However, you will need the perfect saree to match this perfect moment, right? That's what we are talking about. Get this Tant Saree on Flipkart and drape it in pure Bengali style.
You all remember Paro from the movie Devdas. Style this saree just like Aishwarya Rai Bachhan did in the movie and you can already hear the song 'Dola Re' ringing in your ears. The price range of this handmade Santipur Tant jamdani saree is about Rs 600 – Rs 800.
Yes, pleasingly affordable too. I know, Flipkart is love. Not true love, that's your groom-to-be, obviously.
Read More: Adi Mohini Mohan Kanjilal Sarees for Bengali Brides
Keep in mind to accessorize it with some floral jewellery and bangles and it will definitely compliment your overall 'Sundori kanya' look. Do not forget to click one with the tattas surrounding you! We know you wouldn't, just kidding.
Fulia Tant Jamdani Saree:
Do not commit a crime at your wedding! Yes, it's a serious offence to forget about your girl gang and be indecisive on what they will wear at your wedding rituals and ceremonies. Bridesmaid sarees are as crucial as a bride's saree. So, let us be your saviour!
Take a look at this vibrant Fulia cotton Tant jamdani saree. Make your best friend wear this handloom saree on your wedding day and she will be elated. Might start dancing even, who knows? You can join her right in too.
This saree is threaded in pure cotton Tant made by well-skilled Bengali weavers. The professionally made zari work in the borders makes it more vivid. Your bridesmaid will be delighted to have this beautiful piece of work in her wardrobe. God, better than having yours in it.
It easily looks like one of the best Tant saree in Kolkata and you can simply buy it from Amazon. They have various other choices of colours in case you are looking for a more vibrant one. The price range of these handloom tant sarees starts from Rs 700 and goes as high as Rs 2000.
But do not worry, there are always sales on amazon with outstanding discounts that make every girl go crazy. Get the party started with this glamorous handloom folia Tant jamdani saree. Tell your bridesmaid to pair it with some Bohemian bangles and oxidized pieces of jewellery and she will give a run for your money!
Hey, now do not make that face, we have something for you too.
View more: Bengali Saree Look
Tant Banarasi Saree:
Your girl gang giving you a tough competition? Then you make it tougher! Have a look at this gorgeous Banarasi Tant saree in yellow. This cotton handloom Tant saree will be appropriate for your 'Gaye holud' ceremony. The gleam of the Haldi-glow reflected on your face will look more pretty if you are dressed in this yellow saree.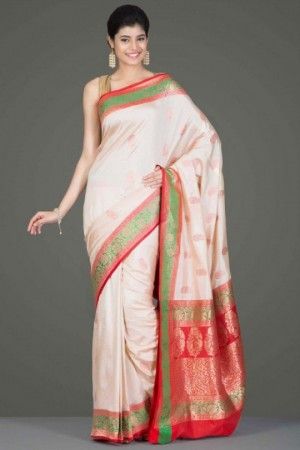 You are glowing just thinking about it! This banarasi tant saree is available on the IndiaMART website with a price range of about Rs 1600 – Rs 2500.
Look how radiant she is looking with all that glow! This whole attire is a must for Bengali wedding ceremonies and if you pair it up with some light jewellery, you will look no less than a Goddess of stunning beauty.
After finishing all the rituals, do not forget to grab your sunglasses and start dancing on the beats of 'Kala chasma' with your girl gang. Your appointed photographers will love to capture every one of these priceless moments!
Check more: Best Nalli Silk Sarees
Tangail Tant saree:
If you have not chosen a saree for your bridesmaid to wear on your 'Bou Bhaat' then this is your only chance. Just check out this gorgeously embroidered Tangail Tant saree which will make your sisters jealous of your girl gang.
How to wear  Tant saree, that too in cotton threads and professional zari work. It will be your perfect chance to find a handsome groom for your bridesmaid as that's what best friends are for, right? Though here the woman has gone for a straight hair look, make sure that your bridesmaid gets her hair curled to slay the overall appearance.
You can place the order for this Tangail tant saree from amazon, the price ranges from Rs 1600 – Rs 2000 including discounts. Tell her to style it with some gold jewellery and high heels and she will be the woman of every man's dream at your wedding reception. Yes, except your man's. Because he knows you are the only woman of his dreams, his only true love.
Read also:Indian Silk House Agencies
Dhaniakhali Tant Saree:
Never neglect your sister! Yes, your sister is also a part of the girl gang. Therefore, it is your sole responsibility to choose a saree for her that will make her hug you in elation. Don't worry we have got your back, as promised. Have a look at this beautiful cotton Dhaniakhali Tant saree, handmade by our very talented Bengali weavers. This handloom tant saree has a touch of innocence in it that will suit your sister's virtuous vibes.

Your sister's place is right beside you while you are sitting on your 'Singhasan' for the reason she can't afford to look any less pretty than you. Although, she will be collecting the wedding gifts all day yet she has to look her best. And this Dhaniakhali Tant saree will be her saviour. Grab this handloom tant saree from a website named 'thecrazylooms' at a price range of about Rs 1900 – Rs 2500.
View more: Dhoti Saree Styles
Looking sweet, isn't she? Well, your sister will look too. Make her accessorize it with some bohemian pieces of jewellery and the end result will be gratifying. She might even need a 'Kalo tika' for all that pure beauty.
These were some of the best Tant Sarees, found in Bengal. To know more about Weddings, and other events visit myMandap.
Read More: Adi Dhakeswari Bastralaya Bridal Sarees