Bengali Bridal Alta Design on Feet and Hand are selective and popular in and around Bengali. The beautiful Kalkas and the fabulous designs are just what you need for your big day. Bengali Brides do not wear 'Heena' which is popularly known as 'Mehendi' in India. 
Bengali brides are more into Bengali Alta design. This is is something, that you will find with Every Bong Bride. They indulge with their own culture, and that is what makes Bengali Alata Designs so unique. For a Bridal Alta design on Feet, or for a Bengali Bride Alta Design for Hand. 
We've got some of the best designs for Bengali Alta Designs. What is Alta Made of, and how to wear it. Learn all you have to know about Alta Making and wearing down here. 
What is Alta Made Of?
Alta is a kind of liquid substance, which happens to run really smooth on a persona's skin. This is not something that is made out of any toxic element, which can cause harm to your natural skin. Rather, this is one of the most Herbal substances out there.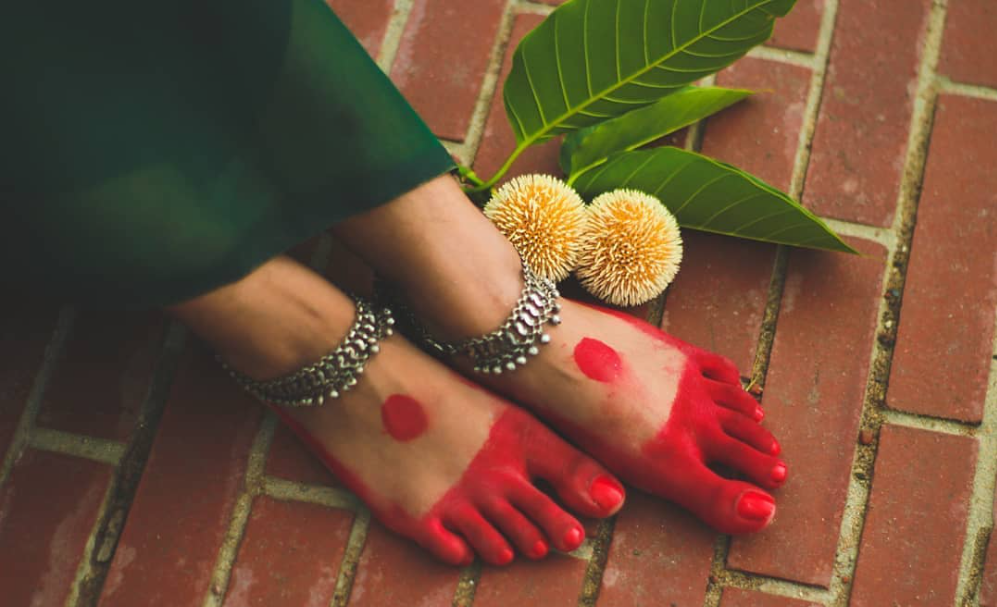 Bridal Alta designs are hard to make, but the compatibility of the liquid makes it easier to draw. Your bridal Makeup Artist would help you achieve the ultimate texture. The liquid texture of natural Alta is made of Betel Leaves and Nuts. 
Check out: Bridal Hairstyles for Wedding
How to Make Alta From Betel Leaves?
No, we are not talking about the Alta which you find at local stores or by other cosmeceutical brands. This is a kind of beautifying element which is made of betel leaves and nuts. How to Make Alta From Betel Leaves? Well, the process is quite simple and unique.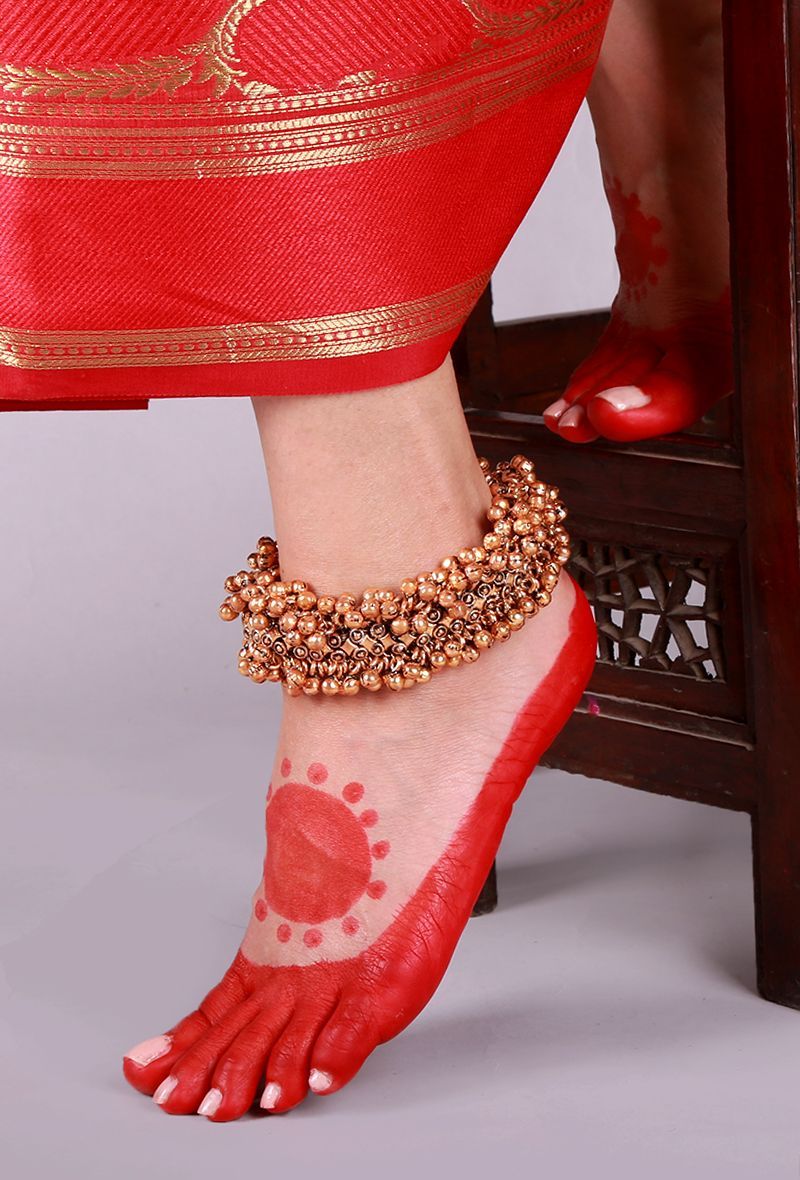 Did you ever have a Pann? A classic Paan leaves its taste in your mouth for a while, and it stains the Tongue and the Mouth Area too. Yes, the answer to What is Alta made of, is simply Betel Leaves. You need to crush it and mix it with water for a long time, and that is how it is made. 
How to wear Bengali Alta design?
Wearing Alta is slightly trickier than the process of making it. It involves two accurate things. Firstly setting the base for the pretty sleek liquid, and secondly keeping it absolutely ready for the smearing. 
There are two kinds of applicators available for wearing Bengali Alta designs. First the ones, that involve a teeny-tiny cotton swap at the end of a stick or a brush, and secondly the applicator which is precisely made for the purpose of applicating Alta on the feet and hands. 
visit: Maharashtrian Bridal Makeup
 Bengali Bridal Alta Design on Feet 
In Hindu Mythology, the traditional norm of 'Soola Sringar', involves your sixteen different bridal accessorisation. Including, Haldi, Mehendi, Kajal or Kohl, and many other forms of cosmetics. 
Alta is one of the main bridal signifiers for Bengali Women. She wears her Bengali Alta design with pride, and love for the significance.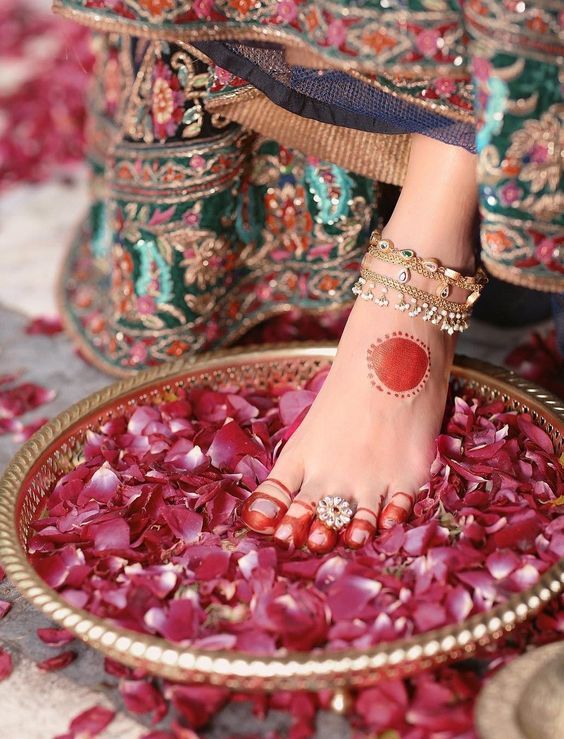 Not only married women but also unmarried women. Everyone prefers to wear Alta on their feet for some special occasion. Such as Durga Puja, Goddess Lakshmi Puja and lots more fun things. 
Young girls, sit around with their mother and grandmother and wear a beautiful layer of Bengali lata Design. The simplicity and innocence make the tradition even more spectacular. 
Smeared Tattoo Bridal Alta design on Feet
Like Mehendi Design, Alta also looks best when imperfect. The sustainability of Alta Design is shorter than that of Mehndi Design.
 A Mehndi might last for at least a month, whereas Bengali Alta Designs usually fade away within a couple of days. More than a pattern, it washes away with water.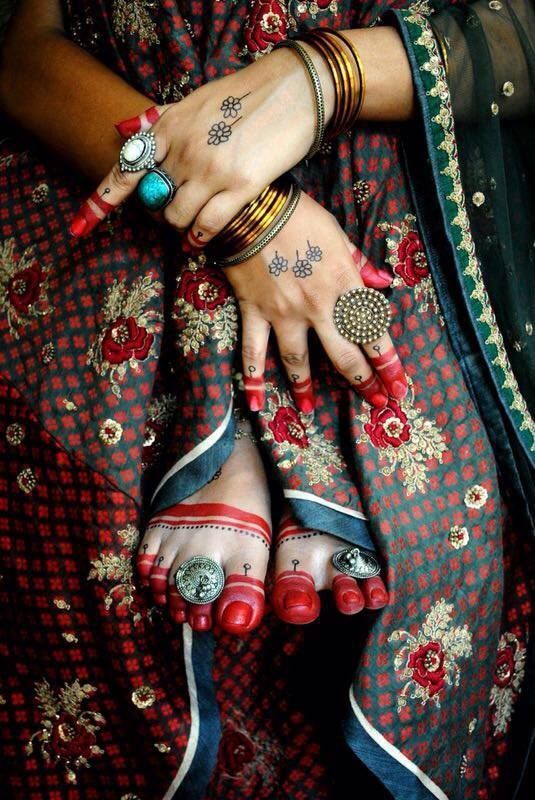 That is what a smeared Bridal Alta Design on feet is all about. Here, the bride wears the most exciting Alta pattern, on her feet. With some surrounding strokes of Mehendi surrounding the simple design. 
This Mehendi marks apparently look like teeny-tiny flower tattoos. Making the entire custom even prettier. Smeared designs are always my favourite. 
Simplistic Lines Bridal Alta design on Feet
A Bridal Alta design on Fett has to have sufficient lines, and patterns of them.  Like the bride here, has simply gone with the sleekest lines for her Bridal Alta Design. 
Many brands like Khukomoni Alta or Raktajaba Alta, provide a simple stick applicator with them. Wearing  Lines becomes even easier with such beautiful applicators.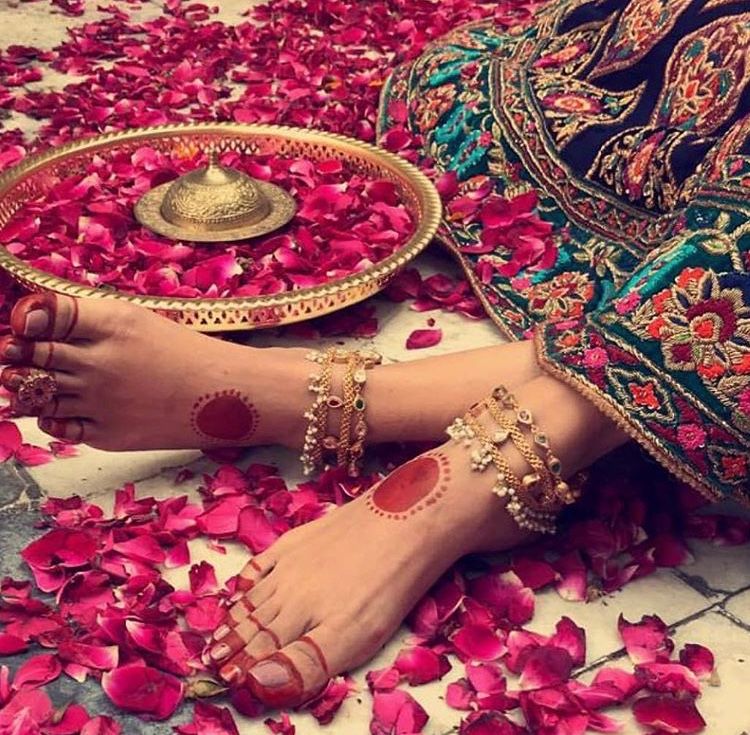 New brands like Bahurani Spl Alta or Keya Seth Aromatherapy Aromatic Alta lack these kinds of sticks. For such bottles, you'll find a thicker applicator which is best for the middle's centre circle. 
A Bridal Bengali Alta Design should always have that centre dot. These simplistic lines are making the entire design even prettier, and better for the big day. 
See also: Plus-Size Hairstyles
Mehendi and Bridal Alta design on Feet
When you mix the red dye with the ultimate mixture of a pretty good, and fashionable Mehndi design. 
Such a beautiful wedding Mehendi design looks even more exemplary with the additional Benfalo Bridal Alta Design. You do not need a Mehendi or makeup artist to fill up your feet.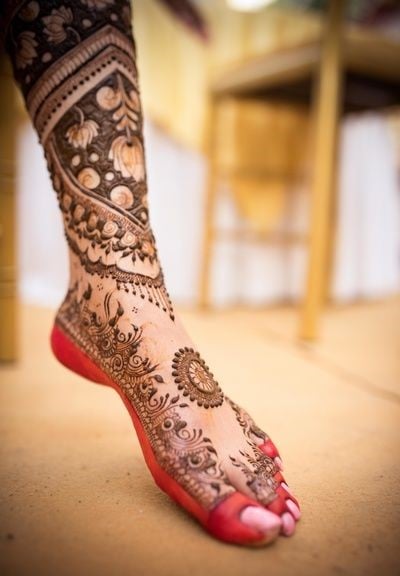 A simplistic Mehendi Design would do wonders with such a  pretty Bridal Alta Design for feet. Your own mother, sister, and bridesmaids can help you with the pretty Alta design. 
Instruct them to fill your feet in a similar fashion. This is one of a kind, and trust me the way this Alta design is drawn, it would make your Mehandi even prettier. 
'Chandan' and Bridal Alta design on Feet
The Marriage Ceremony would have multiple customs and rituals. But the traditional custom of intricate patterns is a Bengali womenfolk's dream. 
Every wedding has the custom of 'Chandan' or Sandalwood powder, which is used to make a fine embroidery around the base of the Bengali Bride Bindi Design.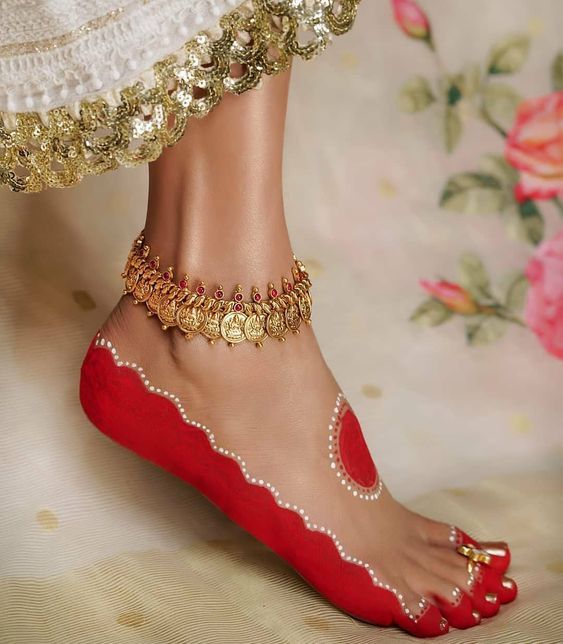 This is not a North Indian thing, but a proper East Indian thing where most of the festivals, have the custom of Vermillion, Sandalwood powder, Turmeric and Alta dye. 
This is a common ritual, where the design is accentuated with some 'Chandan' or White dye dots. Yes, if you aren't that fond of Sandalwood, then definitely use White Fabric Colour for the dotes. 
read more: Modern Hairstyle for Lehenga
Sun Mandala Bridal Alta design on Feet
There are some designs that do not need any explanation, they are exemplary and self-explanatory. Such designs are one of a kind and trust me you cannot have any complaints. 
The Bridal Alta Design on feet with a little Sun in middle is like the most common one of a married woman. Every Married woman, who tries Alta for the first time, would choose such a design. 
The rest of the feet it simple, but the side is lined-up with red dye, and the Sun Mandala is simply prepared over the base of the leg. This is one of a kind, and trust me you can pair any foot accessory. 
A basic Anklet design, for even the most uncommon toe ring set.  The red dye colour looks deeper and darker with every other application. Try Alta shades which are not so thick. 
5 Best Bengali Bride Alta Design for Hand
The Hindu Upanishads encourage Bridal Alta Designs to a different extent. There, you'll learn about the gender neutrality of Bridal Alta Designs, which are worn by Goddesses as well as Gods. 
You might have heard about the story of Lord Krishna. Whose feeds seemed to be like a little bird to a Shooter. No wonder he wore the finest Bridal Alta Design for Feet that day.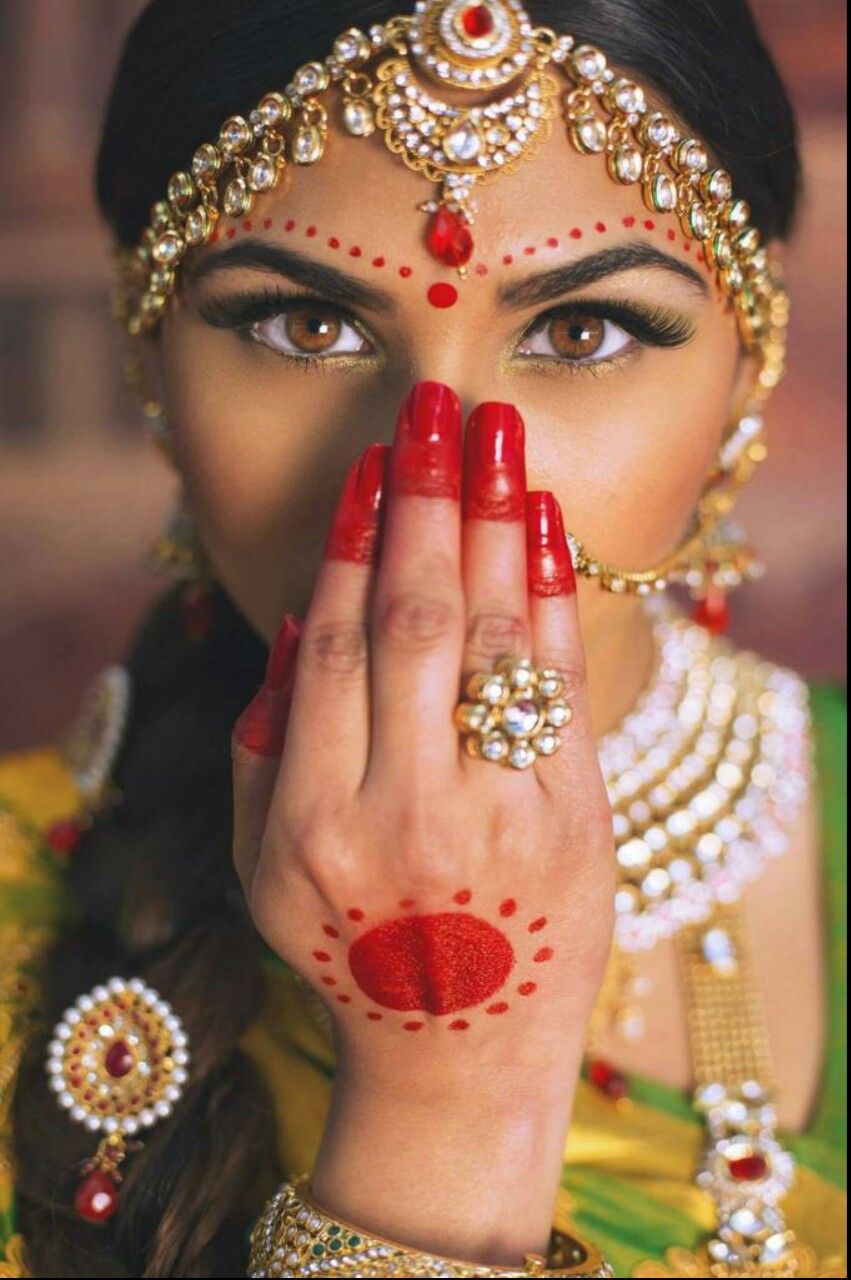 Finger and palm engrossed with the beautiful red, here we are about to discuss the various Bengali Bride Alta designs for Hand.  Photos from different Bong Brides, who choose Bridal Alta Designs instead of Mehendi. 
Sunny Centre Bengali Bride Alta Design for Hand
The centre part of this design has been made simple, with a large yet elegant circle in the middle, and little dots at the side. This makes a lot more sense to me than the usual ones which are widely available in the bridal trousseau.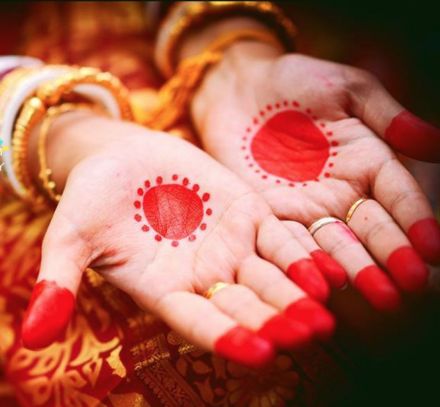 No wonder, your hand's Alta design wouldn't last that long as the design of a Mehendi was drawn on the hand. But that wouldn't harm the beauty of your hand accessories.
Must check: Polki Jewellery Designs
Circle Bengali Bride Alta Design for Hand
Such subtle designs are meant to be the show stopper at all chances. Here, we are talking about the various attributes of the Bridal Alta Design, starting with the simplistic base pattern, to the finger-covered Red dye.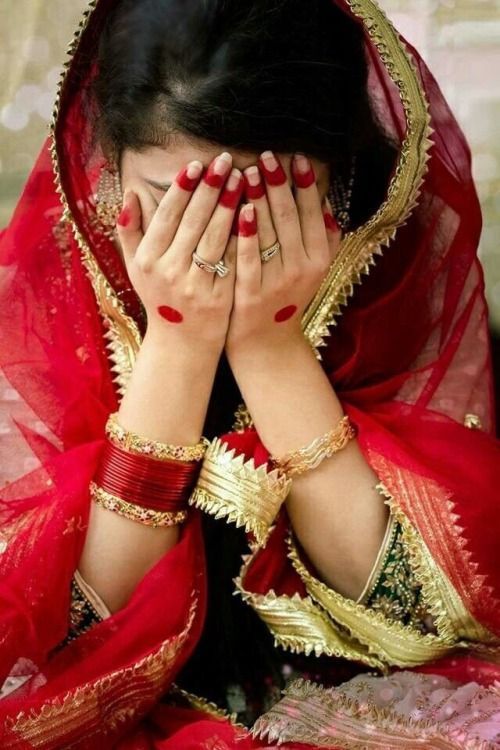 These kinds of Art for Bengali Bride Alta for Hands, are one of a kind. You'll find at least, half a dozen bide wearing such a design. Over-palm bridal Alta designs for Hands are mostly subtle, unique and eye-catching.
Over Wrist Roses Bengali Bride Alta Design for Hand
The bridal hands are pretty and the way the Mahendi artist has combined the beauty of Mehendi and Alta together. It is making a whole new concept for a beautiful and colourful Bridal Alta Design for Hands.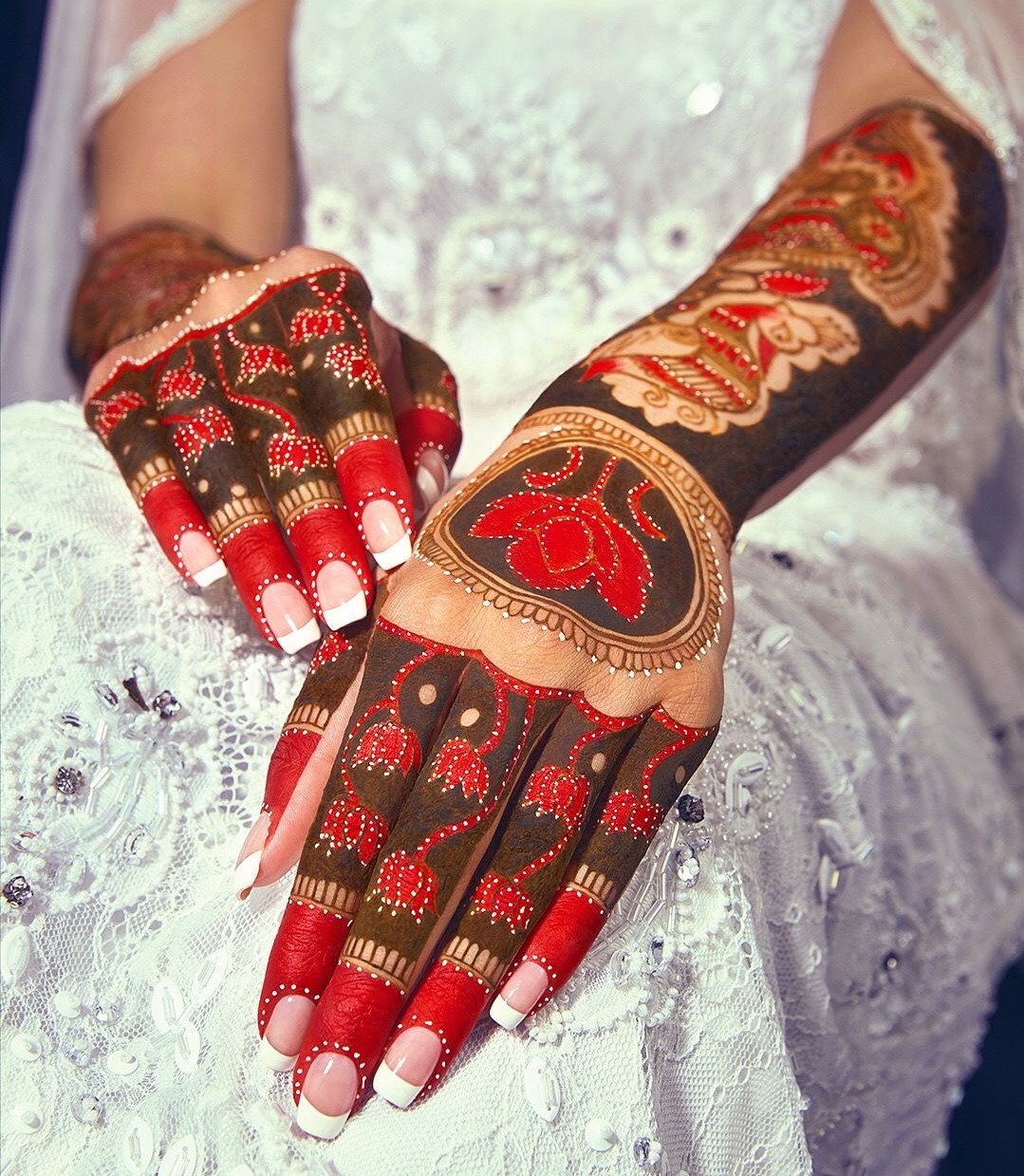 The base of her fingers is painted red, while the rest of the design has some really simplistic floral Mehendi strokes. This is one of the safest designs for a person, who wants to keep it traditional with a blink of Modern Henna Art too.
Minimalism for Haldi Bengali Bride Alta Design for Hand
Haldi is one of those Indian occasions, which is known for its glamour, glory and exorbitant styles. Most Indian communities celebrate their Mehendi right, the day before the wedding. While the Haldi ceremony is right on the big day.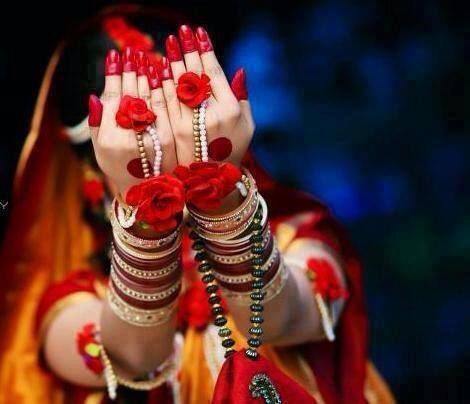 For Bengali brides, there is no special occasion for Haldi, they on the other hand have the simplistic ceremony, of Alta wearing, where the bride gets to wear a Bridal Alta Design right before the day of her wedding ceremony, on the occasion of Aiburobhat.
Smudged Bengali Bride Alta Design for Hand
The uniqueness of this Bengali Bride Alta Design for Hand, has her catching the glimpse of the life-tearing flowers. Those flowers are really small and trust me the best as well. The beauty of her hands are making the smeared and smudged design even more attractive.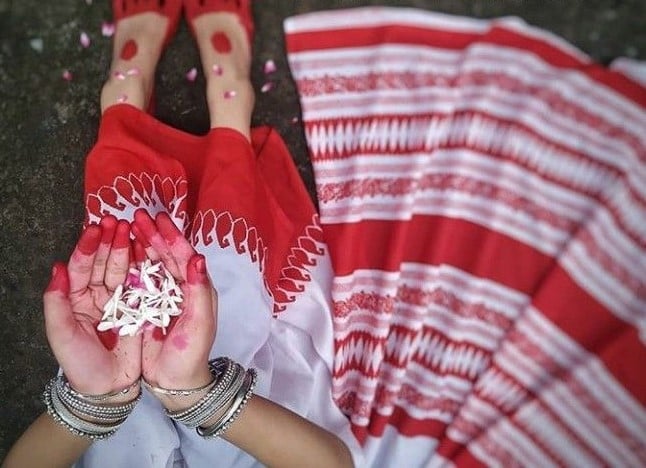 This is actually giving the right vibe, required for making any bridal look eye-catching and subtle. The bride is wearing a simplistic white and red Saree, which s exactly what we need for a spring Bridal Atla Design Makeover.
I'm totally in love with Bengali Alta design ideas. Trust me, I'm going to go with the Mehendi Alta combination for my Big day. This shall represent my deep-seated desire to wear the best Arabian Mehendi design, with the essence of Bong beauty. 
Bengali Bride Alta Design for Hand are one of a kind and trust me you should always go with the traditional rituals. At myMandap, we have a wide range of content about weddings, Bridal fashion, and other related events.