Bengali Saree is one of a kind, which is impeccable and extremely beautiful. These Sarees are the Handloom heritage of Bengal and have been in the culture for years.
Such beautiful Bengali Saree types are from multiple areas of Bengal. Here, every name you see is from the Handloom weavers of West Bengal. Not only as an outfit but as a literal fabric making a beautiful Bengali Saree. 
Top 11 Bengal Cotton Sarees for Brides:
The authenticity of Bengali Sarees is shared between a varied range of fabrics and a clustered art integrity that forms all the organs of a wedding ceremony. A wedding ceremony which is suitable, customisable and really very budget-friendly in all terms. I believe such unique designs are exactly what you need.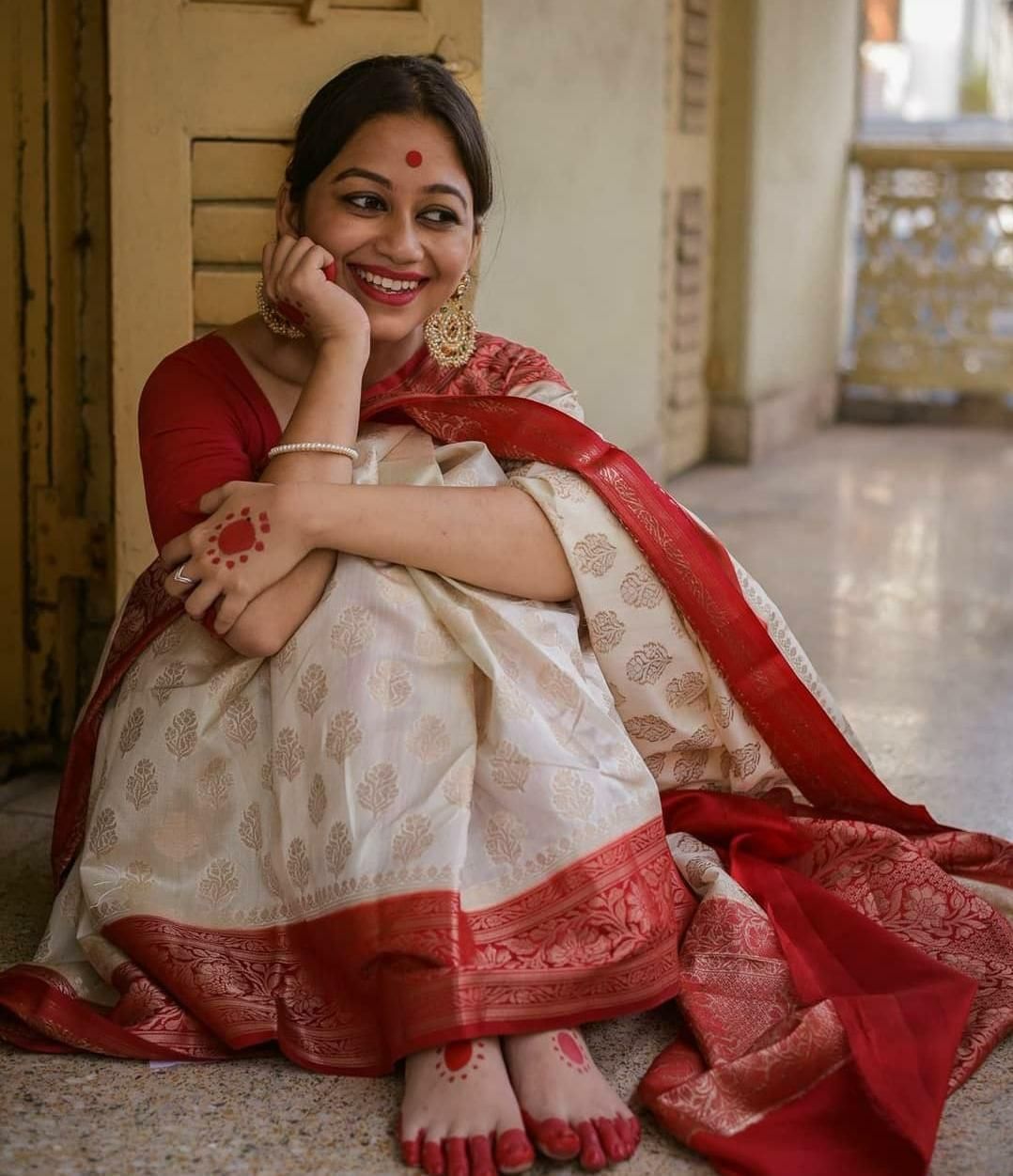 Pairing a cotton Saree is the next best thing. The soft fabric is weaved by native Bengali handloom weavers. And, an attire which is highly flexible and customisable too. Here, we have some of the best Bengali Cotton Sarees.
Must See: Bengali Saree Style
Phulia Bengali Saree
A lightweight saree the fabric of this Saree is extremely soft, and the weaver has taken extra care with the material and the way it covers the border and the 'Pallu' region.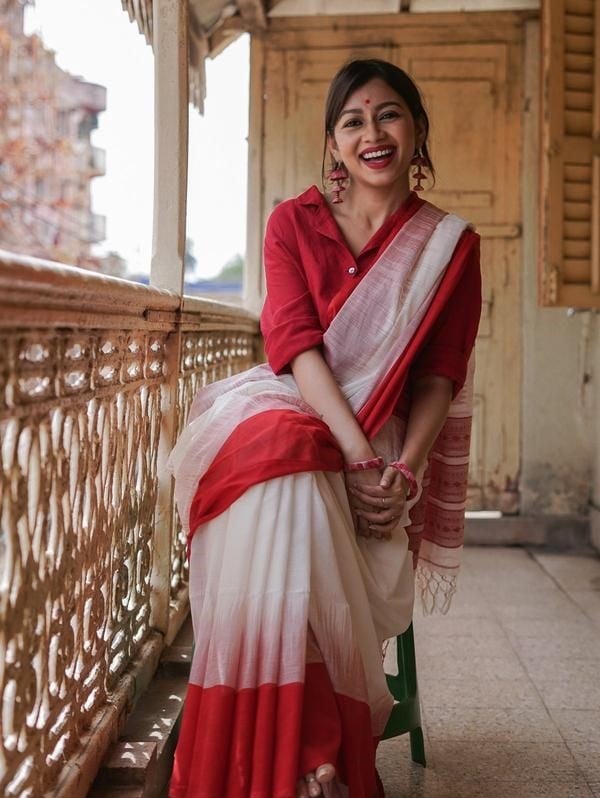 I hold a special affection for Bengali Saree designs like these. The simplicity of the fabric, and the unique red and white combination, make this a perfect pre-wedding ritual outfit.
Dhakai Jamdani Bengali Saree
This particular Saree is known to be extremely popular and it is considered the pride of Bengal. This particular Cotton Bengali Saree is popular around the country, and the best part is it is highly comfortable.
Although not as soft as other handloom sarees, Dhakai Jamdani is a classic Indian Saree that falls under the crusty category. This is slightly harder, and perfect for your pre-wedding rituals, like Haldi or even the 'Aiburobhat'.
Also See: Adi Mohini Mohan Kanjilal
Dhakai Muslin Bengali Saree
Like Jamdani, this also has a very pretty cotton base and a sleek embroidery of golden thread. The only difference lies around the weaving thread. In Muslin Cotton Sarees, the base is made out of the finest silk and cotton threads.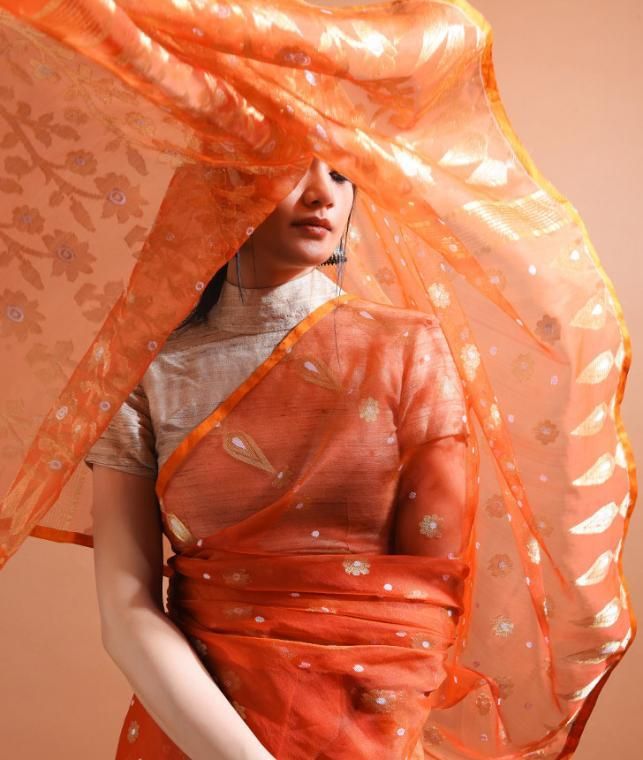 These Sarees are an absolute delight, especially the way it is worn and styled. I would suggest such Bengali Saree for the occasion of the pre-wedding function,s rituals, Pujas and other nitty-gritty.
Read more: Bridal Dupatta Designs
Taant Bengali Saree
This is the most popular Bengali Saree in cotton. The soft and sleek fabric makes it the perfect apparel for almost every Indian occasion. Trust me such a Saree deserves no introduction.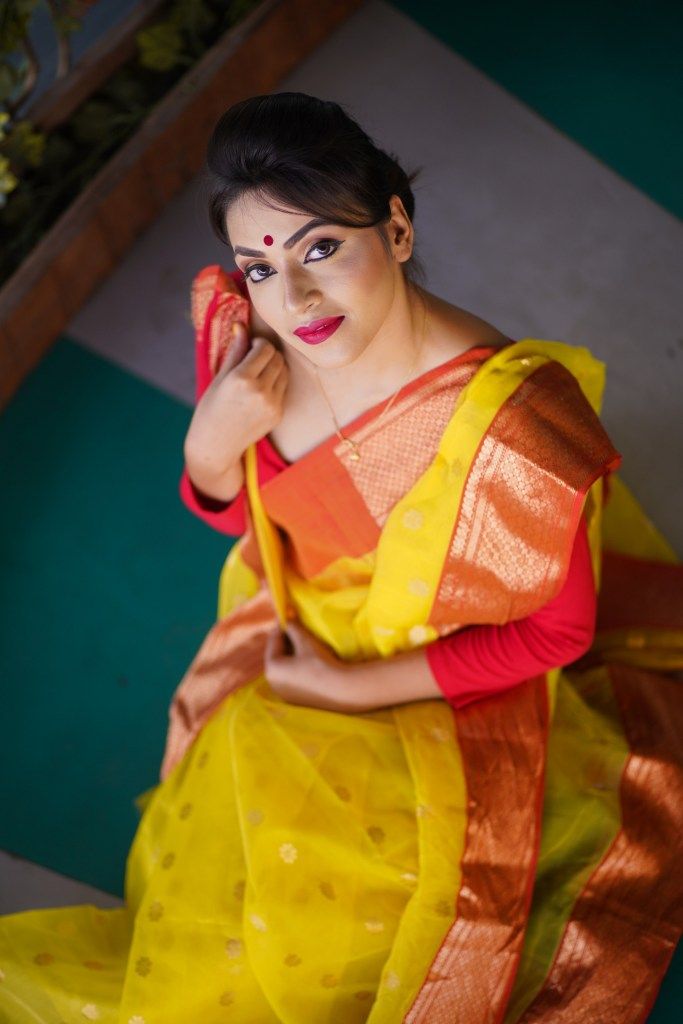 A Tant saree is surely meant to be worn for the occasion of Haldi. The Haldi Ceremony calls for you to wear a saree, that is easily wearable and wash-friendly too.
Shantipuri Bengali Saree
Shantipuri Cotton Saree is something that absolutely deserves no introduction. This is a Handloom Cotton Saree, and it is made in the Shantipur town of West Bengali. The native weave is just way too comfortable, and the appearance is even more pretty.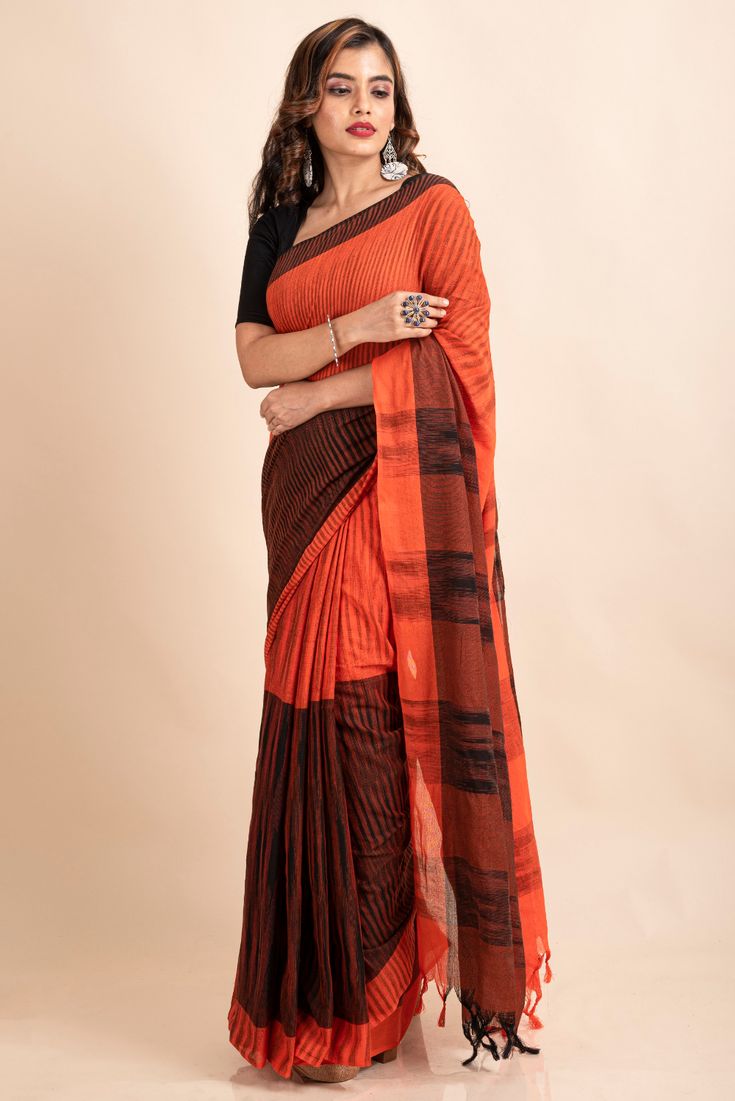 As a sleek and basic saree, this is supposed to be in your Bridal trousseau but is not really a necessity to be worn for the purpose of the wedding ceremony. It can be worn for other events like post-wedding functions, or even as your back-to-office look.
Check out: Royal Maharashtrian Bridal Makeup
Mulmul Cotton Bengali Saree
The most popular option for a Bengali Saree, most Indian women, choose this basic cotton Saree as their Instagram Hit. The simplicity of the fabric, and the minimalistic embroidery on top of it. That is the main attraction of a Saree like this.
Trust me, you wouldn't really be disappointed with how this particular thing turned out for your wedding day. This can be a part of your bridal trousseau, but do not wear it for any bridal rituals.
Begumpuri Bengali Saree
Yes, isn't it a classy Bengali Saree? Yes, it is extremely elegant and has the best border and base work going on the rest of the Saree. The beauty lies around the base of the Saree, while the rest of the Pallu and the pleats are highly minimalistic.
This is a kind of Saree that can be a part of your Bridal trousseau, but not for the wedding day. It is more like a post-wedding newlywed Saree style. In fact, you can wear it as your back-to-office look too.
View More: Tant saree
Dhaniakhali Saree Bengali Saree
A typical Saree type from Bangladesh, a Dhanikali fabric is just out of the world. The beauty of this Saree lies in the fabric and the way it is worn on the wedding day. Trust me, you should wear it for your Nanni-Mukh or other morning rituals too.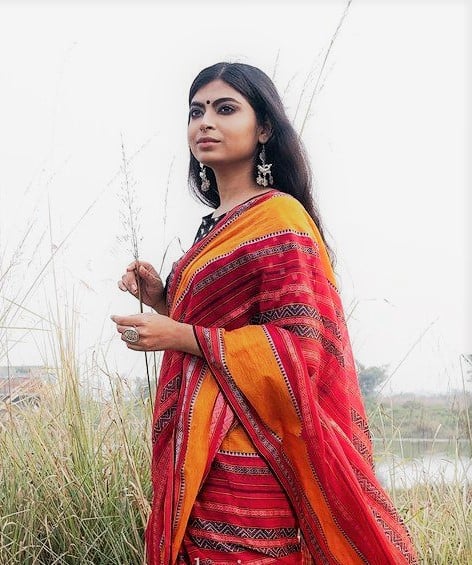 The beauty of this occasion is actually surrounded around the festival of marriage, similarly, such a bright and delightful Saree only adds up to your Bridal trousseau.
Kantha Stitch Bengali Saree
I cannot tell you enough, how much this Saree style means to me. The beauty of this design is just out of this universe. You might see multiple Kantha Stich Sarees around the country, like the Chikankari type of Lucknow and Gota Patti from Rajasthan.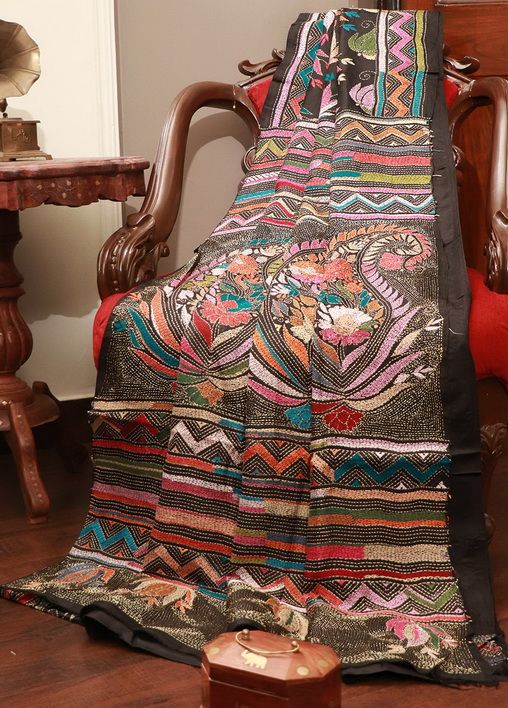 The real Kantha work of Bengali has to be done on a pretty white Tussar silk. Here, the weaver has created a similar style over the best cotton Bengali Saree.
Khesh Bengali Saree
Why do we have Khesh on the list? Well, this is one of the most creative Handloom Sarees from Bengal. The beauty of this Saree lis around the base region, which is covered with the most beautiful Saree cutouts from a Kalamkari fabric,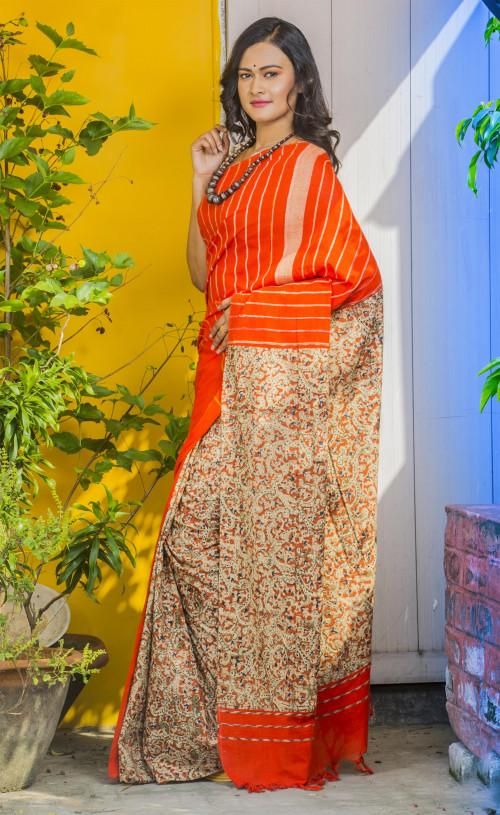 Khesh Saree is also referred to as a Patch-work Saree, and this is typically worn for most Indian Pujas. The popularity of this Saree is mostly seen around the time of 'Saraswati Puja' when many Bengali Girls wear it for their Puja Glam.
Tangail Bengali Saree
This is one of those typical Sarees that deserve no Introduction of their own. This is more like a formidable fabric Saree, which is typically from the eastern region of Bengal.
This particular Teal combination is actually a perfect shade for all my brown skin ladies who wants to get nice attire, for their morning rituals, or pre-wedding functions.
Check out: Which Saree Colour Suits for Dark Skin?
Best Bridal Bengali Saree in Silks:
As a wearer, you might have a lot of demand for your outfit. A Bengali Saree flawlessly fulfils all those at ease. All you have to do is, wear it in the most traditional way; and let the magic happen.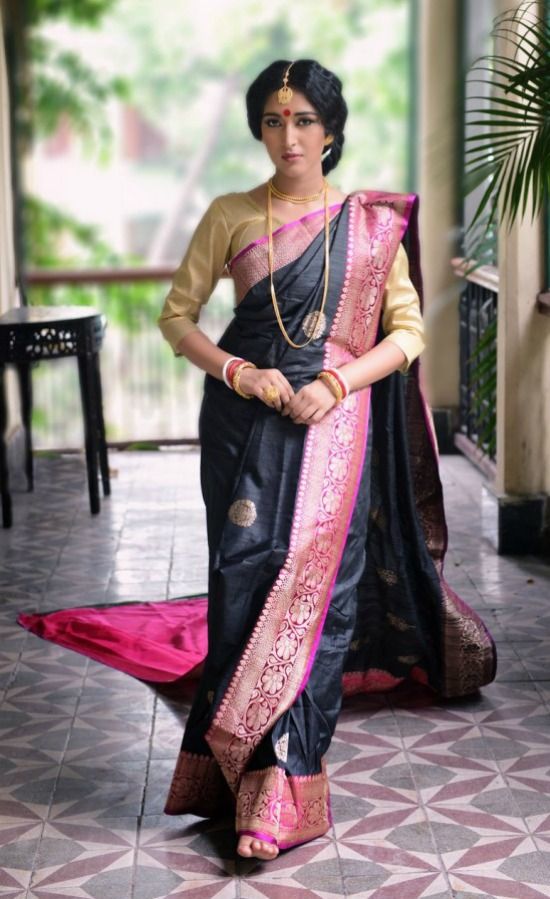 Here, we have the classiest bridal Sarees designs, which are beautiful and extremely gorgeous. A Bengali woman would love to have the following Silk Sarees in the Bridal trousseau. 
Dhakai Jamdani Benarasi Bengali Saree
Dhakai Jamdani is a very popular Tant Saree in Bengali. In a similar fashion, there is a wide variety of Bengali Silk Sarees which is from the same family.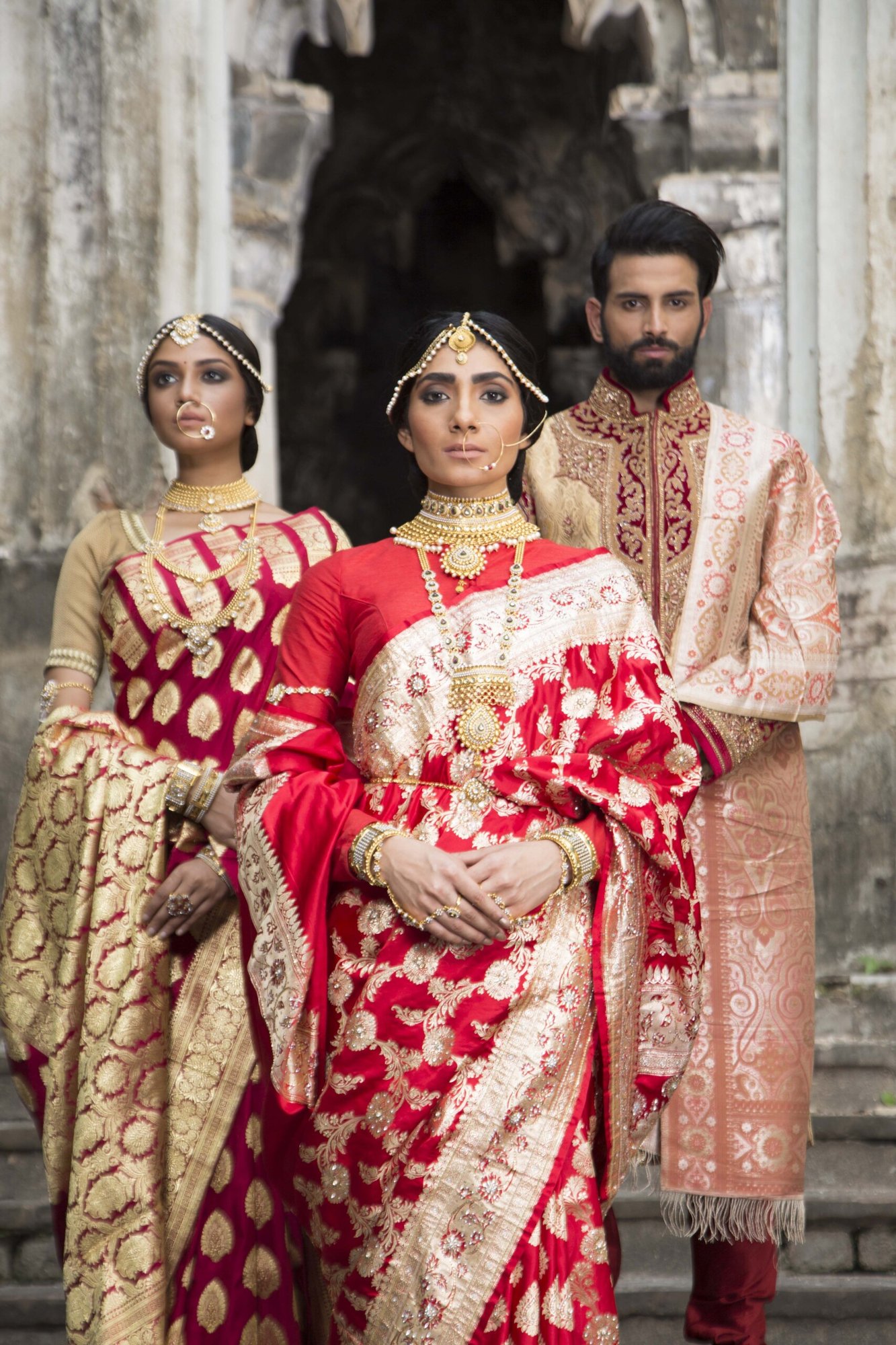 Dhakai Jamdani Benarasi is a Mashup between Taant Saree and a Silk. A Benarasi is the finest silk Saree, which is the typical Bridal attire for Bengali brides. This is just a subtle Mashup Attire. 
Tussar Bengali Saree
This is a beautiful silk Saree, which is extremely ethnic to the Bengali culture. Wearing a Tussaar Saree is one of the best styles, and this would never go out of fashion.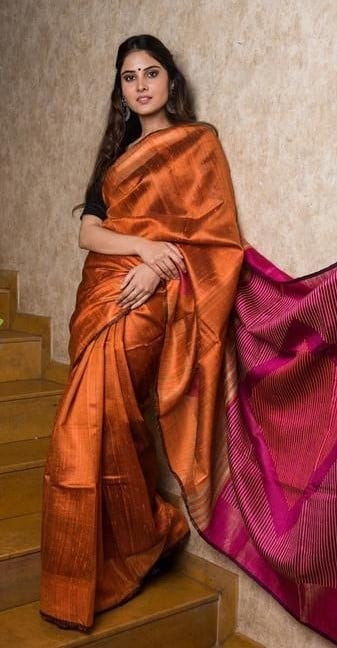 A Bengali Lady would love to have this as her Post-Wedding back-to-office look. The simplicity of this Saree is the main attraction of the event, and I cannot have enough of this. 
Baluchari Bengali Saree
A Baluchari Silk Saree is one of the finest drapes that are there in Bengali culture. These Sarees are extremely simple, but the material is 'BOMB'.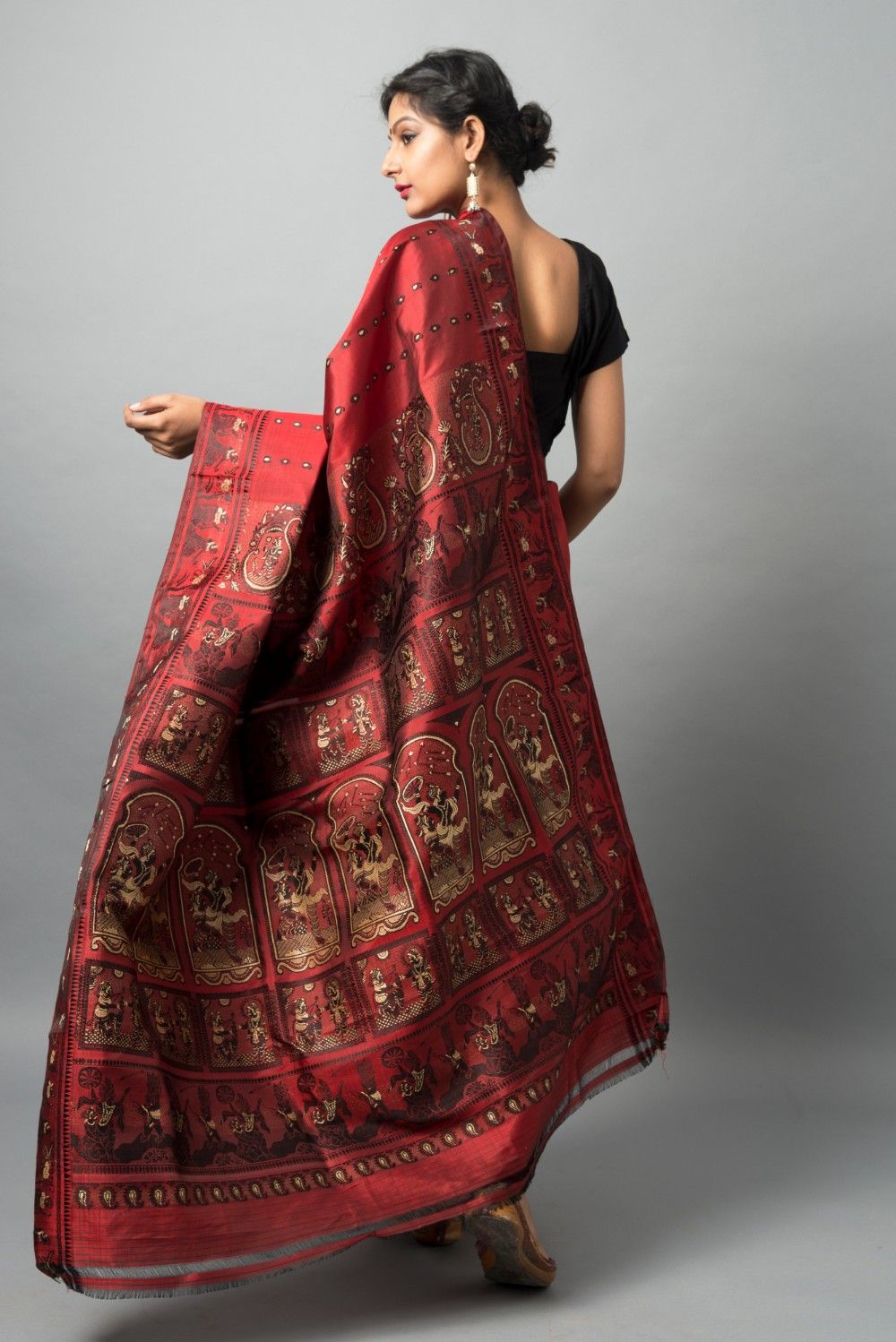 This can actually be your Saree for the Wedding Reception or other associated events. It is ornamented, and quite fancy. I have a special heart for such beautiful Sarees. 
Matka Silk Saree
I love Matka Sarees, and the beauty of it lies around the flaccid fabric. It has some really unique borders, and some really unique boxes drawn around the entire Saree. It is not actually drawn, but the squares are formed during the weaving process.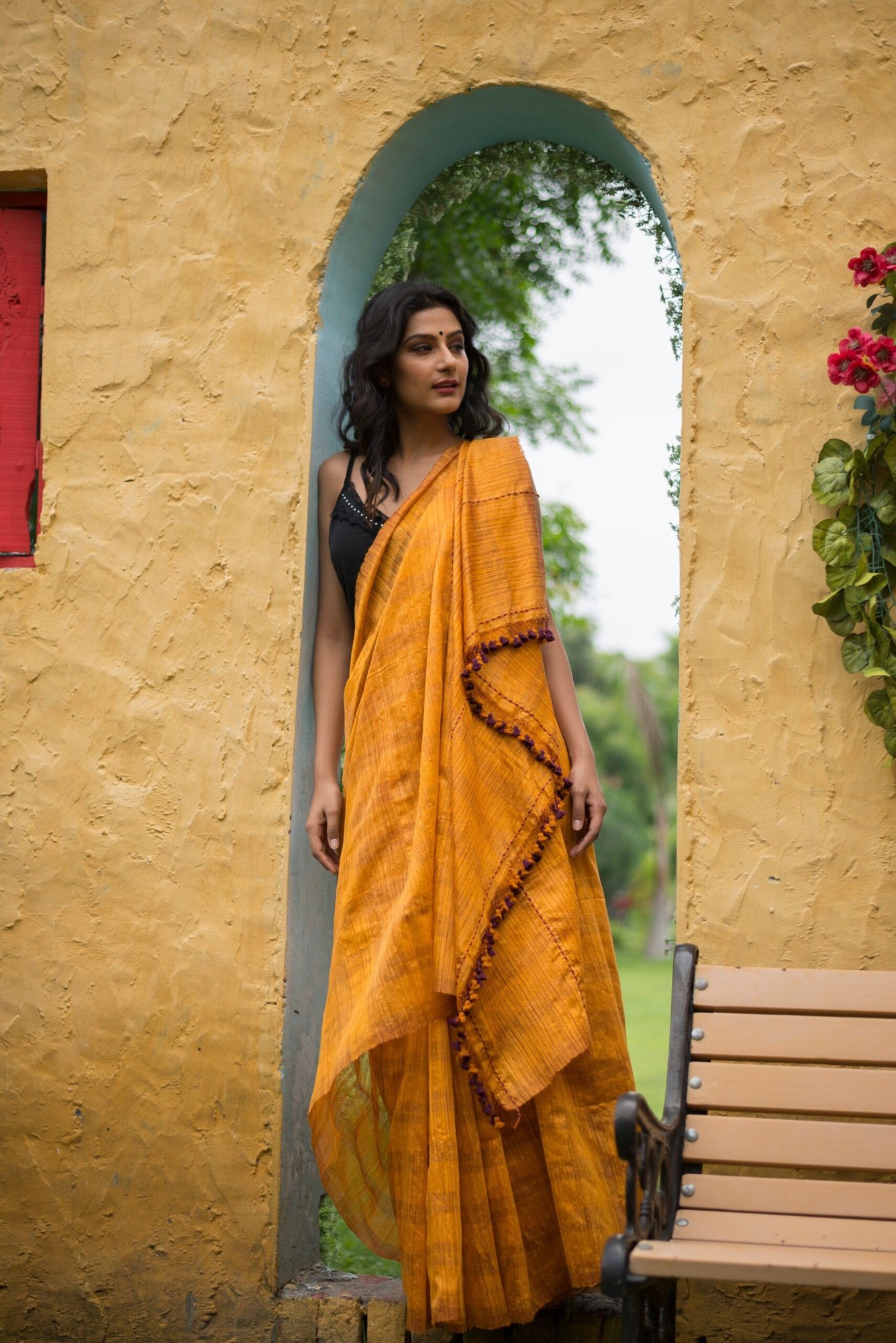 I love such sarees, which have a soft elegance to them. It feels like a bridal Sare, but better with the most elegant borders and pallu Gota Patti's work. In fact, this Saree deserves es to be at the top of your Bridal shopping list, most importantly for the Haldi Ceremony.
Korial Bengali Saree
The nativized Benrasi Saree is exactly what you have to know about a Korial Saree. This is a concoction of Benrasi with that of a Bengali Silk Saree. The main attraction lies around the beautiful Enamelled Pallu, Pleats and the borders.

Let's just say, the entire Saree is a delight, and it is covered with the finest Meenakari work. The work is undoubtedly the best, and I would highly suggest such a Saree for your Bridal Attire, that is your reception dress.
A Saree should be expressing your emotions better than you, and I believe it should be comfortable and pretty at the same time. Those Indian Brides, who choose Bong Sarees must like native and Indianised weavings a lot. The traditional Bengali weave is still living in these Sarees.
Choose your Bridal trousseau according to your desire, comfort, budget and obviously the time of the wedding. At myMandap we have a whole bunch of content about wedding fashion, accessories, decoration, food and much more.