A Bengali Saree Style is one of the most popular forms of Saree drapes in India. You know she is a Bengali woman, with her simplistic Saree drape. Something that is quintessential and elegant. 
Saree Draping is extremely important for almost all brides in India. Especially with their significant endeavouring. Here, we have some of the best Bridal Bengali Saree Styles. 
Top 10 Bridal Bengali Saree Styles and Drapes:
Bengali women have a really unique and elegant form of Saree drape, something that is versatile and extremely precious. You will surely fall for such beautiful designs. 
In Kolkata, every makeup artist provides their own perspective for draping a Saree. Something which is already included in the Saree package. 
Visit:Modern Bengali Wedding Sarees
The Traditional Lehenga Bengali Saree Style
A Bengali bride would definitely wear a traditional Benarasi Saree for her wedding ceremony. Something that is elegant, and ethnic to the traditional norms of a family.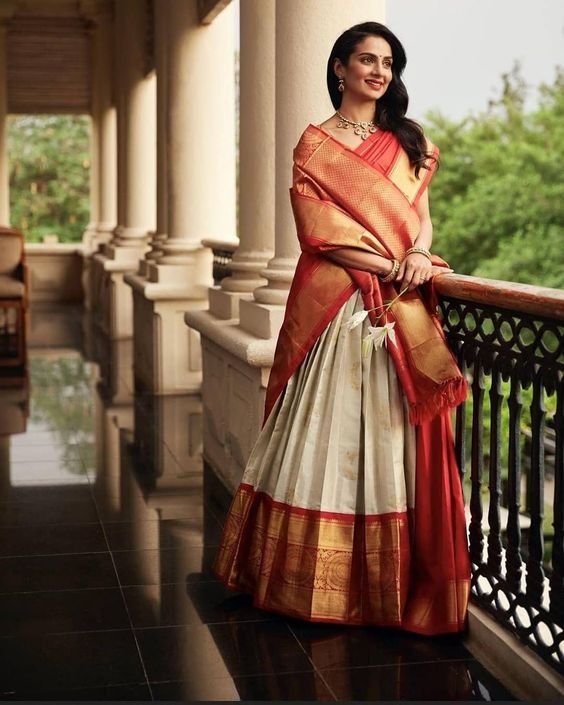 Wearing such a beautiful Saree is the best possible option, and you can actually wear this style and look your best. This particular style solves the purpose of a Saree as well as a Lehenga. 
Style:
The wearer has chosen a really beautiful fabric for this particular Saree drape. This is apparently looking like, she is wearing a Lehenga, but it is actually a Saree. 
View more: Bengali Saree Look
The Flamboyant Open Pleats
This is not a very Bridal Saree drape, rather this is more like a semi-western form of Bengali Saree style. It can be used for any Saree, a silk one even a simplistic Cotton Saree would do. 
All you have to do is, wear it with your own elegance and call it a day. This open pleats Saree, is a really popular drape, especially from Bollywood. All Indian songs have a Monologue like this.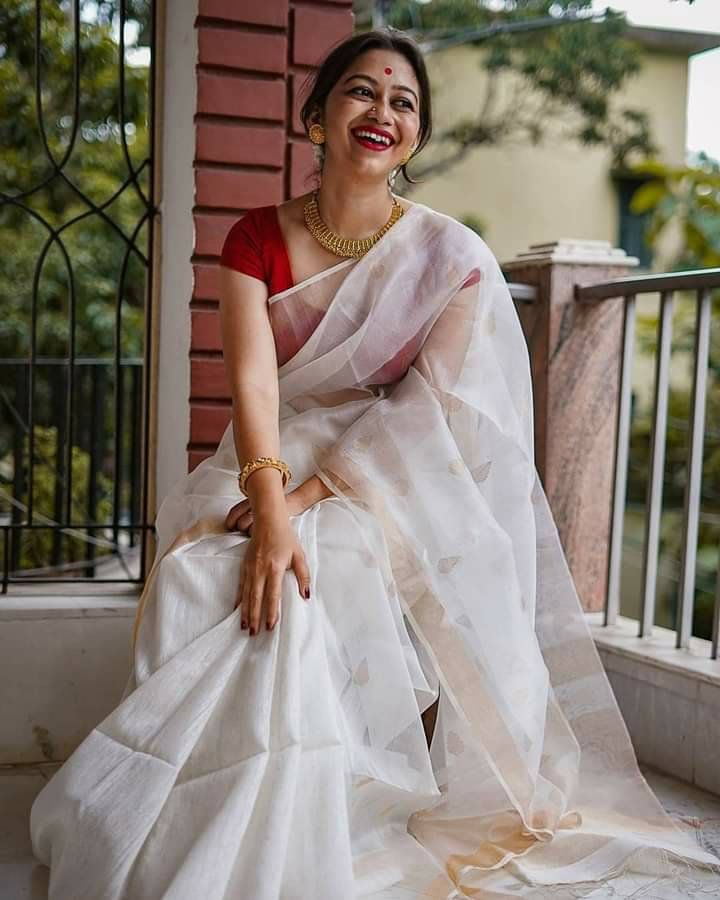 Style:
A simple Saree that has the most elegant border, would look best when worn open pleats. It is slightly messy as a style, but to be honest, a Messy bun and a Messy Saree are perfect for one another. 
Check out: Best Nalli Silk Sarees
The 'Saree on Saree' Bengali Saree Style
As a wearer, you might have a lot of expectations from your outfit. This is absolutely perfect for a style like this because it fulfils more than what is anticipated from it. The Saree on Saree look, apparently makes you feel like you are wearing more than one Saree. 
The fullness of this attire makes it, even more, appreciated and pretty. This is one of those typical saree draping techniques used to make teeny-tiny brides look her best, with some extra clothy skin.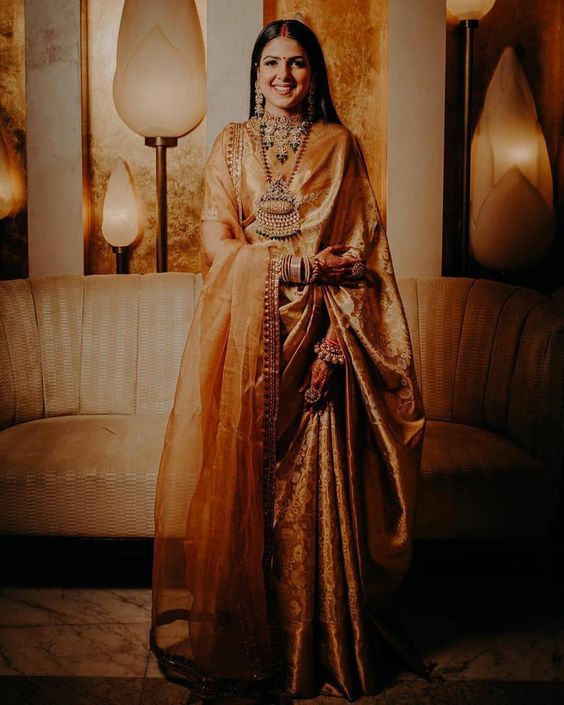 Style:
The main intention of wearing these kinds of styles are functionality, it would seem like you are wearing a lehenga cum saree attire. Which is a great plan for the reception day.
view more: Bengali Saree
Sturdy Pleats Bengali Saree Style
These pleats are the main attraction of this typical Bengali Saree style. the wearer has maintained the two most important pieces of stuff while draping this particular Saree around them. Firstly the pattern has block pleats, which is also known as sleek work Saree.
The pleats are quite non-conventional, as this is a really popular form of Saree drape in Tamil Nadu and also Kerela. While this particular Saree Loo has been given the best finishing touch with the most exorbitant layer of pins and borders.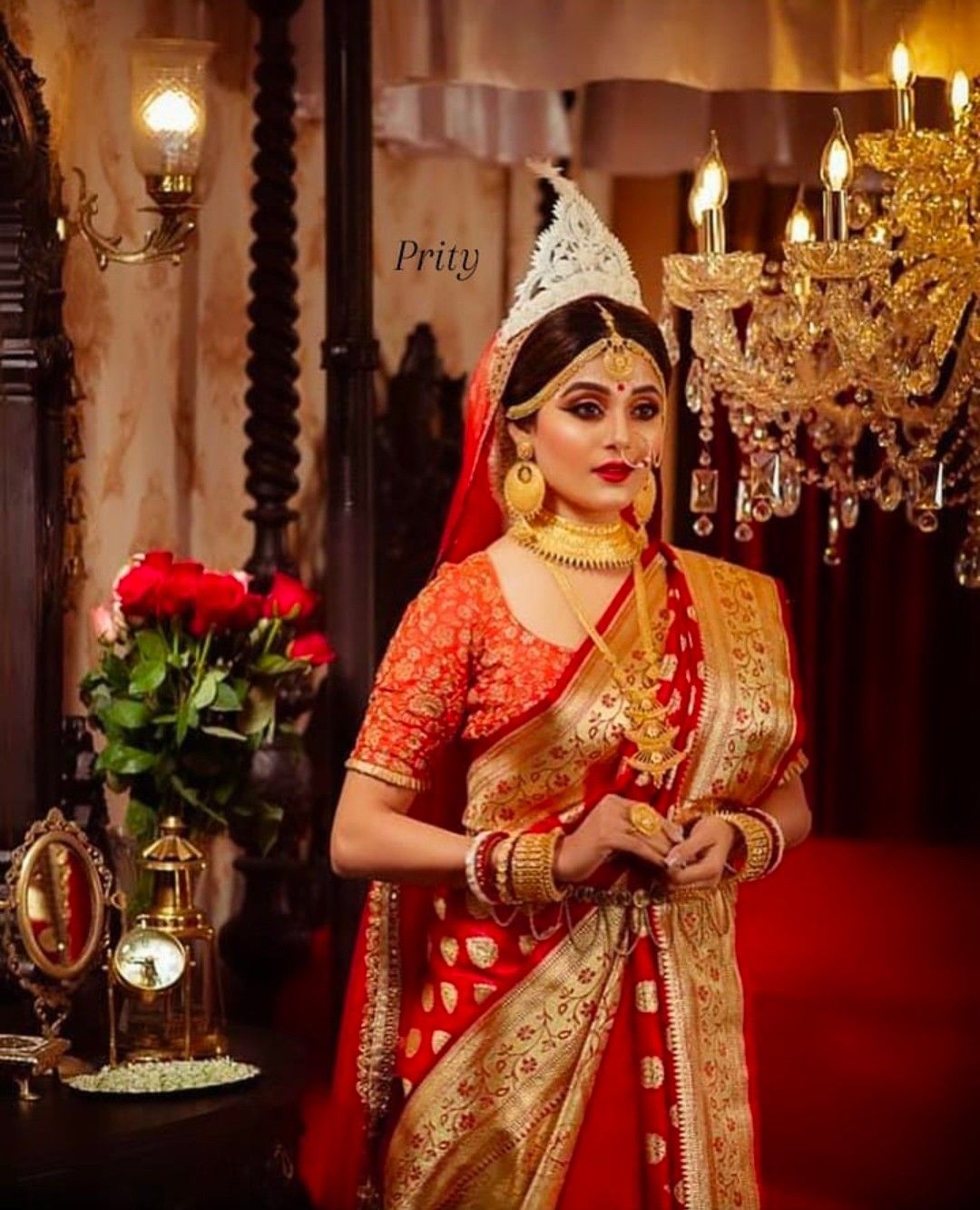 Style:
For these kinds of draping styles, you need to use Silk Sarees as they are easily manageable and quite conventional too. Having a Saree like this, is quite important, as you have to worry about the base more than the edge.
view more: Indian Silk House Agencies
Empress Pleats Bengali Saree Style
This is the most conventional form of Bridal saree draping style. It has a beautiful Saree base, and one of the best borders too, Believe me, you can do this with most of the Bengali bridal Sarees, specifically if it is Benarasi Saree.
These Sarees are meant for this empress style draping. The embroidery work of a Banarasi Saree, the fabulous Zarikari which covers most of the Saree. What else do your need, when you are wearing such a beautiful Saree in such a unique manner?
Style:
You only need to worry about two things, firstly the above pleats and also about the way it falls down the base of the pleats.
Must check: Green Bridal Saree
Simplistic Bengali Saree Style
As simplistic as it is, this particular Bengali Saree style is known for its simplicity and the elegance that it portrays to every passing moment. This is the easiest and the most known form of Saree draping in India. Here, the pleats are settled around the top, while the end is joined with the lower pleats.
This Saree combination is extremely easy, but you need to worry about the two most important kinds of stuff. Firstly the Pallu design, and secondly how it falls on top of the torso region.
Style:
Apart from being a really popular form of Saree, it is one of the best too. The designs are quintessential, elegant and really fancy.
See related: Saree Colour Suits for Dark Skin
'Aath Poure' Bengali Saree Style
You know a Bong from her typical eight folded Saree look. yes, this particular Saree has right folds at every possible corner of the drape. It is extremely simple, while the outcome is just outstanding and quite magnificent.
I believe, such a beautiful Sareee style is quite underrated in India. As many women nowadays choose to wear something else other than a simplistic eight folded Saree. When it is about weddings, this is the easiest and the most conventional Bengali Saree style.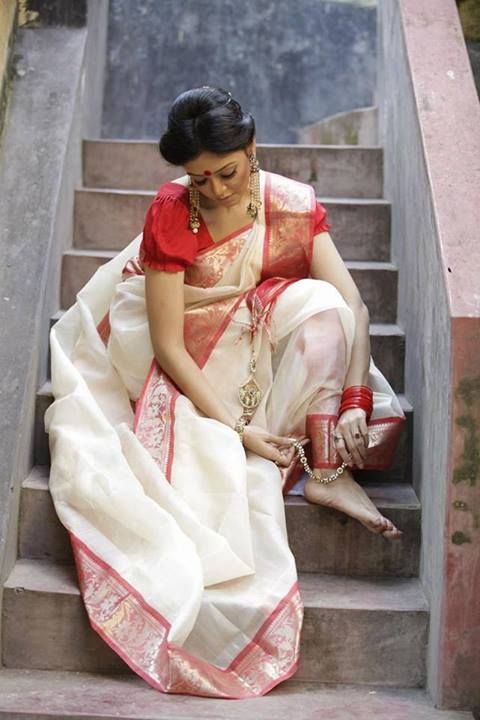 Style:
I believe this particular Saree style has been in the books since it became trendy to drape around some of the best fabrics in the most unconventional manner. This is that typical Saree draping technique, used while a fancy Durga Puja 'Sindoor Khela'.
see more: Sriniketan
Front Pleat Bridal Bengali Saree Style
I cannot really have more of such a beautiful technique, and this is one of the most common draping techniques in Bengal. Almost every Bengali makeup Artist chooses this technique as their method of draping a pretty hot Saree around the bride.
The pleats of this Saree are simply left open, instead of making a full-fledged South Indian Pleats work, they choose to make a simplistic yet elegant Bengali Saree Style. It is multi-functional, and quite reprehensible too.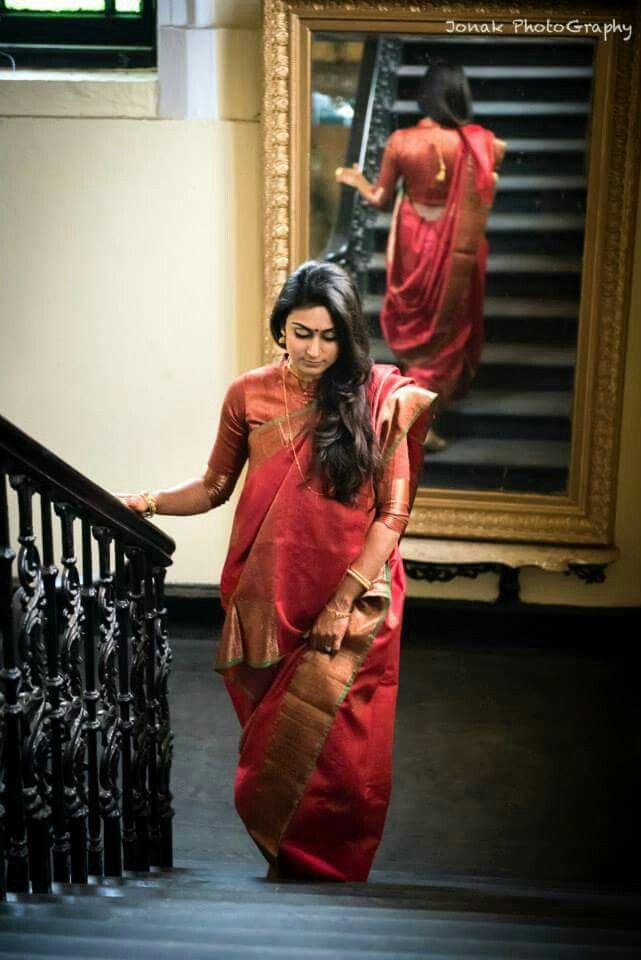 Style:
The beauty of this technique is, you can do it to yourself.  exactly you certainly do not need anyone else's help in wearing this Saree for the day. It is simplistic and quite pretty too.
Check now: Plus size Indian Party Dress
Back Key Bengali Saree Style
This is the classiest Bengali Saree Style, extremely traditional and quite ethic with all terms. It can go from zero to a full-fledged hundred with just a simple accessory. 
Like the rest of the Saree styles, this is also a really popular form of the 'Aath Poure' Saree style. This is one of the best styles, typically worn by the Brides mother.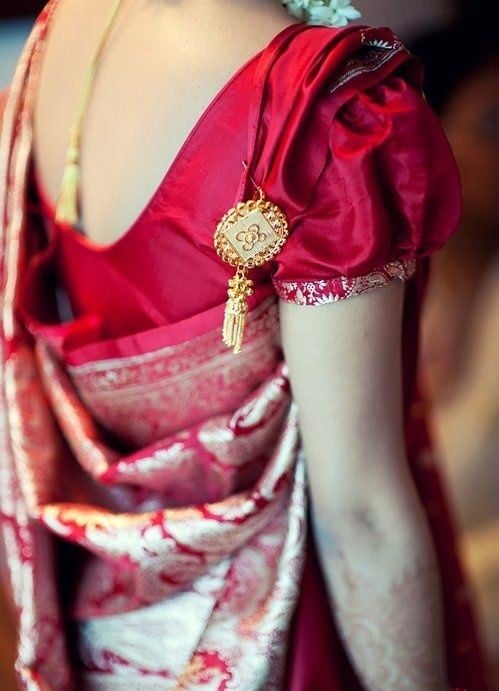 Style:
To make it look even better, the wearer can incorporate her keychain with the end of the Saree, which falls in the back of the Saree. Or even put a 'KJhoomar' jewellery as an accessory. 
Check more: Adi Mohini Mohan Kanjilal
Double-Sided Bengali Saree Style
By double-sided, we basically are focusing on the beautiful and fabulous fabric 0of the Saree. Something that is already very elegant and stands out from the rest of the arrangement. 
The bride can choose this Bengali Saree style for something other than her wedding ceremony. Like the 'Bou-Bhat' ritual, or even the picturesque Haldi Ceremony, or the 'Nanni-Mukh Pratha'.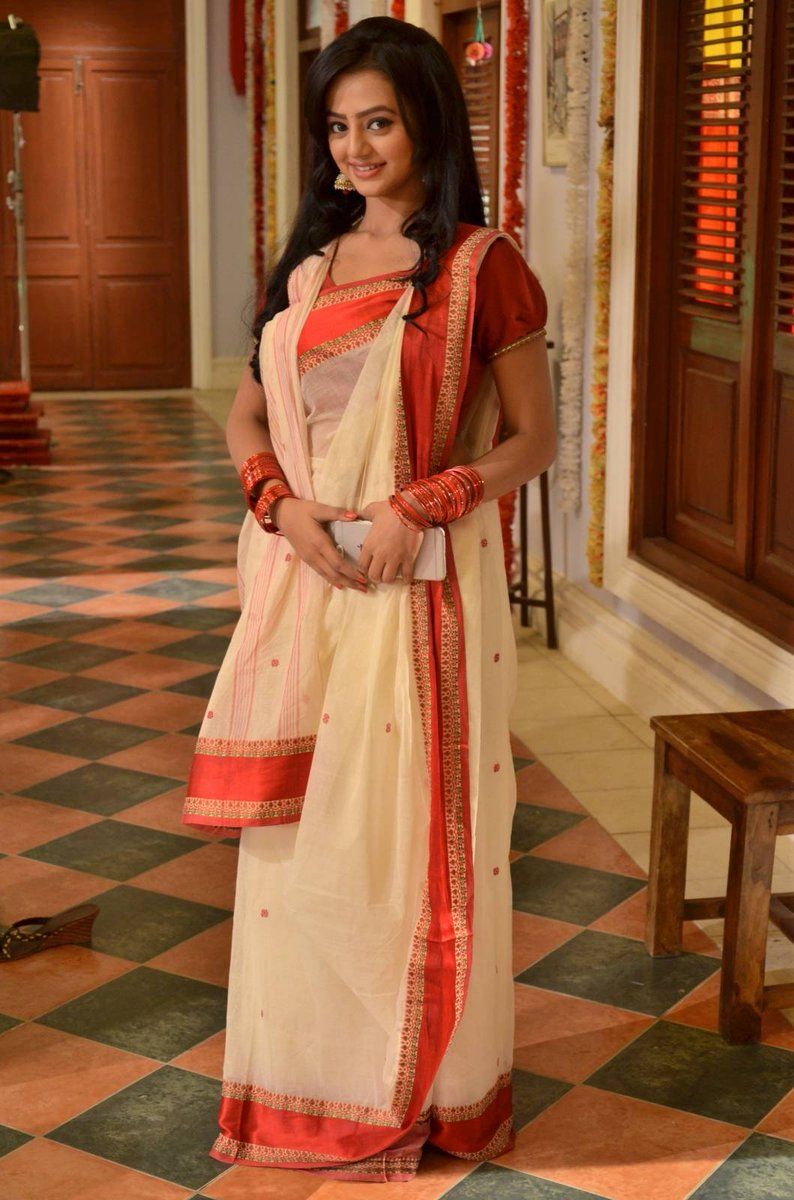 Style:
All these ceremonies are extremely homely and do not need you to be exquisite. Such a beautiful Saree draping trick is traditional to the good old Bengali culture and heritage. 
These were some of the most elegant and fabulous forms of Saree draping tricks. Something that is not only elegant and classy but also really very relevant to the norms of a Bong family.
Read more: Adi Dhakeswari Bastralaya
There are many Bengali brides who choose to wear a Lehenga for their wedding ceremony. But keeping it within the culture is extremely crucial. These were some of the best Bengali Saree styles. 
To know more about such amazing Bridal Saree styles, and other associated information regarding Weddings and other events, visit myMandap.