A Silver Jewellery Set is one of the best possible buys. You spent your money on the right thing and the right bridal jewellery set. Silver Gold Plated Jewellery is quite common for most Bridal Jewellery sets. 
That is exactly why most brides, prefer Silver Oxidised Jewellery for the majority of events.  A  Silver Plated Jewellery is not quite conventional for Indian Bridal pieces of jewellery. Rather Silver Colour Jewellery is worn for events other than weddings. 
Here we have curated some of the best Silver Oxidised Jewellery sets, meant for Brides in India. 
Top 10 Bridal Silver Jewellery Sets:
There are many things that we are yet to know more about Bridal jewellery sets, especially when you are speaking about Silver. This is a kind of metal that is not as expensive as Gold, yet it has the subtle elegance of preciousness.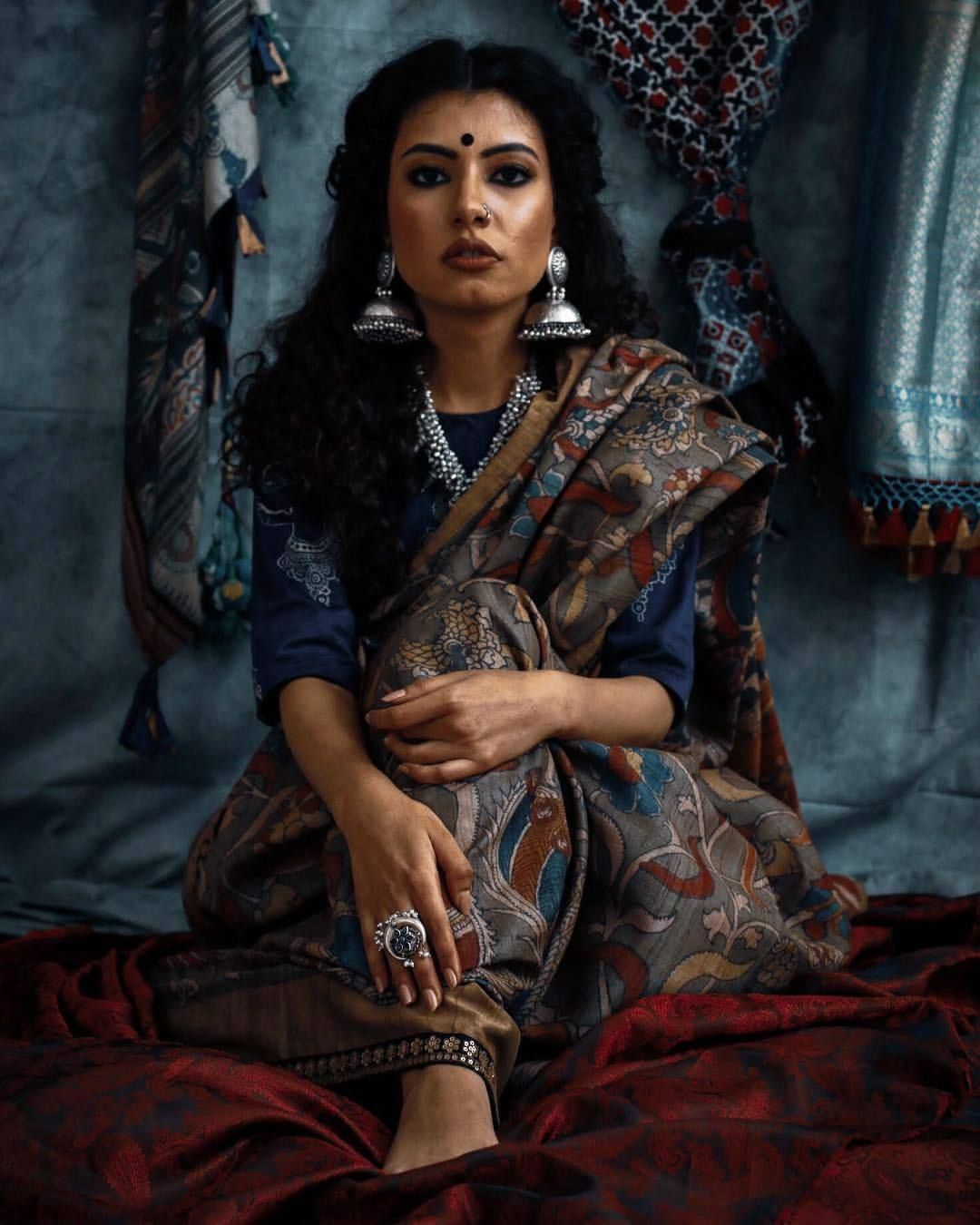 There are very few people who actually know the custom, of wearing silver anklets and toe rings instead of Gold ones. Some think, that Silver is less expensive and pretty too. While the reason is, you are not supposed to wear Gold below the torso region.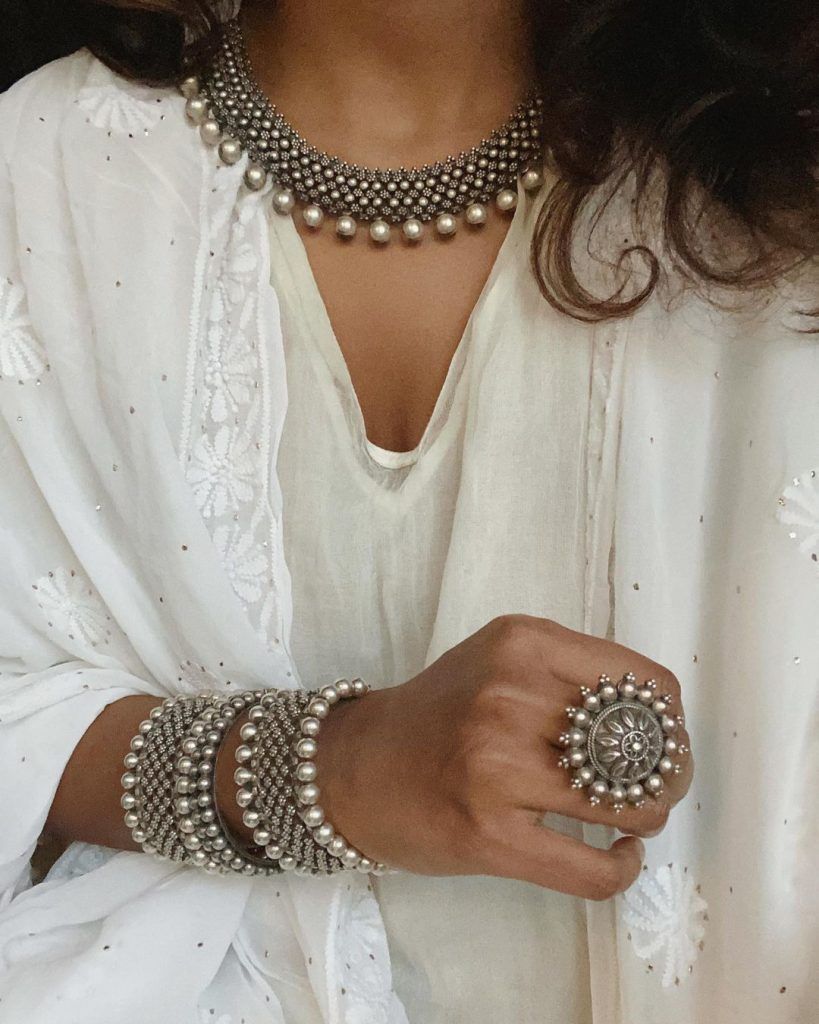 And, Silver is a kind of metal that is precious and also looks esteemed. Sterling Silver Jewellery like the following is the best of its kind. Here we have some of the best Pure Silver jewellery designs that are perfect for Brides in India.  
Check out: Pearl Set Styles
Layered Necklace for Silver Plated Jewellery
You will mostly choose Gold Jewellery sets for the wedding ceremony. What if I say, a silver Costume Jewellery set can get equally endeavouring and pleasing?  The quality of such a beautiful Silver Necklace is just out of this world. 
Firstly it looks like Platinum, and secondly, it has the most beautiful Silver Oxidised Jewellery design. As a bride, you might want to wear this particular ornament for the purpose of other unimportant occasions, such as the Haldi Ceremony or even the Cocktail night.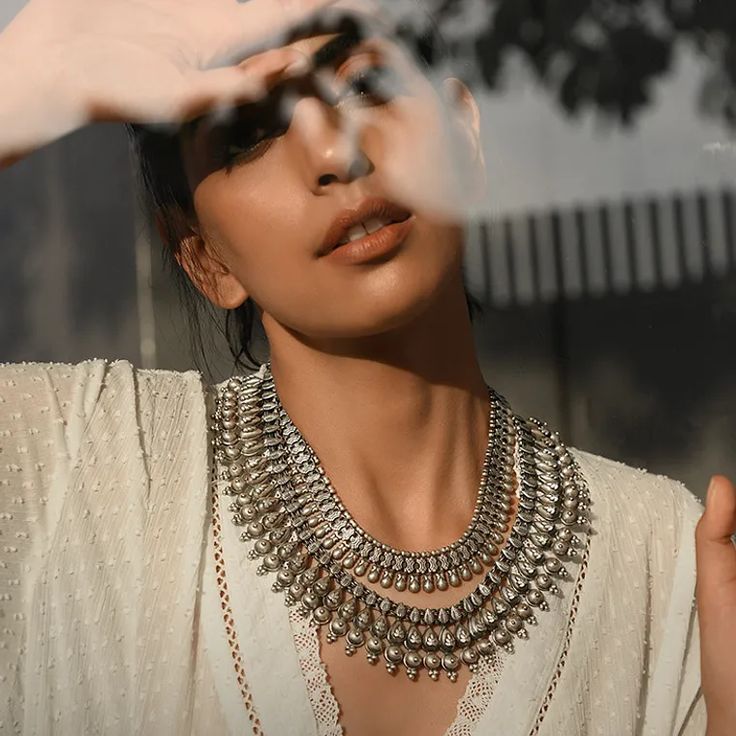 Design:
Wearing similar Silver earrings can never get too boring, and the fact is, you might want to wear such a beautiful Silver Oxidised jewellery set for all possible events, after the wedding day.
Visit: Bridal Mukut Designs
Bridal Silver Jewellery Set
Using Precious Metal for the wedding day is entirely dependent upon the family if they want their jewellery to be in gold, silver or even statement. That doesn't make change the charm of the woman. 
She will look equally best in her silver alloy ornament or fine in a rudimentary copper necklace. What matters a lot, is the collection that you are choosing for the 925 Pure Silver quality stamp. That has to come with a quality certificate and a proper guarantee of Jewellery Care. 

Design:
Such a Silver Jewellery Set comprises silver earrings, necklaces and even a silver ring too. Basically, everything is required for elevating the glimpse of a regular Indian bride. 
Check also: Bridal Nath Design
Bangle Set for Silver Jewellery
This is one of the most commonly available Silver Oxidised jewellery sets. It is popularly worn by almost every Indian woman, who loves to curate that perfect Handloom look. By wearing an earthy fabric Saree, Silver Jewellery, Black Bindi and obviously a fabulous face of smokey makeup. 
That is all that you might really need for a Bong look, something that has all the little features. Wearing a White gold ornament might cost you aeons, but wearing a piece of subtle silver jewellery is inexpensive and a great idea too.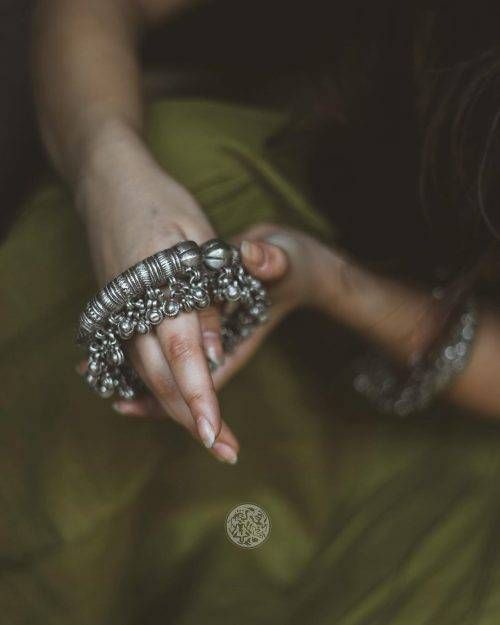 Design:
You do not have gemstone pieces encrusted on top of the silver bangle set. These bangles are quite sleek and slim and are one of the best options for Bridal collection ornaments. 
Check more: Beautiful Kalire designs
Silver Jewellery Maang Tikka
You might think that this is not an actual silver jewellery piece. rather this might be a simple silver-plated jewellery set. It has the perfect plating and the most beautiful design. 
That's absolutely great, as many people choose to do so for their wedding ceremony. Instead of wearing Golden Jewellery, they choose Silver jewellery sets for some occasions.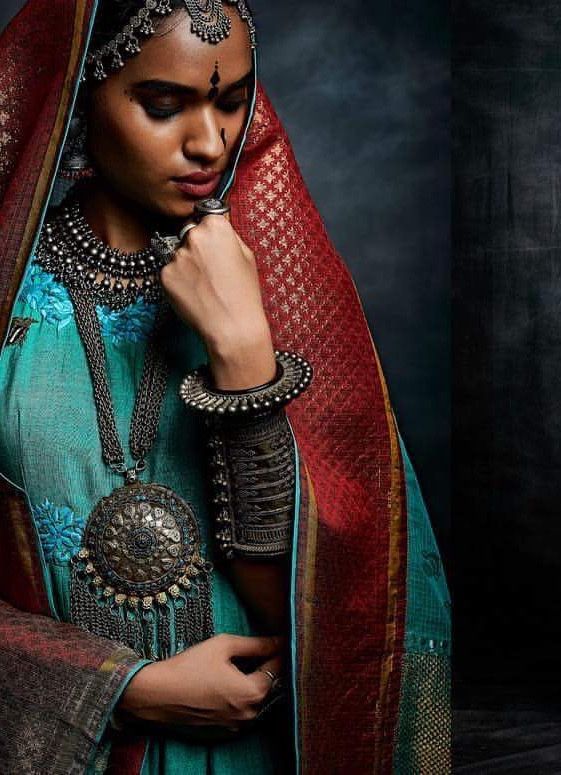 Design:
Such events are absolutely perfect for a Silver Maang Tikka design. It covers the centre of your forehead and has some notable features added on top of it. If you ask me for a Maang tikka suggestion in silver, then I would name this ten more times. 
Must Check: Temple Jewellery
Nose Ring in Silver Oxidised Jewellery
As a Silver Plated ornament, it moderately has a beautiful white stone setting. Something that you will only wear for some special occasions. Not that brides do not wear silver noserings for their wedding ceremony. 
But that is generally really very small, and the results are often not as attractive for the wedding as it might need. For such instances, a simple silver jewellery piece like this can go a long way.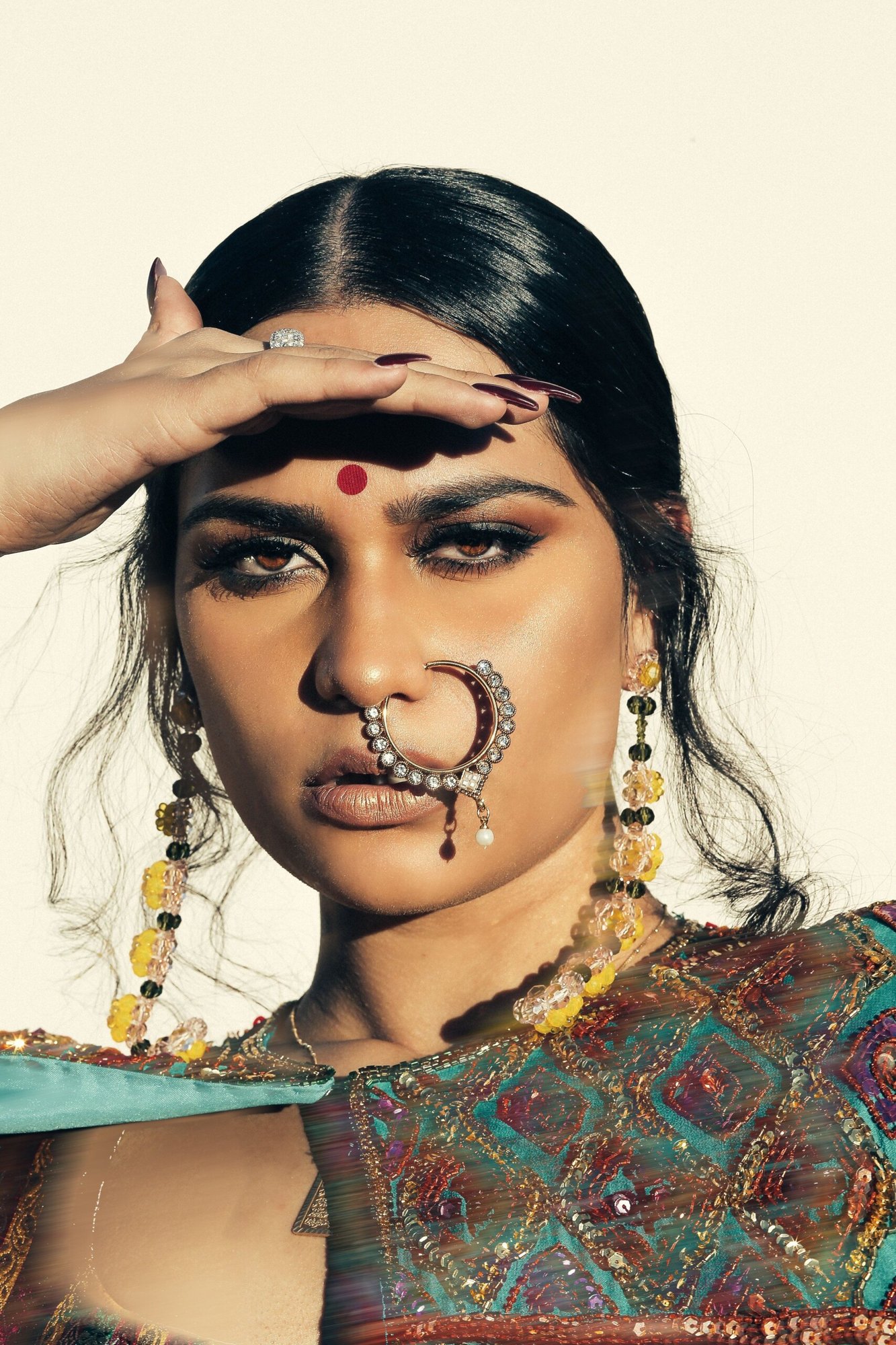 Design:
A nose accessory like this is worn typically for all Indian weddings. Specifically when we are speaking about the one with a chain attachment that reaches up to the hairline. 
View more: Couple Rings Designs
Earrings in Silver Jewellery Set
An accessory like this would be on my top list for a Silver jewellery set. It is covering most of the ear and has a perfect layer of detailing on top of it. Those teeny-tiny intricacies on top of the design are making the ornament even more pretty. 
Apart from these kinds of earrings, there are many other jewellery variations. This is a silver-plated jewellery design and a really popular one too. Many women would choose a Silver 'Jhumka' for their wedding, but this too isn't a bad option.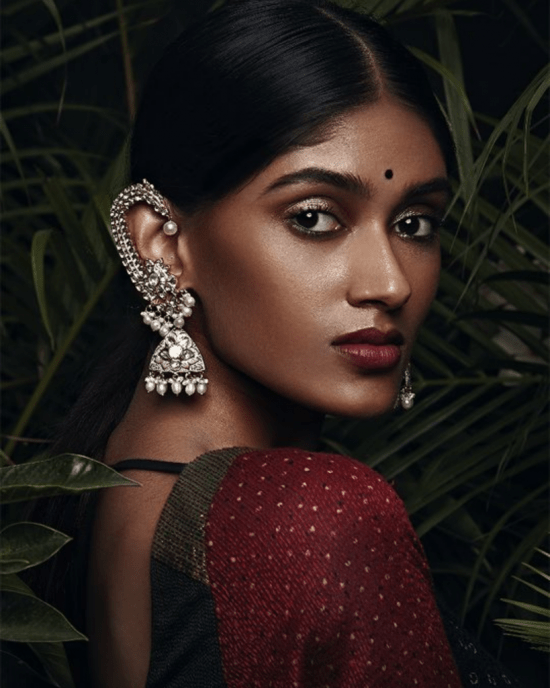 Design:
A design for silver jewellery is to have many things, firstly a good layer of intricacies and secondly a fabulously creative layer of metalwork. 
Must view: Payel Design
Bridal Ring in Silver Jewellery Set
This is a really pretty style of bridal ring, and the base metal is absolutely 925 Silver base. Which is flexible, and has some really appreciable styles too. You can buy such a prominent ring for the big day, and that's it. That is probably all that you need. 
Believe me, this is worth every penny you spend on the wedding ceremony. As a Silver Jewellery design, it has signed all the things, that one needs for a bridal ornament. This particular Silver ring can be worn for other events too.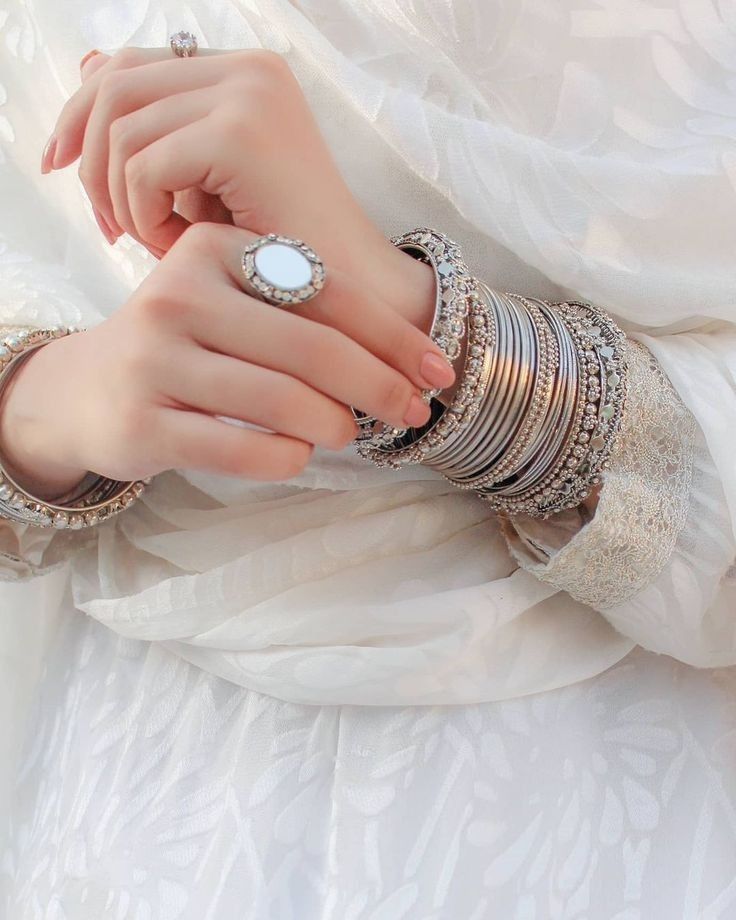 Design:
Apart from an expensive silver jewellery ring, there are many options for artificial designs too. Multiple Silver oxidised jewellery designs endorse such pretty rings in their collection. 
Must Check: Kundan Jewellery Set Ideas
Chained Necklace for Silver Oxidised Jewellery Set
This isn't a real silver jewellery set, rather she has all the things that make it really appreciable statement jewellery. This particular one is a silver oxidised jewellery design, which is the best sterling silver plating. 
Highly suggested for pre-wedding occasions, such as the 'Roka' ceremony, and on the occasion of 'Paka Dakha' when the two families have the final word for the wedding date. You get a pretty silver earring, bracelet, and even a few stylish pendants that are making it far more charming.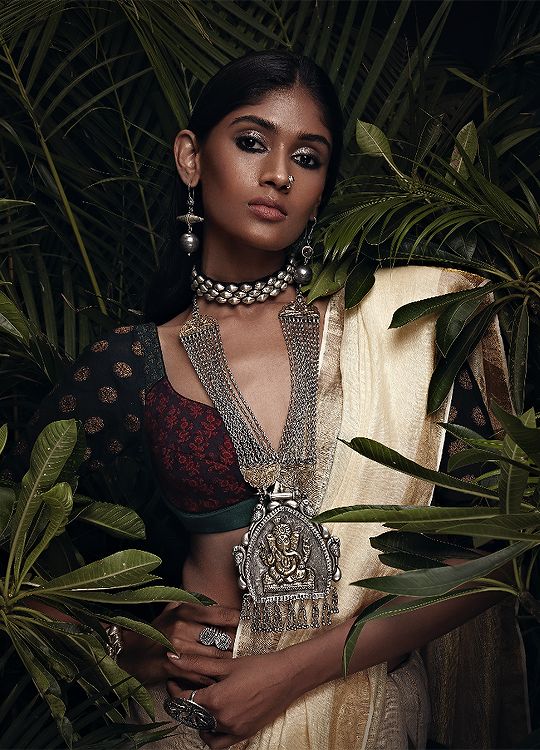 Design:
This is a kind of jewellery set that comprises all the features that might need for a Diamond ring. There are multiple Engagement rings, that are made out of 325 silver alloy, and have a pretty little stone encrusted on top of it. 
Must check: Bridal Gold Jhumka Design
Anklets for Silver Gold Plated Jewellery
Anklets are supposed to be made out of silver. This is one of those ornaments that require you to wear it in silver metal. The base of the jewellery, and the plating should be solid silver and there shouldn't be any changes. 
An anklet is a kind of jewellery that is typically worn on the foot and believe me this is extremely pretty and appropriate for daily usage too.  A jewellery design like this happens to be a perfect accessory for Bridal Foot Mehandi designs.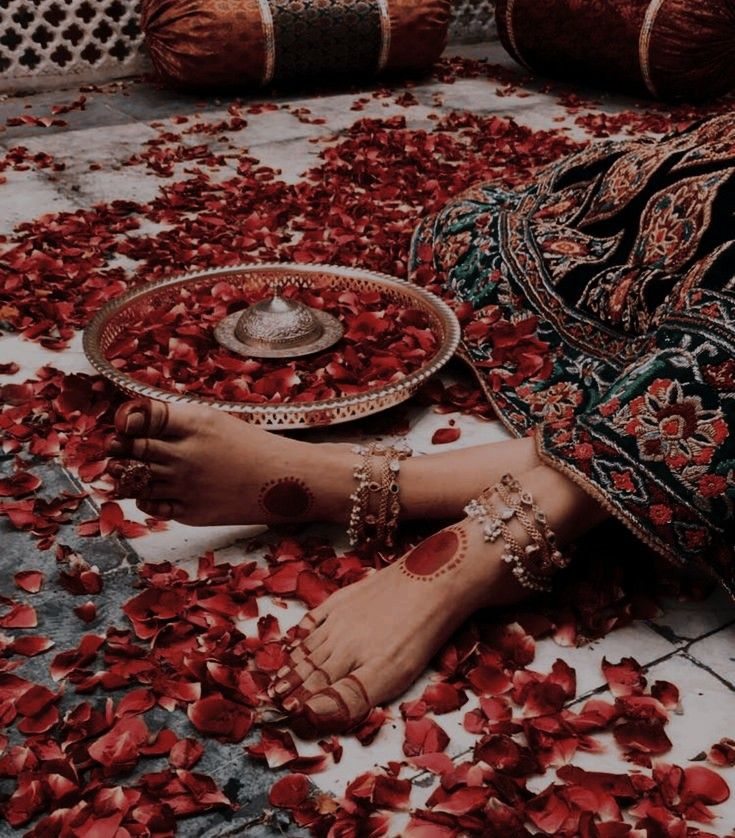 Design
:
Real silver is used in making two tired 925 sterling silver 'Payel'. The design is simplistic, and you will actually get it in a little jewellery box. Which fits your perfect Silver Plated 'Anklets'? 
Hanging Coin Necklace for Silver Plated Jewellery
This is a kind of Silver Jewellery that you can actually wear for other events, and not just for the wedding ceremony. This particular  Silver Plated Jewellery design has a base of silver, while the base of the jewellery is made out of stainless steel. 
Stud Earrings, and a fabulous necklace. This particular jewellery piece has all the best things that are required to make your bridal jewellery set, from zero to a full hundred. This set is not something that you wear for the wedding day. 
Design
:
Rather this kind of Silver Oxidised Jewellery is typically worn for the purpose of pre-wedding photoshoots, or even the Bengali Bacherllerotte.
Finding Silver Jewellery online is as easy as choosing the wedding ceremony card. You can get such amazing Silver jewellery designs at Shaya by Caratlane, Candere, Mia by Tanishq, GIVA, ANVI and even on other popular shopping websites.  
Apart from the above-mentioned brands, you will find exorbitant Silver Oxidised Jewellery at the local stores too. To know more about wedding jewellery, fashion, food, and other amazing things visit myMandap.