Your Wedding Makeup remains incomplete without a Flower Bun Hairstyle. Our Indian Bridal Hairstyles are mostly accentuated with the best Floral Bun Hairstyle. Especially when we are talking about the Bridal Flower. Needless to say, it has to be organised, and put together. In a way, you wear your favourite flowers. 
A subtle Rose Flower Bun Hairstyle, or a fully puffed-out Hairdo for the Reception Ceremony. Flowers are some of the best hair fixers, which can totally make or even break the game. Here, we are about to endeavour some of the most creative and fashionable Bridal Hairstyles. A Hairstyle, which you can totally carry, for your Big day. 
Best Flower Bun Hairstyle for the D-Day:
Classic Wedding Hairstyles usually stand between two choices, a well-organised Hair Braid or a simplistic Hairstyle. Floral buns are innovative and have the most beautiful organisation, this is one of the best Hairdos. Going with a Bun Hairstyle is one of the safest choices, for the wedding ceremony. You can totally wear it with some fresh flowers, which can totally make the best Bridal Bun. 
A Wedding Hairstyle with good flowers is one of the best choices for the D-Day. You can absolutely incorporate anything you want in this look, starting with the prettiest floral garland, to the precious hairpins and other exquisite accessories. This is one of those selected flower girl Hairstyles, which actually does wonders to any lair length. A shorter, length can be turned into a hair bun with extensions. 
Check Out: Traditional Bengali Bridal Hairstyle
Orchid Flower Hairstyle in Pink
Some shades and colours honestly make the most beautiful Orchid Flower Hairstyle. Exactly like this arrangement of hair has everything that you need for a picturesque Flower Bun Hairstyle. The pink orchid is highly accentuated with the little white Jasmine details too. This is a Hairstyle for almost all types of Hairdos.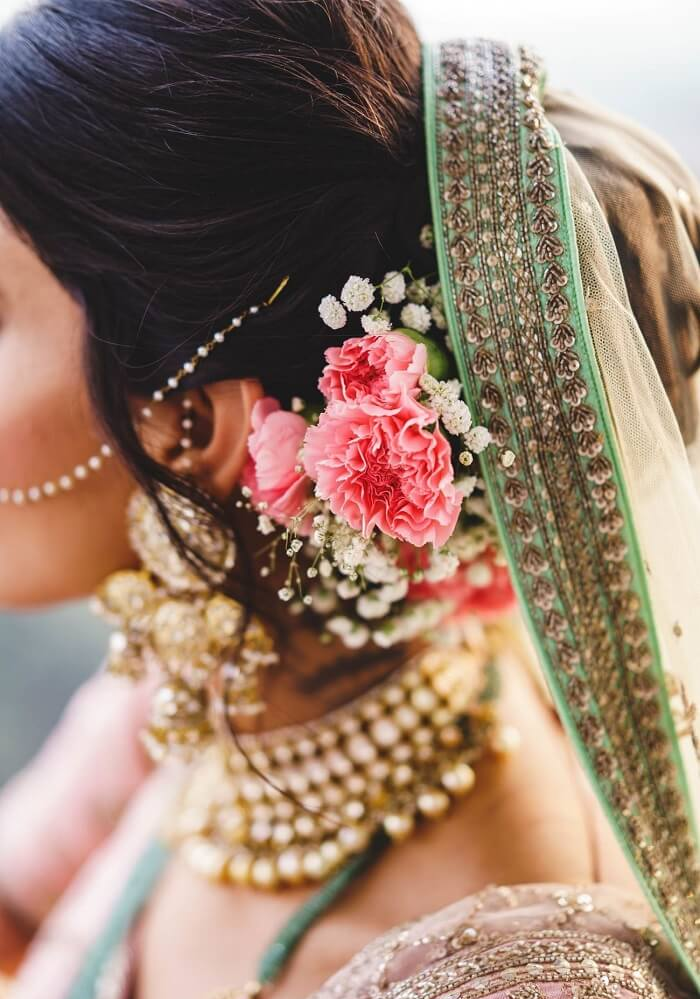 The bride is wearing a beautiful pastel-coloured Lehenga, with a really beautiful Mint coloured Bridal Dupatta and the pretty Zardozi as the main attire. The entire outfit and the Bun Orchid Flower Hairstyle are perfect for anyone who likes Trendy and cool fashion statements.
Check out: Beautiful Gajra Hairstyle
Pastel Blue Flower Hairstyle
Some Floral Hairstyles are just perfect for Lehenga Outfits. This is a really beautiful Bun Orchid Flower Hairstyle which is everything that you need for the big day. The beauty of this Bun Orchid Flower Hairstyle is decorated with the finest Pastel Blue Flowers too.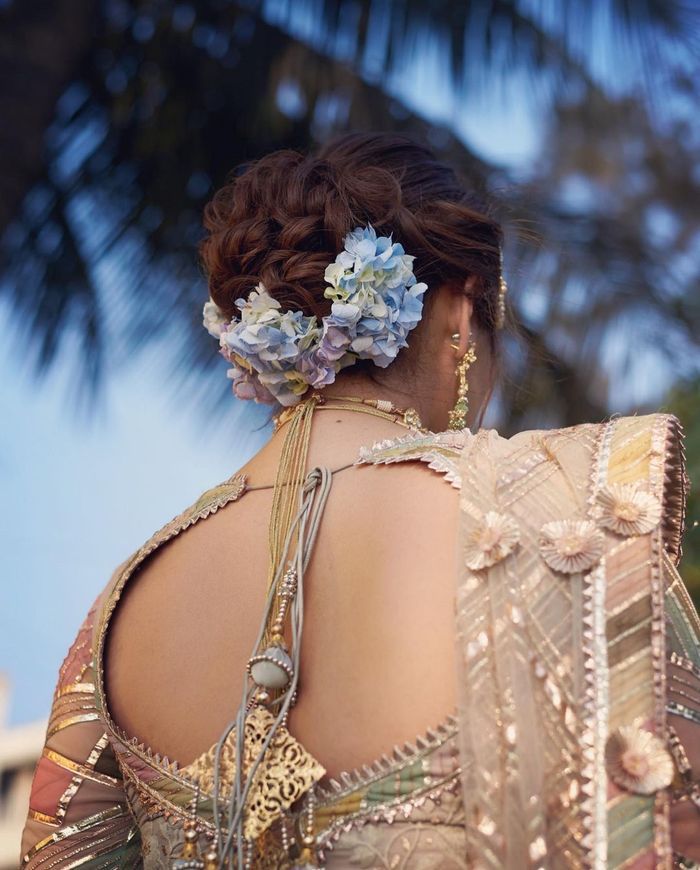 Those Bun Orchid Flower Hairstyles are out of the world, those Blue coloured floral accessories are just the best thing. You can make the beauty of this Bun Orchid Flower Hairstyle with pastel-coloured intricacies. This is a classic Hairstyle for a pretty engagement Party.
Must Visit: Kerala Bridal Hairstyle Backside
Fushia Pink Daliah Bridal Flower Bun Hairstyle
I really like the way it is making the rest of the Bridal Flower Bun hairstyle absolutely gorgeous. Starting with the Daliah flowers which are really good for the covered Floral Bun. This is a style, which is everything that you really want for your Bridal Hairstyle for the Wedding Ceremony.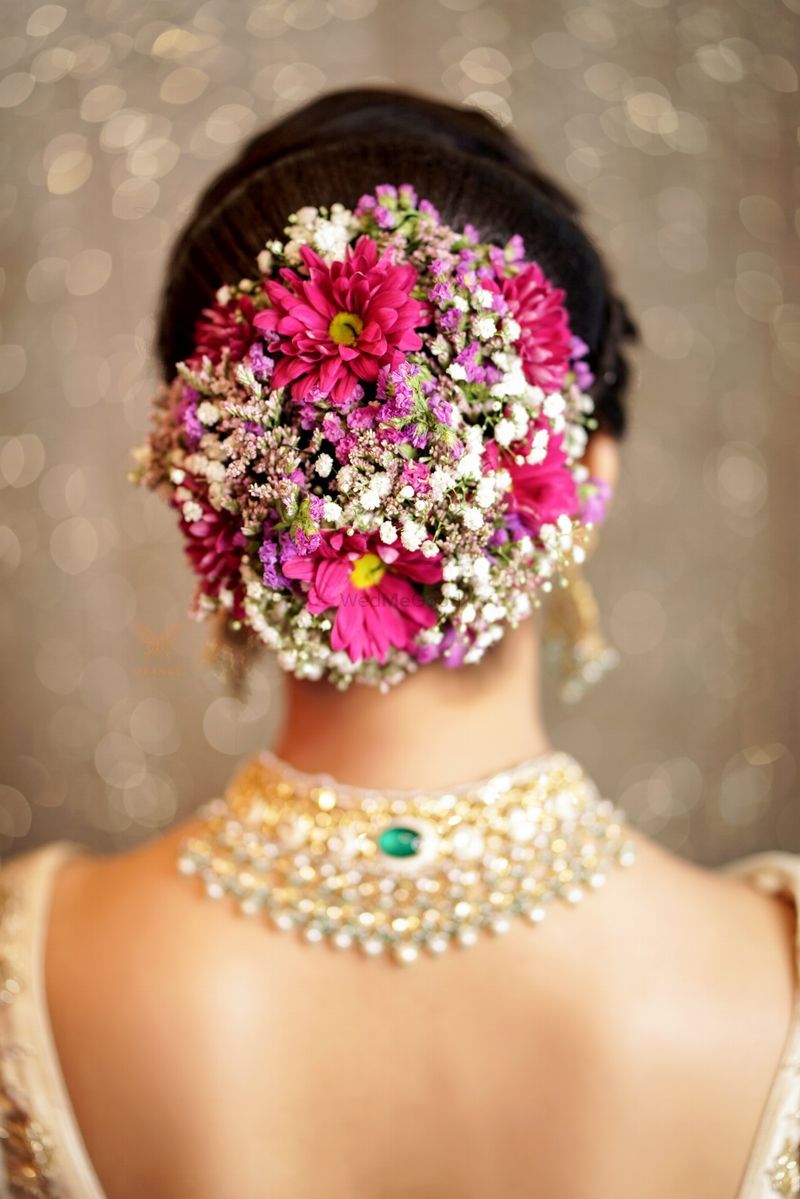 The moderate combination of white jasmine, and other orchid flowers are making the Fuishia Daliahs even more attractive. trust me this is one of those classic Hairdos that go really well for an organised Hairstyle for the Weddin Reception too. An Ideal Hairstyle that would look wonderful with some additional styles and Lehengas.
Bun Orchid Flower Hairstyle with Dragon Blooms
The organisation of this beautiful Bun Orchid Flower hairstyle resembles a garden filled with Dragon Flowers. Have you Dragon flowers? It somewhat looks like a Hen's Hair, and in many parts of India, it is known as such a beautiful flower too. Some people incorporate it with their classic Bun Orchid Flower Hairstyle.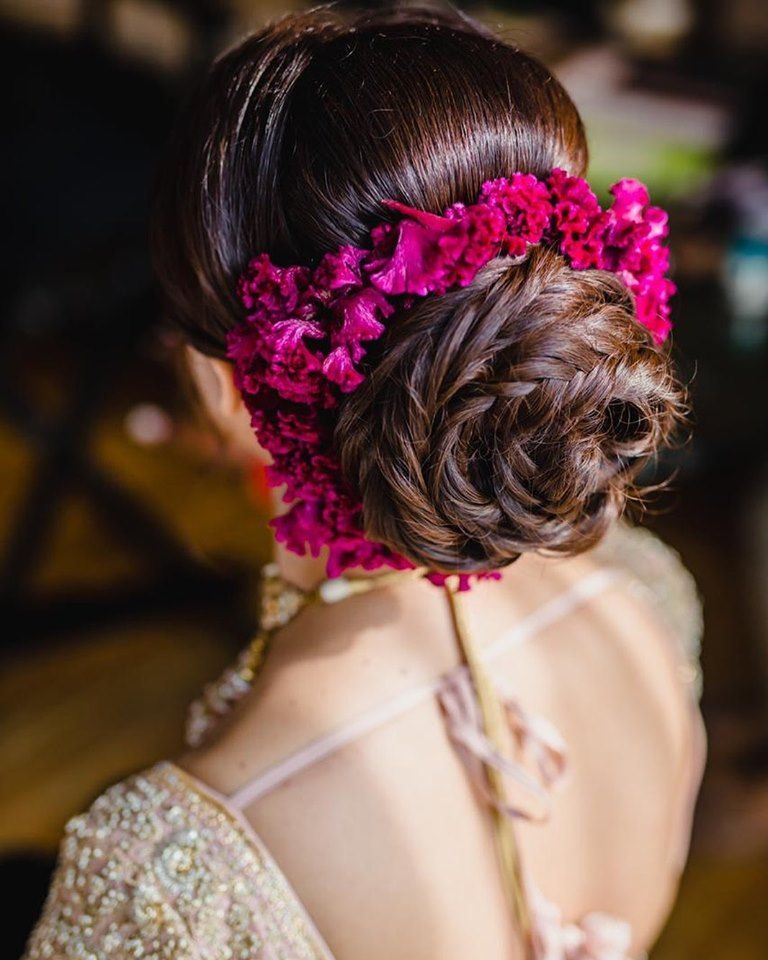 This beautiful Hairstyle is a classic depiction of what you need for the wedding ceremony. This is everything that is required for earning the most beautiful bridal Flower Bun Hairstyle. The pink flowers are just out of the world and it is a perfect hairdo for someone who lies Braided Buns.
Also Visit: Bridal Hairstyles for Weddings
White Rose Flower Bun Hairstyle
I have seen a Zillion options for Rose Hairstyle designs,s but nothing compares to the beauty of this amazing one. It is extremely subtle authentic, and really very pretty. Honestly, this is everything that one needs for an ideal, yet modern Flower Bun Hairstyle.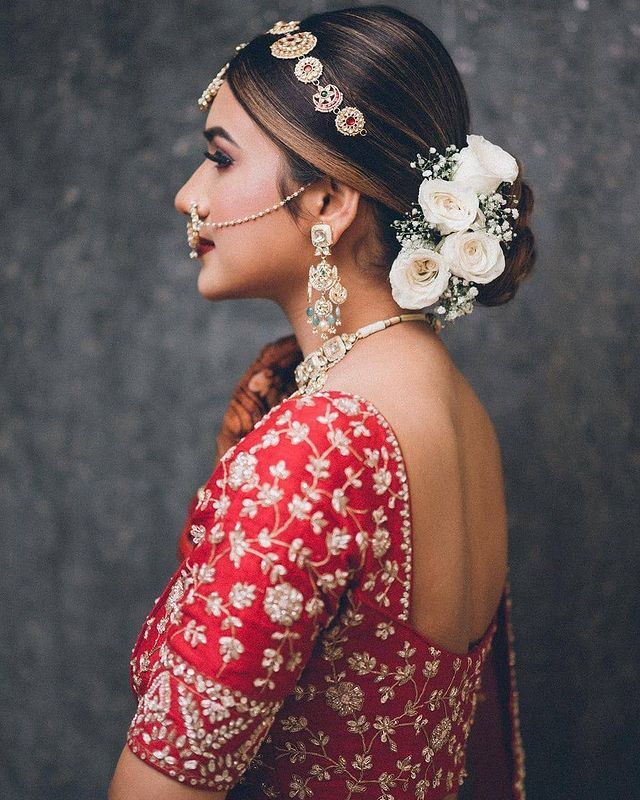 The Rose Flower Bun Hairstyle is organised in a way, that looks eerily beautiful. Well, you can't really have a complaint over this thing turned out for the big day. The little white roses are making the rest of the design classy, and elegant. The design of the Rose Hairstyle is somewhat similar to the Christian Bridal Hairstyles.
Check also: Wedding Hairstyle for Men
Blue Rose Flower Bun Hairstyle
Everyone  I know has a special place for Rose Flower Hairstyle. Although these roses aren't actually blue but pure white roses. Which have been dyed blue with some beautiful flower dyes. The unique colour of the Rose Flower Bun Hairstyle and the combination of the hair is particularly pretty.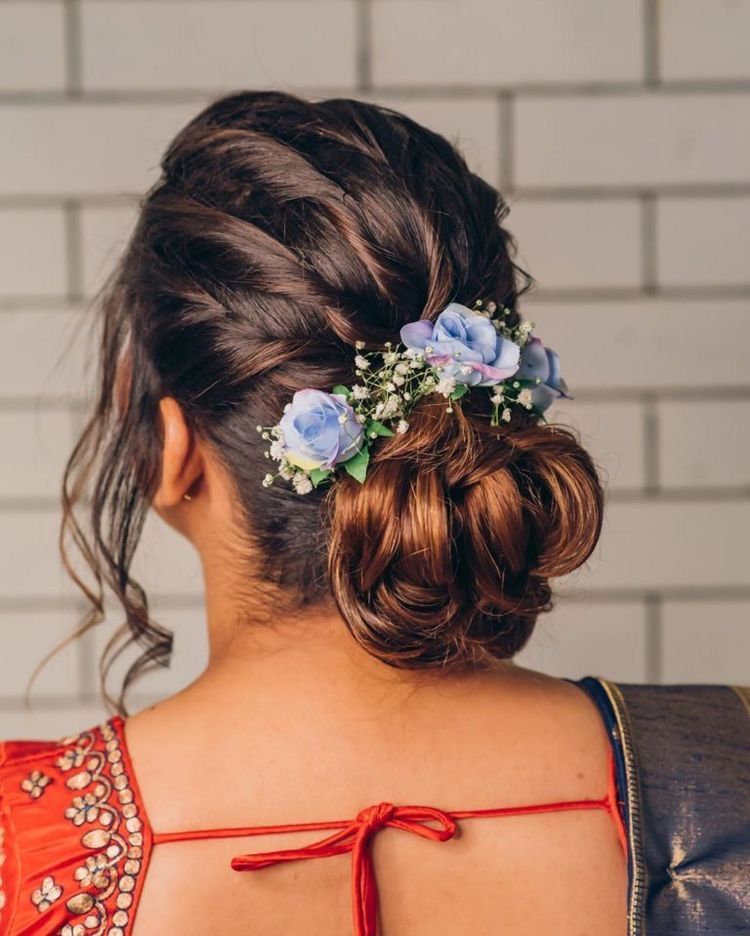 I think the blue-coloured Rose Flower Bun Hairstyle is just way too exciting for the big day. The entire organisation of th locks and teeny-tiny parts of the hair is just what you need for the big day. Starting with the simplest hair roses, to the most exciting and innovative fashion statements. A hairstyle like this is always a safe choice for someone who chooses a Blue Pastel lehenga. 
Messy Flower Hairstyle
I'm totally in love with messy Flower Bun Hairstyles. This is a really unique creation, and trust me it works really well with a long hair length. First of all, the uniqueness of the flower setting is already really very pleasing, and secondly,  those pink flowers are just adding a touch of beauty to the rest of the Bun Hairstyle with Jasmine Flowers.
I'm one of the flower girls, who love to have everything floral. The unique design is just out of this world, and it somehow makes them an Orchid Flower Bun Hairstyle that everyone loves. The beauty of it lies with the curly hair effect, and your Makeup Artist can also make this beautiful Flower Bun Hairstyle. 
Must See: Plus-Size Hairstyle
White Bun Hairstyle with Jasmine Flower
White Flowers are honestly the best option for everything. Subtle Bun Hairstyles with Jasmine Flowers are the next thing after a well-organised  Hairdo with other kinds of flowers added to it. This is a hair bun, and the little locks which fall from the bottom are like the cherry on the cake. Those Jasmine details are really very pretty, and surreal.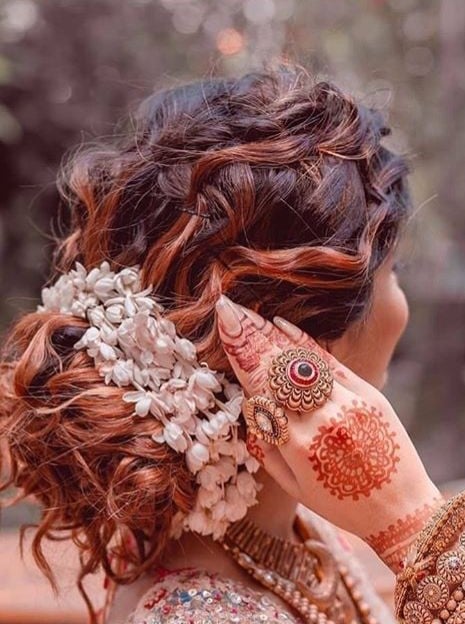 Honestly, you wouldn't get any other messy hair combination other than this. It is lively, classy, and everything else that one needs for their big day. The Hairstylist curls out the bottom curls to make this even better and more attractive. The Bride should try on a Lehenga Attire, with this beautifully organised Flower Hairstyle. 
French Roll Flower Hairstyle
French Roll hairstyles are really very classy, these are  Bridal Flower Bun hairstyles which are accentuated with some of the best blooms.  There are many variations for a French Rool, but the one with some regular white flowers is the classiest. This makes the rest of the decoration really very well.  
Dutch Braid is just the far-fetched sister of a french roll, instead of the Flower Hairstyle, it is simplified according to the type of braid.  The uniqueness of this style makes it highly wearable and fancy. You can decorate this braid with some really pretty rose petals too. Each section has its own beauty for such a unique Bun Hairstyle with Jasmine Flowers. 
For More: Modern Hairstyle for Lehenga
Covered Bun Hairstyle with Jasmine Flower
This is a classic Bridal Flower Hairstyle, chosen by Anushka Sharma for her wedding ceremony. Her Wedding Photographers made sure, that every little part of the hair is visible through the bridal Dupatta. Which in fact features one of the best Bun hairstyles with Jasmine Flowers. She in fact had short hair during her wedding, but her hair Stylist made it really simple and vivid.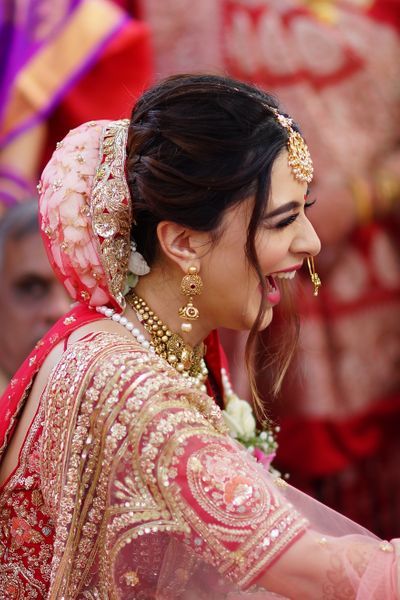 That is practically everything that you really need or a beautifully organised strand of hair. The hair might be covered, which is actually accentuating the bridal glow to a completely different extent. Such a precious Flower Bun Hairstyle hardly goes out of fashion. Remember the correct proportion for Bun Hairstyle with Jasmine Flowers. 
Conclusion
Flower Girl hairstyle with a well-organised hair clipping, is all that one wants for their wedding ceremony. A persistent Hairstylist would be capable of making any Bridal Hairstyle at ease, but your wants should be clear to him or her. If you want White flowers, in your Hairstyle, or an additional intricacy of a crisp fishtail braid. A Floral Bridal Bun is highly customisable and flexible too. 
If firstly needs two most important things in place of a pretty flower crown. Firstly a list of all Hair accessories styles, that you like and secondly the choice of flowers. That is enough for making a well-organised Bridal Hairstyle. Trust me, if you are choosing orchids or roses, it hardly matters. What matters in the end, is if you like it or not. 
If you found out the best Bridal Flower Bun Hairstyle, and choose the right fit for your Wedding Day then let us know in the comment section. In this wedding season, we have the latest posts about Bridal trends, Wedding Function Decoration, Exquisite food Choices, and lots more. If you are planning on a destination wedding or a local function, get everything right with myMandap.