Khadims Shoes has been the dearest brand for many Indians. Especially when it comes to their, exclusive shopping meant for the big day.  The footwear designs from Khadims and their affordable prices make this the most hyped about the name. Here, we have got a list of the most popular Wedding designs by Khadims. 
Khadims Cleo Collection:
Footwear brands like Khadims have their own fanbase, in terms of Shoe designs and sandal choices. Cleo is one of the three collections owned by Khadims. The collection has some amazing shoe colour choices and designs patterns. You can choose from a wide range of Heels, sandals, and other casual footwear designs. The design suits your attire and stands comfortable for the rest of the day.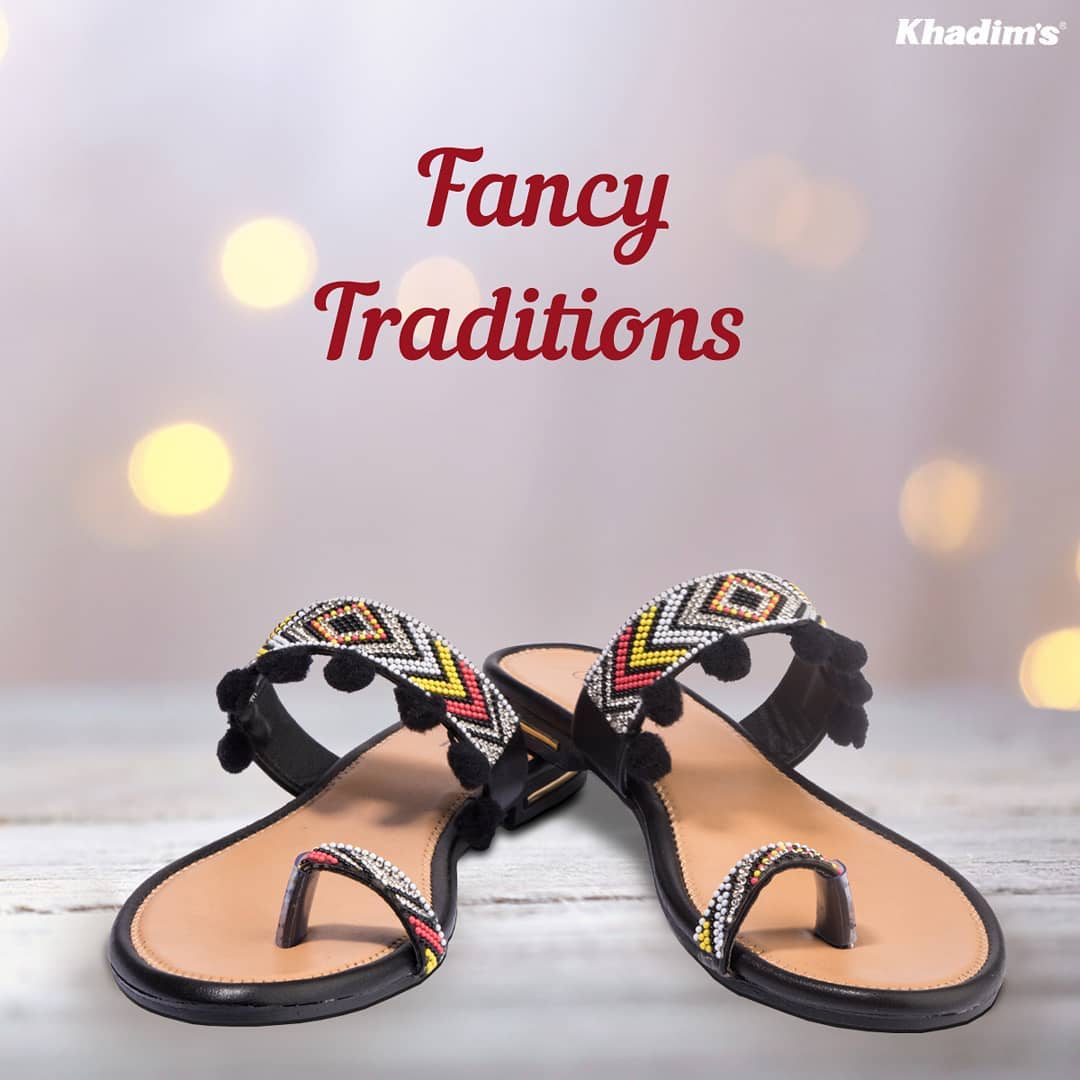 Check also: Best Sreeleathers Shoes for Brides
Cleo Block Heels Khadims Shoes
The colour beige stands favourite to almost six women, in a line often. The colour and the design in this particular shoe is ravishing and crisp. The heel is neither too high, not too low like a fair sandal. Rather it has a tiny kitten heel, which is appropriate for any bride, and the rest of her wedding attire.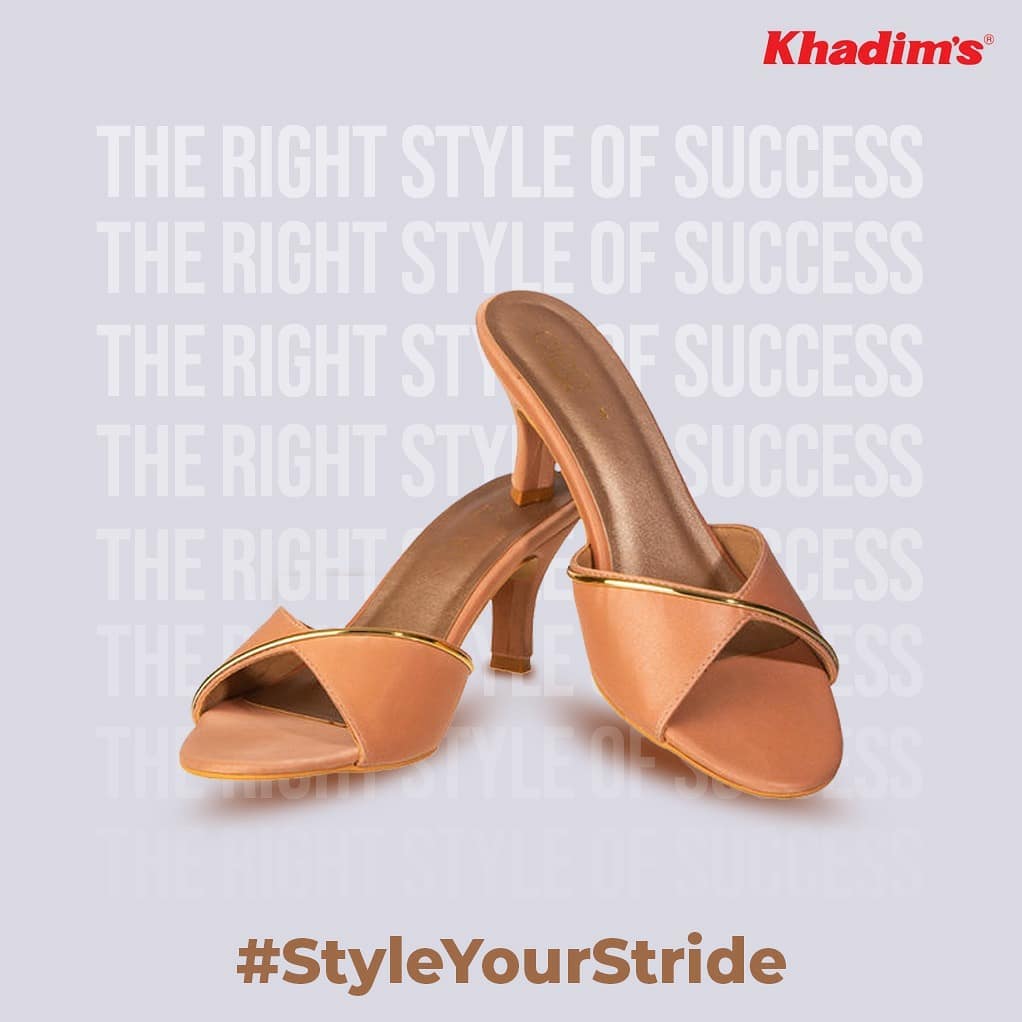 Style:
You can pair this with an elegant Saree, or a simple long skirt lehenga too. The design entirely depends upon the wearer. If they desire to wear this with the most elegant Formal suit, then Khadims Shoes are open to that as well. 
Ethnic Elegance Cleo Chappals from Khadims
Ethnic chappals can also be a perfect fit for newlyweds, and even brides on their wedding days. They happen to have the best wedding attire, which has exclusive embroideries and designs. To pair such a rampant outfit, you can surely wear a basic flat chappal alongside.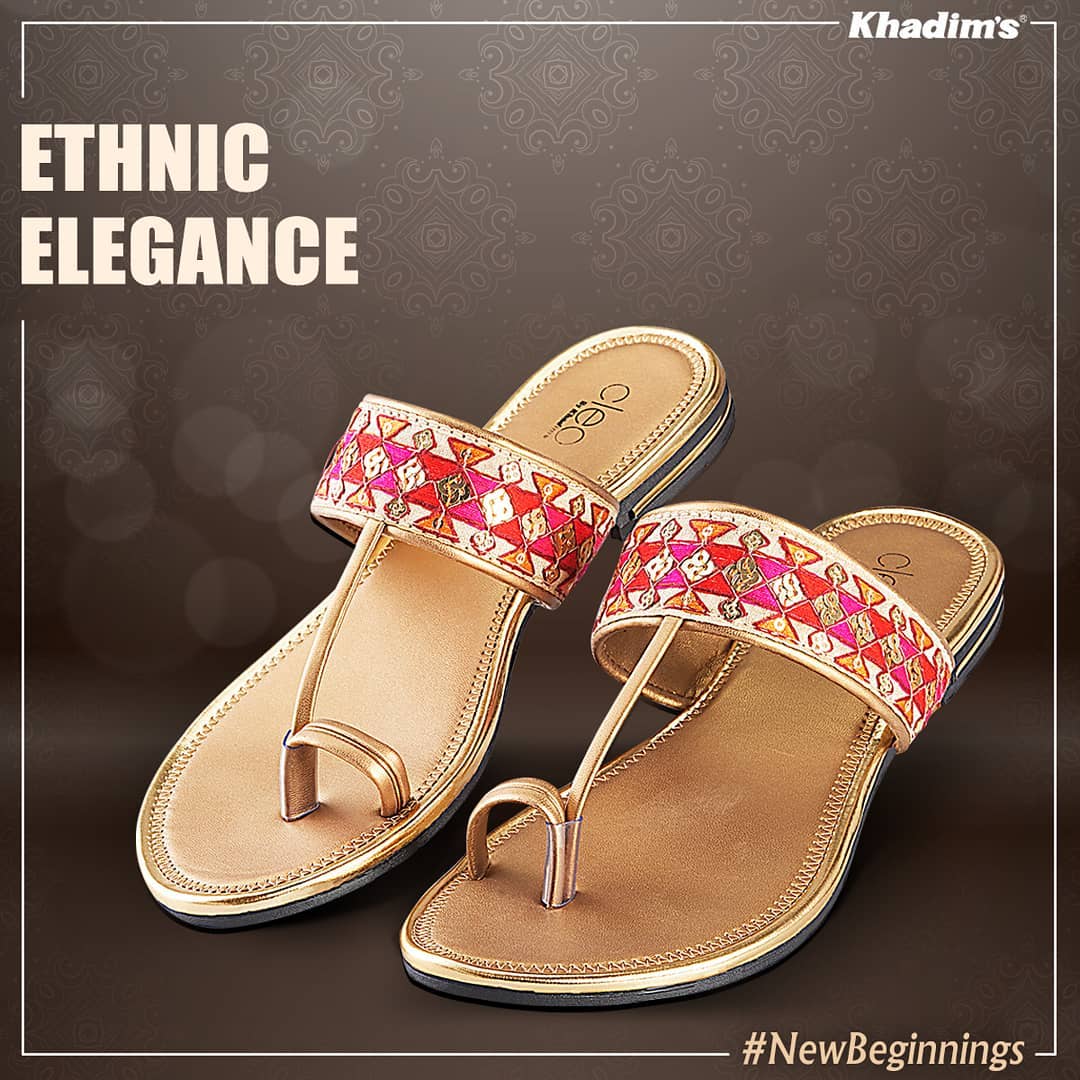 Style:
Flat sandals, can be worn beside any kind of attire. Like a basic long skirt, or even a fancy lehenga. The best part being, it is extremely comfortable and basic. 
View more: Ajanta Shoes
Golden Cleo Party Shoes 
Golden is always a prefered colour among brides. Not just because it reminds you of festivals, parties, and celebrations, but also because it is a must-have accessory for wedding guests too. Golden is a fabulous shade, and it can surely be worn beside the bridal attire. 
Style:
Pairing these heels with long and broad bridal lehengas, or some well embroidered benarasi Saree. The idea of it reminds me of Anushka Sharma on her wedding reception day.  
Check more: Nagra Juti Style
Minimalist Cleo Designs from Khadims
Khadims is popular for its casual as well as bridal shoes. Some designs are better than others. While some Khadims Shoes have high-end embroideries and embellishments. There are a few designs specifically meant for Minimalistic lovers. People who believe in the concept of 'Less is More'
Style:
Designs like these are not really meant for bridal attire, but a good fit for post-wedding functions. Even for a newlywed, who wants comfortable footwear. 
Check more: Mojari Styles for Men
White Pearly Wedding Shoes 
Peals are an extremely good embellishment for shoe designs, especially when it is bridal footwear. The pearly white shoe is appropriate for white wedding functions and even post-wedding reception parties. The best part about these kinds of shoes has to be the designs and the decoration on top of it.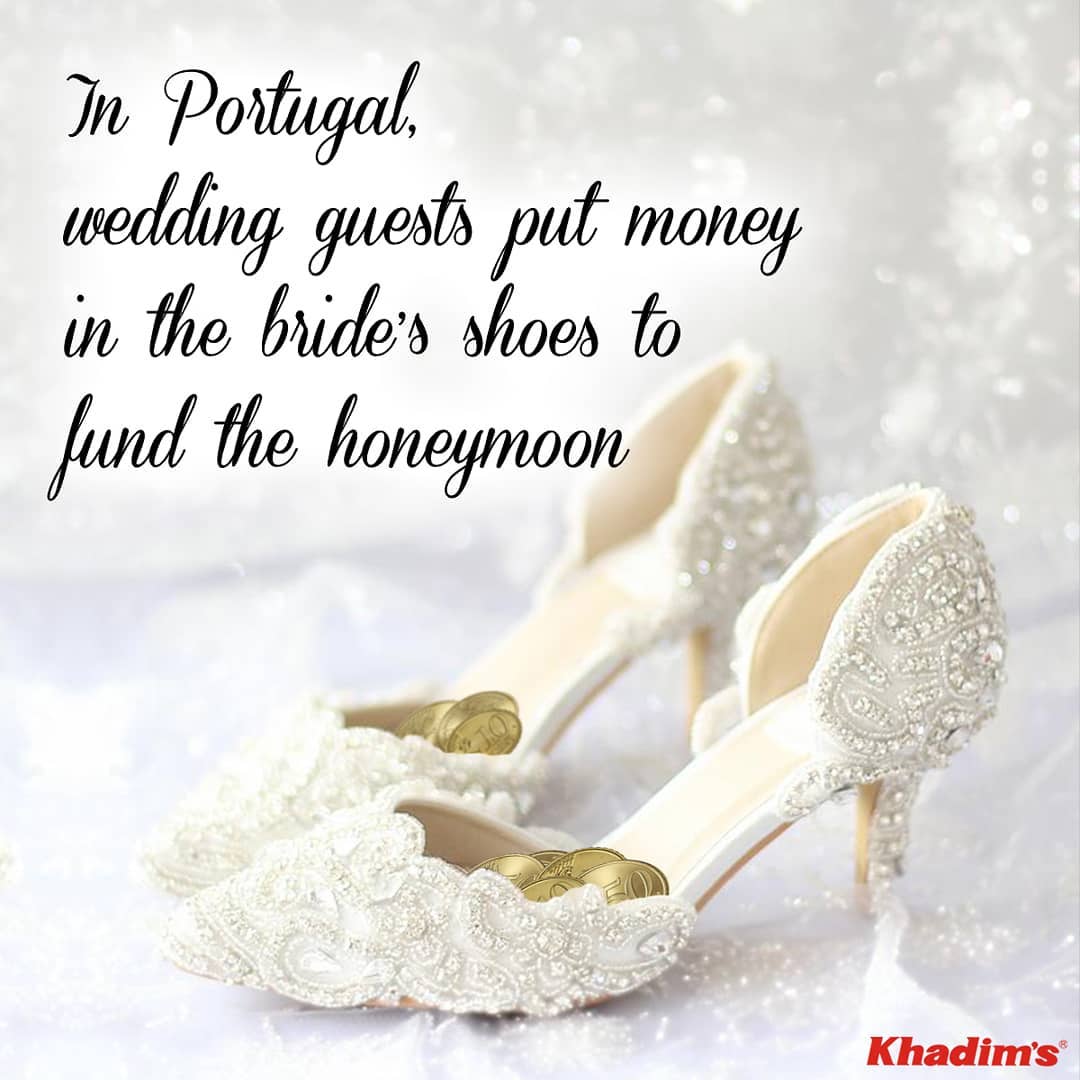 Style:
 Perfect for Christian Wedding functions, post-wedding ceremonies and other subtle rituals. This can be paired with white light coloured sarees and even pastels. 
Khadims Sharon Collection:
The Sharon collection is more about embroideries and embellishments. Khadims Online has some of the best exclusive designs, that are only available on the official website. You'll find some special collections in-store, while some are only available online. Apart from this, you can surely 
Golden Wedding Heels 
The reason behind me calling this a wedding heel, has to the gold around it. The shade is perfect for wedding pictures and supposedly has the best embroidery too. The simplicity of the exterior pattern is more or less appropriate for any girl out there.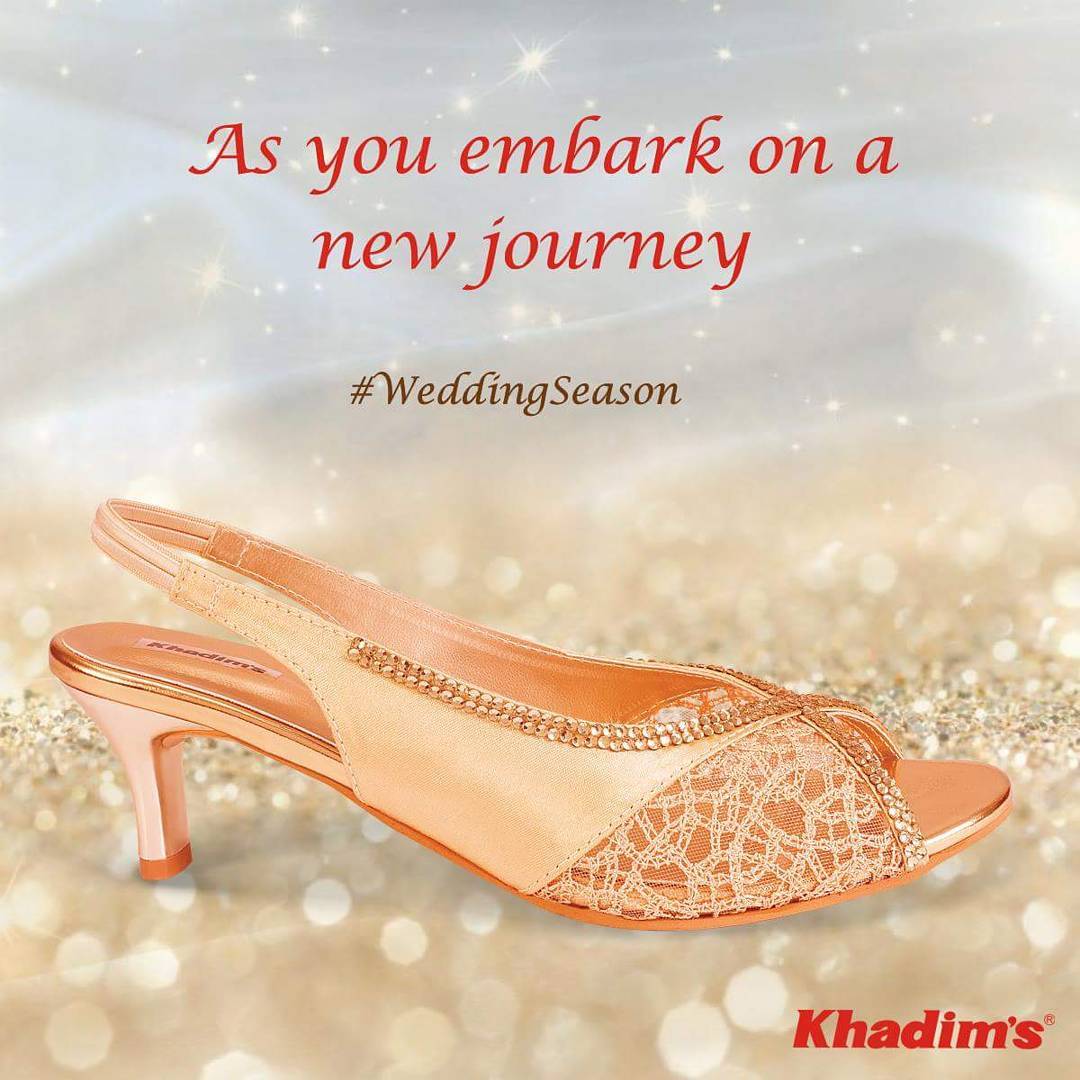 Style:
The simplicity of the heel is the style behind the shoe design. Khadims sandals are appropriate for the big day. 
Yellow Sharon Wedge from Khadims
Yellow is not a very conventional colour, especially when it is about wedding attire. But this particular Heel design from Sharon happens to have a lot of intricacies added to it. The layout is really simple, but the entire design has certain additional embroideries to it, which makes this a more appropriate collection for newlyweds.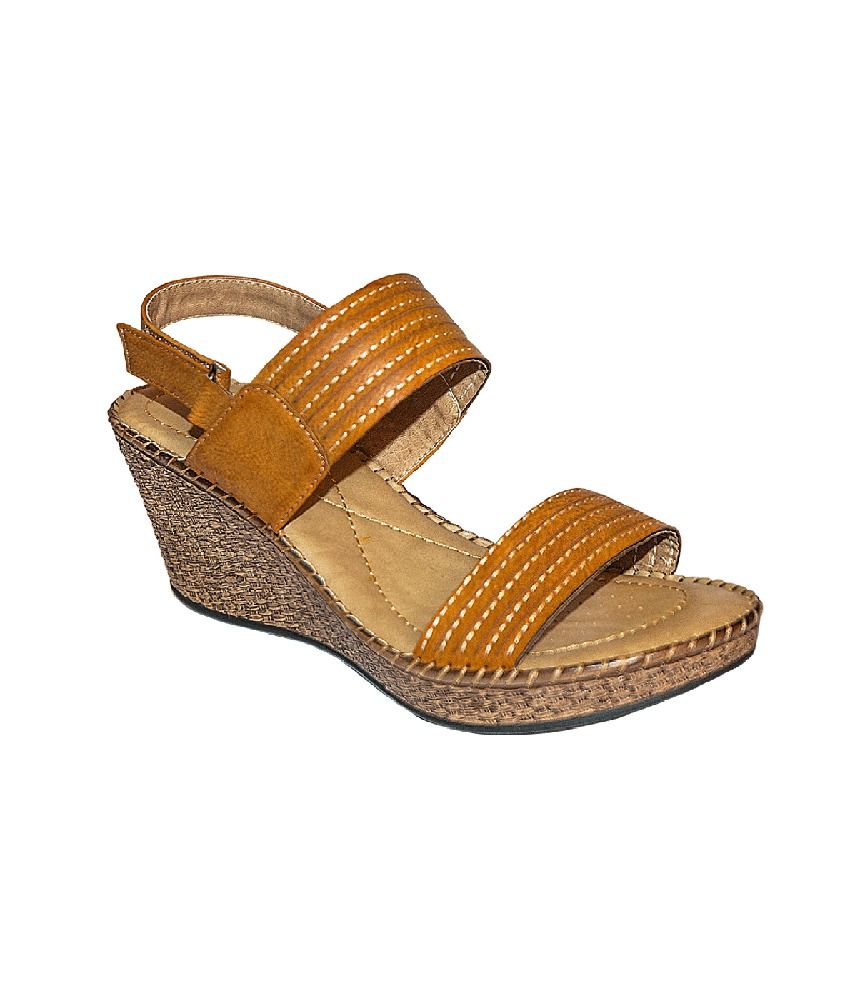 Style:
Pairing this with a simple Anarkali dress, or even any particular Haldi ceremony attire, sounds like a proper plan to me. 
Stylish Golden Stellato from Sharon
Stellato's are a perfect accessory, besides any hot outing dress or even an exclusive outfit that can be worn out for any special occasion. The golden colour of the heel makes this more appropriate for wedding functions. Besides, this will remind me of a grand celebration or a perfect festival too.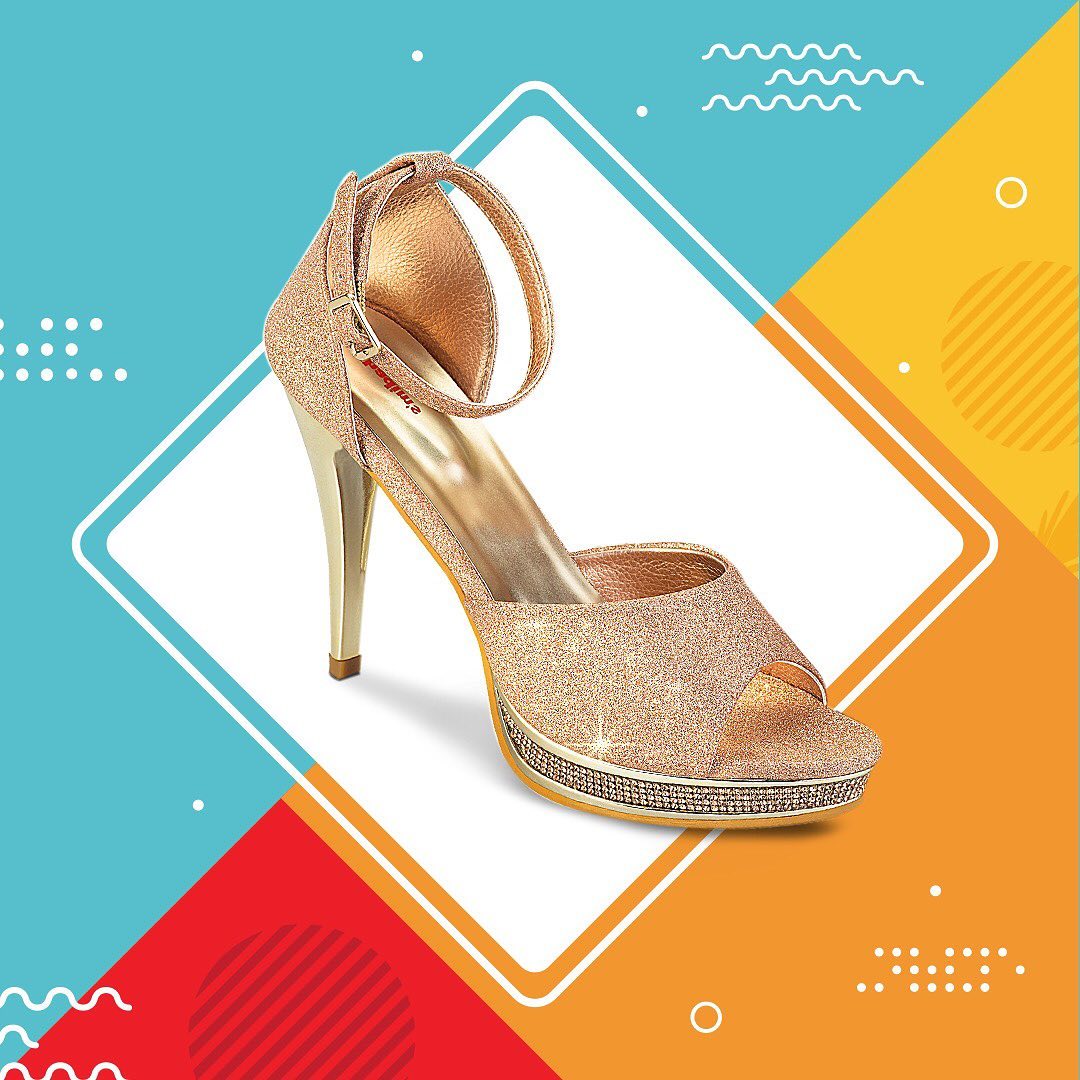 Style:
Although many people do not find comfort in wearing a Stellato heel, it happens to be a great design for certain outfits. 
Sturdy Kitten Heels from Khadim
Kitten heels, on the other hand, are quite comfortable and flexible too. You'll find it much more flexible, and comfortable at the same time. The heel design is really cute and well-placed, which makes this Khadims Shoe good for a woman who just tied her nuptial knots. 
Style:
The Sturdy design of this particular heel has a lot more details in terms of wedding heels. This is a fairly good choice, for women who prefer low heels and want their outfits to be well matching with their footwear designs. 
Golden Beadwork Khadims Chappal
The bead-work of the Chappal is just extremely beautiful and well-placed. Like, you're supposed to fall in love with these kinds of footwear. This is exclusively available online on the official website of Khadims Online Store.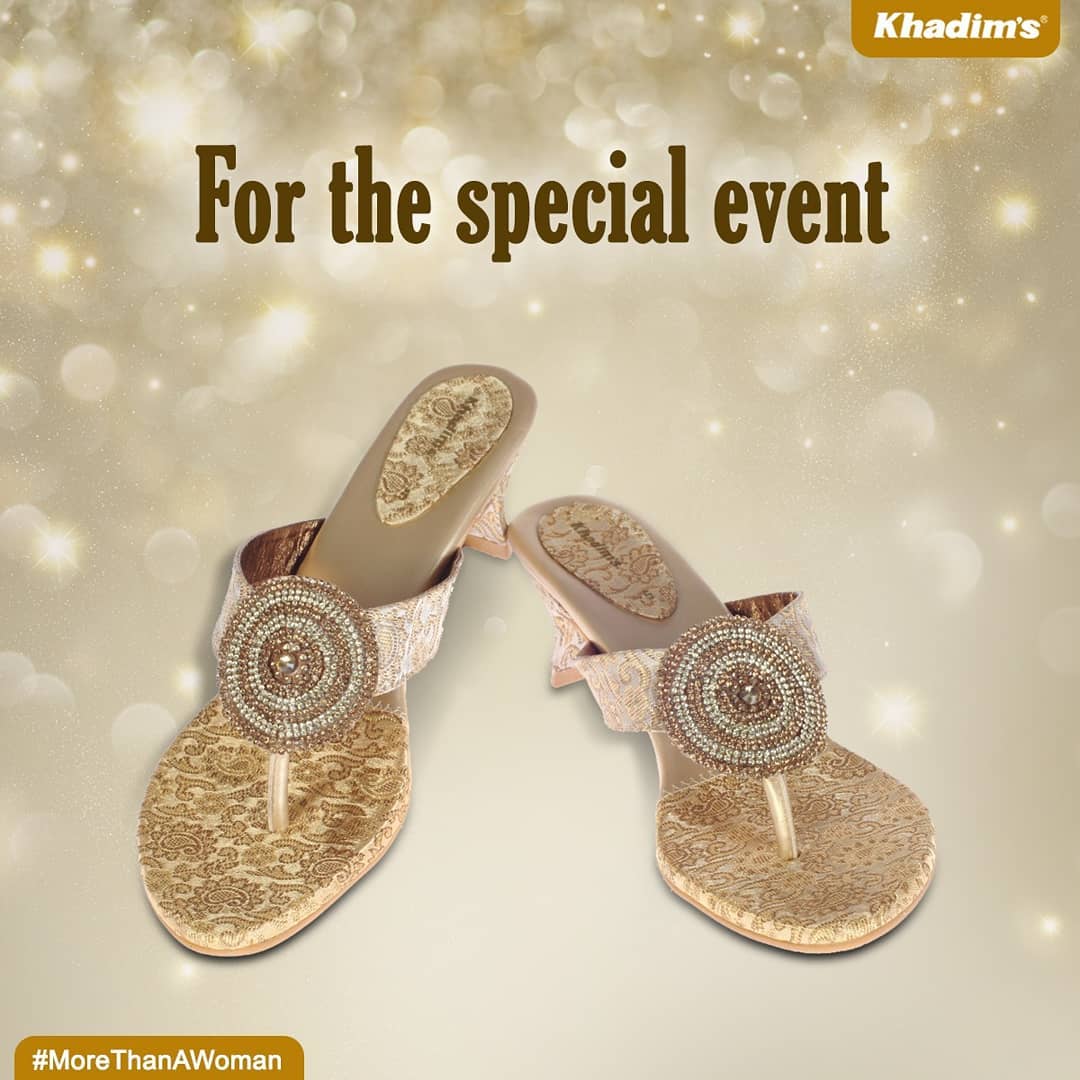 Style:
The style of these kinds of heels is comparatively less high and more comfortable in the sole region. Like, you can run around in these kinds of footwear designs. 
Khadims Casual Collection:
Khadims Shoes are popular all over India. They have such amazing designs for comfortable shoes, that it is an audience favourite brand. Their range of shoes, like Cleo, Sharon or Soft-touch has gathered immense credit over the years. Here, we have got a list of such designs that can be worn as casual footwear.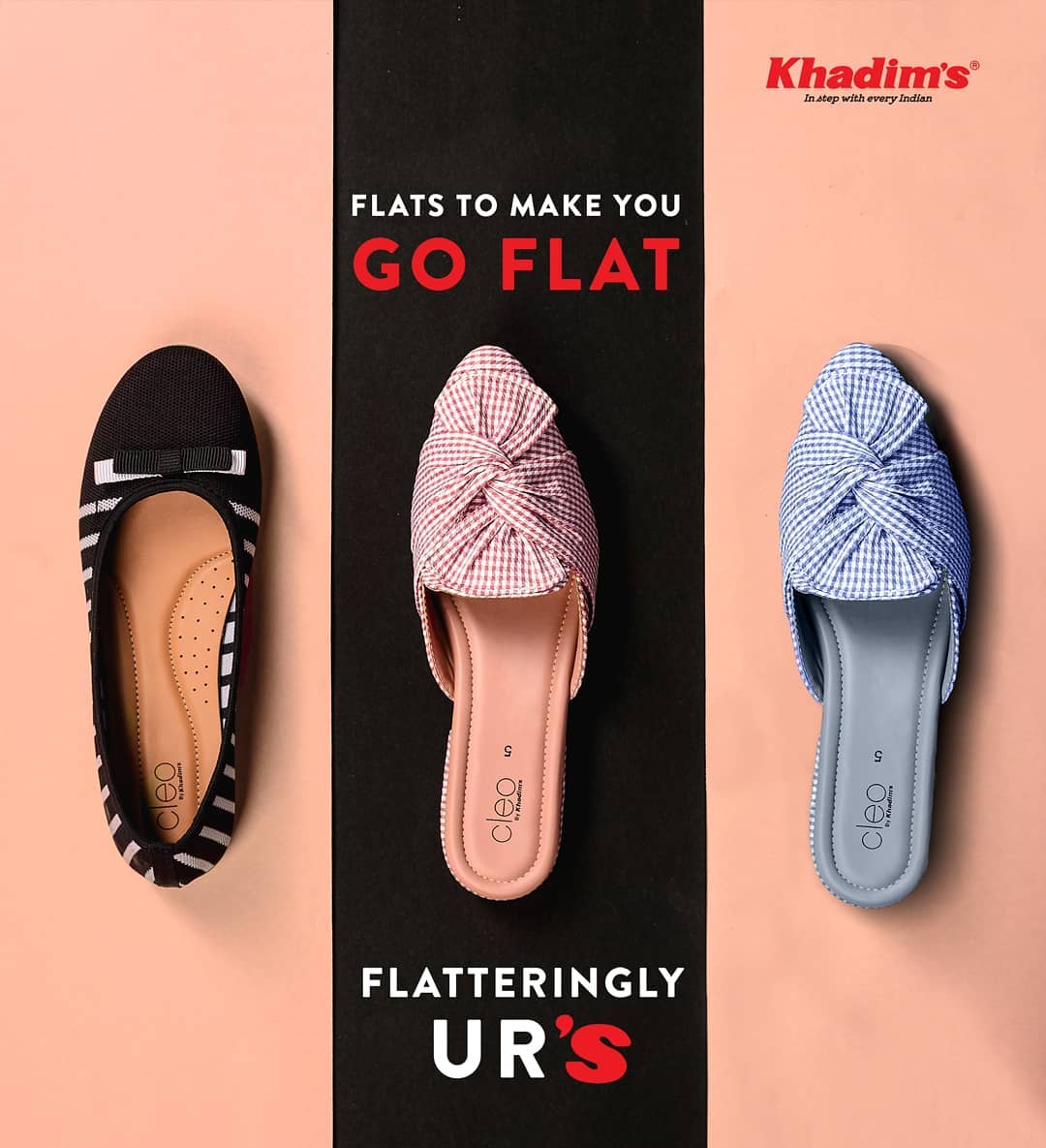 Red Botted Heel from Khadim
The botted designs are already quite popular in the fashion industry, even better when it is about decorating the base of the heel. Yes, this footwear design has an assorted heel too. This is more like combination footwear.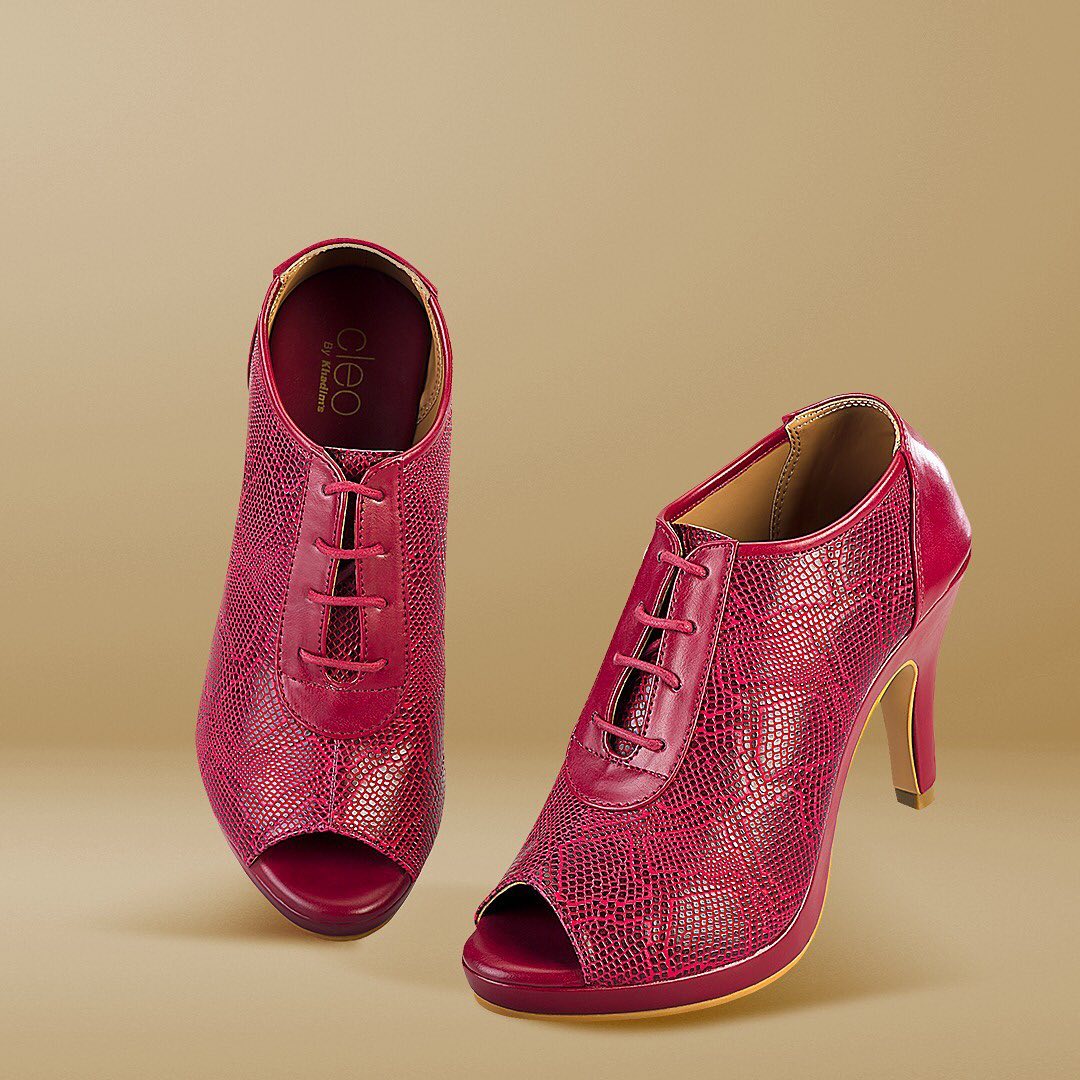 Style:
The red colour of the boot and heel design is just gorgeous. Once you see these kinds of heel designs, you would not be able to control the temptation to purchase these kinds of heels. 
Pink Khadims Soft-touch Valentine Shoe
These shoes are pink in colour and have been in the fashion trend for a while now. This Valentine collection was first introduced a couple of years back, but it became so popular that everyone wants their share in this Khadims shoe design.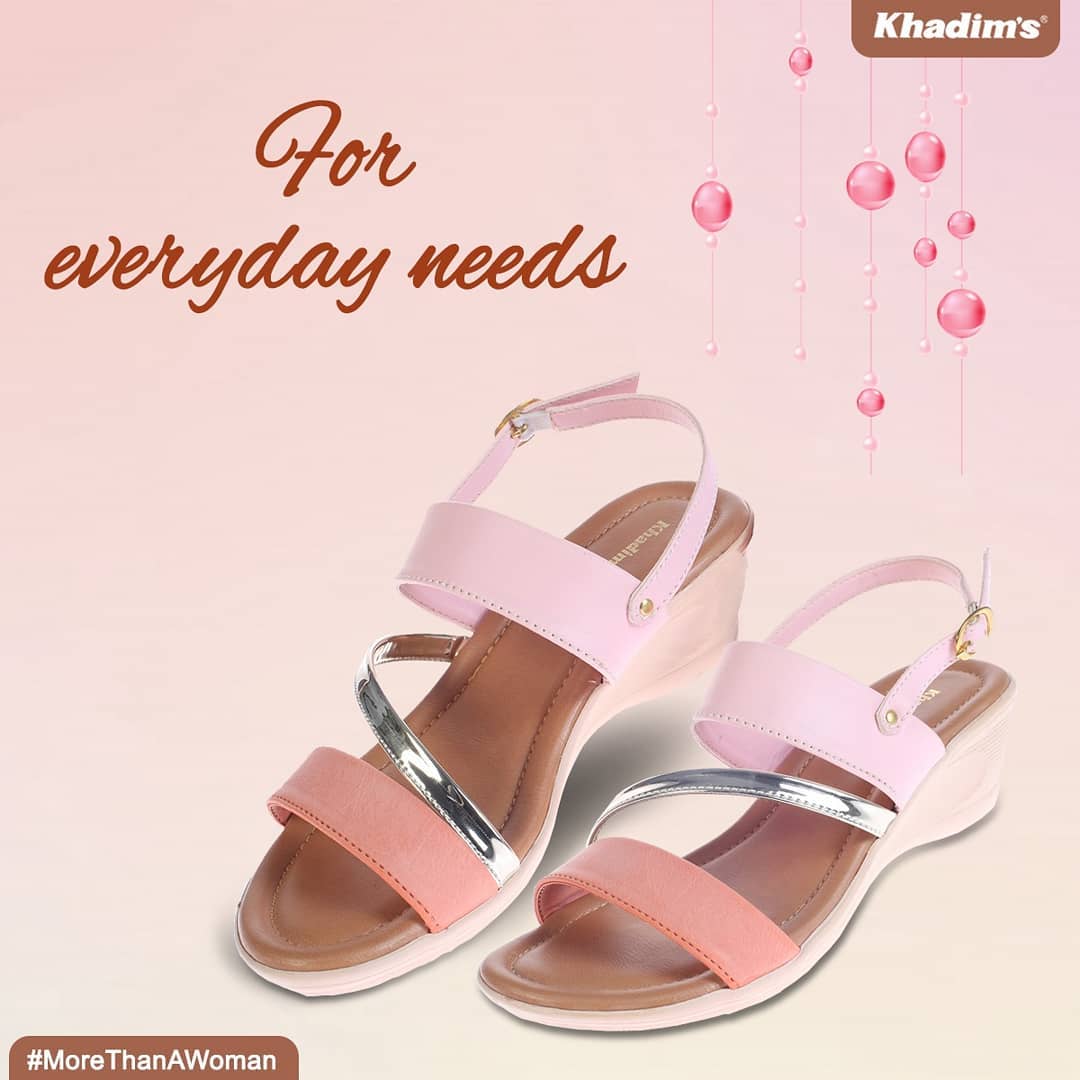 Style:
The pink glossy colour of the show is the main attraction in buying this design. You're supposed to like it in every little way. 
Beige Crisscross Khadim Cleo Wedge
The colour beige is a really underrated colour in terms of bridal outfits. But this is a really popular colour when it about choosing the shoe design for brides out there. The simplicity of the crisscross pattern is quite popular and highly appreciated over the years.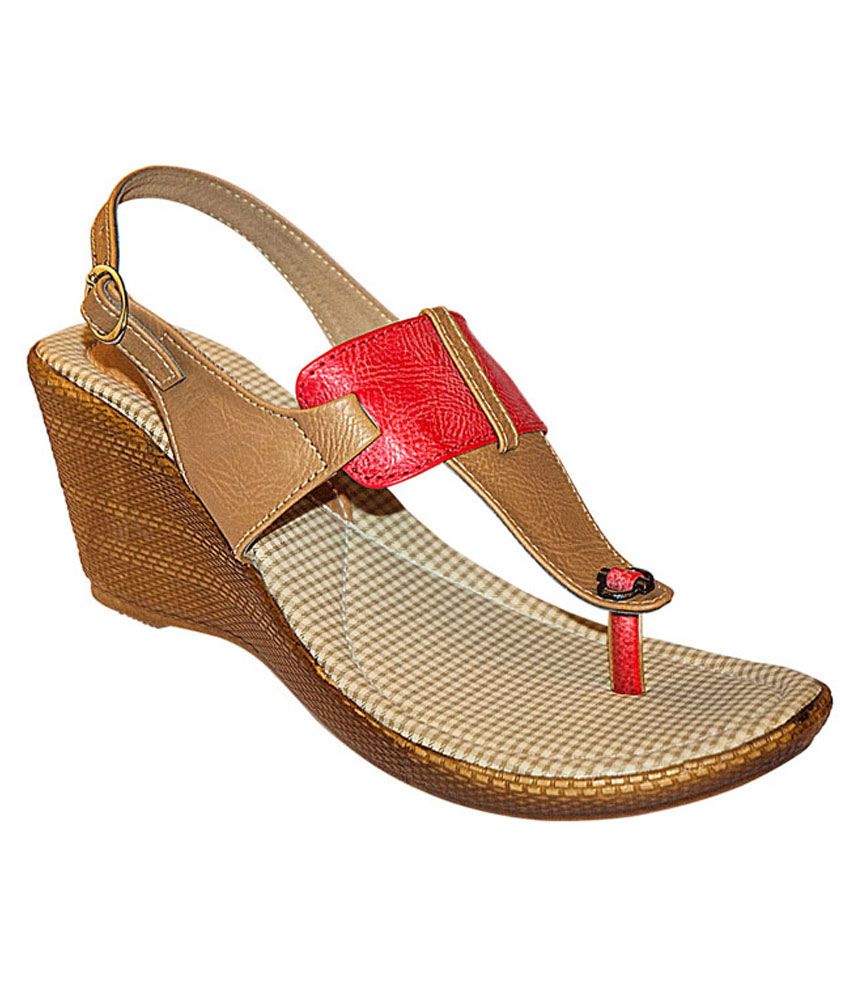 Style:
The beige colour and the crisscross pattern of the shoe is highly underrated when it about choosing the right shoe for the bride. 
Jute Colorblock Cleo Khadim Heels
The jute designs are somewhat really popular in recent times.  The elaborate detailing of the shoe makes this appropriate for almost any outfit. Especially perfect for cryptic outfits, or even classical formal attire.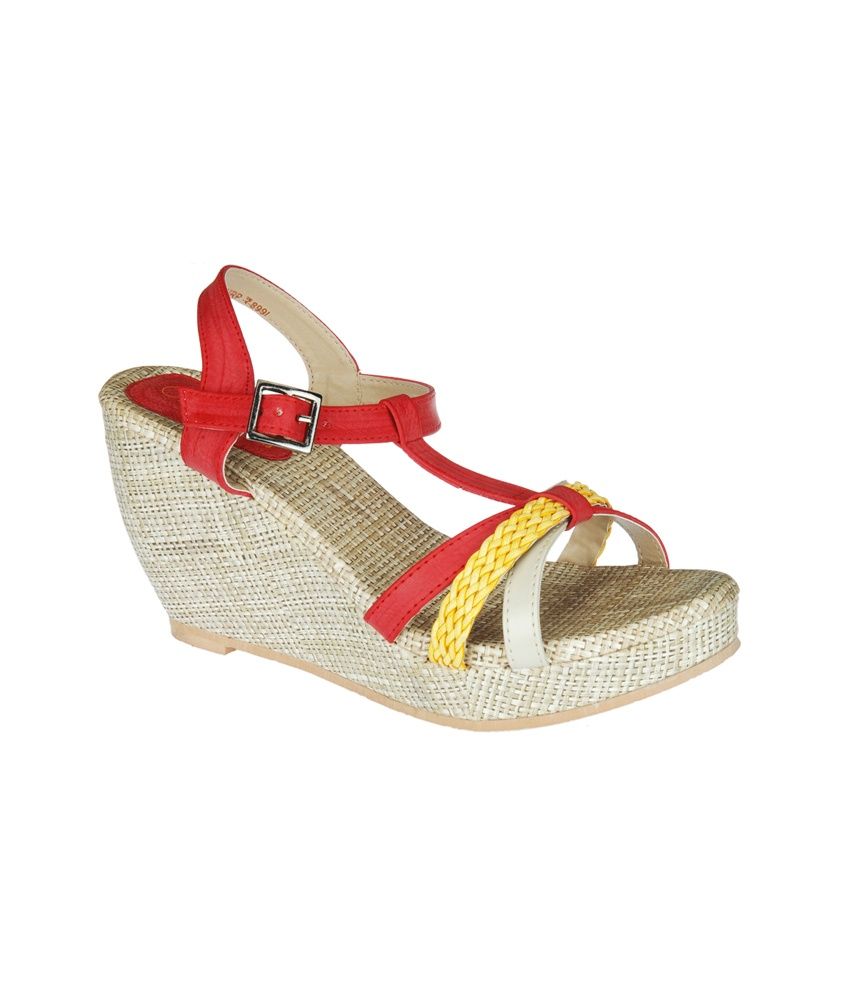 Style:
The colour block scheme of this shoe is perfect beside any basic coloured outfit or even a full-fledged post wedding ceremony dress. 
Stylish Metallic Khadim Shoe
The Metallic sandals by Khadims are a perfect fit for bridal footwear designs. The designs are exclusively out there, in the online store as well as in the offline stores. The simplicity of the sandal makes this a really good choice4 for newlyweds.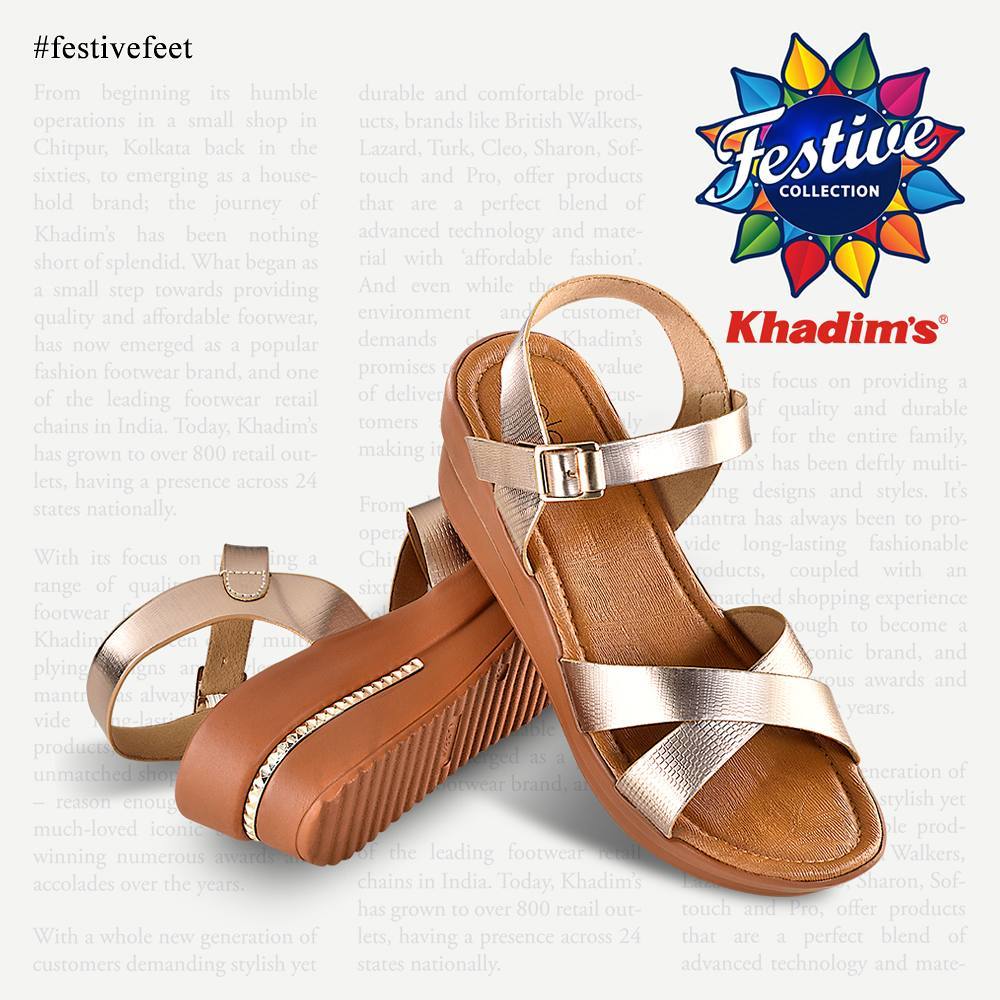 Style:
The style is simple but really very elegant and subtle as a bridal footwear design from Khadims. You'll definitely choose this as one of your bridal shoes 
Among so many options for footwear designs by Khadims Shoes, choose the one that suits you well. To know more about bridal fashion, Wedding Rituals, Foods and other Events, visit myMandap.