A Sreeleathers Shoe is a must-have accessory for any bride, especially when she is planning on her wedding day. The people of Kolkata and the rest of West Bengal, sought this brand, for their Bengali wedding shoes, and daily wear items.
Here, we've some of the most common designs for brides and Ladies who are in between their Indian wedding shopping.
Top 10 Bridal Footwear from the Sreeleathers Collection:
You might need multiple accessories before the wedding day, among which the shoe and the handbags come first and foremost. The online store has some fabulous Sreeleatheres Shoes For Indian Groom and brides, that are perfect for weddings, while the offline range comprises certain hidden gems too. We've some of the best-selling shoes from the Showroom and the online store.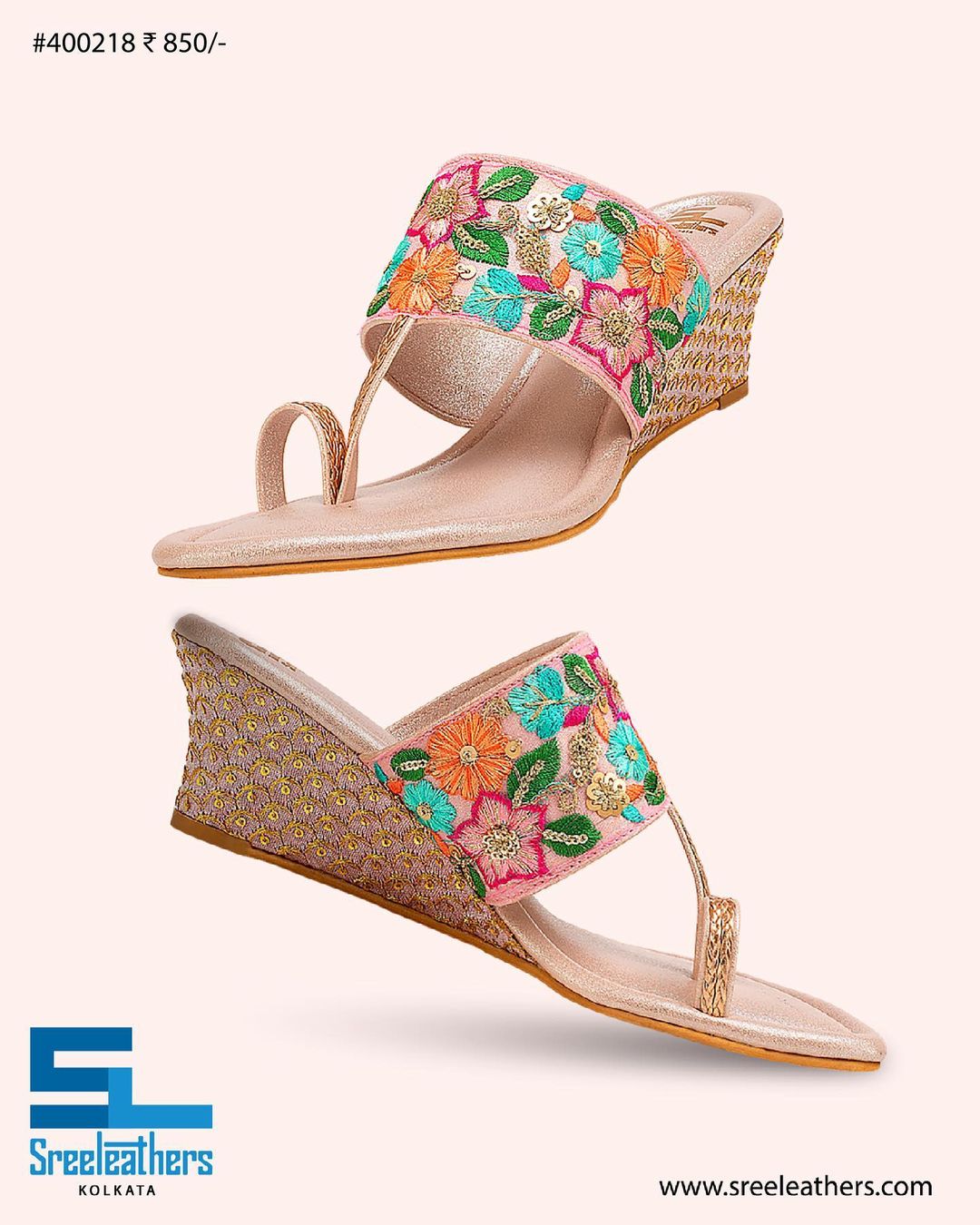 Sreeleathers Zardozi Bridal Kitten Heels
The fabulous designs on the shoe are perfect for any newlywed, or even a bride who is expecting marriage.  The stitching on the shoe is appropriate for Brides, who're aiming for a shoe that is affordable and also a really good product.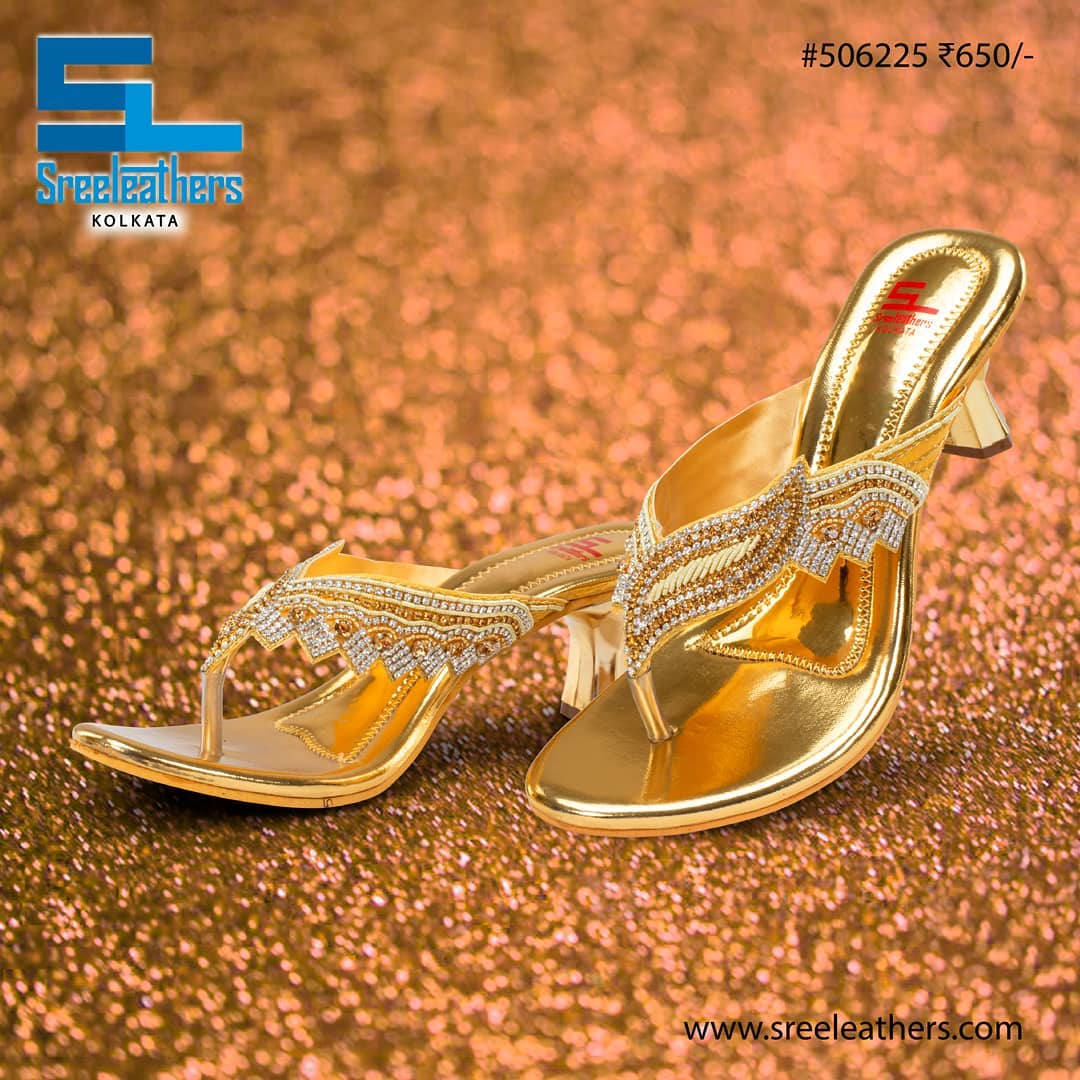 Collection:
Sreeleathers Shoes like these, are an absolute steal. It hardly stays in the Showroom stack, once in stock. Customers love these kinds of footwear designs with Zardosi embroidery on it. 
Check Also: Flower Jewellery Ideas
Bronze Sreeleathers Bridal Footwear
Bronze shoes are amazing, especially with such fabulous embellishments on top of it. Designed with white stones, and stitched beads on top of it. The design is usually properly framed and hence, makes a good fit for would-be brides, and even the wedding shoe.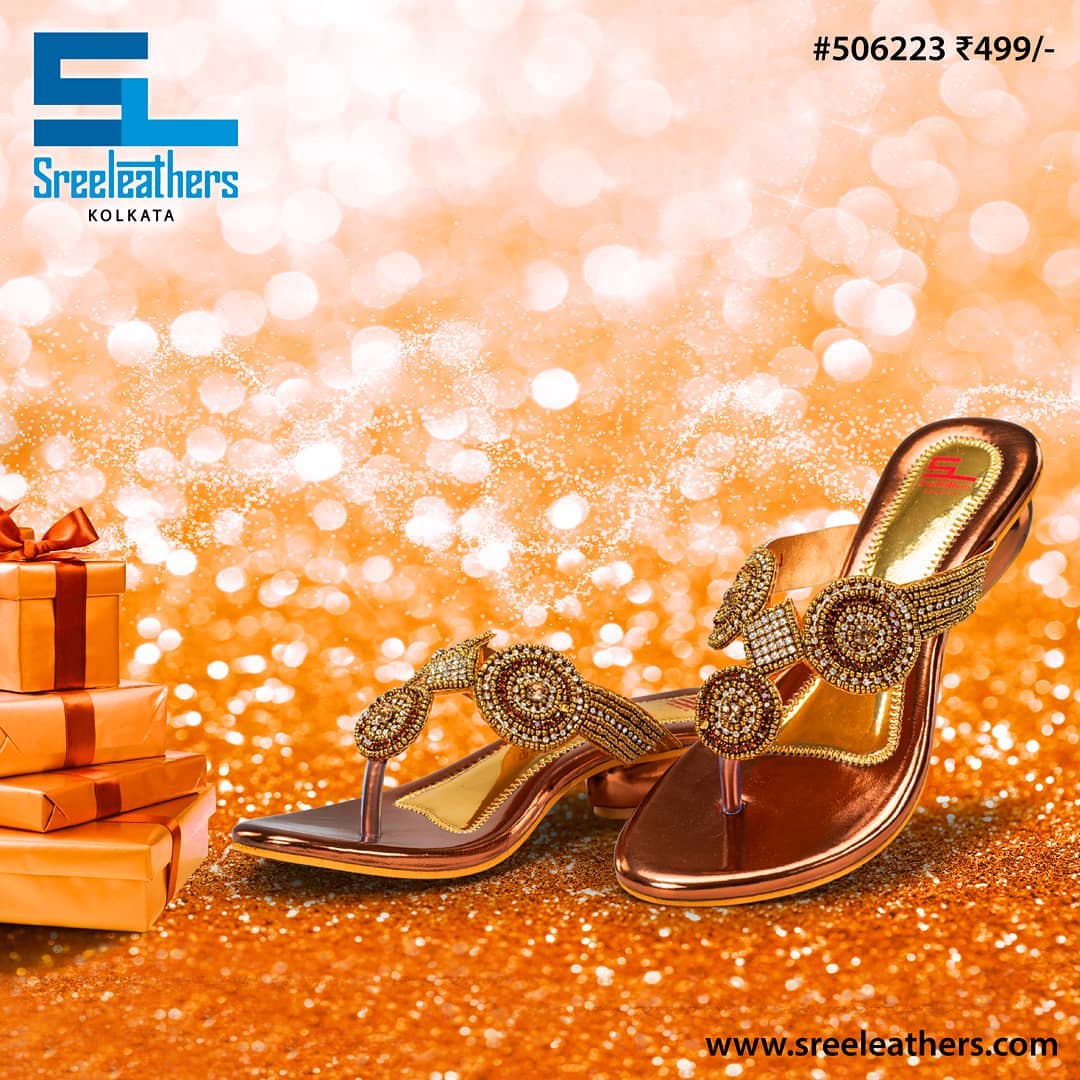 Collection:
A bronze shoe is a good fit for a bride, as she can wear this on the wedding day as well. Such Sreeleatheres shoes are never in stock as it is always sold out. 
Multi-coloured Bead Work Sreeleathers Sandles
Beadwork shoes are a bridal favourite, especially because the embellishments on the shoe are just perfect and worth wearing for the big day. The people of West Bengal would never miss a chance to visit the Sreeleathers Offline Showroom and find some shoes that fit them well.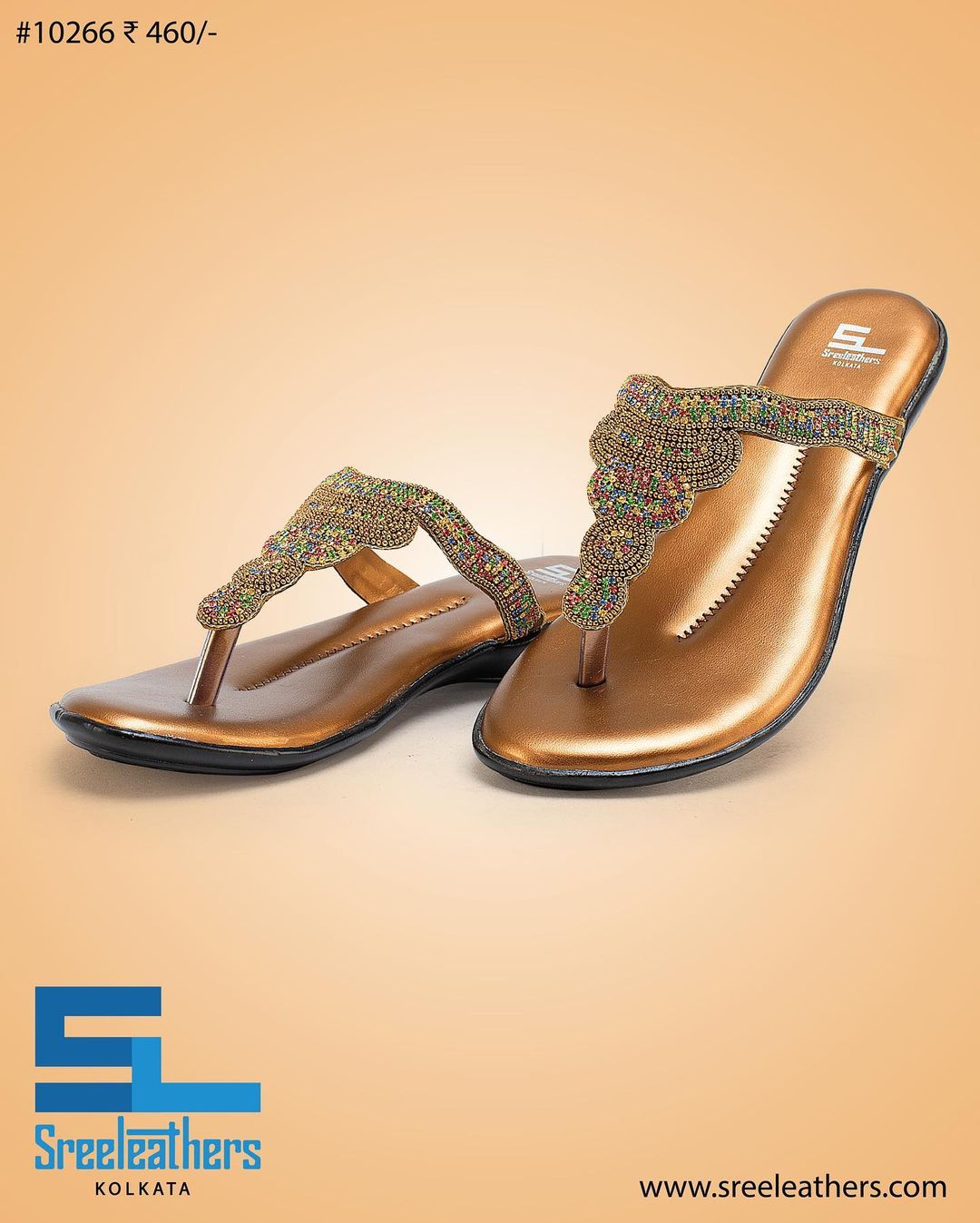 Collection:
Most importantly, this is a flat sandal. Such sandals with beautiful embroideries on top make them perfect for brides and ladies, who do not prefer wearing heels. 
Check more: Nagra Juti Style
Kolhapuri Brown Juthi from Sreeleathers
Although this a chappal, this is the most relatable fashion statement that can be worn easily at a reception party or even a simple Haldi ceremony. Not just for wedding guests, but also the bride can pair this chappal, alongside her gorgeous bridal lehenga, or even the fancy Patiala suit.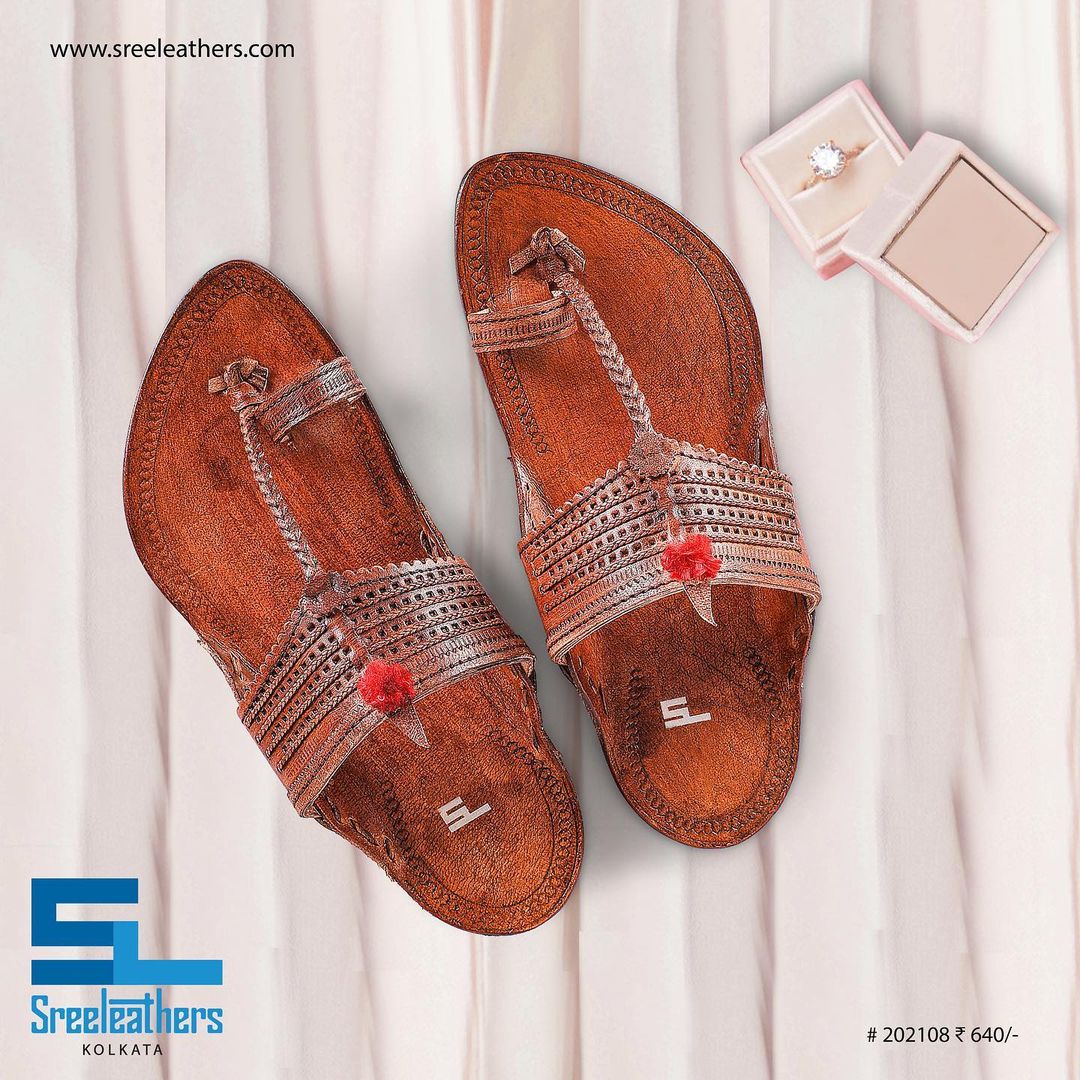 Collection:
The best part about these kinds of chappals has to be the design in which it endeavours. The collection is casual but really elegant and perfect for newlyweds and marriage parties. 
Also check: Adi Mohini Mohan Kanjilal Sarees 
Embroidered Yellow Sreeleathers Wedge
The word yellow itself, reminds you of a beautiful Haldi Morning, or a daytime wedding, right? Supposedly, the wedge heel from Sreeleathers Shoes happens to be from that very collection. A summery day with sweet sunshine. The collection is worth it for a bride.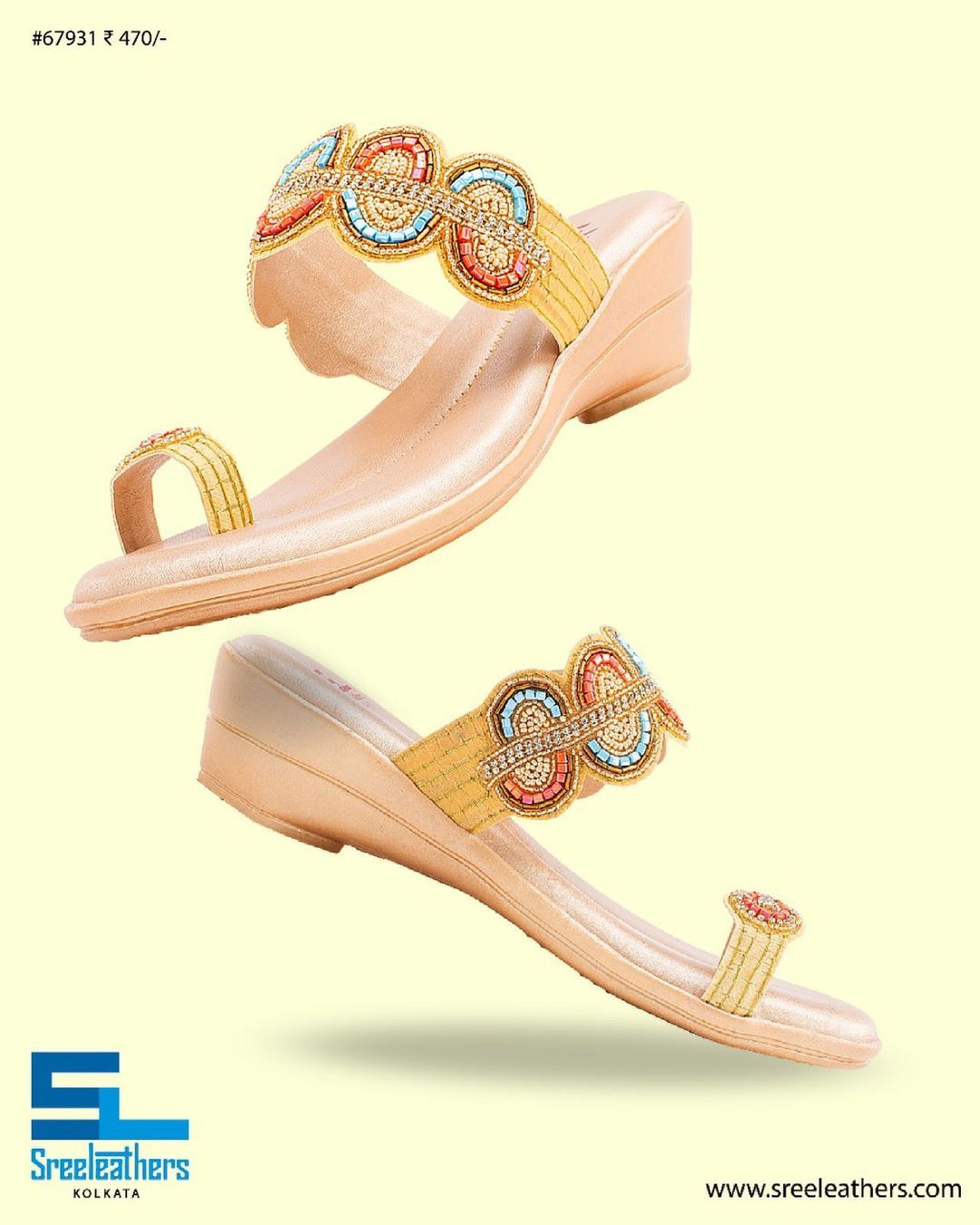 Collection:
She can easily wear this with her Haldi attire, and also some other moring rituals that associate her in the picture.  
View more: Ajanta Shoes
Bridal Mules Sreeleathers Jutti design
These mule designs are fabulous and extremely comfortable to be worn for any simple wedding function. This is more common for Punjabi brides, but Jutti designs, are becoming a trend in Eastern India as well.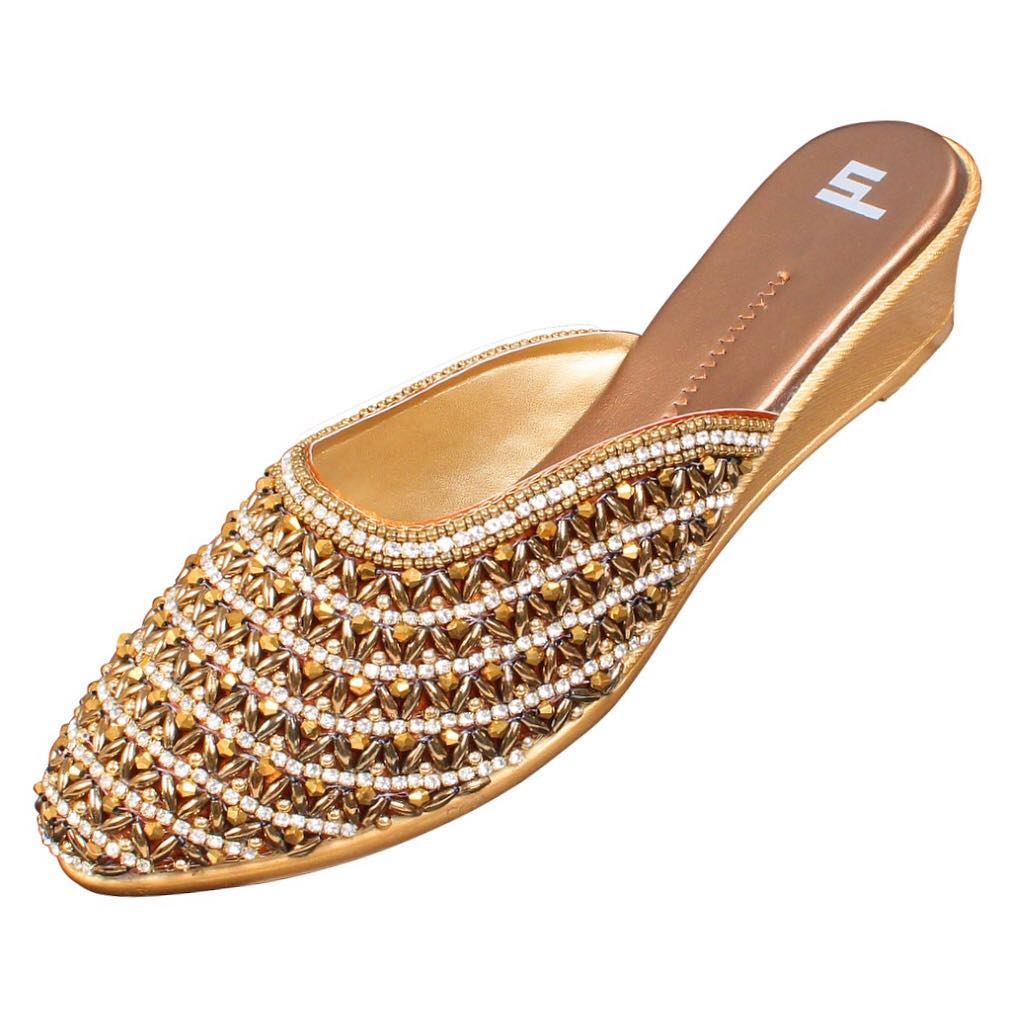 Collection:
The colour, and the embellishments on the Sreeleatheres shoe, do es make this is more appropriate wear for the big day. Rather than a casual pair of hells, that can be worn on a simple occasion. 
Blue Phulkari Sreeleathers Wedge Heels
Phulkari is a typical design from the North-Western corridor of India. It happens to have several variations on the top of the shoe, but a really good choice for the big day. Although it not so high as a heel it is quite soothing and good for brides and newlyweds.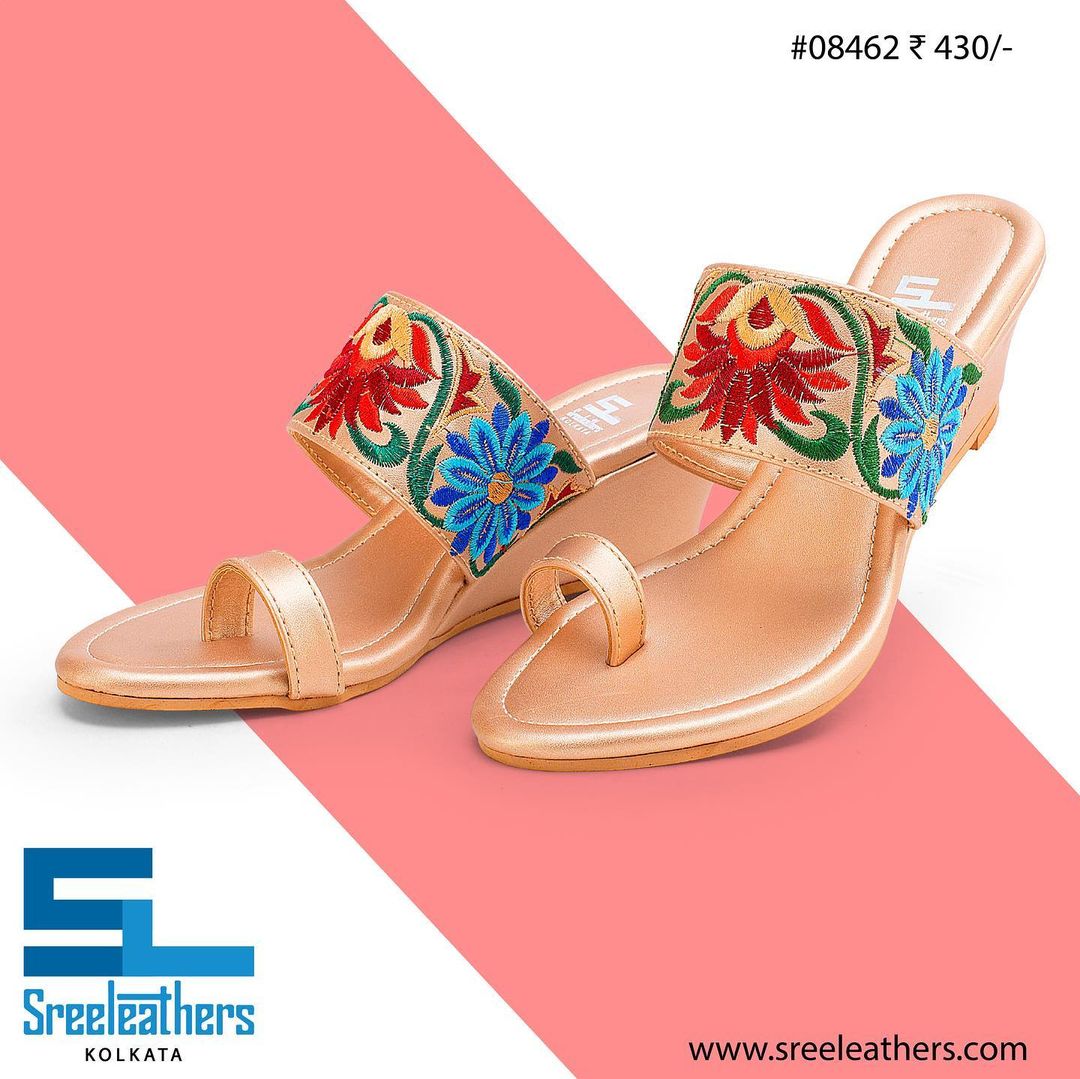 Collection:
This is not a leather shoe, certainly a perfect heel design for ladies. And, the price at which Sreeleathrs Online Store is providing you with it is, is an absolute steal. 
Also check: Luxury Couple Watches for Weddings Gifts
Bead-work Mule Sreeleathers Shoes
Th Sreeleathers Brand hosts multiple collections among which the Beadwork range is really popular among brides in Kolkata. The design is really simple but extremely gorgeous. The simplicity of the shoe is the winner and you cannot stop yourself from buying these.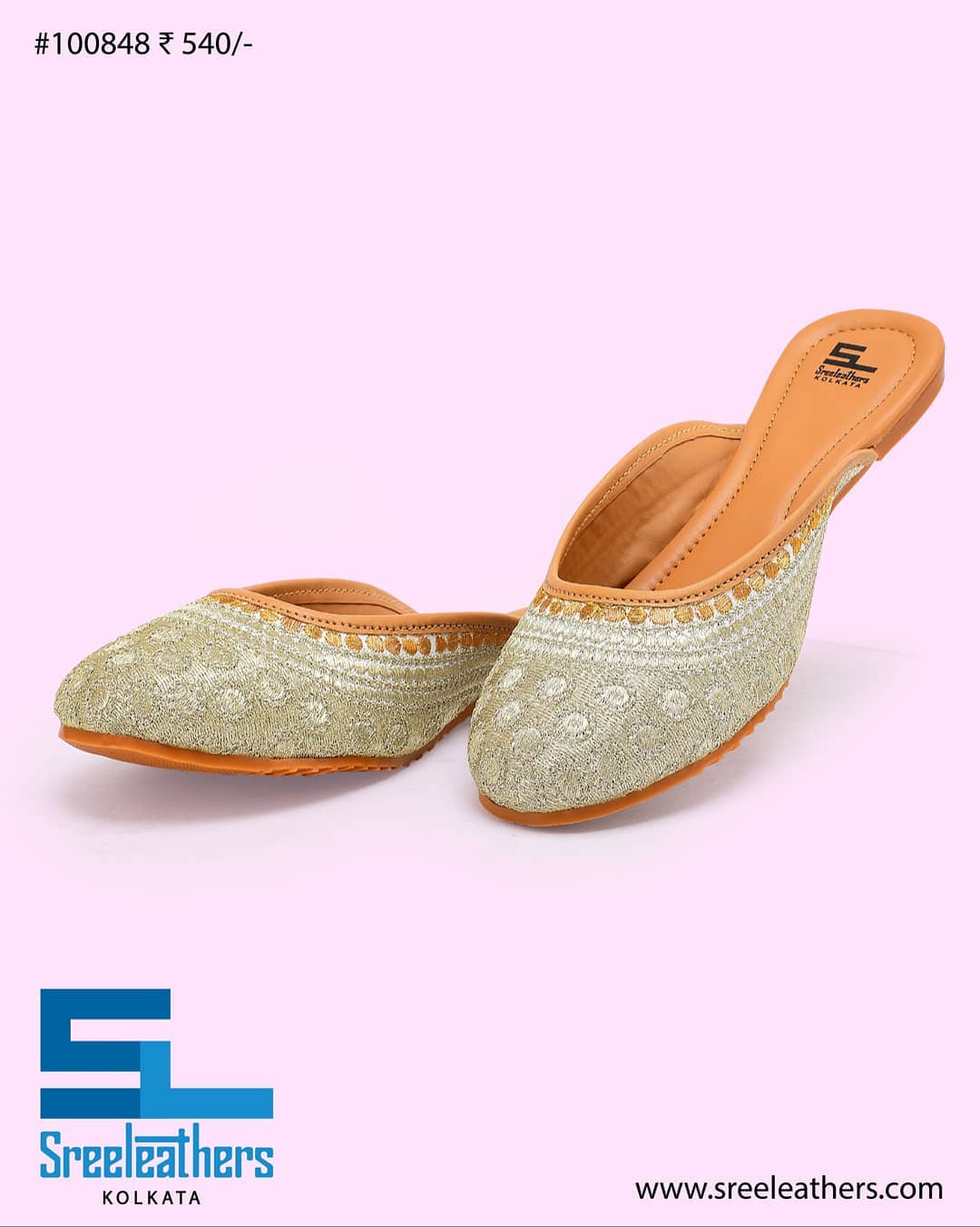 Collection:
The best sealing Sreeleathers Shoe among other bridal designs for Ladies. This is really cool, and quite comfortable too. 
Check also: Zudio Store
Pearls Embellished Sandals
Any Bride would want to buy this for her big day, especially the reason being the pearl and white embellishments on top of it. The gorgeous shoe design happens to be a picture-perfect Sreeleatheres Shoe. The heel is quite comfortable in terms of height, and the sole of the shoe is slightly soft too.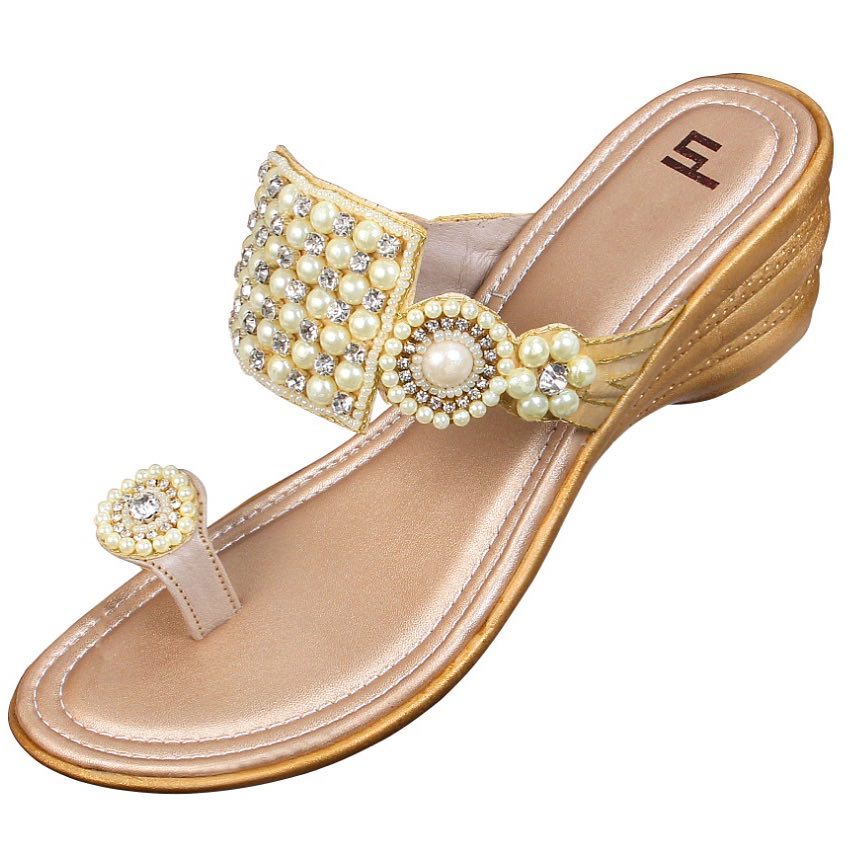 Collection:
The soft portion of the shoe makes this more appropriate for brides, and certainly good wear in terms of Bridal shoes. 
The Haldi Ceremony Collection
This is a completely different collection altogether, it comprises of shoes that are yellow in colour and are in the range recently. This is a brand new collection from the Sreeleathers Online store, this has both low heel sandals, as well as high heel wedges. 
Collection:
Appropriate for women for their daytime weddings, Haldi ceremony and other smaller events too. 
Top 5 Sreeleathers Wedding Bags and Vanity Boxes for Wedding
This collection consists of some amazing colour combinations for Ladies. The Sreeleathers Showroom is filled with amazing school bags, leather handbags, quality footwear, purses, wallets, and many other small and intricate carrying accessories. Here, we've some company's products that are fabulous and specifically meant for weddings and newlyweds.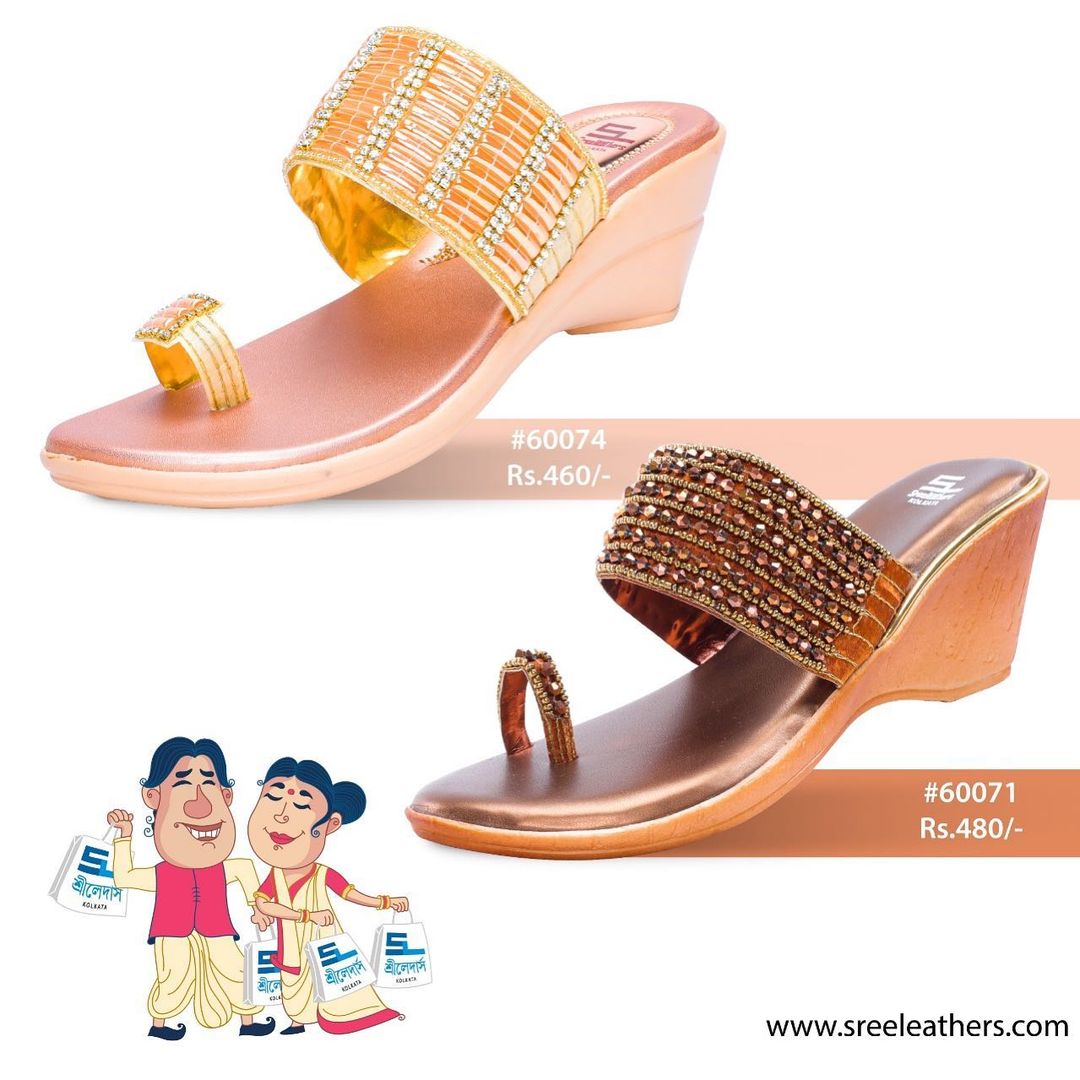 Beige and Yellow Ochre Couples Collection
The colour beige is a really uncommon colour, that became a footwear trend in the year 2015. The yellow ochre colour makes it more appropriate for the Haldi ceremony and even the post-wedding rituals. Surprisingly, this collection from Sreleathers is paired well with men's quality footwear designs, leather bags, wallets and even fancy purses.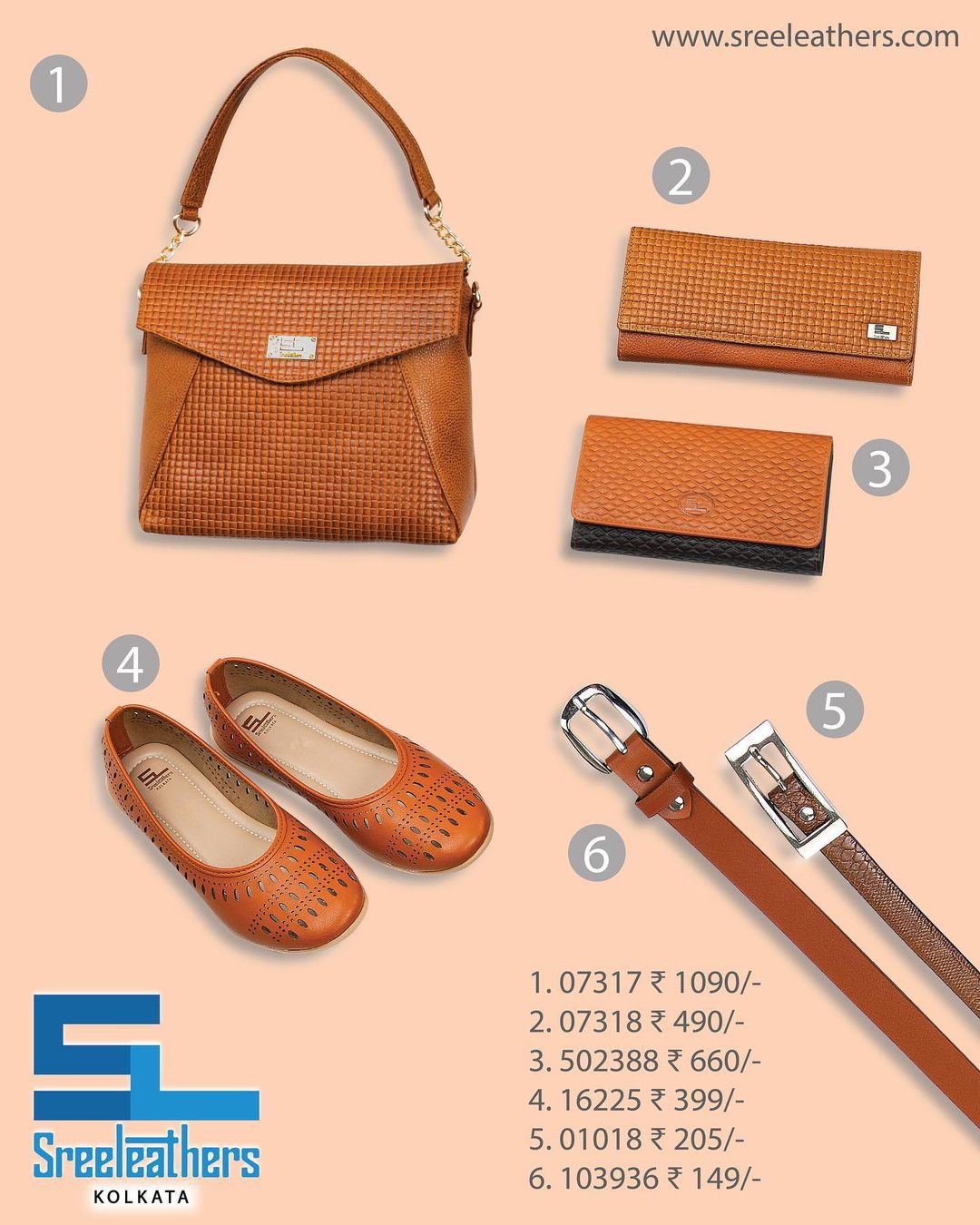 Collection:
Comprises of exclusive handbags, Sreeleathers Ladies shoes, leather wallet, and even a Sling Bag at a fair value. 
Check more: Mojari Styles for Men
Red Couples Collection
Red is a very marriage-like colour, especially perfect for women in a wedding ceremony. This collection certainly has some of the best leather handbags, a  market cap and a leather jacket, with some other awesome designs.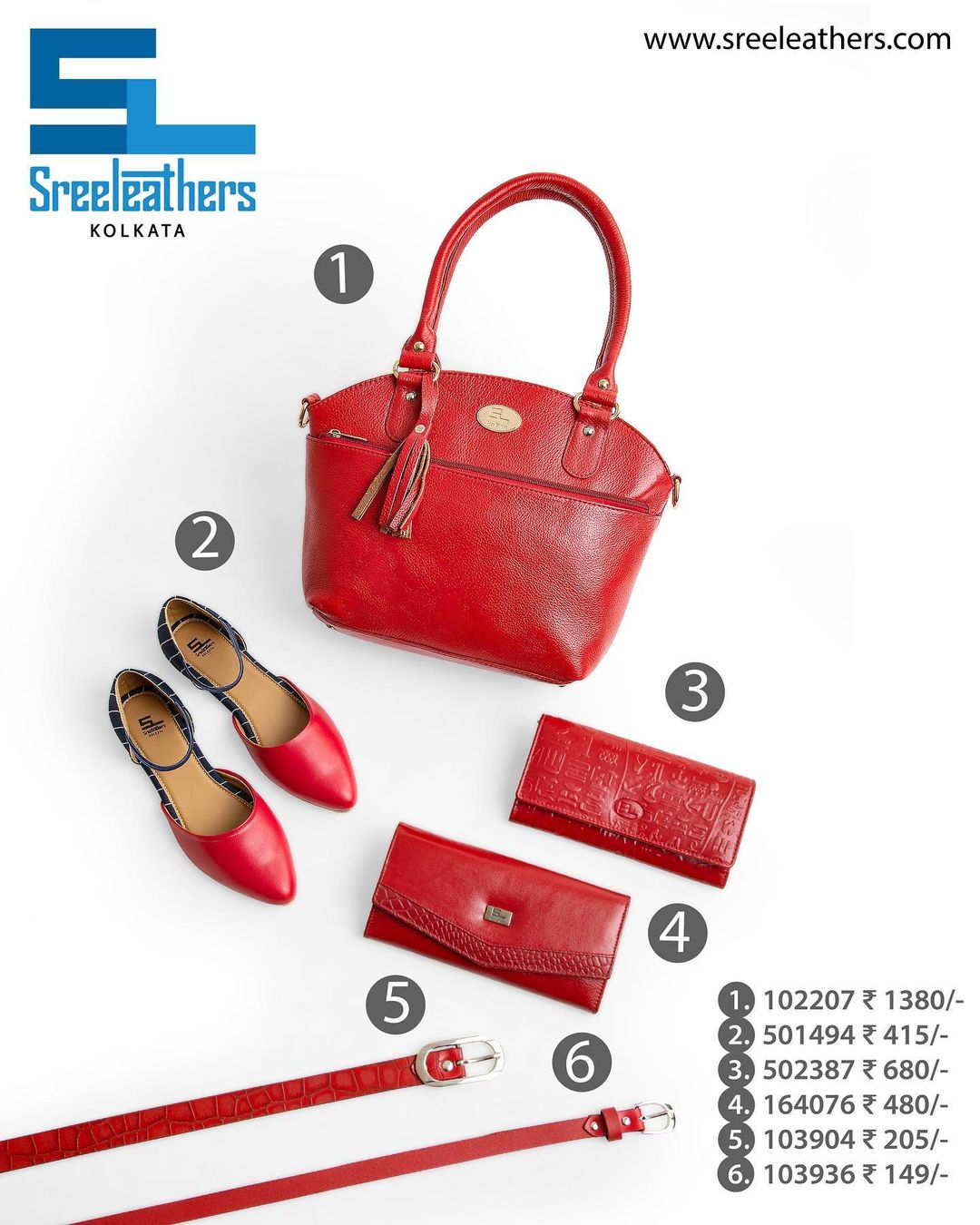 Collection:
The red hot handbag in the showroom display is a steal, and the rest of the Women's collection is a must-have for anyone who is getting married in recent times. 
Brown Vanity Sreeleather Boxes
Every woman out there needs to get her own Vanity box after she is settling in a different household. A vanity box is a perfect thing that can fit and accommodate bridal accessories on a daily basis. This particular design is brown in colour and can fit almost a fair quantity of basic necessities. 
Collection:
You can store some pairs of earrings, necklaces, and stock some of your regular makeup products in the box. 
Red Sreeleather Vanity Boxes
This is a fairly perfect place to store jewellery pieces inside the box and keep all your accessories in place. The fabulous red colour of the briefcase makes this more appropriate for newlyweds and you will get it from the Sreeleathers online store at a throwaway price.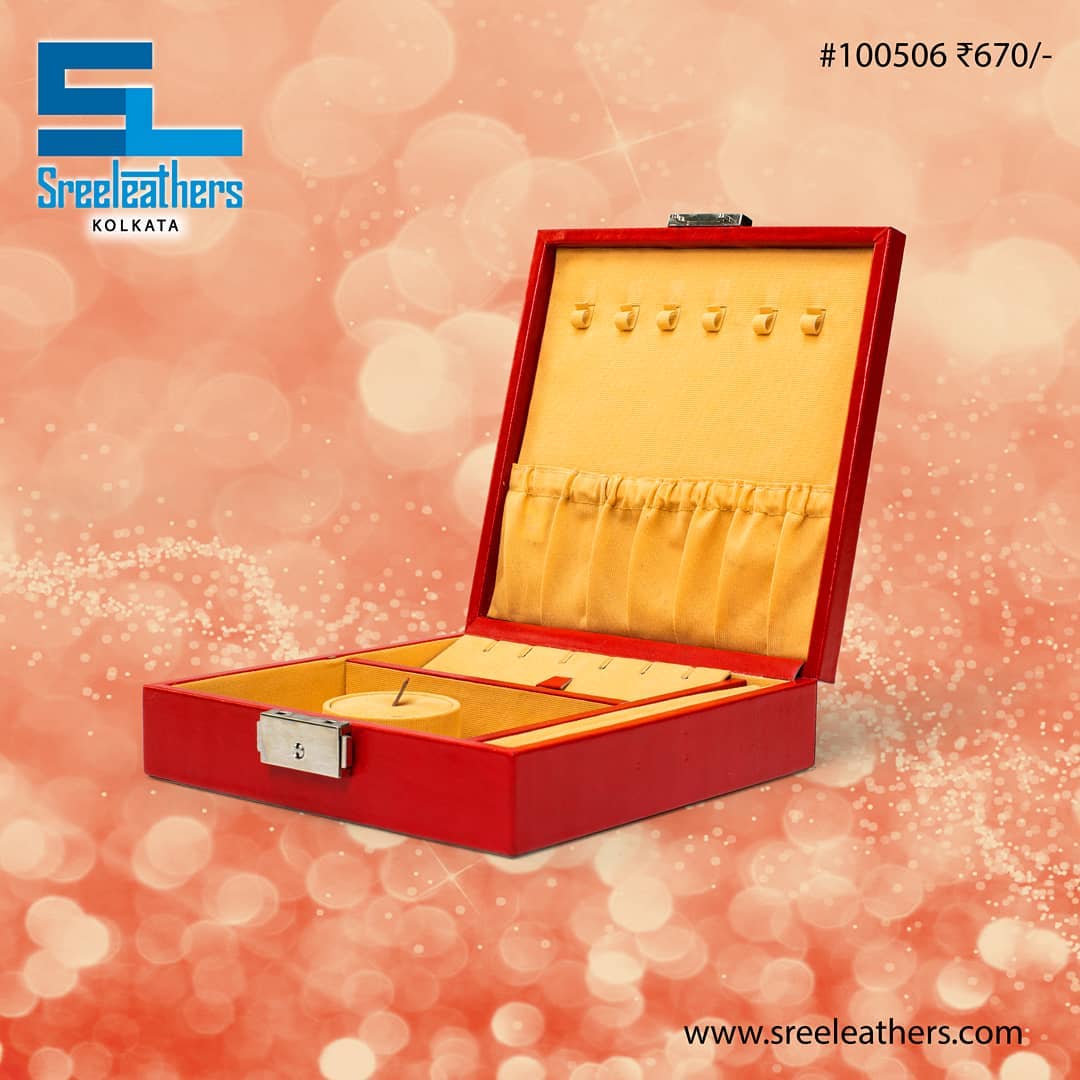 Collection:
This is in the bridal collection, most importantly for it is a perfect jewellery box. This is useful, and extremely affordable too. 
Check also:  Best Khadims Shoes Designs
Sreeleathers Maroon Vanity Boxes
The Maroon colour of this vanity range is somewhat in the Marsala Red family. The Sreeleathers Online Shopping Store has been a few options for this particular box and endorses designs related to the range. You can fit a couple of things inside the place.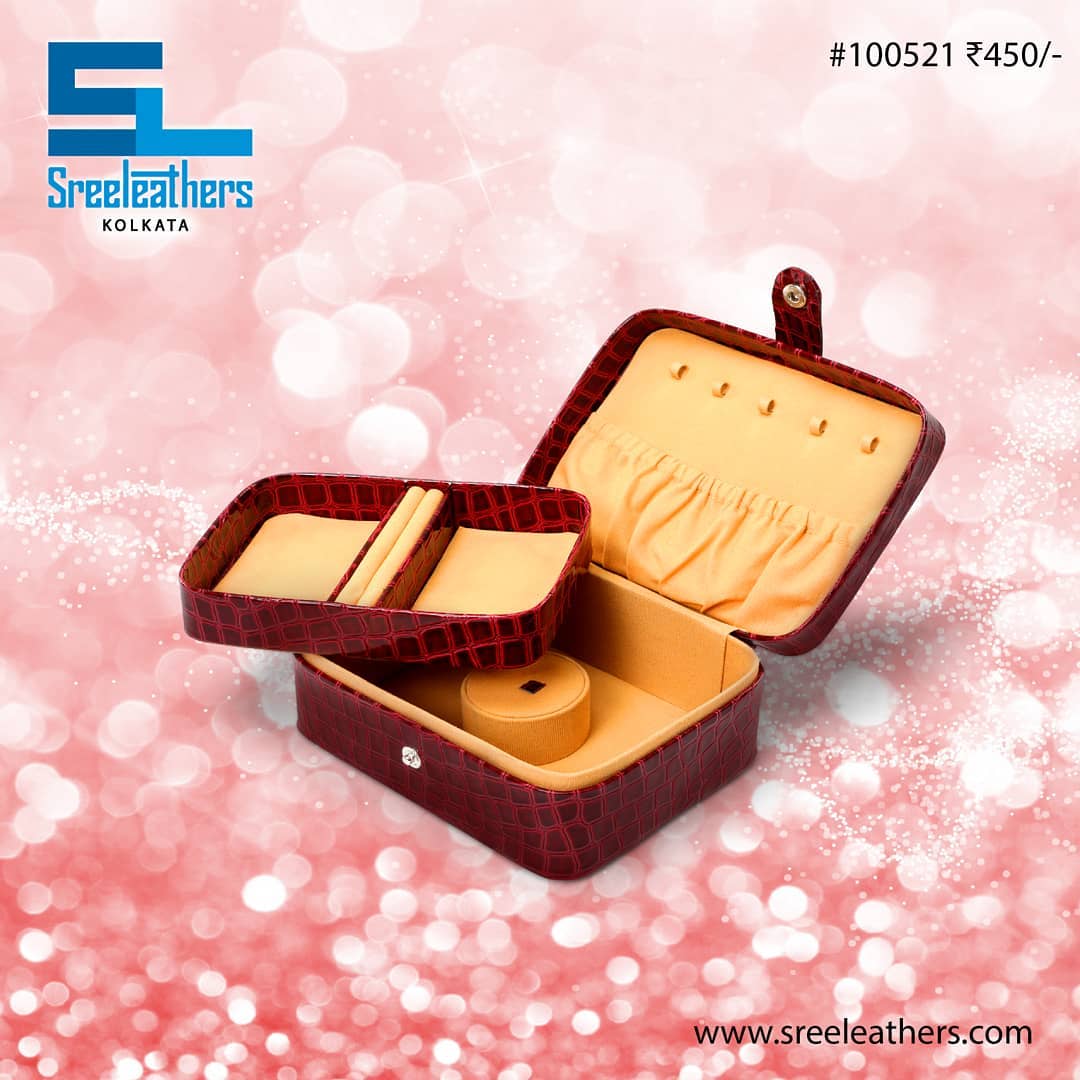 Collection:
Firstly you can fit your bangles and other accessories for the round base of the box. And, secondly, the upper section allows you to have partitions within your stuff. Among other Sreeleathers Shoes, this is a matching fit with their red range. 
These were some of the popular Sreeleathers Shoe designs that are popular with the people of Kolkata. These are perfect for Brides, and also for pre-wedding shopping sprees. To know more about Weddings and other related events, visit myMandap.