A Mojari for men is Fashionable footwear from North India.  This is one of the most hyped Ethnic fashion sandals. You can wear this one for the wedding ceremony, or even take it for the ultimate office party. Here, we have some amazing designs for Mojaris. 
Top 5 Pastel-Coloured Mojari for Men:
Pastel is a kind of accessory range, that is both loved and hated equally on similar parameters. People who hate pastels are supposedly not big fans of layering. If you are fond of layering and accessorising then Pastel is your bae. The Mules or Mojari Shoes for Men that we are talking about down below are typically in the light shade family. Beige, White, Cream and even Off-white Footwear Designs.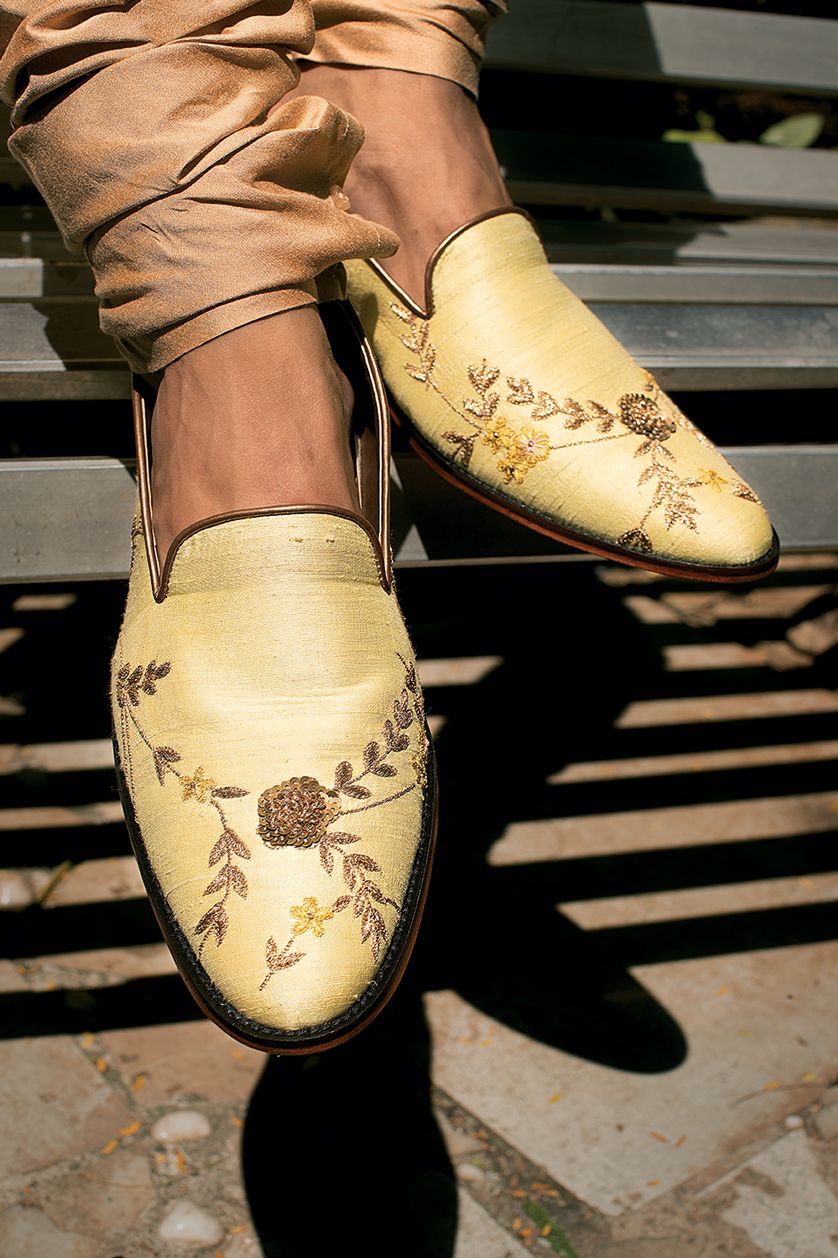 Seashore Textured Mojari for Men
Mojari is a significant design among wedding shoes for men. The pattern of this particular shoe has a really subtle outward texture.  Which resembles the nitty-gritty of a beautiful morning seashore. Clean and white footwear, with some really intricate gold thread detailing on top. As a men's wedding shoe, this is a feasible choice for people who have gathered a darker-coloured outfit.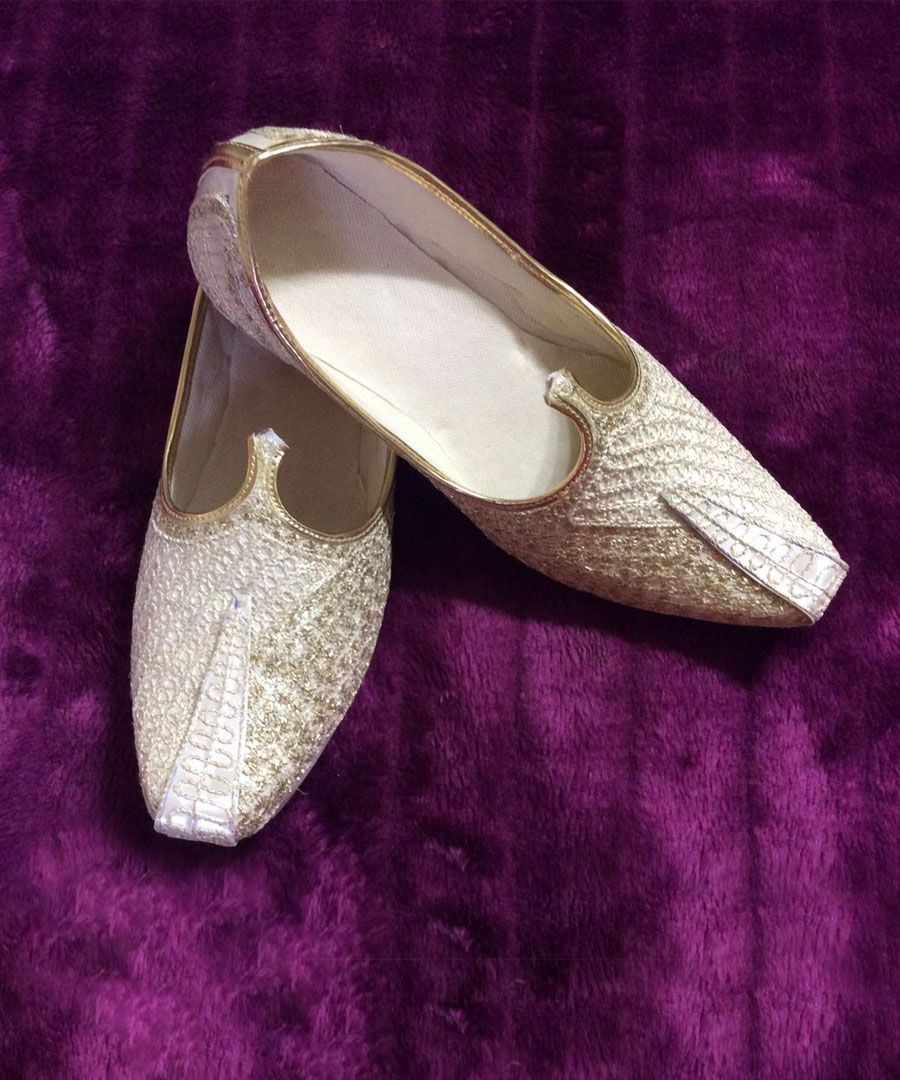 Flower Motif on White Mojari for Men 
If you end up with this dress shoe, then that is serendipity, in the world of wedding shopping. In fact, having one for the wedding day is quite strenuous for the wallet. But, you can find these kinds of designs from local designers too. Just ask them, to add a pretty flower motif, and include dealings around the frontier portion.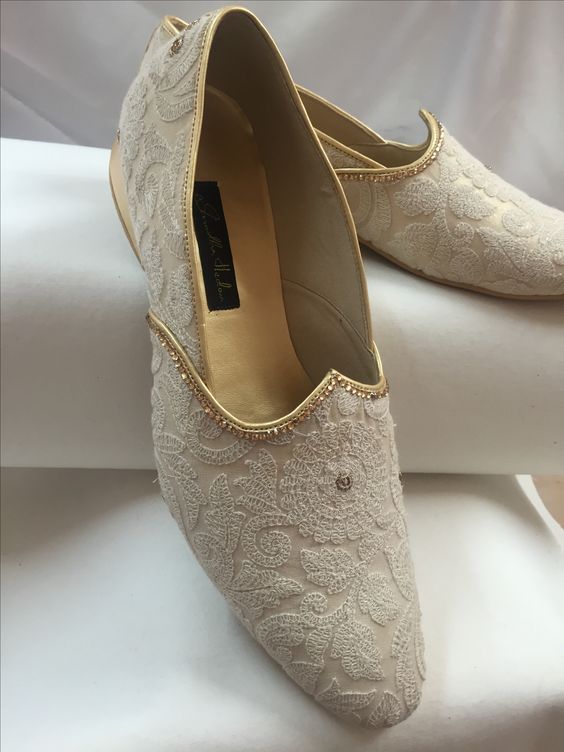 Check out: Ajanta Shoes
Kashmiri  Jutti for Men
You cannot deny the fact, that you stopped down to this picture! The beautiful Kashmiri thread-work is a sudden reminder of a pretty Shawl that your mother has. Yes, that is exactly what has happened here. The Mojari shoe has certain creatively created stitchings, that complement the beautiful white colour. This might make an age last drop a smile, for wearing this one instead of a classic cap-toe oxford shoe.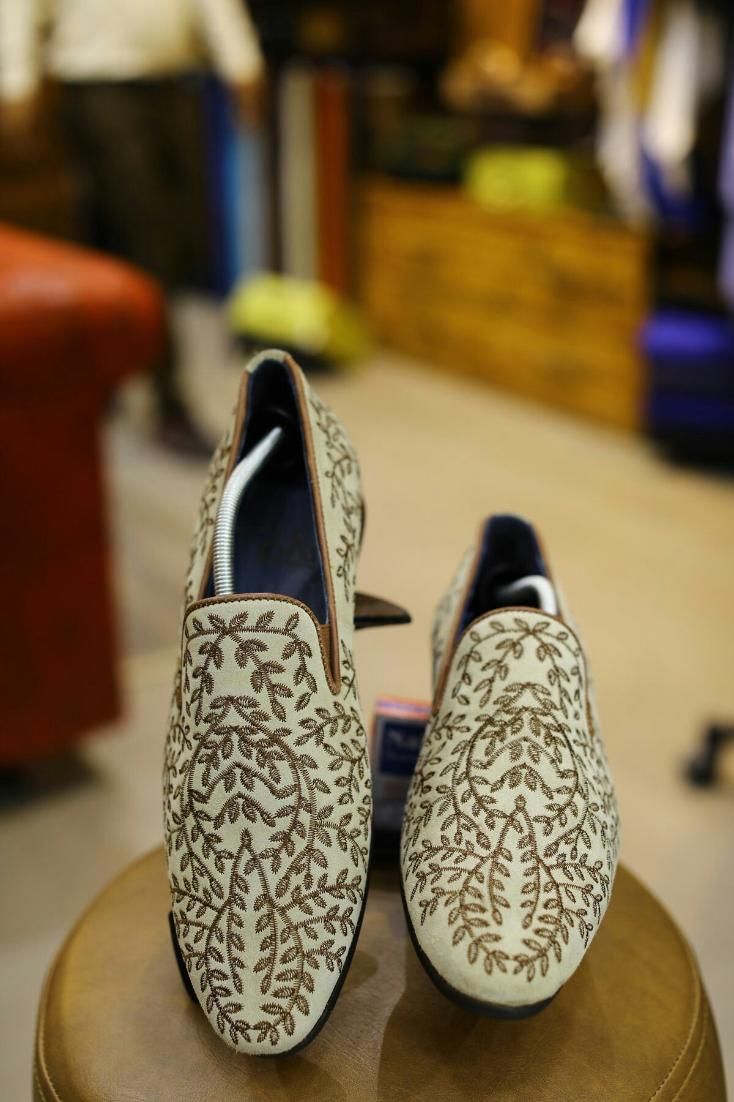 Zardozi Embroidered Mojari for Men
The best part about wearing anything in zardozi has to be the selected pattern of embroidery. The collective design, and obviously the way it is stitched on a pair of casual shoes. This particular design has been selected for two reasons. Mainly, the white or beige colour of the sandal, and secondly the gorgeous design which covers the majority of the area.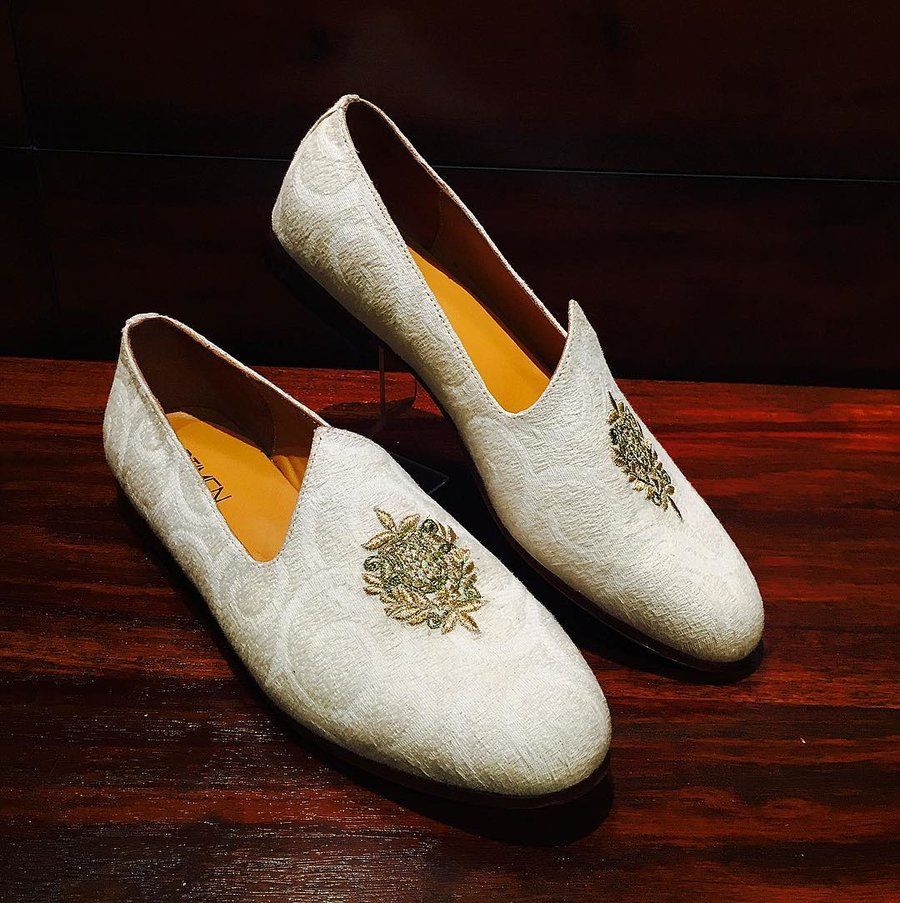 Must Check: Black Sherwani For Men
Bird Embroidered Mojari for Men
Birds aren't a very conventional decoration motif, that is drawn or embroidered on footwear. Rather, their characteristic features are completely contradictory to walking down the streets. This particular Mojari for Men is my favourite, mainly for the gorgeous colour and obviously the design which covers the majority of the shoe area. You cannot leave the store without getting one for yourself.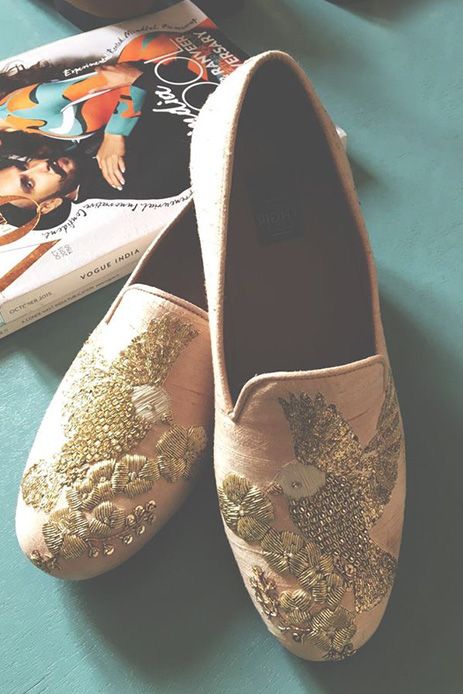 Best Dark-Coloured Mojari for Men:
Dark Mojari Shoes are always been the first preference for people, who have chosen a lighter-coloured outfit for the wedding ceremony. Specifically, a slip-on sandal never has a heel. The groom's shoes, need to be a fit more glam and popping. The following designs are dark and fabulous.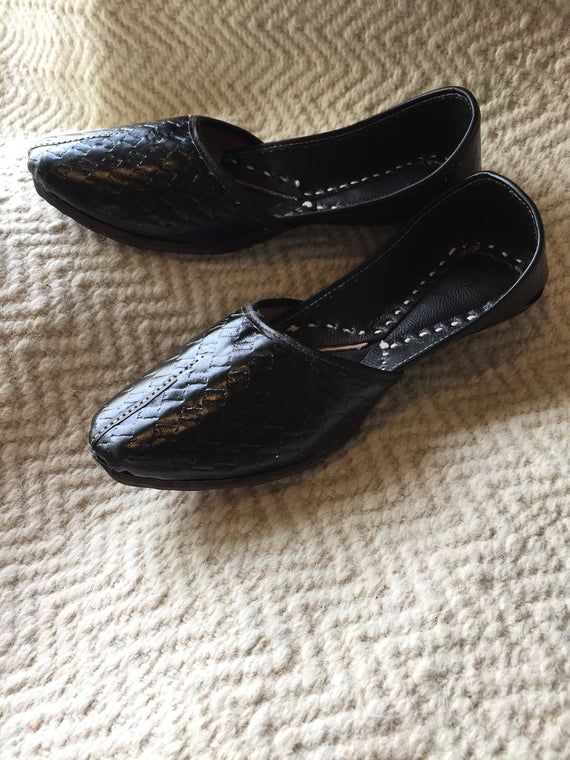 Leather Jutti Mojari Shoes
Some might call this a Loafer sandal too. And even a classic formal shoe too! The best part of this footwear is the classic patent leather. Not as formal as classic oxford shoes, but quite sturdy and flexible too. This particular Mojari for Men is flexible with any dress code. Like, this classic black shoe can be worn with a fine Formal Outfit and even wedding attire.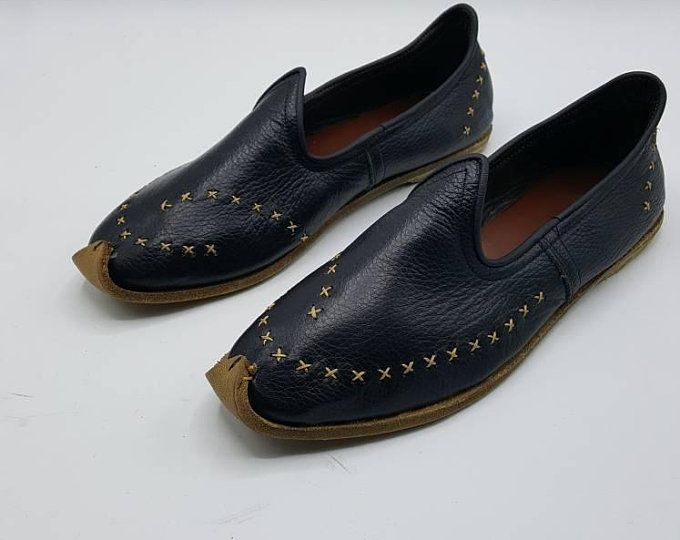 View also: Khadims Shoes
Solid Nagra Punjabi Jutti for Men
Nagra shoes are quite popular for wedding attire. Especially, for the long and pointed tip of the Mojari Shoe. A groom needs to have one for their attire, and that is an absolute compulsion. This is Pathani suit footwear, and obviously a really good design for people who like stylish sandals. The proper colour correction of the design and the solid embroideries highlight and make this a fabulous Mojari for weddings.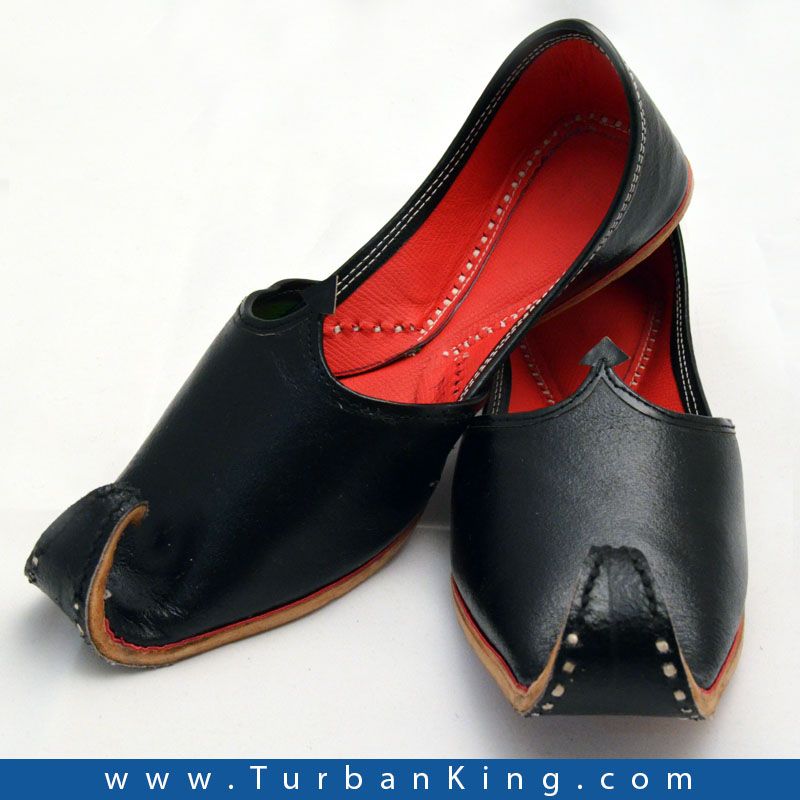 Check out: Jodhpuri Sherwani's suits
Black Phulkari Ethnic Jutti 
You cannot deny the fact that black is a really gorgeous colour. And, buying a black one is always a safe choice. Like, you can pair a black mojari or mule sandal with almost anything and everything. Like, these shoe has some subtle woollen stitches, which makes this really comfortable, yet ornamented footwear. A black mule like this can be paired with a formal outfit, and even some highly ethnic or traditional Kuta Suit.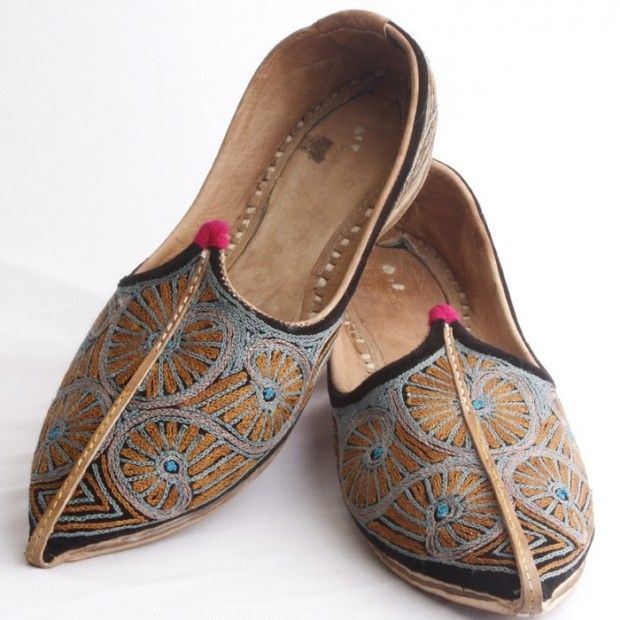 Woollen Phulkari Mojari for Men
Woolen Phulkari decoration isn't a lot far away from the regular pattern. It is basically entirely drawn out with woollen strings and stitches around the shoe. A mojari shoe like this can range from ₹2000 to as much as ₹5000. But believe me, it is worth every penny you spent. Design or about the pattern, on which the Phulkari has been stitched. Everything is of a standard quality, with excruciating layers of work. 
Knight Black Silver Crystal Jutti for Men
The knight black isn't really about the night sky. Rather it is a slender memory of the Worthy Knight in Shining Armour. The colour of this Shoe reflects back the 'Armour' colour. The designer here worked real wonders, with silver crystal embroideries. Although these embellishments are slightly clustered, that is the proof of royally, and a work of good art placement.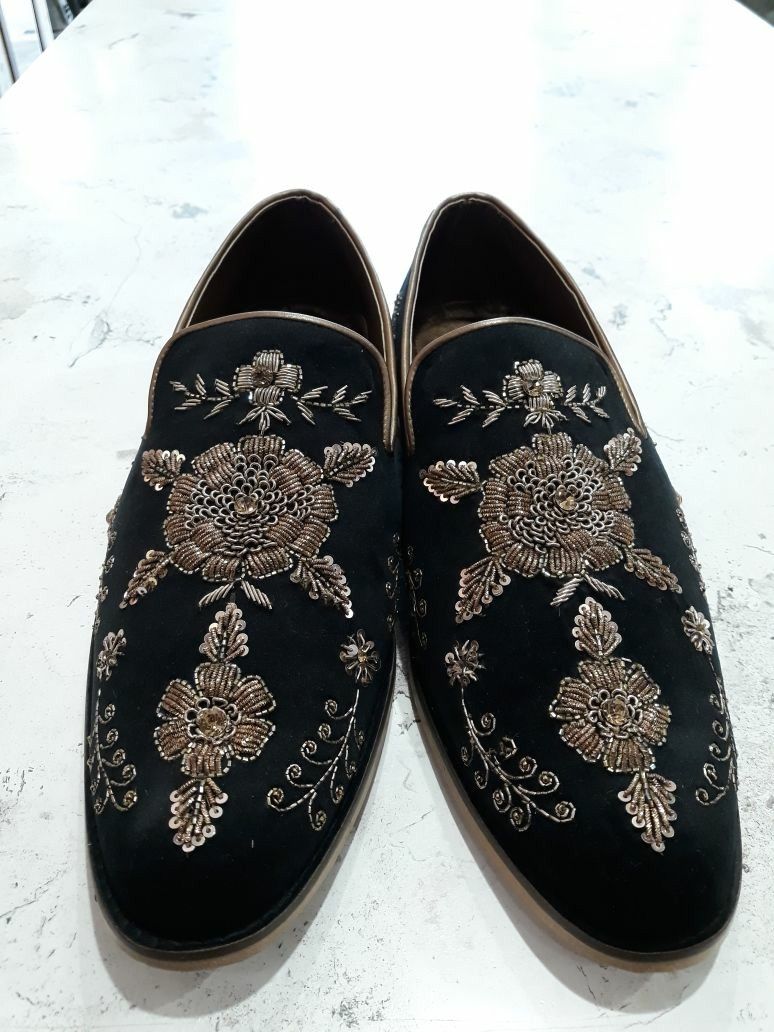 Classic Mojari for Men:
Classic designs never go out of fashion, and the following colours are just the right proof of such wonderful Mojari Shoes for Men. You can get the red one, which is as glossy as a red hot chilli. And obviously, the brown one is the leader of this clan. So, let's straightaway run to the designs that are enigmatic and acclaimed at the same time. 
Classic Brown Mojari for Men
As I was saying earlier, a good old design never gets out of fashion. Exactly like this brown Mojari Shoe. You can rely on this particular design, and call it a day. Actually, the brown colour of the footwear is precisely present all the way around. You can wear this one for a wedding function, and even an official client meeting. These kinds of shoes are a delight for people who love clubbing into western outfits together.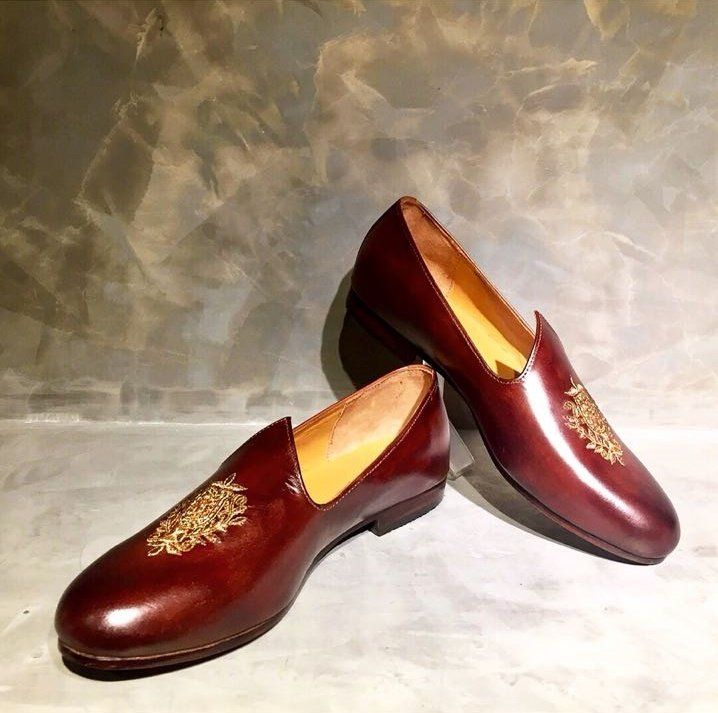 Chocolate Brown Mules for Men
A chocolate brown colour is typically the favourite shade family of those, who love darker ranges. This particular design has a perfect outward leather texture, which is both glossy and sturdy at the same time. You cannot deny the fact, that wearing this one with a fancy beige suit is the best possible option Rather, you can completely go out and have a gala dinner party in this fancy pair of mojari.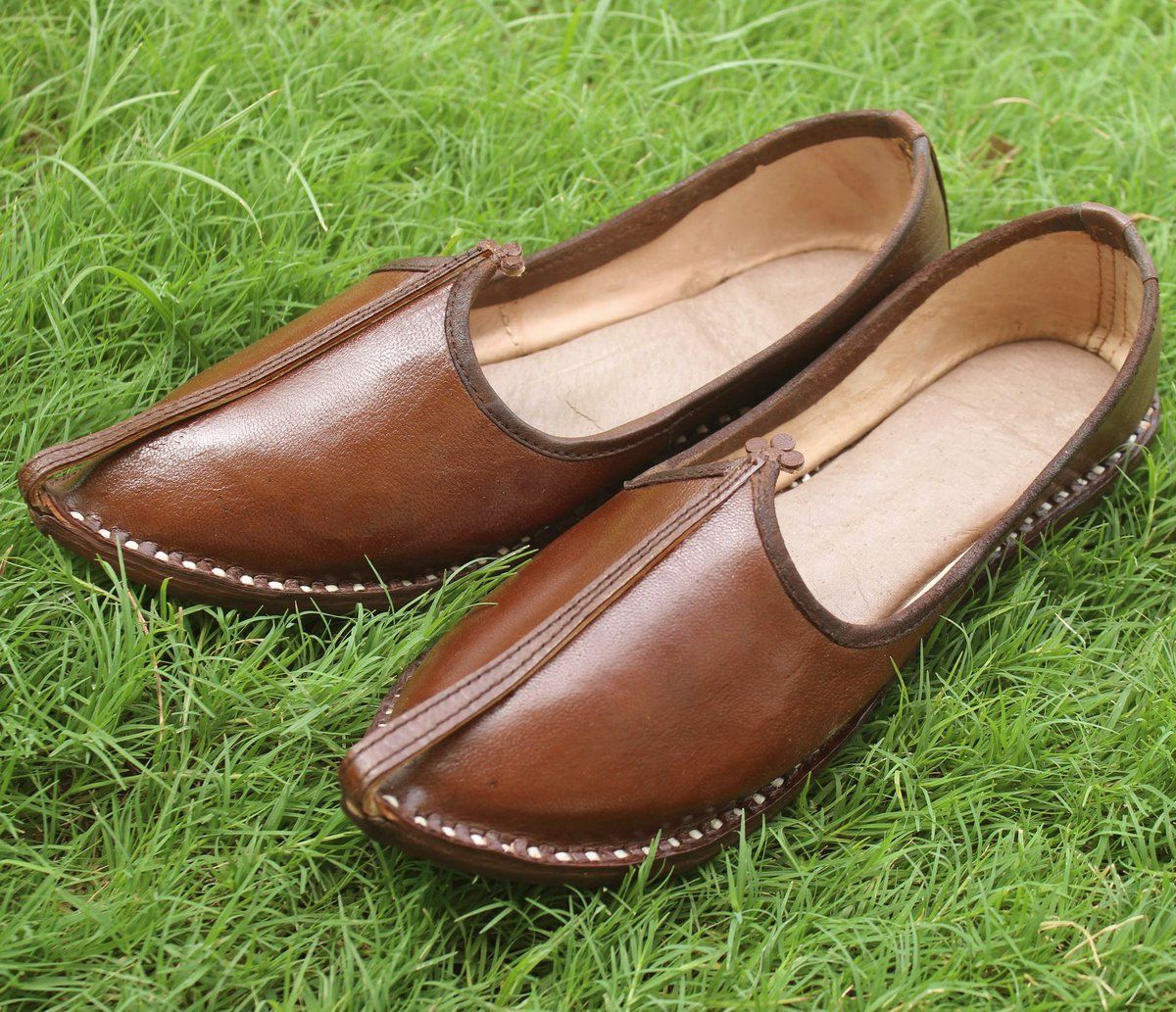 Also see: Sreeleathers Shoes
Night Blue Embellished Punjabi Jutti
Like black and brown, blue is also a fabulous colour for semi-ethnic footwear designs. The best way of wearing this one for your wedding is simply pairing it with a Pastel coloured Kurta Suit. A Pathani or a Jodhpuri Kurta would look fabulous with this gorgeous piece of Night Blue Sandal. The embellishments on the Shoe, do not disappoint the buyer. Rather this is a quite good footwear design that is flexible with almost anything and everything. 
Red Kundan Styled Mojari for Men
A Kundan Styled Mojari Shoe is rather a slightly complicated version of a Pathani Jutti. This Red one is an absolute piece of utter gorgeousness. Typically red is associated with marriages and love relationships. So, wearing this one as footwear for the wedding ceremony sounds like a proper plan to me. Moreover, a good old Khaki or Beige Kurta would look fabulous with this red Jutti Shoe.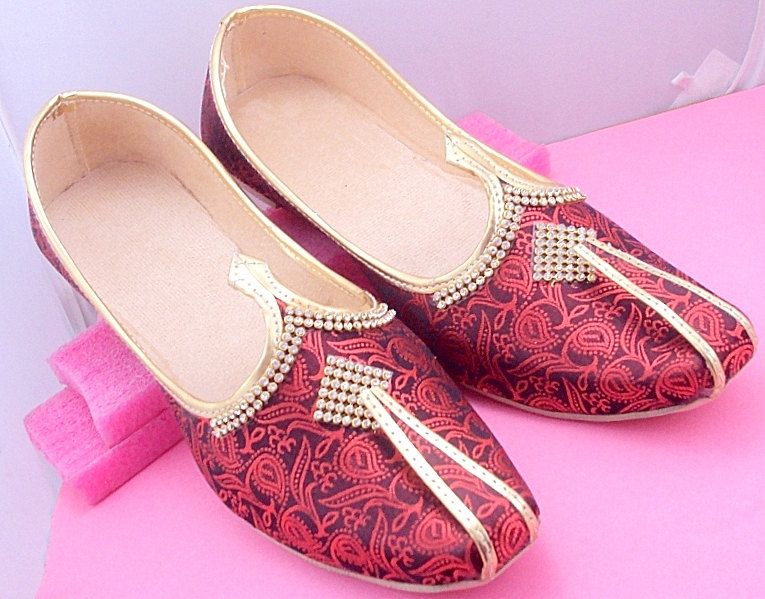 Emerald Green Bee-King Jutti for Men
A Punjabi Jutti is specially handmade with love and care and specifically curated for the most beautiful piece of Sherwani you might get for the wedding ceremony. This emerald green one is nothing different from the rest, and the comfort you get in wearing this is perfect. Men's ethnic shoes like these, are the best-selling velvet accessories. You get the traditional feel, with a little embroidery or fashionable stitching style.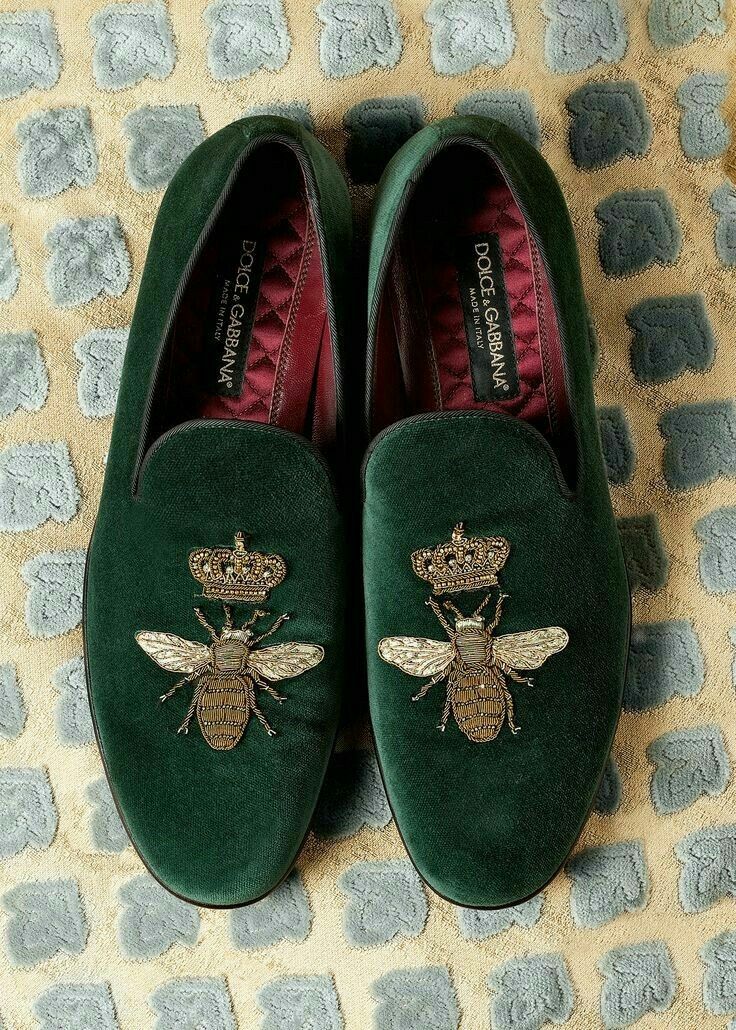 These were some traditional footwear designs in the form of Jutti and other ethnic wear. I hope this helped your fashion taste, and obviously gave you some idea about the different synthetic leather designs and other materials. To know more about wedding fashions, events and other associated pieces of stuff do not forget to visit myMandap.