The right Pre Wedding Dress is a combination and mix. A good pre-wedding shoot would indeed have the perfect Photoshoot Gown and the best background. Without the latter, a Pre Wedding Shoot is incomplete and monotonous. 
Pre Wedding Photoshoot Candid Photography or an ideal day at your bridal shower. Everything needs two most important things, an adorable couple and the right photographer. Here, we have the best Pre Wedding Dress Ideas. 
Fashion options which would look perfect on a Newlywed or a Couple about to get married. Latest wedding trends and styles which make the most exclusive Pre Wedding Shoot Dress. 
Without blabbering any further, let's right away skip to the latest Pre Wedding Shoot Dresses, Gowns and other popular fashions. Just makesure, you have the style which fits you well. 
What is so special about a Pre Wedding Shoot?
The first thing which makes a wedding ceremony special is the planning process. Right from the day he proposed to you, the planning starts all the way through. A wedding ceremony is the most beautiful day.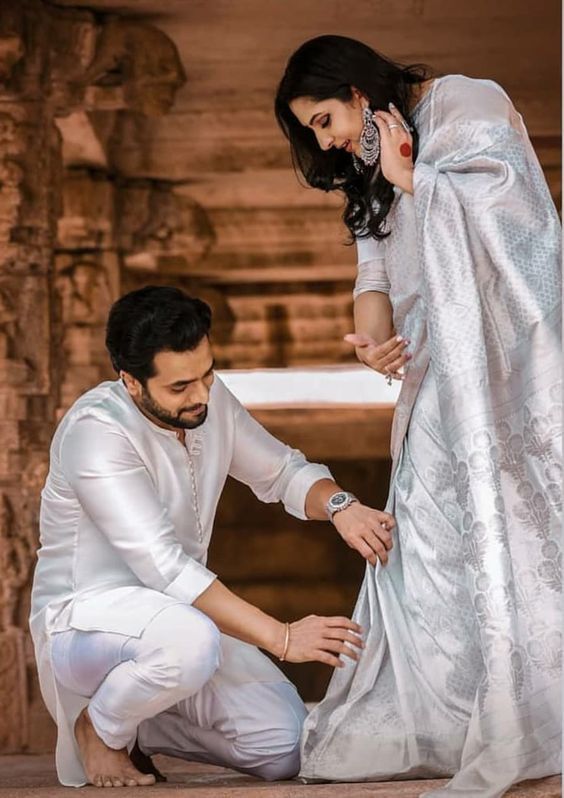 But before the wedding day shoots, couples do need other pictures together. That is what we call a Pre-Wedding Photoshoot. Pictures are captured especially before the wedding day. 
View More:  Pre-Wedding Video Posts
Pre Wedding Photoshoot Dress Vs Wedding Reception Gown:
To make the moment special, we always wear something beautiful and glamorous. This is something of that sort. The Wedding Gown is mostly stylish and has details which make it gorgeous.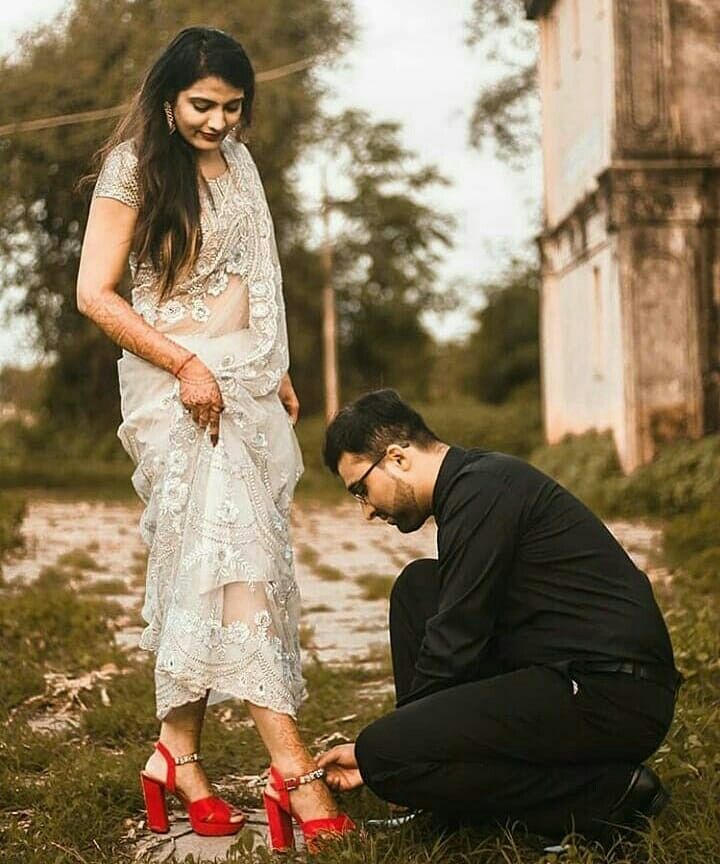 A Pre Wedding Dress is simple and mostly paired and matched. Yes, couples always coordinate their Pre-Wedding Outfits in the first place. Matching colours and shades make it special. These are the best Pre Wedding Dresses and Gowns. 
Shoot Dresses for Pre Wedding Photos 
Deciding on some good Shoot Dresses might become very hectic. It includes dresses and suits that are picture-perfect, yet has embroidery which complements your style. Firstly it is about simplicity and uniqueness.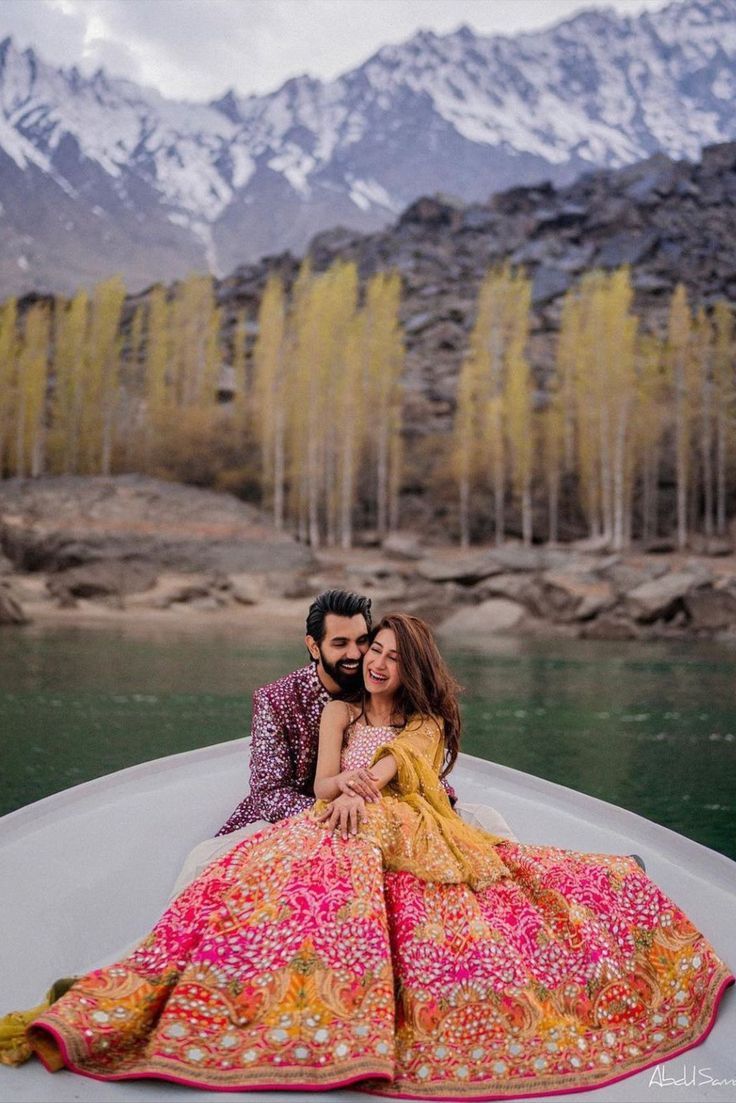 The background is the scenery and that has made the pastel shades even more attractive. A Pre-Wedding photoshoot by the lake and a closet with fancy outfits and suits. Lastly, this is an ideal wardrobe and it is pretty awesome.
Short Dress for Pre Wedding Photo Shoot 
If you're comfortable wearing shorter lengthens, then this is the one. Short dresses with a crisp and following ruffle skirt. This is a Short Pre-Wedding Outfit and it is perfect for Indo-Western Photo themes.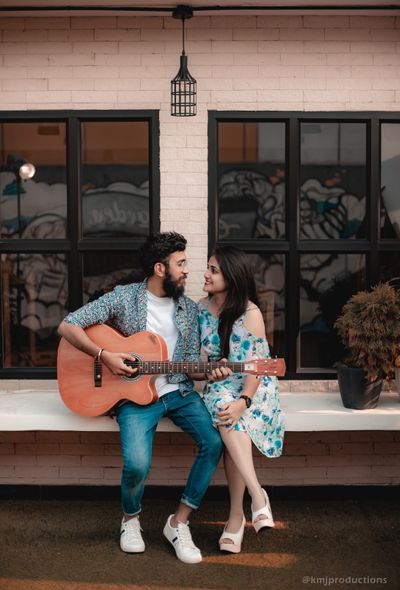 The theme is simple and has a romantic vibe. To make such a beautiful picture, you need a semi-formal or casual wardrobe. Lastly, these styles are versatile and most people have these in their closets.
Floral Pre Wedding Dresses 
If you're not sure which is the right pattern, always wear something simple and elegant. This is a perfect Floral Dress and the patterns are fairly minimal. Firstly the minimal style has made the design unique.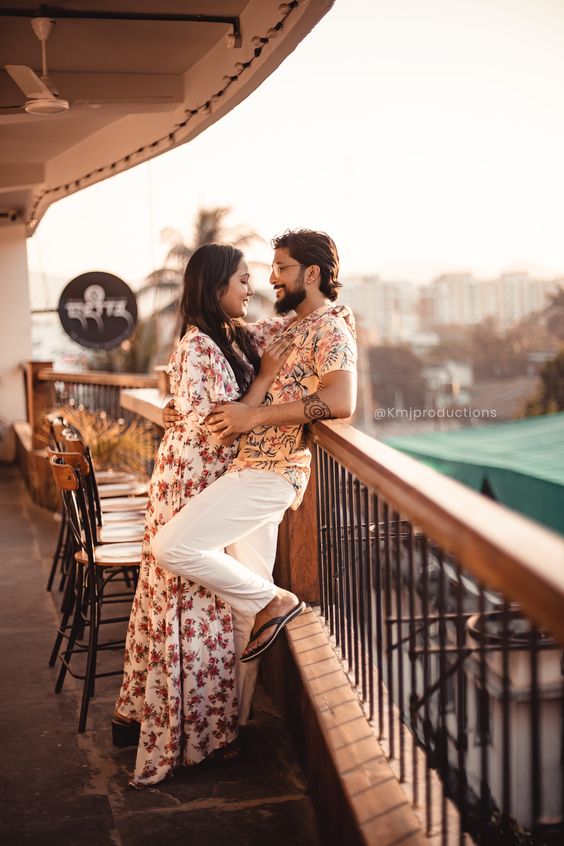 Later you can see, the groom is wearing a similar pattern shirt. This is a coordinated Pre-Wedding Shoot Outfit. Pre Wedding Dress options like these never become obsolete. Infact this is a very stylish combination, especially among the youth.
Also View: Wedding Anarkali Dress
Pre Wedding Outfit with Lace 
Lace Dresses are very popular among Western Brides who wear White Wedding Dresses. This is a beautiful combination and it can make the ordinary look better than anything else. Firstly the Pre Wedding Dress is stylish and then it is about the classy look.
This is a lacy Wedding Dress that is a great option for Engagement parties and Pre-Wedding Shoots too. This is a stylish option and it makes the ordinary dress better. Pre Wedding Dress styles like these are a little more expensive.
Wedding Dress for Engagement Photography Style 
Once you find a pretty Engagement Gown then there is no going back. Firstly the unique colours are what you need. Minimalism is what makes the Pre Wedding Dress better than the rest.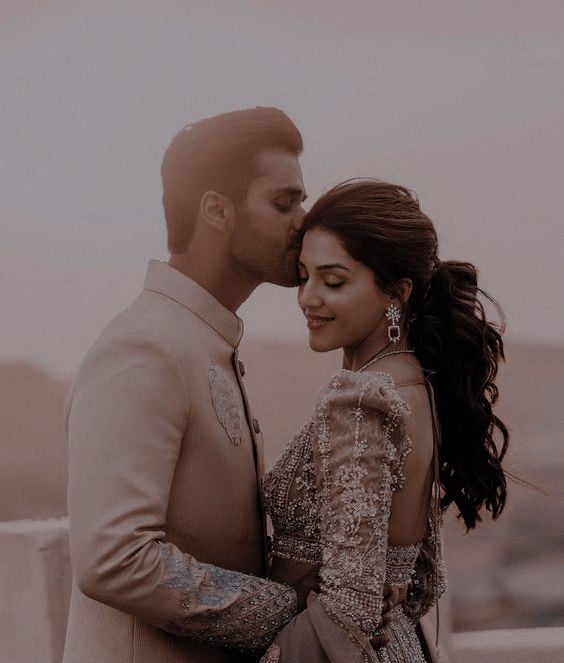 Engagement outfits like these are simple and they never go out of fashion too. The crystals on her Blouse sleeve or the embroideries on the Groom's outfit. Everything is special and unique out here. Lastly, style this dress and click some good pictures.
Wedding Dress with a Romantic Vibe
A Bridal Dress with a romantic vibe makes the perfect outfit. These are beautiful wedding dresses and the romantic colour combination and subtle too. These are stylish wedding outfits and have the most romantic colours.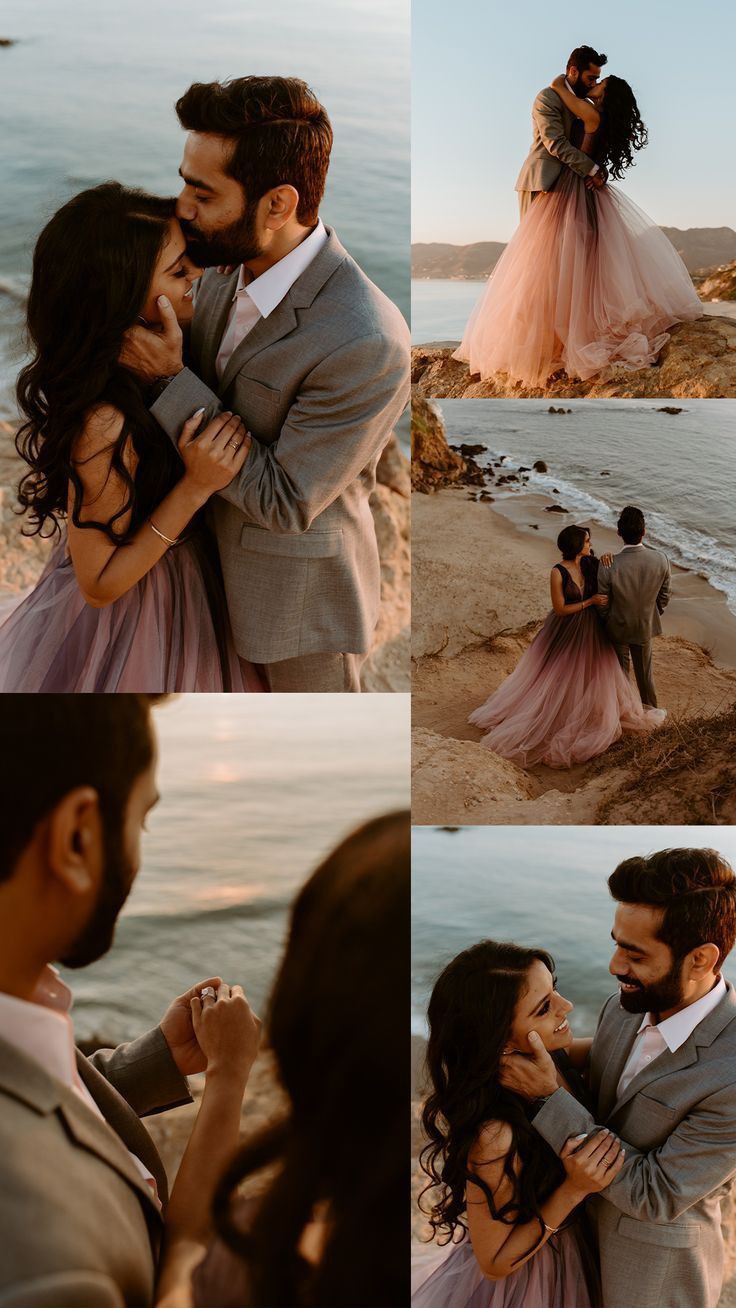 A groom who wears a beautiful Pre-Wedding Photography Outfit. This is a stylish Pre Wedding Dress option which is unique and elegant too. These Pre Wedding Dress ideas are a classic hit.
Pre Wedding Dress Paired with the Charming Groom 
A wedding outfit should have two things. Beautiful colour and stylish embroidery. Firstly this is a beautiful Pre Wedding Dress and then it is about the combinations that have good embroidery.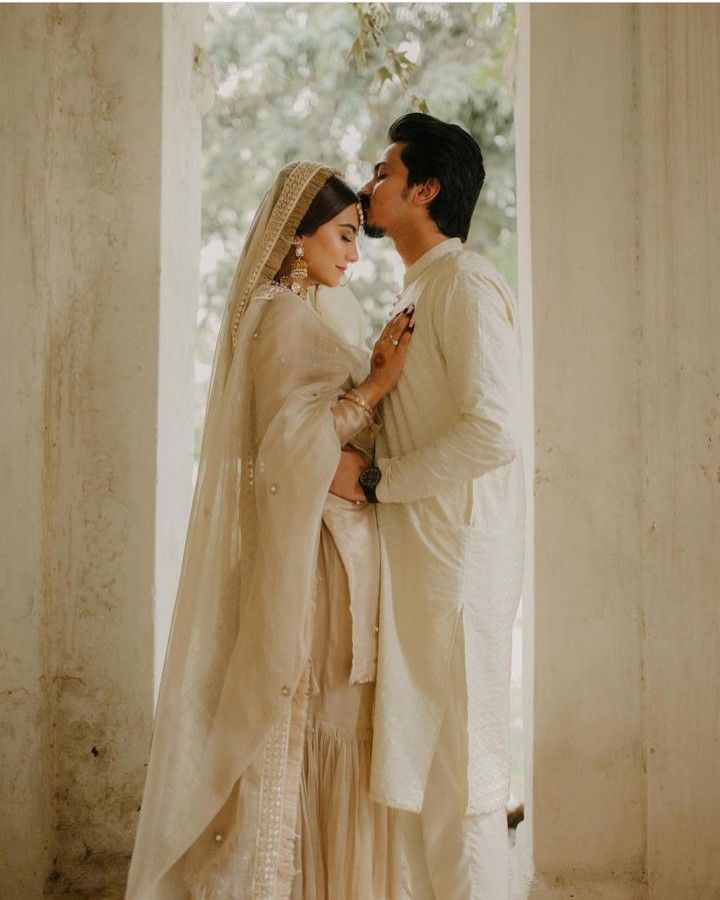 The white colour on top is simple and this is a very unique option. The groom and the bride are wearing similar styles and colours. These are colours that are unique and stylish. Lastly, it should be styled according to the Pre-Wedding Photoshoot theme.
Must View: Christian Wedding Dresses
White Wedding Gown for Bride
Pre Wedding Photography Outfit options in the colour White. That is something which makes an ordinary White Wedding Gown better than anything else. White Wedding outfits like these are more popular among Christian brides.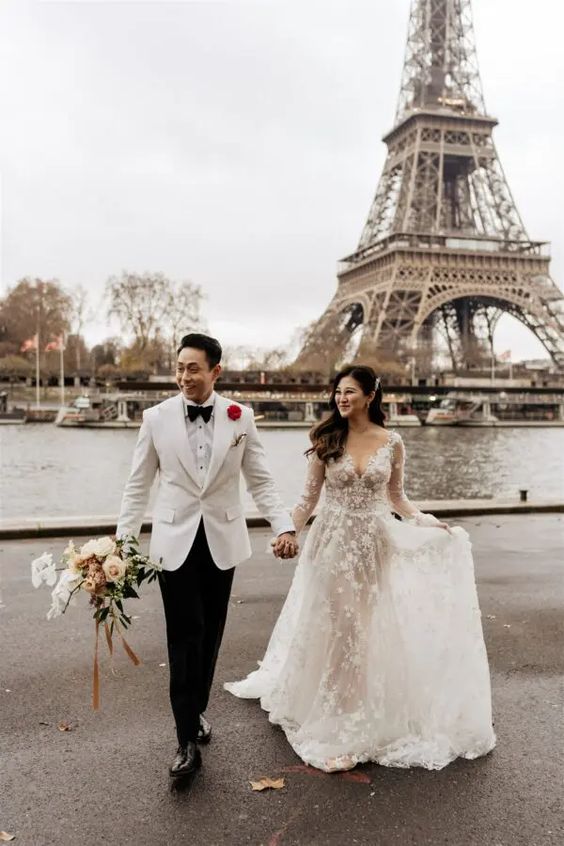 In India, people who opt for these White Wedding Dresses are mostly Christian. Lastly, style this outfit for the right occasion and make the most. Once these are classy outfits and a subtle option.
Bridal Lehenga for Big Day 
You can wear a Bridal Lehenga like this. An ideal wedding outfit is also a great choice for Pre-Wedding Photoshoots. These Pre Wedding Photography Outfits are stylish and elegant.
The embroideries are stylish and it is something which makes pictures way better. Just makesure, you have the colour which works for your body type. Lastly, the groom should also wear something like this and that would make the best picture.
Perfect Outfit with Long Sleeves 
Long Sleeves are a perfect option. Just makesure, you have the right suit and that will make the most out. Once you style a suit like this. Then you need your groom to wear a good outfit too. Firstly these are outfits which are classy and unique too.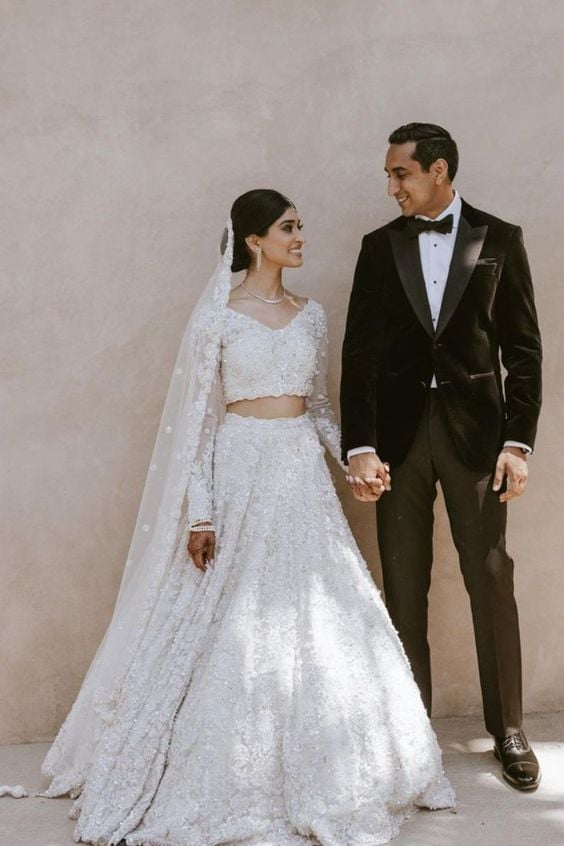 The long sleeves make the Pre Wedding Dress better than anything else. Lastly, this is a suit which is suitable for all times and occasions. Just makesure you are choosing the colour which works for the time, season and Pre-Wedding theme.
Saree for Pre Wedding Outfit Ideas 
A Saree will never upset you. It is the most stylish outfit and it makes your ordinary pictures better than anything. A woman in a Saree is the sexiest thing ever. Pre Wedding Sarees like these, are usually made of chiffon or georgette.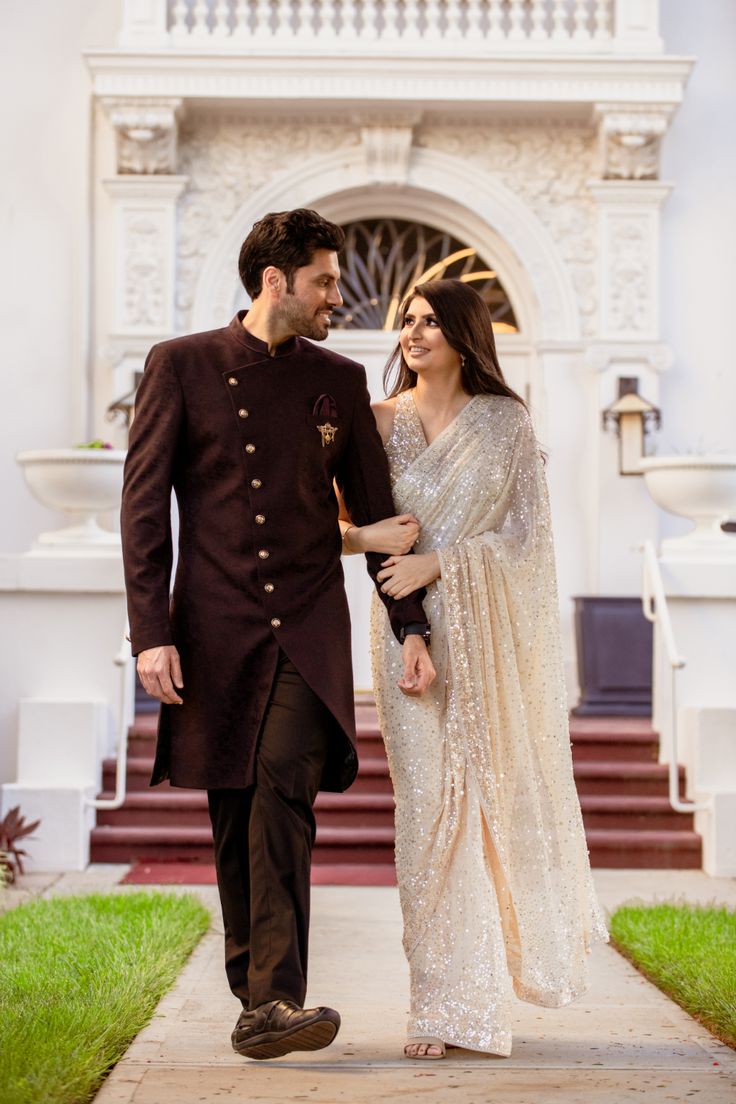 The blouse is simple and has decorations. Sequins make the wedding blouse better than ever. Lastly, this is a stylish combination, and the couple looks well. Pre Wedding Photography Outfit sets like these need the right colours.
Check More: Sangeet Dress for Bride
Pre Wedding Photography Outfit 
A beautiful floral lehenga is a classic outfit. She is dressed in a fancy wedding outfit which is nicely decorated. Pre Wedding Photographs with such matching suits are a class.
She is glamorously dressed in a classy suit and her husband is wearing the same. Just makesure, you have selected the pattern which matches well. A Wedding Dress and classy floral embroidery on top.
Pastel Pre-Wedding Dress Ideas for Bride 
I have got a special thing when it comes to such simple Pre-Wedding suits. Here, the couple is dressed in a matching pastel set. Firstly the bride is wearing a fancy Wedding Rafflue Saree that has a long Pallu.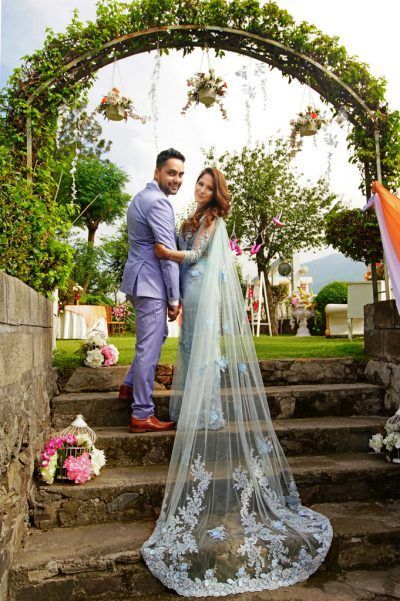 While the groom is wearing a beautiful Pastel Purple Suit. This shade is known as Lavender and it also goes well with tan-coloured Shoes. These outfits are simple and they work well for Pre-Wedding Photoshoots.
Pre Wedding Picture Photo Shoot Ideas 
A Lehenga Gown is a very common outfit, and it is also a great choice worn on the Wedding day. It is about this simple Pre-Wedding Picture Photoshoot, that has a lovely couple.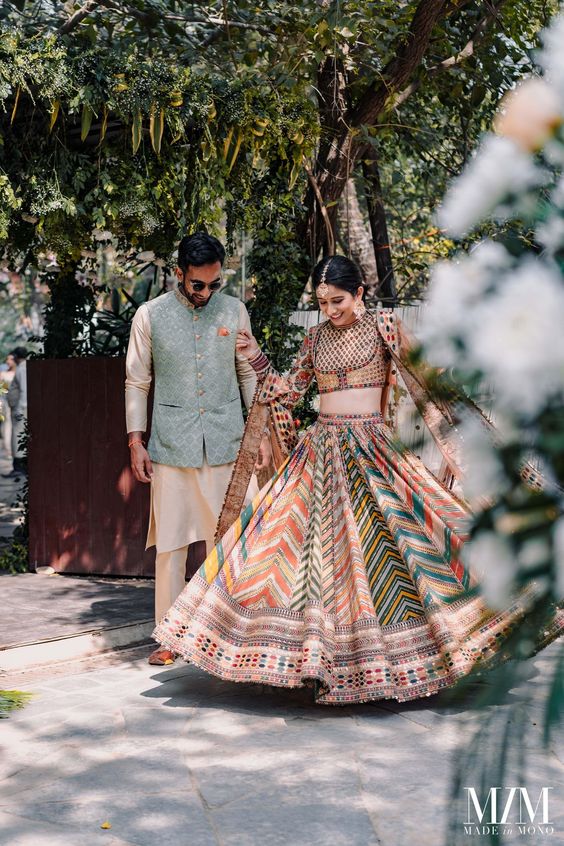 The groom is dressed in a gorgeous Nehru Coat Suit and a pretty Kurta Pajama Suit. The Lehenga is classic and the Bridal Dupatta is simple yet stylish. The colours are simple and the Pre-Wedding Attire is pretty awesome.
Pre Wedding Dress with Bridal Accessories 
There are some accessories which are only worn on the Wedding Day. But this isn't such a thing. Firstly we have fancy Dupattas and ornaments which make a bride look special.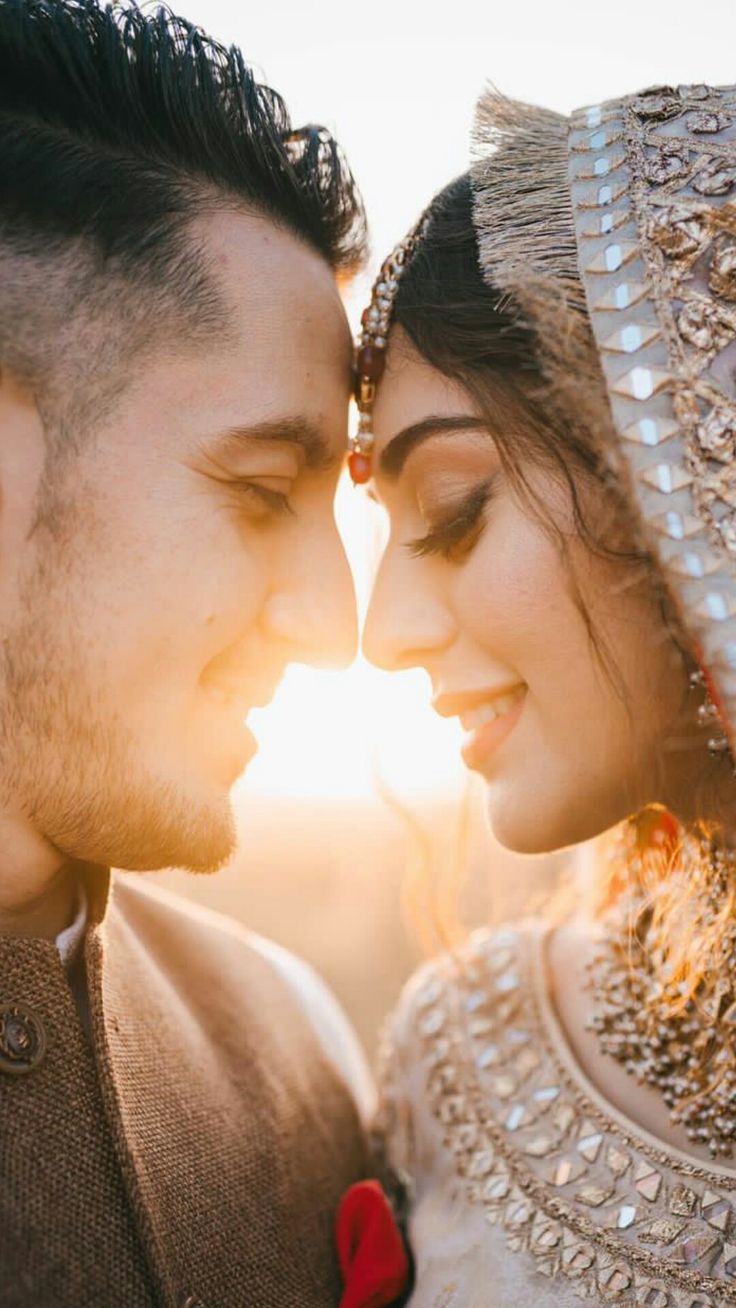 Here, she is wearing her Maang Tika and Matha Patti to pair well with a Bridal Lehenga design. The groom is wearing a simple Kurta Suit and a Handkerchief Boutennier. Their colour combination is ideally perfect.
 Check Out: Wedding Dress Ideas
Wedding Day Couple Photography Ideas:
At your Rehearsal dinner, the photographer would capture uncountable pictures. The Couple is the centre of a wedding party. Likewise, all your wedding guests would look at you. But the Pre-Wedding Photoshoot is very different.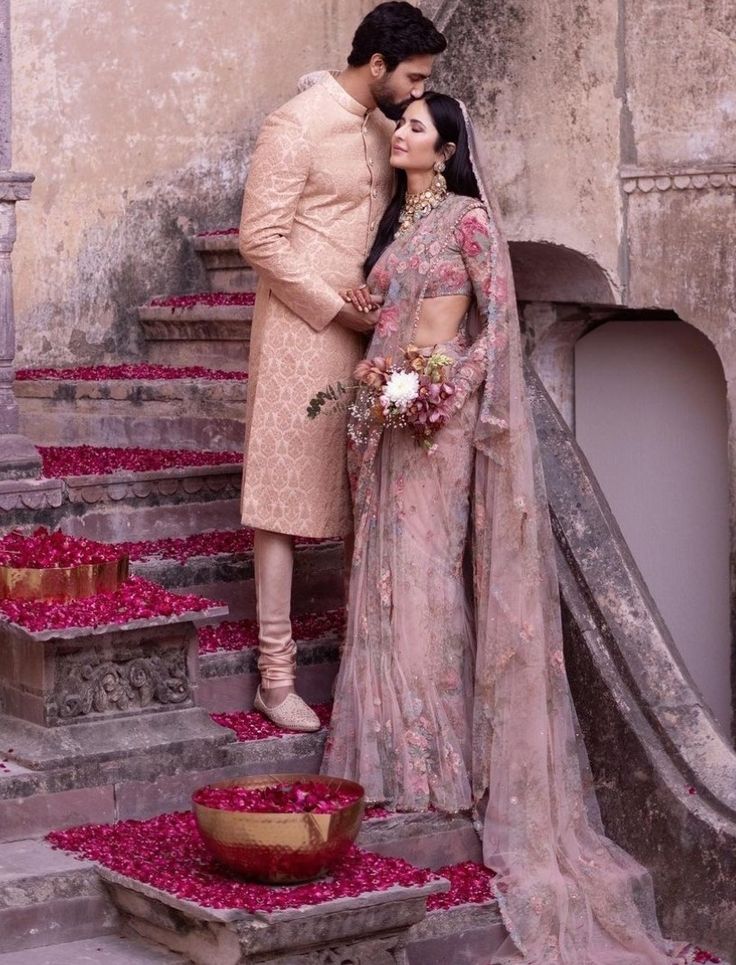 Just makesure, you have the right location. St Tropez, Las Vegas and Manali are popular Pre-Wedding locations. The bride and her charming groom dress up and get the best Pre-Wedding photoshoot pictures. 
Ideal Pre Wedding Dress Ideas include some classy options in Gowns and other fashions. It is about a dress which falls under your budget and also looks good. Firstly the couture should be flattering and then the colour should be complementing. 
Just make sure, these things make your Pre Wedding Dress. Lastly, it is about your choice and what catches your attention. Perfect Wedding Dress and the most beautiful Pre Wedding Dresses too. Dress up and capture the most memorable Pre-Wedding Photos. 
 If you like what we have mentioned above, then do not forget to let us know in the comment section. We are eagerly waiting for your valuable feedback and making the most of the latest wedding blogs. 
Like Pre Wedding Dress Ideas there are many other options for the Latest Wedding trends. At myMandap we have the most exclusive blogs. Plan your dream wedding with myMandap!