Indian Silk House is a prominent name for designing couture in Kolkata. They have their own set of Indian Wedding Saree Designs, and also special fabric patterns. Indian silk house Agencies has a fabulous Bengali Saree Collection, and here we have curated a list with the best ones.
Best Indian Silk House Sarees for Brides:
Indian Silk House Agencies has some of the best Silk and Bengali Cotton Saree designs out there. Here, are some amazing wedding Sarees for the traditional Bengali bride.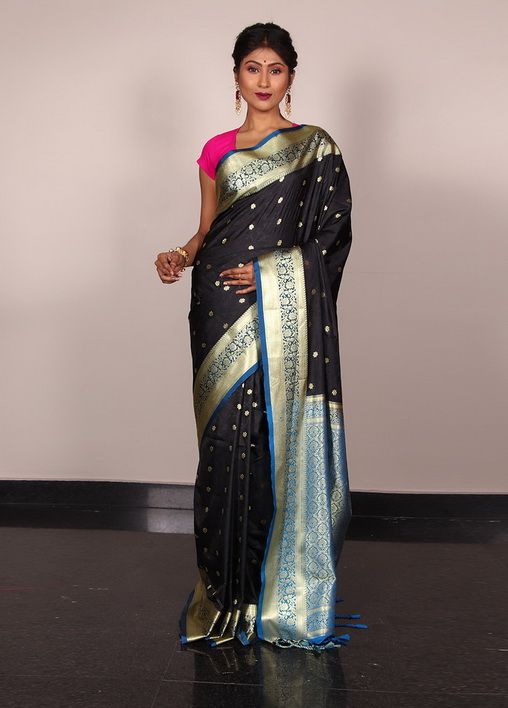 Indian silk house Gharchola Benarasi saree
A little blue Saree is always better than a full-fledged attire. You can simply drape this Silk Saree and call it a day. The pattern on this Saree by Indian Silk House is embellished with silver string stitches. These stitches are drawn mainly in two selective designs, firstly a silver flower pattern and secondly a beautiful asymmetric embroidery.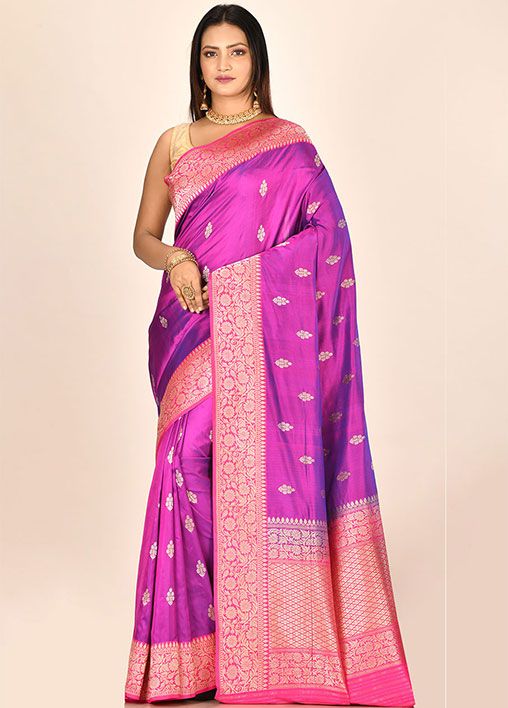 Wearability:
You can pair this Saree with a beautiful Golden Choker Set, or even some subtle Jhumka earrings. Do not forget to wear pretty red or black heel shoes, alongside. Perfect for the Bride, as she can wear this for her pre-wedding rituals and post-wedding ceremonies. 
Also check:  Adi Mohini Mohan Kanjilal Sarees
Dhakai Jamdani Saree from Indian Silk House
As I said, Blue is the colour for the Royals. As a Bengali wedding Saree, this is the most traditional of options for the big day. The best part is the cotton Saree baseline, which is well embroidered with such pretty thread designs, mainly a Tant Saree. As ethnic wear, this is one of the most appropriate ones for Bengali Bride.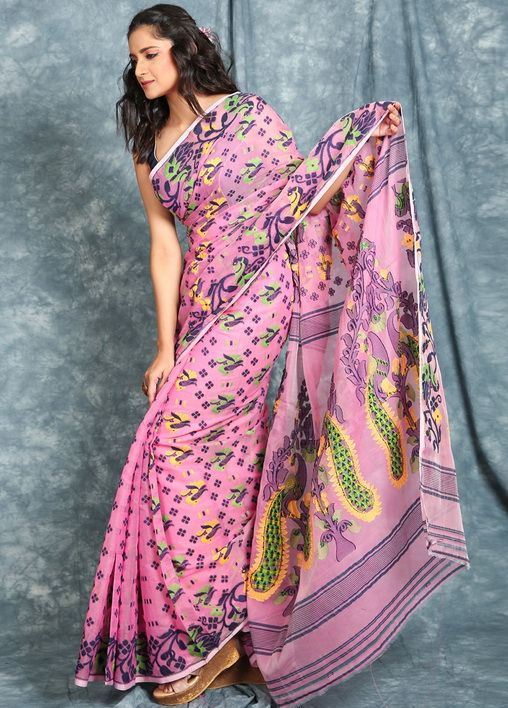 Wearability:
One should Pair this pair, with some beautiful Golden jewellery that is traditional. Like some big, study earrings and some pretty bangles, and Kada designs. This can be worn for some little Bong rituals, like the Hali Ceremony, or even the Aiburobhat or Bengali Bachelorette.
Steel Tussar by Indian Silk House Saree
This isn't the most conventional colour for a Bridal Saree. On the other hand, this is more like a Party colour. And, the best part is, you can wear this Saree from Indian Silk House for the grand office party, and even right after your wedding ceremony.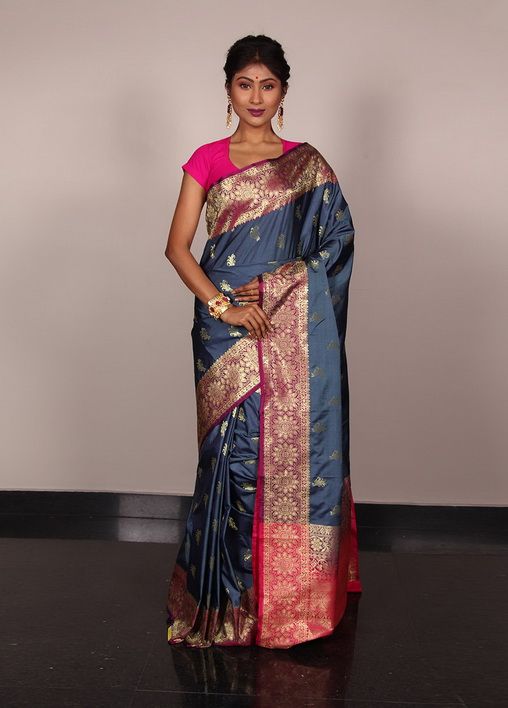 Wearability:
yes, you heard me right this is a colour that is perfect for almost any occasion. Like wearing some gorgeous junk jewellery, black high heels, and a sturdy face of smoking hot makeup.  Like, you can wear this right after your wedding ceremony, or even during your post-wedding reception. 
read also: Sriniketan 12 Latest Wedding Sarees Designs
Green Indian silk house Banarasi Saree
The Silk material is appropriate for Indian Brides. Especially, the reasons being the exorbitant colour pallets that form the base of a Saree. This particular Banrarasi Saree is quite popular with people in Bengal. Brides around West Bengal, prefer a beautiful Red Benarasi Saree for their wedding ceremony, and a pretty green one for the wedding reception.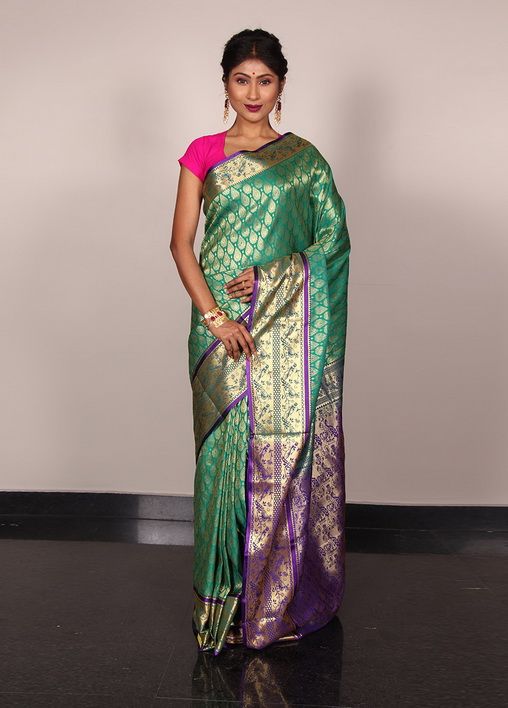 Wearability:
If we are talking about the flexibility of this particular Saree, then let me tell you. This Green piece of absolute gorgeousness can be worn for almost anything and everything that you want. Like the wedding reception, post-wedding events, and also as a fabulous piece for guests.  
View more: Bengali Saree Look
Bomkai Saree by Indian Silk House 
These kinds of Sarees are delectable and fabulous for the wedding ceremony. You can pair this attire with your traditional wedding jewellery. Apart from this, the classic stitching embroidery on the Saree makes this a really good one for someone who wants this for their wedding ceremony.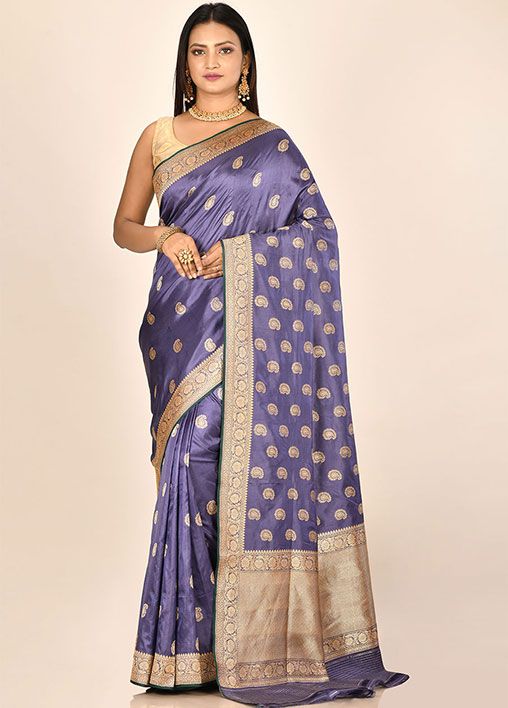 Wearability:
The purpose of wearing a Bomkai Saree is to attract most of the glamour one can call for. This Saree from Indian Silk House is an absolute piece of gorgeousness. The fabulous colour scheme and the gorgeous stitches on the Saree get you along with the entire bridal look. 
View more: Amazing Traditional Tant Sarees
Bottle Green Pure Silk from Indian Silk House 
Although many would say, that Green is not really an appropriate colour that is not supposed to be worn for the wedding ceremony. But many communities in India, prefer green over red. Especially, when it is about the Nine Yards Pallu, or a Nauvei Saree. You can pair the gorgeous Green Saree, with a pretty Red blouse and call it a day.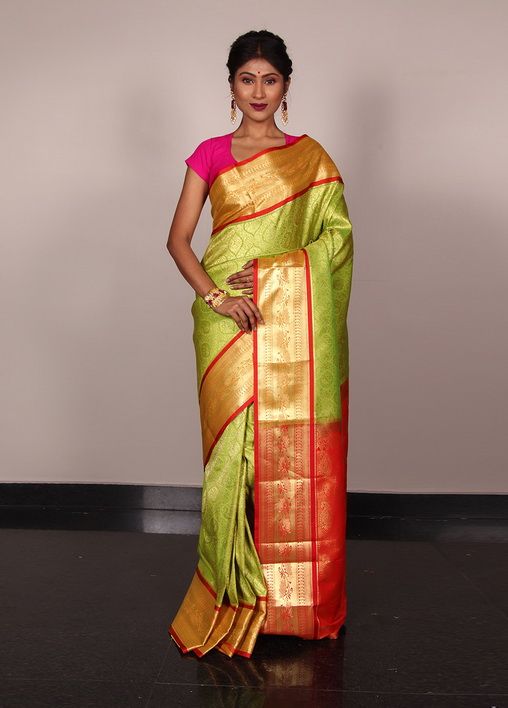 Wearability:
The Saree is actually flexible with almost every occasion. Whether it is about to be worn for the wedding ceremony, reception party, or even as attire for the perfect Newlywed Bride. This is an ethnic Baluchari Saree and a perfect Silk for the Wedding day.
Visit also: Senco Gold wedding collection
Orange Meenakari Benarasi Indian Silk House Saree
Orange is really subtle shade for brides, and it has a sought colour especially for the wedding reception day. Brides, who choose to wear red and pink for the wedding ceremony, would definitely want to wear a pretty blue or orange reception Saree. This pretty coral coloured Saree is more or less appropriate with this Kantha Saree design.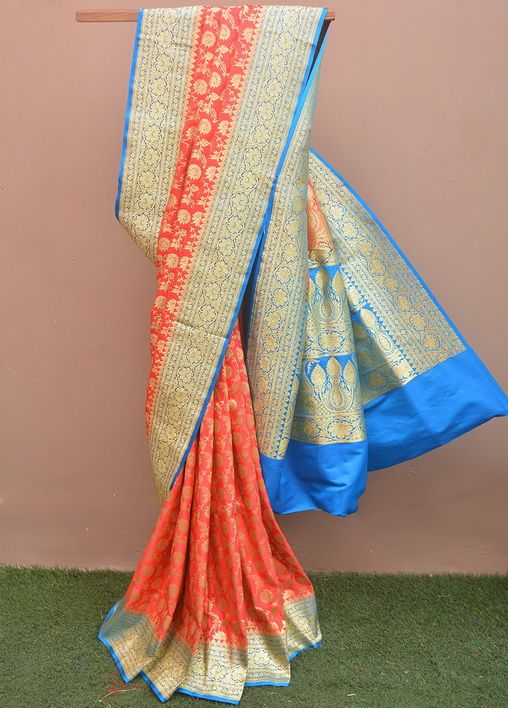 Wearability:
Well, as I said earlier a bride would love to wear this Meenakari or Korial Saree for their reception party. Specifically when it is about their pretty a different colour for Bengali Wedding Sarees.
View more: Best Nalli Silk Saree
Maroon Indian Silk House Saree
Indian Silk House Agencies is popular for its fabulous Mulberry Silk material, which has been handpicked from the best sources. The gorgeous maroon shade pleats really well for beautiful Bengali women. Red Saree is quite mundane and boring but when you are wearing a Maroon or Marsala colour, it becomes slightly different and quirky.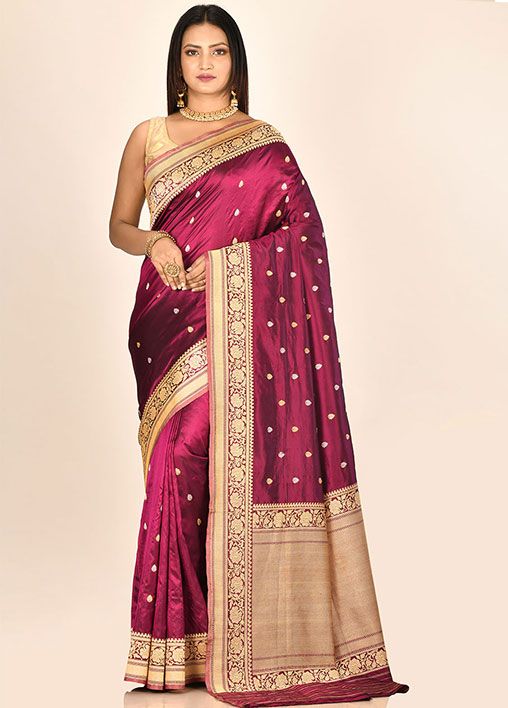 Wearability:
This Saree can be worn as Casual Wear, as well as a full-fledged Wedding Lehenga or Dress. The colour is significantly made for the wedding ceremony, as the dark marsala colour is quite good for weddings.
Also, see:Benarasi Saree for Bengali Wedding
Blue Garad Saree by Indian Silk House
Murshidabad Silk Saree like these, are really popular for brides in India. One needs to have atleast one of these designs from Indian Silk House Agencies. Their Garad Silk Sarees are more or less softer, and silkier. Like, you do not have to worry about the Saree being really heavy and uncomfortable.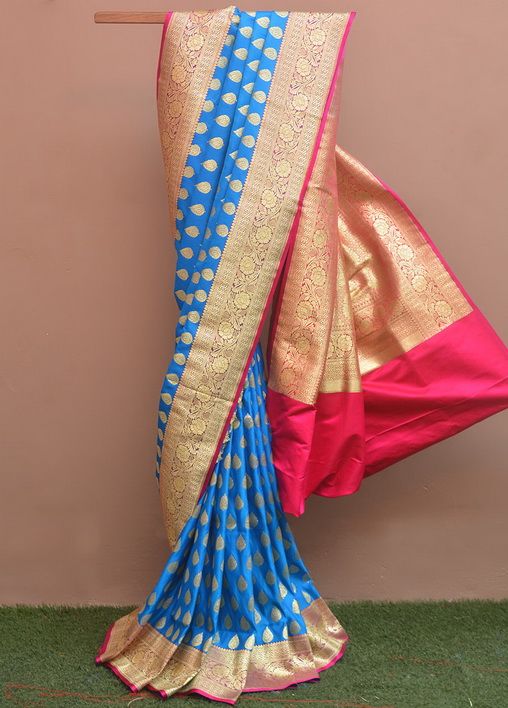 Wearability:
Usually, the Wedding reception Saree comes from the Groom's place. Which is most of the time, happens to be in this particular colour family. Apart from this, there are other Sarees like Bomkai or even Kanjivaram. But wearing a pretty Sky Blue Saree for the Wedding Reception is the best option.
Read more: Adi Dhakeswari Bastralaya Bridal Sarees
 Black Pure Silk Saree Indian Silk House
If you tell your family, that you have purchased this Black Saree from Indian Silk House Agencies for the wedding ceremony. Then do not blame me, as no one is going to allow you, wearing that. But, the problem is, it is irresistible. You cannot resist the temptation of buying this beautiful black Saree.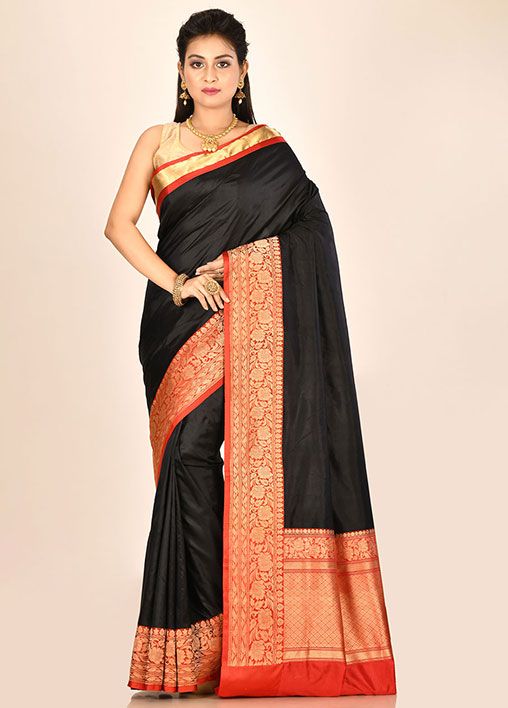 Wearability:
Instead of wearing this Saree for the wedding ceremony of reception, keep this one in hand for the post-wedding events, or even as 'Office comeback Saree' post the wedding ceremony.
These were some of the best Bengali Wedding Sarees, from Indian Silk House Agencies. To know more about Wedding Fashion, and events visit myMandap.